Bookingcar offers a wide selection of car rental options in Vilnius
Here you can choose a car of any class that best suits your needs.
Our prices are one of the best prices on the market.
See for yourself!
Professional support
Our professional call center will help you understand all the intricacies of car rental. We guarantee full support throughout the rental period.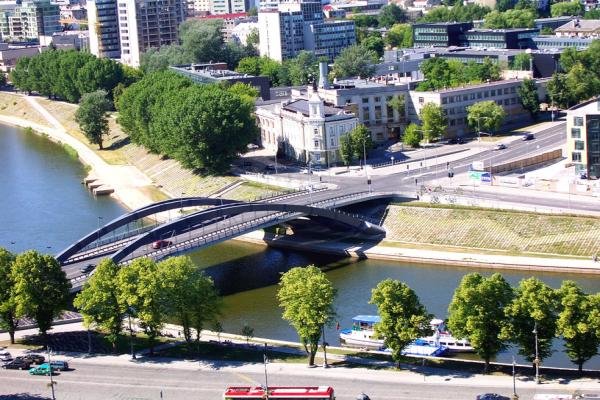 Vilnius is a beautiful city with medieval architecture and cozy streets that organically combine with skyscrapers. Over a long history of existence, which just did not have to endure: numerous fires, destruction, reconstruction. The flow of tourists is observed on New Year's Eve. During this period, the city seems to be reborn, putting on festive decorations. Everything becomes truly fabulous and romantic. Arriving in Vilnius at other times of the year, you can have fun visiting the main architectural and historical sites: Gediminas Castle, Cathedral Square, Congress Palace, St. Anna's Cathedral, the Palace of Artists. The capital has its own atmosphere and in order to fully penetrate it, it is worth taking a rental car and exploring the sights both in the city itself and in the surrounding area.
Bookingcar recommends:
Car rental at Vilnius Airport
Vilnius International Airport - download scheme
IATA code: VNO
Location: 7 km from Vilnius
Official website: http://www.vilnius-airport.lt/lt/
Information: +370 5 230 6666
The following companies provide car rental services at Vilnius Airport: AutoBanga, AutoCom, Budget, Avis, Enterprise, EuropCar, EuroRenta, GreenMotion, Hertz, NeoRent, Ollex, Payless, TrustiCar and Sixt. Car rental desks are located in the arrivals hall. There is also a car park near the airport, which can be booked in advance.
What to see in Vilnius: interesting sights of the city
Old city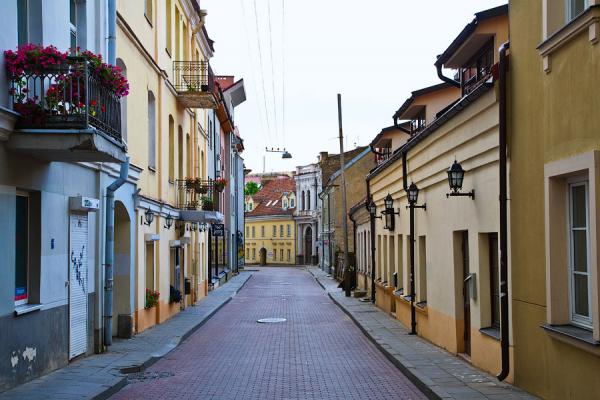 Of course, for the most vivid impressions you should first go to explore the Old Town. Colorful courtyards and unique architecture make an indelible impression. First you can take a walk along the main Piles street, which is full of all kinds of souvenir shops, restaurants, and theme shops. After - turn towards St. Anne's Church and see this famous attraction from the inside. At the end of the trip, you can take a leisurely stroll through the park. Despite the fact that most tourists always want to get here, walking along the streets, there is no crowd feeling.
Cathedral
Sentaragio g. http://www.katedra.lt/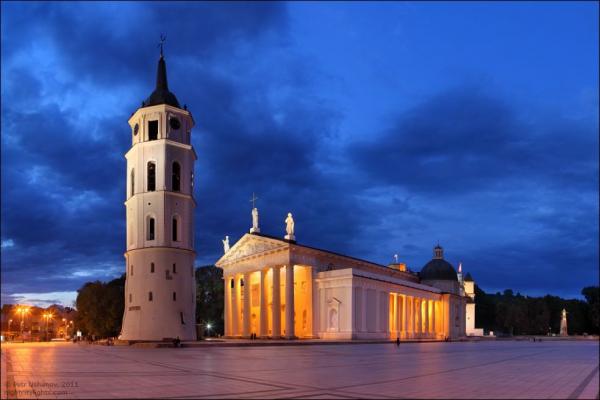 The building of the cathedral was built in the 13th century. However, numerous fires and destruction made adjustments. The final appearance of the temple took only at the end of the XX century. The cathedral is not only of historical value, but also cultural. On the ground floor there is a historical museum where you can see exhibits from the period BC. In addition, during the tour of the cathedral you can see the old frescoes, paintings of the period of the 16th – 19th centuries. Here are collected more than 40 valuable art exhibits. Hire a car and go on an exciting journey to the Cathedral.
Church of the Holy Spirit
Dominikonu gatve 8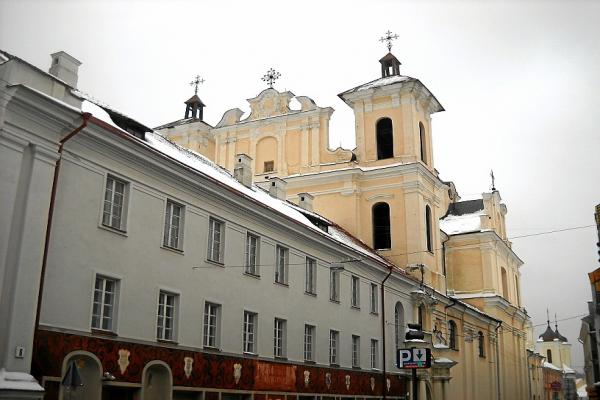 The Church of the Holy Spirit is a prime example of late Baroque Dominican architecture. The majestic dome rises reverently above the city, drawing attention to itself from many points of the city. The appearance of the building is inconspicuous, while the interior is striking in its splendor. The church was truly famous thanks to the numerous dungeons built on several floors and burials, which were carried out during the period XVII-XVIII.
Bernardine Garden
Am Olympiapark 2 www.vilniausparkai.lt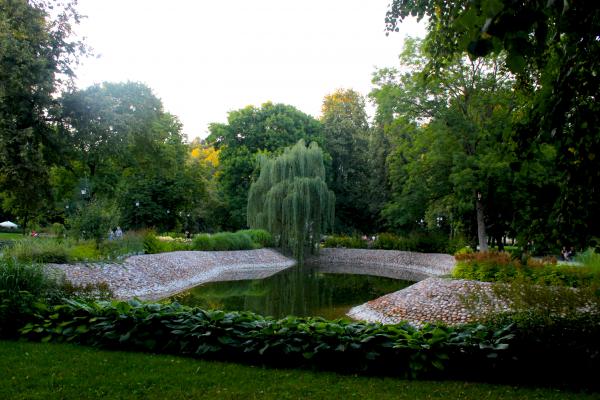 To relax after long walks in Vilnius, visit the Bernardine Garden. The abundance of fountains, benches, unusual trees will help to abstract from the accumulated fatigue. By the way, there are playgrounds where children can spend time with interest. A singing fountain is located in the very center of the garden, and nearby is a place for playing chess, checkers. Going further to the river it will be possible to feed the ducks. Life in this place flows slowly, and a calm atmosphere sets in a good mood.
Upper Castle Museum
Arsenalo g. 3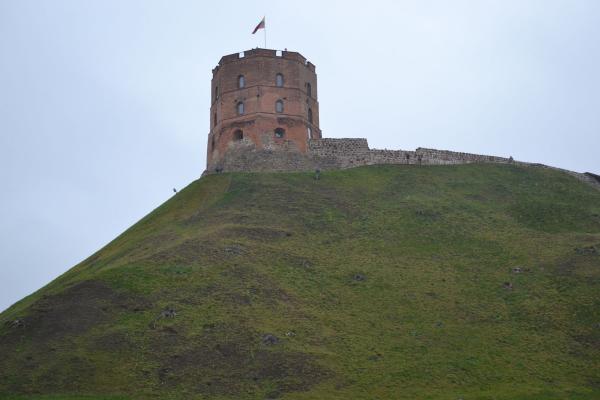 After exploring the main attractions and walking through the beautiful garden, rent a car and go explore the city from a bird's eye view. The Upper Castle Museum is one of the best viewing platforms in Vilnius, which can be reached on foot or by funicular. Outside - a rather severe building, on the roof of which there is a national flag. Inside is a museum where a collection of ancient weapons, knightly armor is presented.
In the vicinity of Vilnius: the best car routes
Uhupis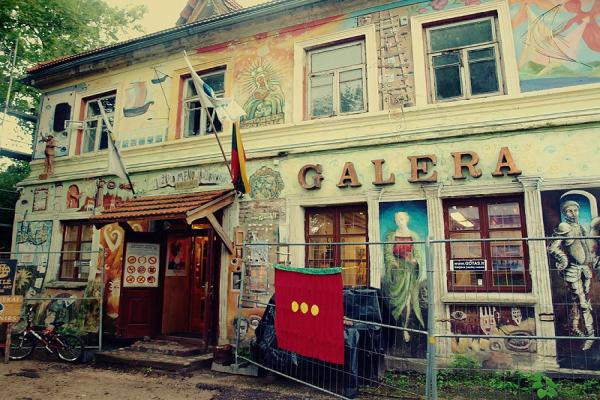 Uzupis is a small quarter that is often compared to Paris Montmartre. From time immemorial, it was a small autonomous region, with its own power, budget, laws. Among the attractions that deserve the attention of tourists, one can note the Gonestov Palace, which is a vivid example of classicism, the Catholic Church of St. Bartholomew, belonging to the Belarusian Catholics. The main symbol of the quarter is a sculpture of a trumpeting angel. Walking along Uzupis, you will surely stumble upon literary cafes, amateur galleries, original cafes. In such places you can meet interesting people, watch performances in the open air, and enrich yourself culturally.
Вverinas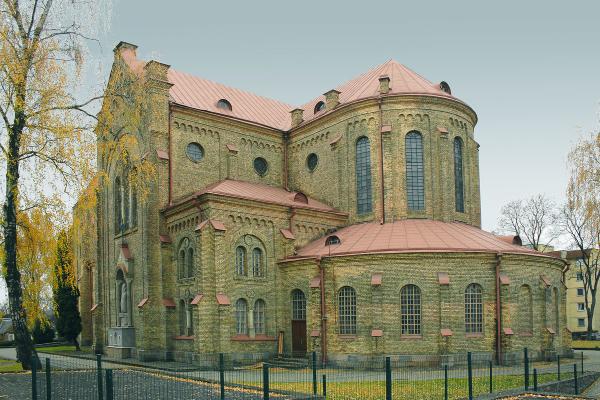 Having rented a car, go to вverinas, a picturesque district of Vilnius, located on the right bank of the Neris. In the XVIII century there was a magnificent garden with many trees, flower beds, narrow paths, wild animals. Already in the XIX century, summer residences and country villas began to appear here. The owners of such houses fled to вverinas to enjoy the beauty of nature in complete silence. Today, walking around the area, you can see a wide variety of small buildings that clearly demonstrate all the charm of wooden architecture. Walking up the streets, you will find yourself in one of the most prosperous areas, where luxurious high-tech houses are located. The main attractions here are: the Catholic Church of the Immaculate Conception of the Blessed Virgin Mary, the Karaite kenassa, Orthodox Church of the Icon of the Mother of God "The Sign". Nearby are the buildings of several embassies, which organically combine with the rest of the architecture.
Kaunas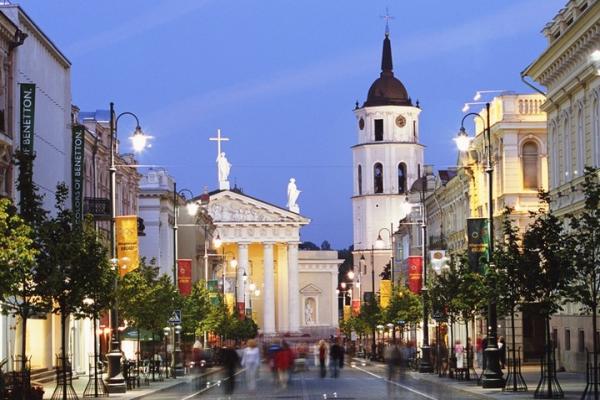 When you get to Kaunas, you can explore everything on your own or take a guide who will conduct a detailed tour. If you still decide not to become attached to the circumstances, remember the main "mast visit" of the place. Arriving in Kaunas, first go to the Old Town, where you will be inspired by the atmosphere of a small town. Then move towards the Church of St. Michael the Archangel. This is a snow-white building, the dome of which is visible from afar. In the same area there are many restaurants and cafes for every taste. On the way, inspect the town hall and take a walk in the park of Kaunas Fortress.
Trakai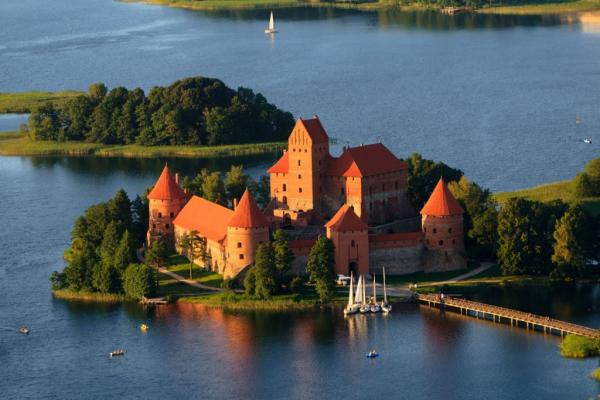 One day is enough to explore Trakai. Tourists often come here from Vilnius only to see the famous medieval castle, which is surrounded by a river and a small forest. Once it was a military fortress, later it hosted dinner parties and balls. Time passed, the castle changed with it. There was a time when prisoners were kept here. If you plan to come here in the warm season, you can ride bicycles and a boat, swim in the lake, sunbathe on the beach. Local pies with various fillings deserve special praise, which are best tasted with Lithuanian kvass.
Vilnius TV Tower
Sausio 13-osios g. 10 http://tvbokstas.lt/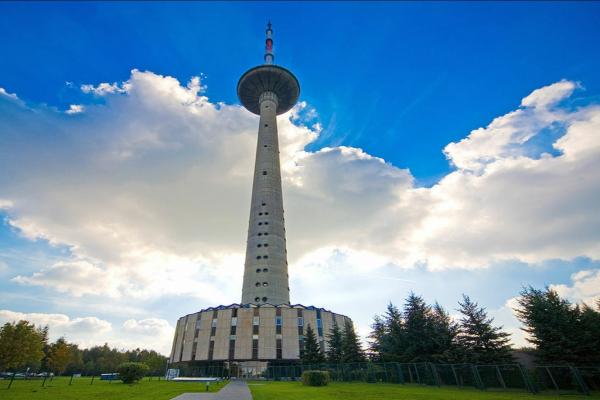 To enjoy your evening in an unusual setting, rent a car and head to the Vilnius TV Tower. On the top floor there is a restaurant, which, spinning, completes a full circle in an hour. The spectacle is extremely fascinating and memorable. At sunset, a particularly romantic atmosphere reigns here: the lights of the night city from an unimaginable height produce an indelible impression. To be sure to get to the observation deck and sit at a table in an unusual restaurant, book a place in advance.
Food: atmospheric restaurants, cafes and bars
The Town Contemporary Grill & Bar
Gedimino pr. 26 http://town.lt/en/#_=_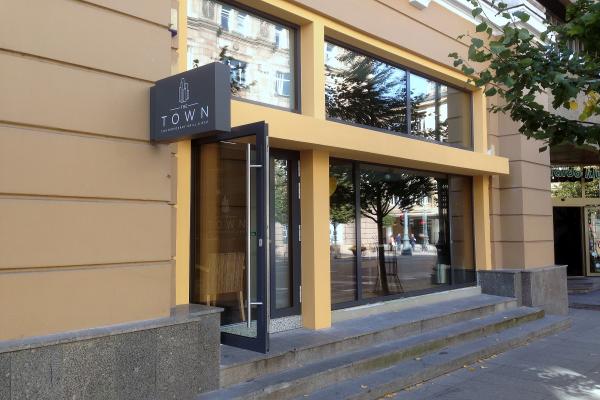 For a delicious breakfast, head to The Town Contemporary Grill & Bar. The most delicious burgers, an original omelet, pancakes with topping and other joys that you can eat for breakfast are prepared here. A simple interior and pleasant music do not distract from eating delicious dishes, but create a pleasant atmosphere. If you plan to visit the restaurant at lunch time, you can try excellent steak and a glass of wine here. For dessert, you will be offered a wide selection of cakes. The Town Contemporary Grill & Bar staff is doing their best to please every visitor.
Pilies kepyklele
Pilies g. nineteen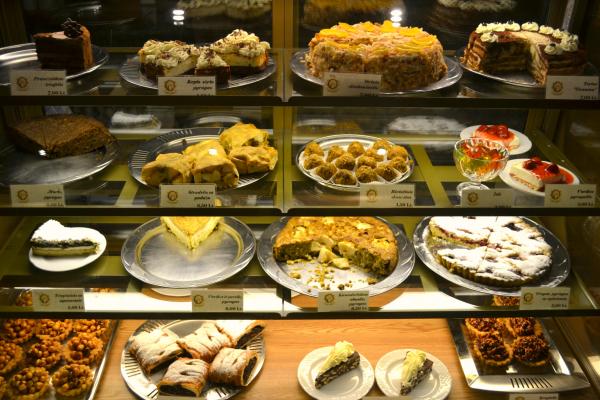 If you are an ardent fan of sweets and not a single burger or steak can replace a piece of a noble cake, leave the rental car in the parking lot and go to Pilies Kepyklele. Tiramisu, pancakes with various fillings, charlotte, pastries with walnuts and a cup of coffee with a pattern on the foam - this is just a small list of goodies. Even if you come here at 9:00, it will be crowded, and all because the institution is very popular among local residents and tourists.
Chaika
Totoriu g. 7 http://chaika.lt/lt/#_=_

If you are positioning yourself as a real foodie, rent a car and drive to Chaika. The menu includes not only delicacies, but also dishes for vegetarians, vegans, as well as dishes that do not contain gluten. The interior is made in the style of the USSR, and unusual decor elements, for example, water cans or colander lamps look quite original. The institution is equipped with only 6 tables, however, visitors are always full.
Dublis restaurant
Traku g. 14 http://www.dublis.eu/#nav_restaurant#_=_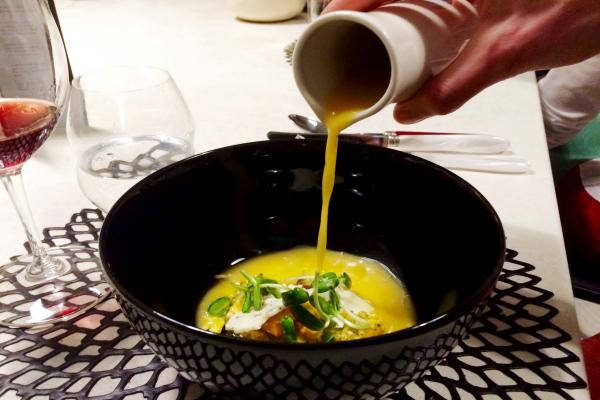 Traveling around Vilnius with a rental car, stop at Dublis Restaurant. Here you can not only enjoy original dishes, colorful serving, but also a stylish interior. A good mood and a cozy atmosphere are guaranteed. The menu is represented by a small number of dishes, so you can be sure: everything you order will be prepared from fresh ingredients. If you doubt your choice, you can order a tasting set.
Alaus biblioteka
Traku g. 4 https://www.facebook.com/alausbiblioteka/#_=_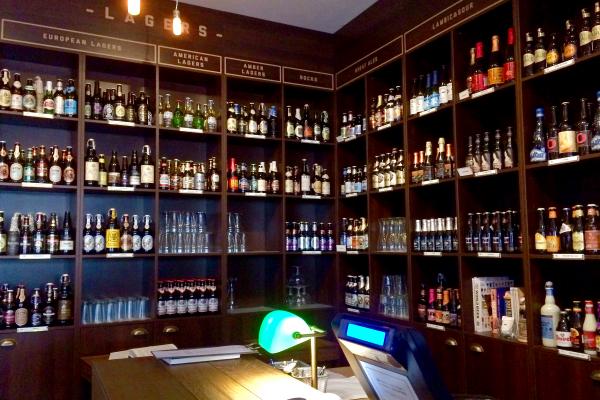 If you are a true connoisseur of excellent beer, then you should visit Alaus Biblioteka. The highlight of the pub is the original huge shelf from floor to ceiling. Here is a whole collection of beer, which is not enough to try even a week. To make a choice, visitors are given a book with a full list of assortment. If you wish, you can talk with the owner, who in all colors will talk about a particular drink. Here you will have the opportunity to try beer not only of local brands, but also of world brands.
Where to live: comfortable hotels in Vilnius
Narutis hotel
Pilies g. 24
+370 5 212 2894 http://narutis.com/en/ double room - from € 135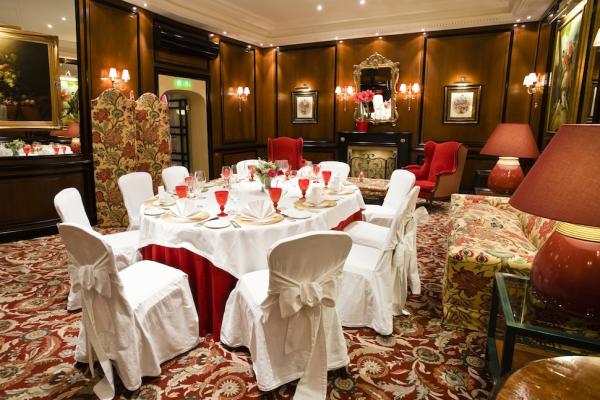 Narutis Hotel is located in the heart of the Old Town. Caring staff will make your stay as comfortable as possible. So, for example, at the time of your return to the hotel, they can prepare a bed for bed. The rooms are spacious, comfortable. The bathroom is large and very functional. If you plan to travel by rental car, you can use the free parking or car wash service.
Vilnius Grand Resort
Ezeraiciu km, Ezeraiciu g 2
+370 5 273 9700 http://www.vilniusgrandresort.com/ double room - from € 100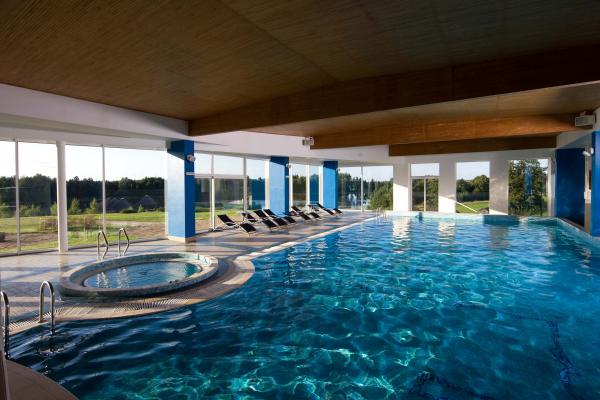 The main advantage of Vilnius Grand Resort is its magnificent view of the lake and the park area. Especially nice, swimming in the pool, enjoy the lovely views. In the morning you can go on a city tour, and in the evening, after visiting the spa treatments, take a walk in the surrounding area. In addition, a tennis court, a golf course, and a fitness center are at guests' disposal. The hotel has a pleasant staff who can take care of your comfort.
Shakespeare hotel
Bernardinu g. 8
+370 5 266 5885 http://www.shakespeare.lt/ double room - from € 120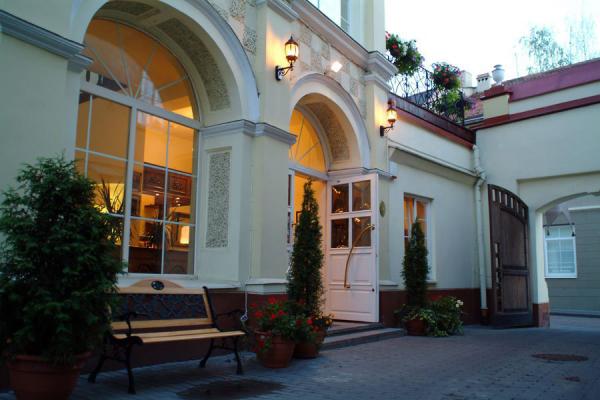 Arriving at the Shakespeare Hotel, it seems that you are in the fascinating world of books and good old cinema. The staff meets guests in stylized costumes. By the way, rooms also have their own characteristics: an unusual interior, name. For example, you can stay in a room codenamed "Romeo and Juliet", respectively, there will be an interior saturated with romantic atmosphere. Surely you will remember the delicious breakfast prepared by the chef himself.
Radisson Blu Royal Astorija Hotel
Didzioji g. 35/2
+370 5 212 0110 https://www.radissonblu.com/en/hotel-vilnius double room - from € 125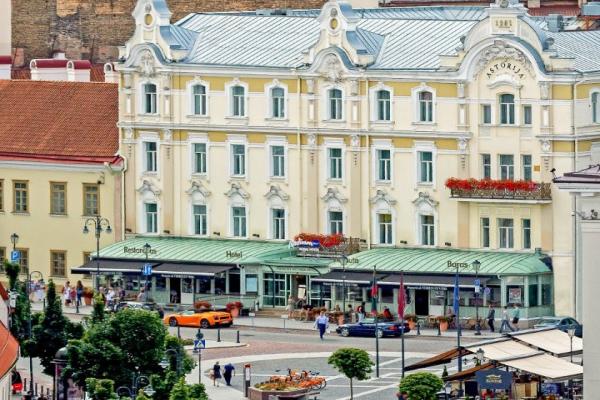 At Radisson Blu Royal Astorija Hotel you will find hospitality, comfort, a cozy atmosphere, a varied breakfast. It offers a fitness center, room service, a restaurant and a pool. The hotel is located in the city center, close to trendy shops, restaurants and the most visited attractions. In case of unforeseen situations, the staff will provide the necessary assistance. The hotel has a parking where you can leave a rental car.
Congress
Vilniaus g. 2
+370 5 269 1919
double room - from € 117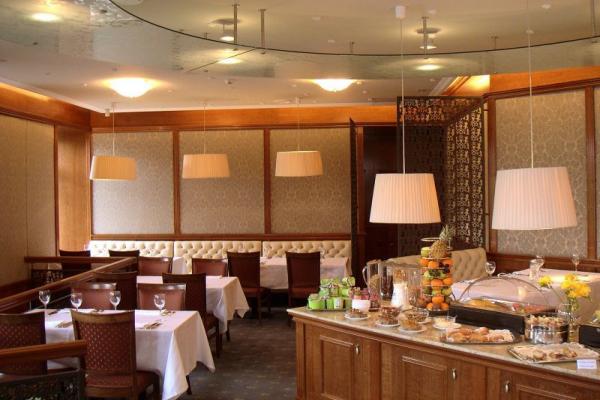 Congress is located near Gedemin Street on the banks of the Neris River. Staying at this hotel you will feel as comfortable as possible. In the morning you can go to a fitness center for a workout, then have a hearty breakfast and go to explore the sights, which are only 10-15 minutes away. Breakfast is delicious and varied, decorated in the form of a buffet.
Where to park a rented car in Vilnius
Car rental in Vilnius with BookingCar - profitable, convenient, simple!
In case of any problems associated with car rental in Vilnius, BookingCar will solve them as quickly as possible.
We will be with you 24 hours a day.
All you need is to contact us.
© Anastasiia Voloshina, 2016
Like this? Share in social networks: