Bookingcar offers a wide range of car rental options in Tyumen
Here you can choose a car of any class that best suits your needs.
Our prices are one of the best prices on the market.
See for yourself!
Professional support
Our professional call center will help you understand all the intricacies of car rental. We guarantee full support throughout the rental period.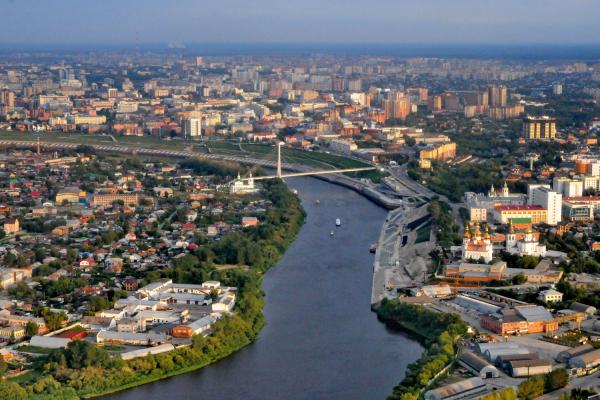 Arriving in Tyumen, everyone will discover this city for himself from a new perspective. Interested in history and culture? Then you should visit the museum of local lore, the museum of fine arts, the museum of geology, oil and gas. If you love hiking, take a walk to the Bridge of lovers, which is located on Beregovaya Street, walk along the Siberian Cats Square and take a couple of shots against the background of the city. Thinking of spending an evening? It is exciting to pass the time in the philharmonic society, drama theater or in the theater of mimicry. To explore the natural sights and picturesque surroundings, rent a car and go along the intended tourist route.
Bookingcar recommends:
Car rental at Tyumen Airport
International Tyumen airport "Roshchino" ( Tyumen Roschino Airport then ) - download scheme
IATA code: TJM
Location: 13 km from Tyumen
Official website: http://www.tjm.aero/
Information: 8 (345) 249-64-50
A car rental service at Tyumen Airport is provided by several companies. The rental car rental counter is located in the arrivals hall. Near the airport there is a short-term parking (the first 20 minutes are free), daily parking (200 rubles per day).
What to see in Tyumen: interesting sights of the city
Znamensky Cathedral
St. Semakova, 13 http://www.tobolsk-eparhia.ru/p/blag/php/place.php?id=tyum&id1=1&id2=1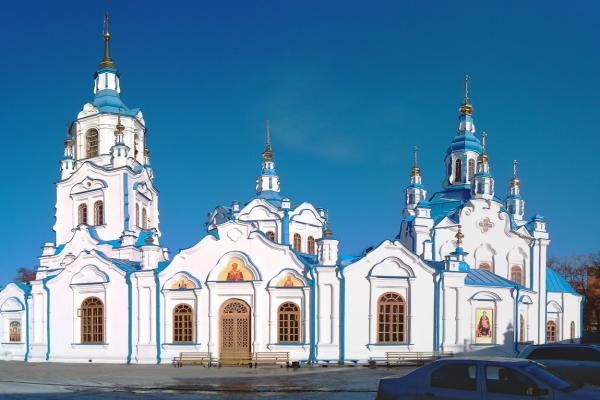 Znamensky Cathedral stands out among the architectural structures of the city. Looking at him, a parallel is subconsciously drawn with the palaces in Peterhof. The complex is made in the style of Russian Baroque. Gold-plated finishes, azure domes and snow-white walls look rich and elegant. The history of the cathedral begins in the 16th century. It was destroyed more than once due to external factors, and after it was restored and modernized. The attraction is of interest not only to believers, but also to those who want to enjoy the architectural grandeur of the building and plunge into the atmosphere of calm and tranquility. It will be most convenient to get to the object by a rented car.
Lovers Bridge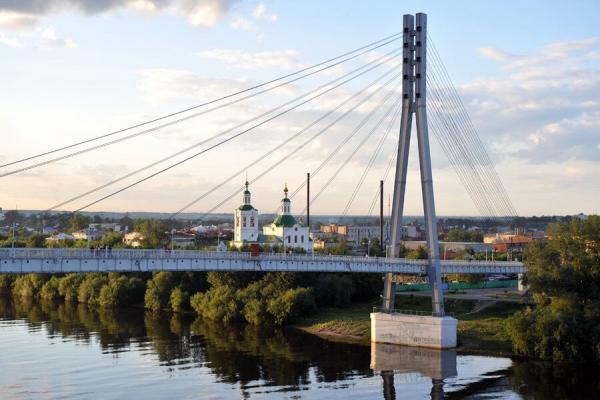 The Bridge of Lovers is one of the symbols of Tyumen. At night, the attraction begins to live a different life: the design is illuminated by numerous lights and becomes a romantic place for meetings and walks of lovers. So that no one was late for dates, a clock was set here. But this is only one of the versions. You can also draw a parallel with the famous proverb "happy hours do not watch." Once here, be sure to kiss your loved one and make a cherished desire.
Art Museum
St. Ordzhonikidze, 47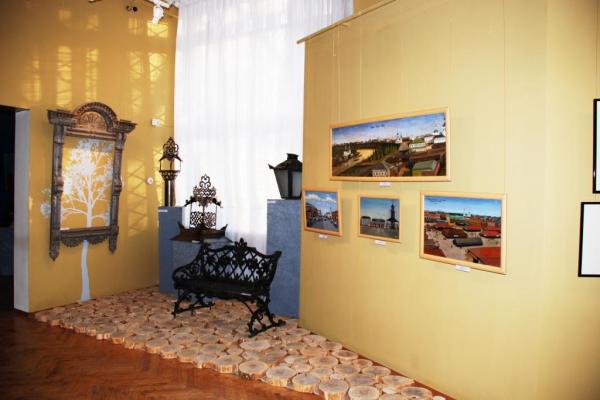 The Museum of Fine Arts is of interest to any age group. Here are collections of paintings by Repin, Aivazovsky, Falk, Picasso, Dali and many other brilliant creators. The masterpieces of the Imperial Porcelain Factory organically complement the art collections. A separate exhibition here displays exhibits of arts and crafts, including woodcarvings, ceramics, clay toys with porcelain.
Square Siberian cats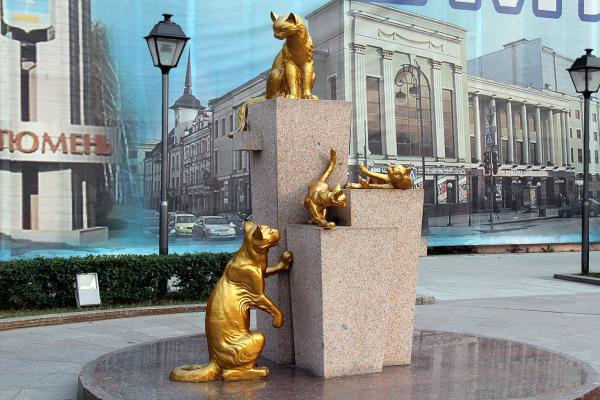 Having rented a car, go to the Siberian cats square. This place has recently become considered a landmark of the city, however, it attracts citizens and tourists. During the siege of Leningrad, rats were especially dangerous for exhibits of the Hermitage, therefore cats were brought from all around to protect valuable collections. In memory of these events, on the central avenue in Tyumen gilded statues of cats flaunt.
Museum of Geology, Oil and Gas
St. Republic, 142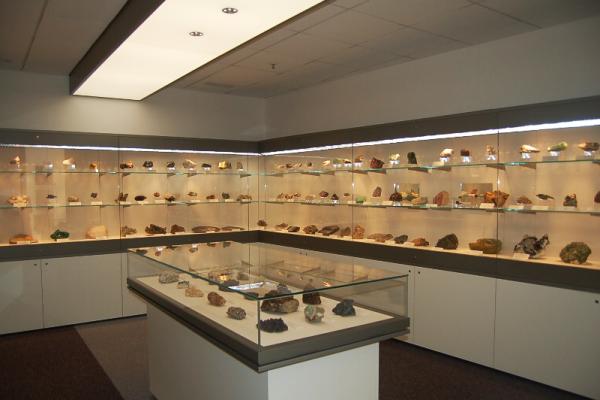 The Museum of Geology, Oil and Gas is a completely outstanding museum where you can familiarize yourself with the chronology of exploration work, learn interesting facts about the history of gas and oil production. The exposition "Mineral wealth of Western Siberia" is constantly operating here, which presents unique minerals and minerals. The most interesting exhibit in the museum is a map of the Tyumen region, made of precious stones.
In the vicinity of Tyumen: the best car routes
Tyumen Hot Springs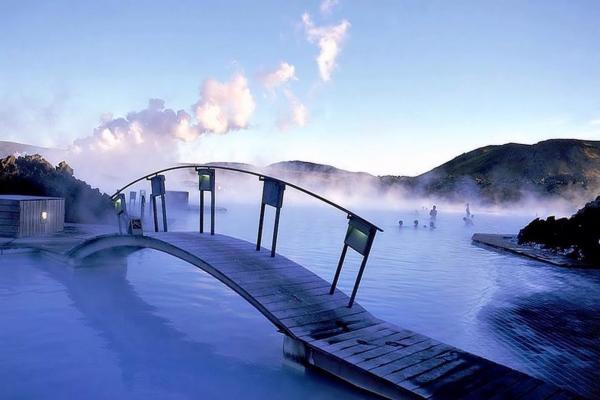 Not many people know that in Tyumen you can swim in the summer and winter. If you want to improve your health or just have fun, go to the hot springs, bathing in which produces a tonic effect. This procedure is especially useful for cardiovascular diseases and diseases of the nervous system. All year round, the water temperature in the pools does not fall below +40 degrees. The procedure should last about 20 minutes, and after rinsing in the pool, it is better to go to drink tea. Bathing in sub-zero temperatures is a kind of exotic, therefore hot springs are popular among city guests. By the way, while adults will enjoy the hot tubs, the younger generation can spend time in the children's pool.
Abalak village
If you want to plunge into a completely different atmosphere for a few days, renting a car, go to the village of Abalak. This is an ancient settlement where the Tatar population has long lived. The village was named after their leader, this name has survived to the present day. Everything is thoroughly saturated with the atmosphere of past centuries. Walking around the village, you will see a picturesque view of the Irtysh River. The main local attraction is the Abalak Monastery. For many years, it has been a pilgrimage center. Believers come here from all corners to bow to the miraculous icon. Not far from the monastery is a tourist complex where the Siberian prison was reconstructed. For example, here you can see a children's town, a forge, governor's chambers, a bathhouse, a tavern.
St. Andrew's Lakes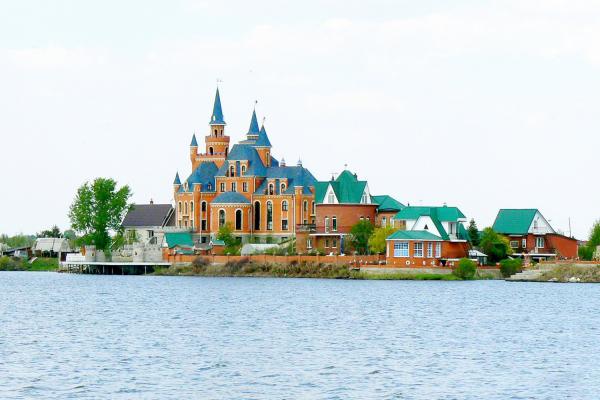 If you find yourself in Tyumen in the summer, then feel free to record St. Andrew's Lakes in your tourist route. This is a whole complex of lakes, consisting of 9 reservoirs that are connected by a strait. Their origin is river, so the depth is shallow. Popular with tourists is the Great St. Andrew's Lake. There is a clean sandy beach and a safe bottom. In others, for example, fishermen hunt their catch, and waterfowl live in the lowest lakes. The bottom is muddy and the coast is wild, so swimming can be dangerous.
Rasputin Museum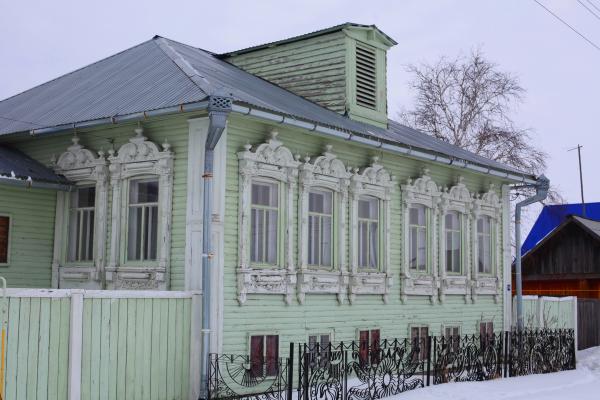 If you have heard about the Romanov family, then you certainly know about Gregory Rasputin. At 28, he went to travel around Russia. Arriving in the capital, he managed to get closer to the royal family. It is believed that he had a strong influence on the king, gave him practical advice and was a confidant. Someone considered him a sage, and someone - a noble drunkard. Once in the Rasputin Museum, you will be told interesting facts from his life, show personal things. Particularly interesting exhibits are a dressing table with a cracked mirror, an old Viennese chair of Rasputin, an icon in front of which Gregory prayed, a spoon and a dish with a personal monogram of Alexandra Fedorovna Romanova.
Yalutorovsk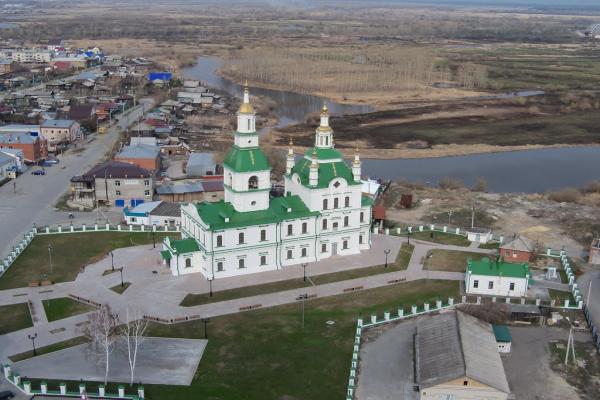 Rent a car to go to a small town with an interesting history. Yalutorovsk was also a Tatar village, where in the 19th century the Decembrists were sent to exile. In memory of the events, a museum complex has been opened here, which includes the houses of famous Decembrists, in addition, the House of Nature and the Museum of Local Lore. The town also has a tourist facility, built according to the original plan of the Yalutorovsky prison. In the construction, the same rules and canons were used as 3 centuries ago. Visitors will see a drawbridge, an observation tower, farm buildings of the time, wooden sculptures, a first settler's estate with a barn.
Food: atmospheric restaurants, cafes and bars
Fish Restaurant "Poseidon"
St. Lunacharsky, 47 http://www.maxim-rest.ru/restaurant/poseydon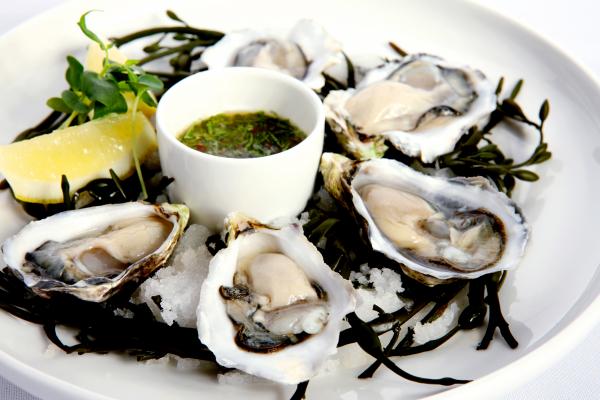 After a walk through the historic center of Tyumen, visit the Poseidon Restaurant. The chef of the institution professionally combines various ingredients and spices, receiving new unusual dishes. Here you will have the opportunity to try unique breeds of fish, fresh oysters that are constantly delivered by plane to Poseidon. Special offers are regularly available at the establishment. Once you get to one of them, you can get a 20% discount for lunch, get a regular mug of regular guest, or try Krombacher draft beer.
Tkemale
St. Maxim Gorky 74 http://www.tkemale.com/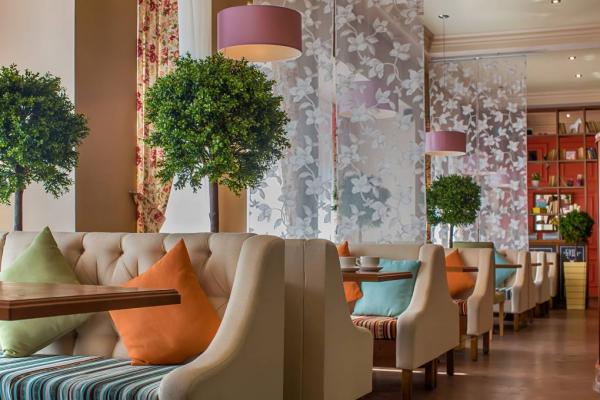 The Tkemale restaurant offers its guests Georgian cuisine according to old recipes, a rich map of Georgian wines and a cozy atmosphere. In this place you can have a delicious lunch, dinner or a family celebration. Try here lagman in creamy sauce with bacon, salad with chicken and mushrooms on puff khachapuri, vegetable sauté. As a drink, you can choose blackberry mulled wine or wine to your taste. A rich menu and unobtrusive service will appeal to every client.
Maksimych
St. 50 years of October, 52 http://www.maxim-rest.ru/restaurant/bigmax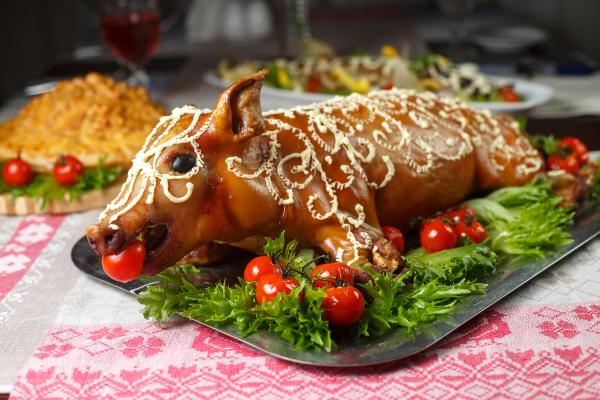 If you want to plunge into the original Russian atmosphere and have a delicious lunch, rent a car and go to the Maksimych restaurant. The institution is already attracting attention from the street. A small tower with towers is made of logs, and a lookout room and parapets organically complement the exterior. On the ground floor there is a stage where professional artists stage theatrical performances. In "Maksymysh" in addition to the main menu there is a children's menu. The restaurant provides catering and food delivery.
Granny´s bar
St. Melnikayte, 98 http://grannysbar.ru/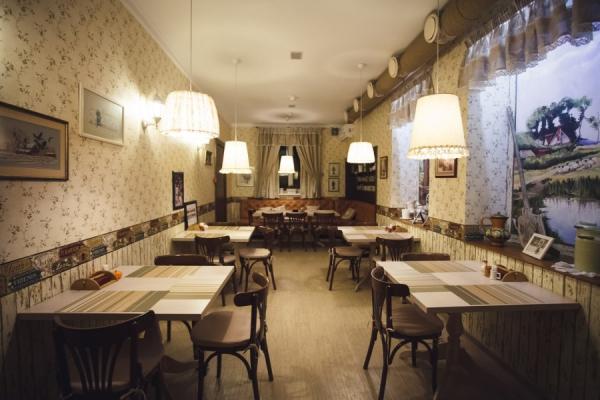 Looking for a place where you can spend an evening with friends for a cocktail? The best solution in Tyumen is Granny´s Bar. In addition to punch, milkshakes and homemade fruit drinks, you can eat hearty here. Cold and hot snacks, meat and fish dishes, grill menus, pasta, dishes for a large company - all this and even more will be offered to you in one of the most popular restaurants in the city. By the way, there is a promotion in the institution: if you can eat a 3-pound burger in an hour, then you will get it for free. And in order to gain the title of "expert on cocktails", for any period of time you need to drink all the cocktails presented in the bar menu.
Parmesan
St. Yamskaya, 92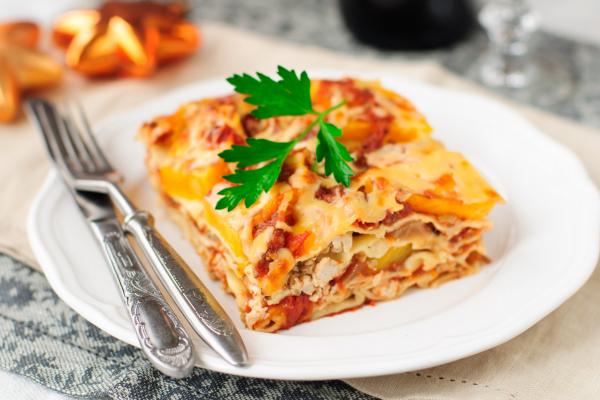 "Parmesan" is one of the few institutions in Tyumen where master classes and creative evenings are regularly held. Once at one of the events, you will learn, for example, to paint gingerbread cookies or listen to the original performance of songs in the style of jazz and soul. In this place you should try pork in almond petals in Spanish, vegetable lasagna, pickle Leningradsky with tomato paste. Between 12:00 and 16:00 a 20% discount on the main menu and a 50% discount on the coffee card.
Where to live: comfortable hotels in Tyumen
BEST WESTERN Plus SPASSKAY
St. Lenina, 2a
8 (345) 255-00-08 http://hotel-spasskaya.ru/ double room - from € 87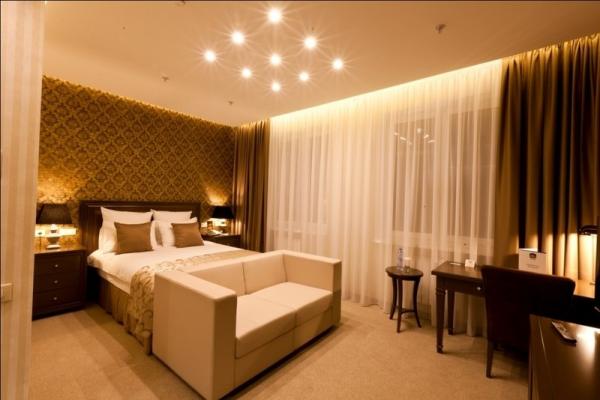 BEST WESTERN Plus SPASSKAYA has a number of special offers. For example, having booked a room from Friday to Monday for two, you can get preferential conditions for accommodation. As a compliment, champagne and fruits await you in your room. The hotel rooms are spacious and the interiors are exquisite. It offers a gym, swimming pool, hammam, sauna. Car rental guests can use the free underground parking.
Green house hotel
St. Nikolay Fedorov, 9
8 (345) 238-53-85 http://grnhouse.ru/ double room - from € 99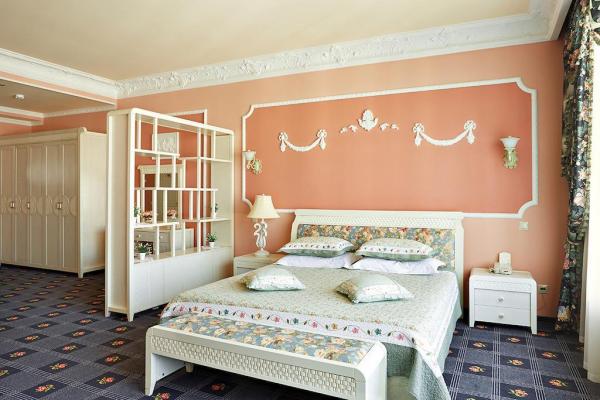 Green House Hotel has a special atmosphere of magic and fairy tales. Outside, the building looks like a real castle. Even if you arrive late at night, a night shift receptionist will meet you with a smile on your face. At the hotel you will have the opportunity to attend spa treatments and a bath complex. In the restaurant you can taste not only the main dishes, but also homemade desserts. Having trusted the competent staff, they will arrange the best event for you on the occasion of your wedding or birthday.
Remezov hotel
St. Griboedova, 6
8 (345) 238-39-38 http://www.remezovhotel.ru/ double room - from € 87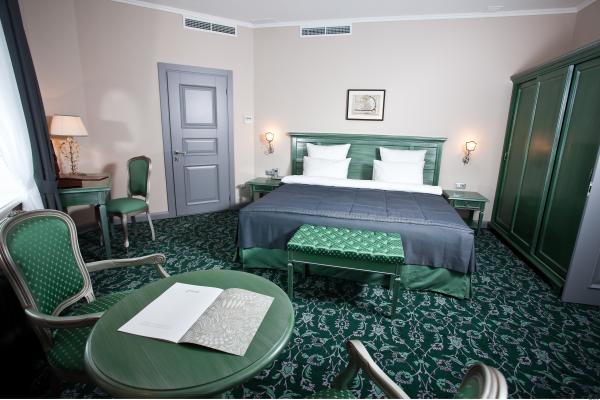 When staying at the Remezov Hotel, you will have the opportunity to take advantage of a number of advantages. The Wellness Center features a hot Finnish sauna and a refreshing pool. A travel company operating on the basis of the hotel will organize for you a fascinating sightseeing tour of the city and the surrounding area or offer tickets to the best lodges of theaters. Having a hearty breakfast in the restaurant of Russian cuisine, you can safely go on the planned tourist routes.
Eurasia
St. Sovetskaya, d. 20
8 (345) 222-20-00 http://www.eurasiahotel.ru/ double room - from € 77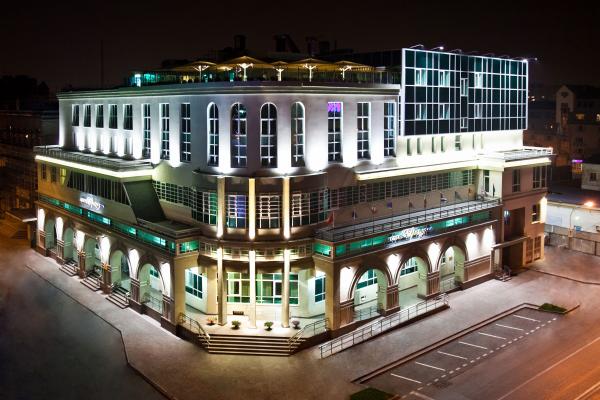 The Eurasia Hotel will be an ideal solution for banquets, business meetings, trainings, wedding ceremonies. It offers scenic views of the conservatory and the lake. Looking out the window, you can enjoy parrots and canaries. Hotel guests can use the gym (without restrictions) and the sauna (from 10:00 to 16:00). Leaving the rented car in the underground parking, go on a short walk to the city center, and on the way go to the colorful restaurant.
Park Hotel Prague
St. Institutskaya, 15
8 (345) 269-37-77 http://www.pragahotel.ru/ double room - from € 51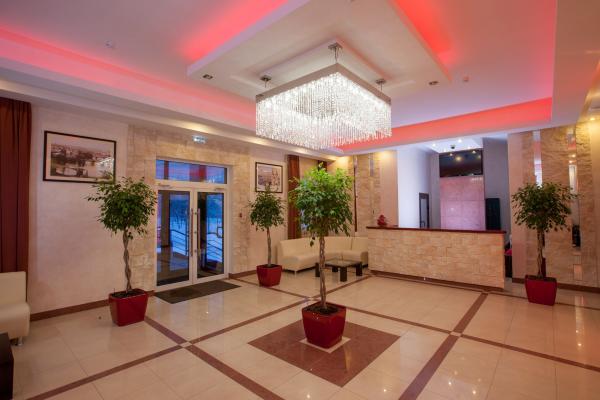 Park Hotel Prague offers its guests the following services: sauna, shuttle service, wake-up call, parking. A 10-15 minute drive is the resort "Upper Bor", airport, city center. On Sundays, a 50% discount on accommodation. The hotel is located away from noisy tracks, so even with the windows open in your room you can relax. The courteous staff will make sure that you have everything you need for a pleasant pastime.
Where to park a rented car in Tyumen
Car rental in Tyumen with BookingCar - profitable, convenient, simple!
In case of any problems associated with car rental in Tyumen, BookingCar will solve them as quickly as possible.
We will be with you 24 hours a day.
All you need is to contact us.
© Anastasiia Voloshina, 2016
Like this? Share in social networks: