Bookingcar offers a wide selection of car rental options in Toulouse
Here you can find a car of any class that best suits your needs.
Our prices are one of the best prices on the market.
See for yourself!
Professional support
Our professional call center will help you understand all the intricacies of car rental. We guarantee full support throughout the rental period.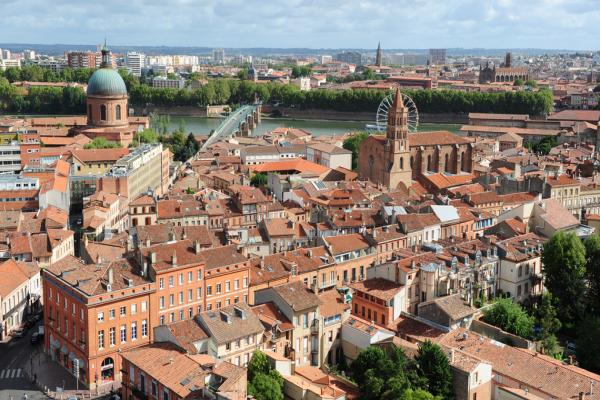 Toulouse is a city of vibrant sights and distinctive traditions. Every year, more and more tourists want to see the "Pink City" with its graceful mansions, ancient churches and cozy squares. Among the places worth visiting are the Saint-Etienne Cathedral, the Capitol, the Basilica of Saint-Cernan, the Bemberg Art Gallery and the Space Town. In search of souvenirs, go to the flea market, which operates on Sundays or to the center of the "art quarter". Toulouse is replete with delicious restaurants, but if you still haven't been able to taste the delicious wine, head to the farmers' market around St Aubin Basilic: you can also taste your favorite drinks and buy a couple of bottles as a present for your relatives.
Bookingcar recommends:
Car rental at Toulouse Airport
Airport Toulouse-Blanc ( Toulouse You of Blagnac Airport then ) - download scheme
IATA code: TLS
Location: 7 km from Toulouse
Official website: www.toulouse.aeroport.fr
Information: +33 825 38 00 00
The following car rental companies operate at Toulouse Airport: Hertz, Europcar, Avis-Budget, GoldCar, Enterprise, Sixt. Car rental desks are located in the arrivals hall. Several parking zones are equipped near the airport, you can make a reservation on the airport website.
What to see in Toulouse: interesting sights of the city
Cathedral
Place saint-etienne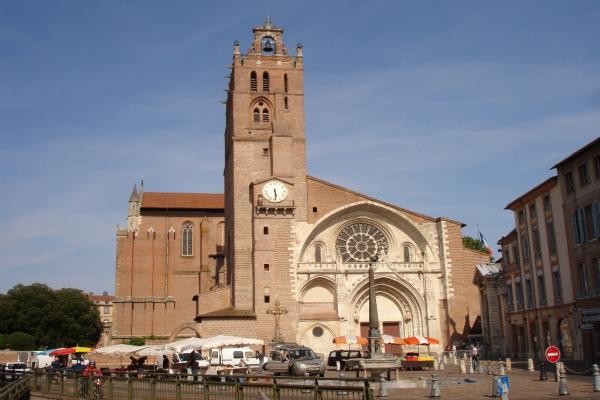 Having rented a car, go see the national monument of the country - Toulouse Cathedral. The final version of the construction consists of two churches, which is why the cathedral turned out to be asymmetric. Construction lasted several centuries, therefore, elements of several styles can be traced in architecture. Having examined the exterior, it is worth looking inside. Ancient stained glass windows, a round column, an old nave keep history in themselves, starting from the XIII century. No less interesting is the three-ton organ, 17 meters high. Dating back to the beginning of the 17th century, it is still often used in concerts. The Cathedral also houses 17th-century tapestries, attributed to Jean du Mase.
Space city
Avenue Jean Gonord www.cite-espace.com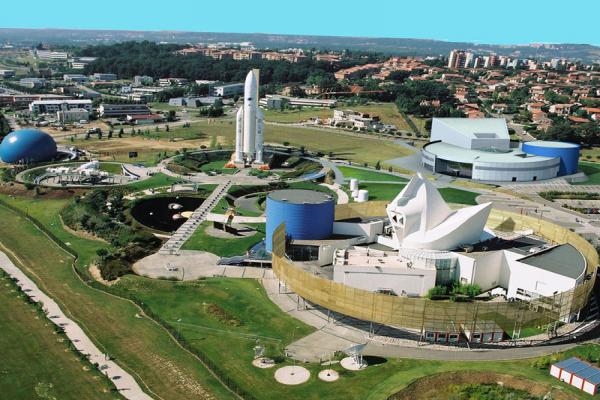 If you want to diversify your visit to ancient sights, go on an excursion to the Space City. This is a theme park, during which you can see interesting exhibits related to space and space conquest. While adults will be examining the Mir space station, the Arian 5 rocket models, the Soyuz module, children can try to control the ship, train on a rocket slide, and complete a space mission. Among other attractions that tourists will enjoy regardless of age are the IMA cinema, which shows films about space stations, the "stellarium" and the planetarium.
Modern Art Museum
Allee Charles de Fitte 76 www.lesabattoirs.org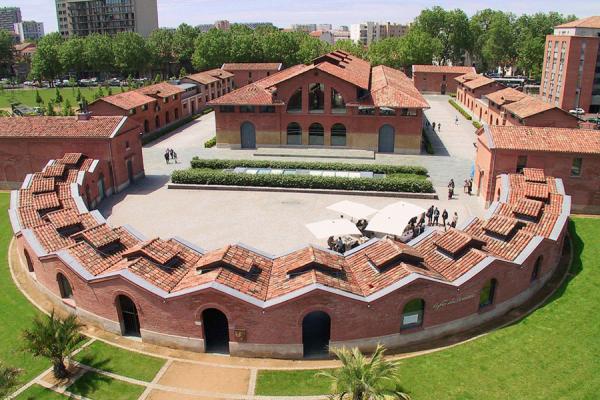 The Museum of Modern Art in Toulouse is a local cultural center, on the territory of which the Midi-Pyrenees Regional Fund for Contemporary Art and a modern art center operate. The basis of the museum's collection is works in the style of informal art, lyrical abstraction, art brut. Picasso's stage curtain is considered the pearl, but it is shown only 6 months a year. In addition, you can see the work of Riopell, Jean Dubuffet, Karel Appel, Sam Francis.
Basilica of Saint-Sernin
Place saint-sernin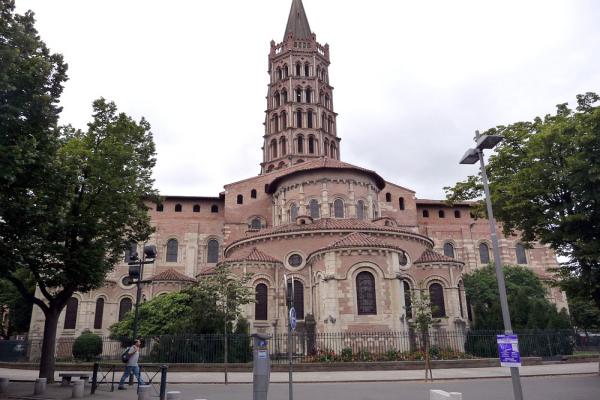 Continuing the tour of the holy places of the city, you should look into the basilica of Saint-Sernin, dating from the IV century. The first thing that attracts attention is the bell tower with a spire, consisting of three levels. No less remarkable are the tombs of saints and the organ created at the end of the 19th century. The interior of the basilica is replete with sculptures with the faces of Christ, the prophets and other biblical characters. It's more convenient to get to the basilica by renting a car.
Georges Labi Museum
Rue du Japon 17 www.museegeorgeslabit.fr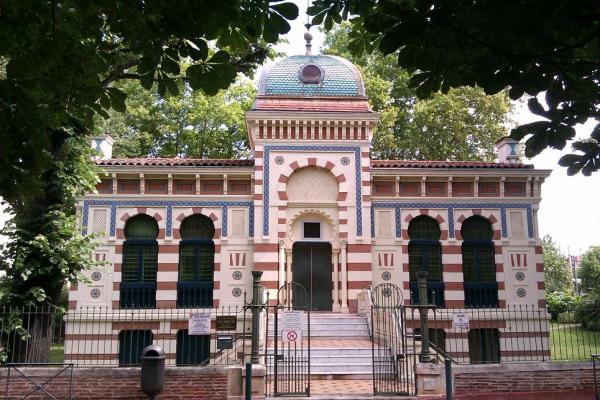 No less popular attraction in Toulouse is the Museum of Georges Labi. The first thing that catches your eye is the Moorish style in which the villa was built and the exotic garden surrounding it with palm trees, ferns, azaleas, bamboo. The museum collection contains exhibits of Ancient Egypt and the Far East. The most spectacular are objects made of bronze and jade, carved wooden statues of Buddha, ritual objects from Nepal and India, as well as objects made from human bones.
Near Toulouse: the best car routes
Montoban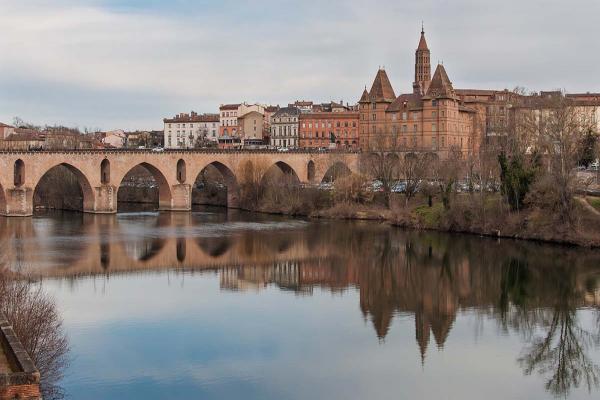 An hour from Toulouse is one of the oldest fortified cities in southern France - Montauban. In the Middle Ages it was a real field for religious wars, and today it is considered a quiet and peaceful place, where tourists like to come here and there. Among the places that are definitely worth seeing are the Cathedral of the Ascension of Our Lady, built in the XIV century, the Church of St. Jacob with an octagonal bell tower, the Museum of Ingres, which houses a huge collection of the artist. The most recognizable place of Montauban is the arched bridge over the Tarn River, built in the XIV century and survived 2 powerful floods. On Saturdays, a market for farm products and handicraft products operates in the town square, and annual song and music festivals are held in late May and July.
Carcassonne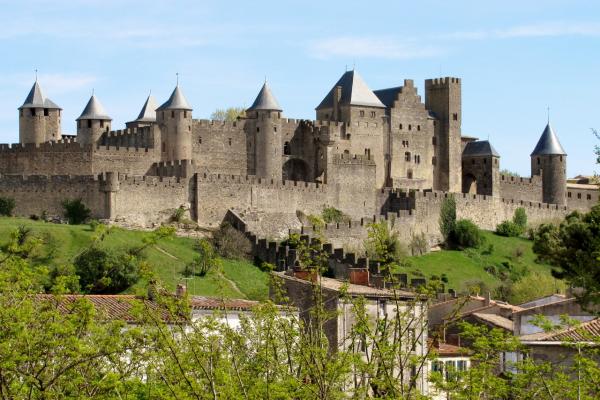 When you rent a car, go see the small town of Carcassonne, located on a rocky hill and perfectly preserved from the Middle Ages. The main attraction here is the Cité Fortress, which is especially popular among tourists. On its territory there are a basilica with ancient stained glass windows and a castle dating from the first half of the XII century. The latter now houses the archaeological museum, which contains the most valuable relics, for example, round headstones with images of crosses that date back to the XII-XIV centuries. Looking at the Inquisition Museum, one can learn about all the tortures suffered by heretics. It will be especially interesting for men to get acquainted with the technique of military art during the inspection of fortifications.
Moissac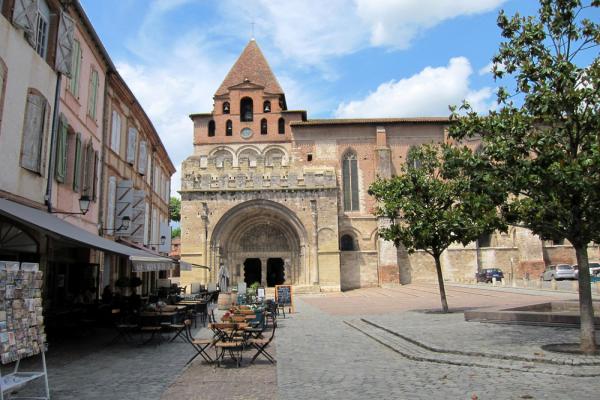 Not far from Toulouse is the cozy village of Muasak, around which sweet Chasla grape varieties are grown. The main attractions here are the Napoleon Bridge, Canal du Midi, St. Peter's Basilica, and the Benedictine Abbey. After seeing the village's architecture, you can go for wine spa treatments or go fishing on the Kakor Bridge, having obtained a license in advance. In the end, it is worth stopping by a local restaurant and tasting the local wine.
Pyrenees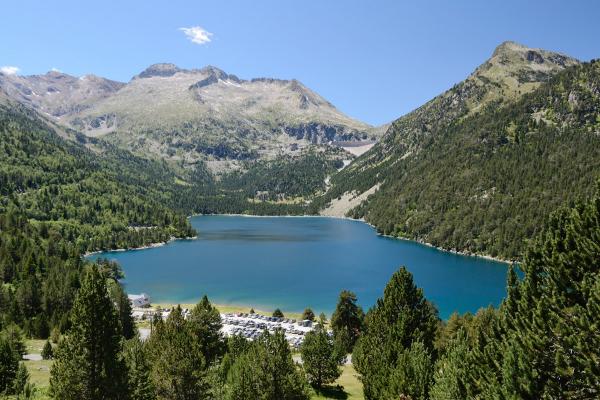 Whether you arrived in Toulouse in warm or cold weather, you should definitely take a ride to the Pyrenees. There are plenty of opportunities for boring leisure. Hiking enthusiasts can go on a short hike, in wintertime they can ski on the equipped trails. The Monsegur monastery, the pilgrimage center of Lourdes and the town of Pau are also located here. The territory is considered a protected area, which means that even if you do not get to some significant places, the panoramas of mountains, meadows, lakes will make an indelible impression.
Saint-Bertrand de Commenes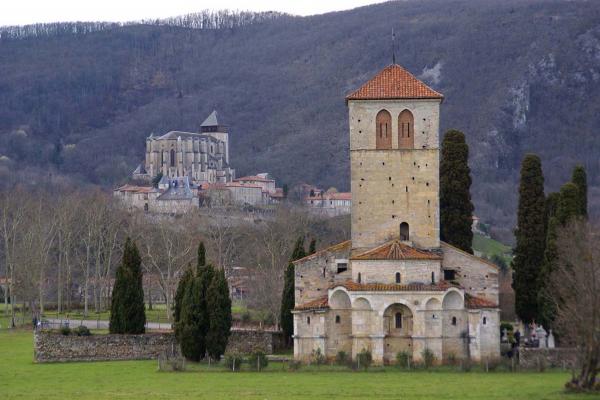 Want to see what one of France's most beautiful villages looks like? Rent a car on a tour of Saint-Bertrand de Commenes. In the 1st century, a Roman town was founded here, in which there was a market, a theater, and a temple. Many events happened centuries later, and Saint-Bertrand de Commenges is still charming. During the trip, it is worth visiting the Notre Dame Cathedral, which stores the relics of Bishop Bertrand Lily and Hugo of Castile. No less spectacular attraction - the ruins of the Gallo-Roman fortifications and all kinds of public buildings.
Food: atmospheric restaurants, cafes and bars
Cafe jean la-bas c'est ici
Allée Jean Jaurès 75 www.facebook.com/cafejean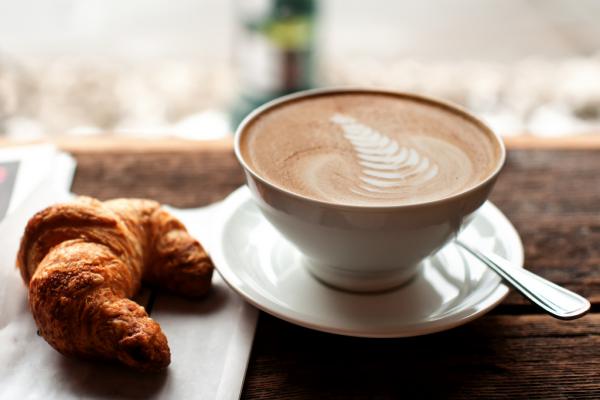 If you want to have breakfast early in the morning with traditional French dishes, head to Cafe Jean La-bas c'est ici. In good weather, it will turn out to sit at tables on the street. If you plan to drop in here with the children, be sure that you will find something special in the menu for yourself and for the child. If you can't make a choice, order croissants, toasts with jam, coffee and you will not lose. A cozy atmosphere will make for a pleasant meal, and quick service will leave the most pleasant impression.
Le grenier de pépé
Rue Denfert Rochereau 1 www.legrenierdepepe.com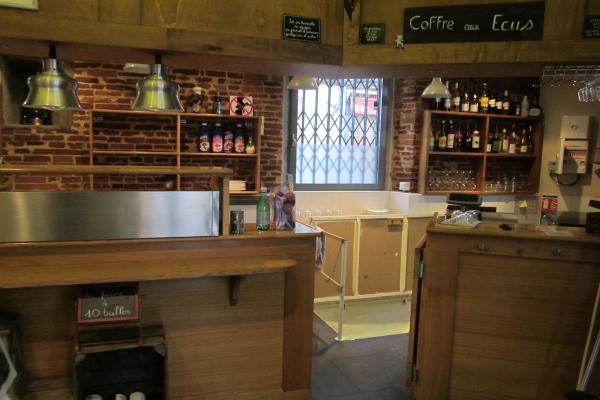 Looking for a good place for a hearty lunch, check out Le Grenier de Pépé. Hospitable hosts who speak several languages ​​are friendly to each guest. They will help you quickly place an order and talk about the features of cooking a particular dish. The highlight is that everything is prepared according to traditional home-made recipes, so after waiting a bit, you will be served a unique dish. The place is popular, so it is better to book a table in advance.
Garam masala
Rue Maletache 10 www.garammasala.fr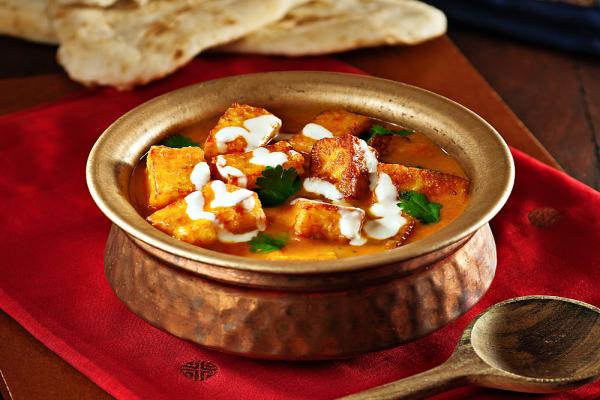 While driving around Toulouse in search of a special restaurant, check out Garam Masala. The restaurant's menu includes Asian and Indian cuisine, vegetarians and lovers of the "right" dishes will have something to try. Everything you order will be prepared according to the recipe. If after talking with the waiter there are doubts about this or that dish, you can ask not to add some ingredients.
Michel sarran
Boulevard Armand Duportal 21 www.michel-sarran.com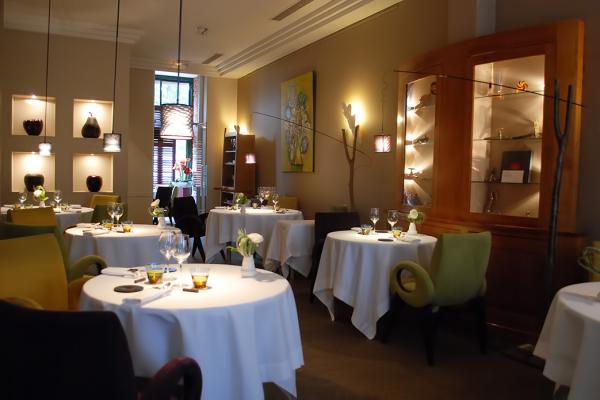 If you are looking for a restaurant for a special occasion, Michel Sarran is perfect. A cozy atmosphere, stylish interior and slightly muted tones make for a pleasant pastime. You should definitely try seafood prepared according to the chef's special recipes, dessert and wine on the advice of the sommelier. The waiters will make sure that the order is served quickly and the guests do not need anything during the meal.
Les complices
Place Dupuy 13 www.restaurant-lescomplices.com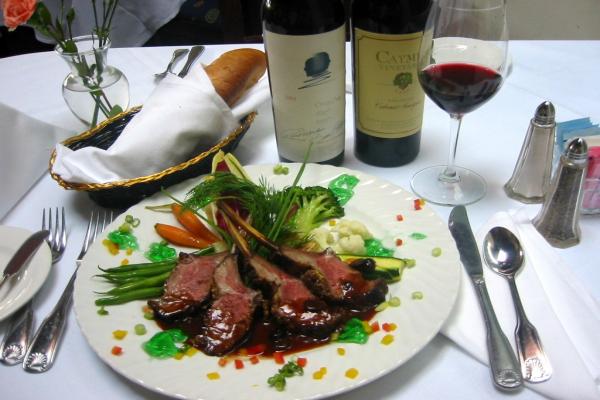 For dinner with children, friends or for a business meeting, Les Complices is suitable. The menu offers dishes of French cuisine and, of course, the wine list deserves special attention. Dishes are served in small portions, while the original presentation deserves special attention. The competent staff will be able to serve everyone at a high level and make sure that guests are satisfied with the meal. The restaurant is small, so for a pleasant evening it is better to book a table in advance.
Where to live: comfortable hotels in Toulouse
Ibis Toulouse Ponts Jumeaux
Boulevard de la Marquette 99
+33 5 62 27 28 28 hotel3kfaro.com double room - from € 48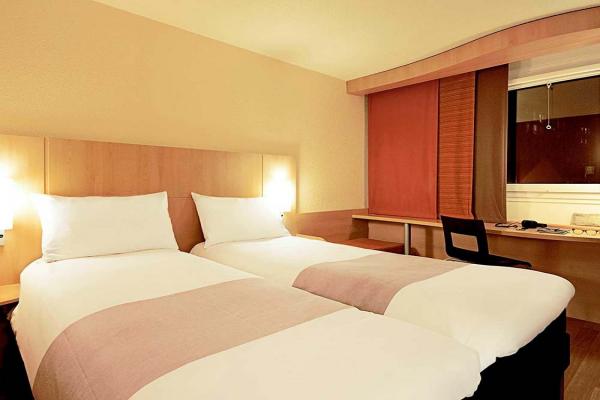 If you plan to rent a car, for your stay in Toulouse, opt for the Ibis Toulouse Ponts Jumeaux. Shops are located nearby and the main attractions are quickly accessible. The hotel offers tourists a small but comfortable apartment with everything you need for a comfortable stay. The staff is polite and attentive, quickly responding to requests. Among other services - free parking, a cozy bar, a conference room.
Crowne plaza toulouse
Place du Capitole 7
+33 5 61 61 19 19
double room - from € 104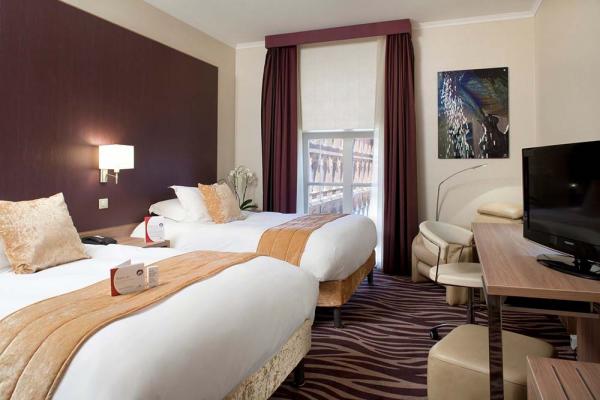 Want to stay in the very center of Toulouse? Crowne Plaza Toulouse is perfect. The rooms are spacious and comfortable, with a picturesque view of the courtyard. The competent staff does everything possible to ensure that each guest is provided with everything necessary. If you plan to organize a business meeting or event, a functional conference room will be at your service. If you came to Toulouse for a special occasion, you can gather guests at the banquet hall.
Hotel albert 1er
Rue Rivals 8
+33 5 61 21 17 91 www.hotel-albert1.com double room - from € 84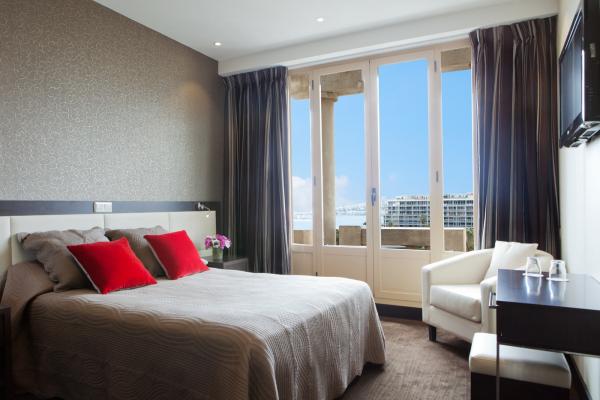 Are you looking for a comfortable accommodation in Toulouse at a reasonable price? Hotel Albert 1er offers its guests spacious rooms equipped with everything necessary for relaxing with children and friends. Nearby is the Town Hall Square with lots of shops and souvenir shops. The stylish interior creates a cozy atmosphere, conducive to a pleasant stay, in addition, good sound insulation guarantees excellent sleep. In the mornings, a hearty breakfast is served for every taste.
Hotel des beaux arts
Place du Pont Neuf 1
+33 5 34 45 42 42 www.hoteldesbeauxarts.com double room - from € 114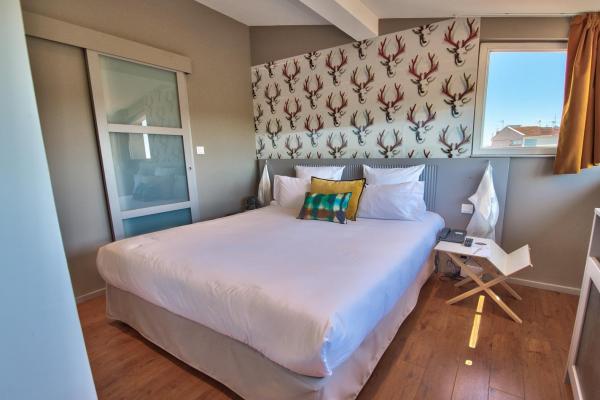 If you prefer romantic locations, opt for Hotel des Beaux Arts. The first thing that catches your eye is the stylish interior of the rooms and excellent views from the window. The apartments are equipped with everything necessary, and if there is a need for anything, you can safely contact the staff. The undoubted advantage of the hotel is the proximity to delicious restaurants and spectacular places. Tourists who travel by rented cars will benefit from free parking.
Le grand balcon
R. Gen. Teofilo da Trindade 20
+351 289 889 800 www.bestwestern.pt/hotels/best-western-hotel-dom-bernardo double room - from € 91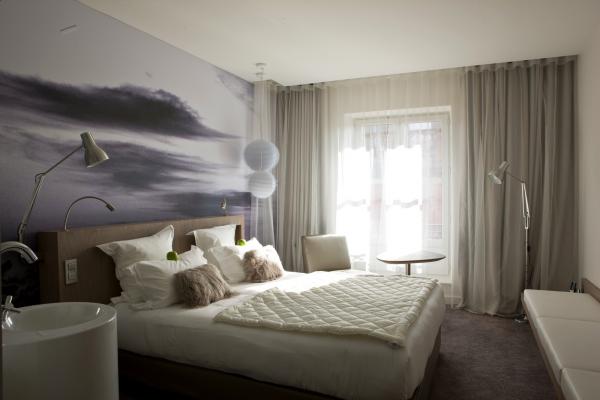 Want to make your vacation unforgettable? At the luxury hotel Le Grand Balcon, you and your company will not have to worry about anything. The polite staff greets every tourist as special, helps to conveniently settle down. In the mornings, hearty breakfasts are offered, but if you want variety, you can get to one of the restaurants nearby the hotel. If you don't want to go anywhere in the evening, pass the time in a cozy bar.
Where to park a rented car in Toulouse
Car rental in Faro with BookingCar - profitable, convenient, easy!
In case of any problems associated with car rental in Toulouse, BookingCar will solve them as quickly as possible.
We will be with you 24 hours a day.
All you need is to contact us.
© Anastasiia Voloshina, 2017
Like this? Share in social networks: