Car rental in Sunny Beach
Bookingcar offers a wide selection of car rental options in Sunny Beach.
With us you can choose a car of any class that best suits your needs.
Our prices are one of the best prices on the market.
See for yourself!
Professional support
Our professional call center will help you understand all the intricacies of car rental. We guarantee full support throughout the rental period.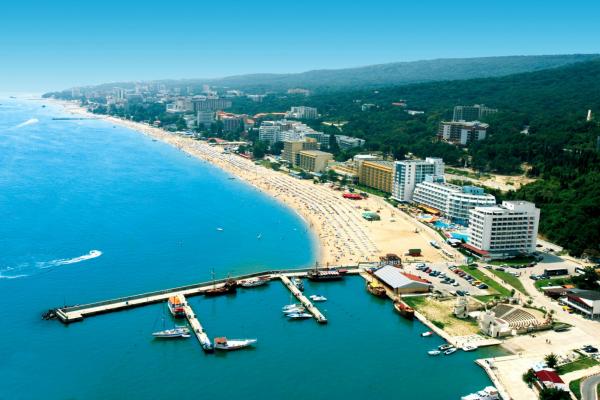 Sunny Beach is a popular resort in Bulgaria, where not only couples but also young people come for summer vacations in the season. Playgrounds, water park, discos - all this allows you to have fun. Fans of various sports can use their leisure activities while water skiing, biking, speeding, playing tennis or beach volleyball. To get to know the city better, you should rent a car, travel around the main attractions and surroundings. In addition to historical monuments, a visit to the summer theater and an outdoor movie theater will definitely be remembered. Numerous entertainment and national-style establishments offer their guests interesting gastronomic solutions and a cozy atmosphere.
Bookingcar recommends:
Rent a car at the airport in Sunny Beach
Burgas Airport ( Burgas Airport ) - download the scheme
IATA code: BOJ
Location: 30 km from Sunny Beach
Official website: http://www.bourgas-airport.com/Home/tabid/36/language/ru-RU
Information: +359 56 870 248
The following companies provide car rental services at the Sunny Beach Airport: National, Enterprise, Europcar, Top rent a car, Hertz, Budget, Avis, Easy Rent Bulgaria. Car rental desks are located in the arrivals area. Outdoor parking is also available near the airport.
What to see in Sunny Beach: interesting sights of the city
Beach of Sunny Beach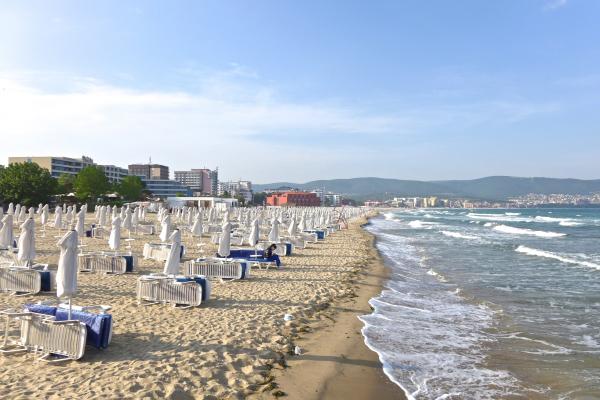 Of course, having arrived on Sunny Beach, the first thing tourists go to the local beach, whose length is about 10 kilometers. It is a whole relaxation area where you can spend all your leisure time from morning to evening. In safe hours, you can sunbathe on a sun lounger or under an umbrella, during the day when the sun is especially active, go to a cafe or bar to have lunch and cool off a bit. Having rented a car, you can ride along the coastline and explore the entire tourist complex. By the way, the beach is perfect for an evening promenade. Walking, you can come across a completely authentic place and stay there until midnight.
Water Park Action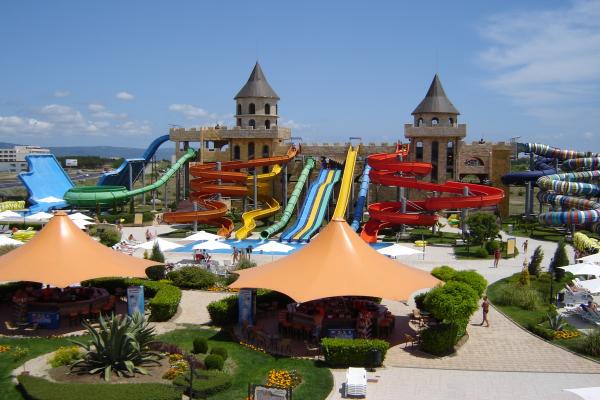 For vivid emotions and unforgettable sensations, go to the Action water park. On a vast area there are more than 30 attractions, the most visited among which are the Black Hole, X-tream, Free Fall, Kamikaze. The water park is divided into 4 zones: family, extreme, children's and recreation area. At the à la carte restaurant you can have a delicious lunch, and having a look at the Ice Cream House, try the most incredible taste of ice cream with your favorite topping.
Fish spa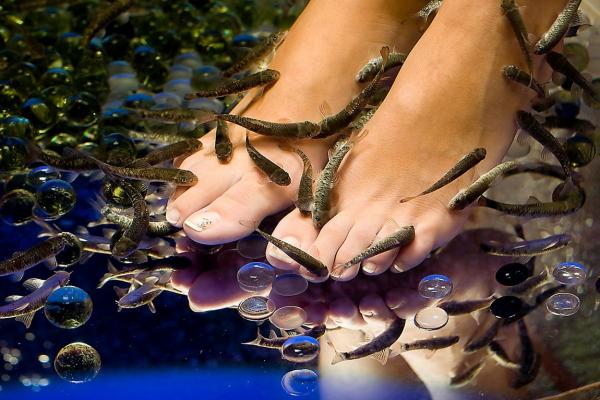 Whatever beach you are on, everywhere you will find large vessels with water and fish. This is a fish spa that has long been loved by tourists. Garra Ruf's little fish carefully take care of the beauty and purity of your skin by eating dead skin cells. The procedure takes 10-15 minutes, while the result exceeds all expectations. Some people liked this kind of personal care because of the fact that during the procedure you can enjoy an unusual foot massage.
Deep blue
Cacao Beach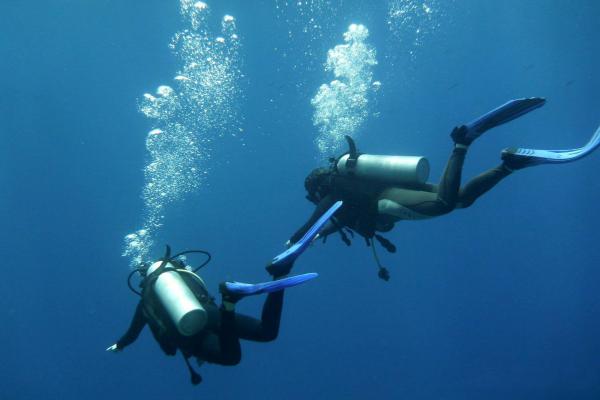 If you like to dive or do it professionally, go to the Deep Blue diving center with a rental car. Experienced instructors will help beginners to get comfortable under water and get rid of phobias, and experienced divers will improve their skills and prepare for exams to obtain a certificate. Those who already own the certificate can take equipment from Deep Blue and create their own program.
Luna Park "Sunny Beach"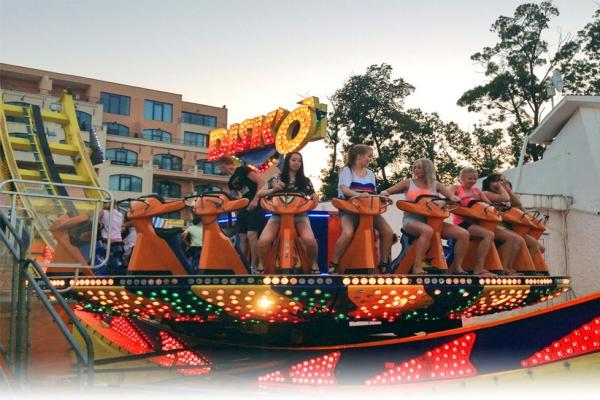 Walking in the center of Sunny Beach, look at the entertainment center located in the open. Shooting range, attractions, race track, animators - all this will become the key to a fun pastime. While children will ride on slides and cars, adults can move to a restaurant or bar. Those who want to get an adrenaline rush will be able to ride on extreme slides. Vivid emotions and unforgettable impressions are guaranteed.
In the vicinity of Sunny Beach: the best car routes
Nessebar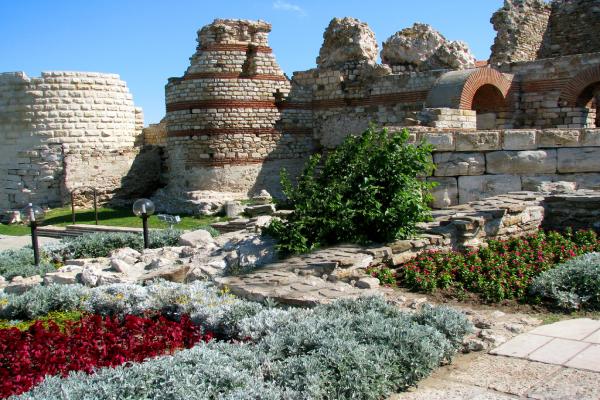 Nessebar is an ancient city with a history of at least 3 millennia. It is also called a masterpiece of architecture, because it is here that traces of ancient and long-gone civilizations have been preserved. Old Nessebar is a city that partially went under water several centuries ago and can be viewed from a boat when the sea is calm. It will be interesting to take a walk on land, where old houses with wooden bay windows and external stairs, the ruins of the ancient port, medieval churches and fortress walls have survived to this day. The main asset of the new city is churches, each of which is distinguished by its architectural style. It is worth visiting the Metropolitan Church, which is considered the oldest in the city and the Metropolitan Church of St. Stephen, where the interior has been well preserved since the 9th century.
Sozopol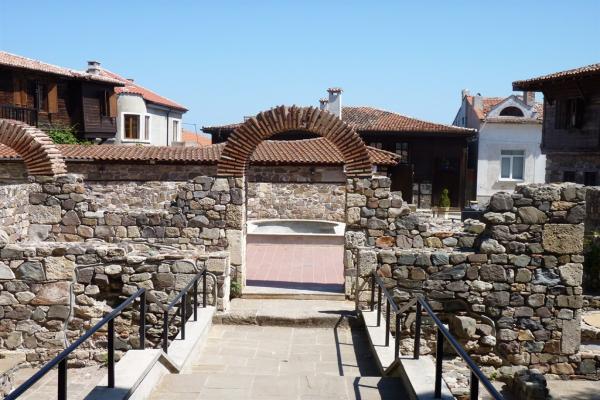 70 km from Sunny Beach is another resort town - Sozopol. Hire a car and go see the place founded in the 6th century BC by Greek colonialists. The city is divided into the old part and the new. Of particular interest to tourists is the old part, which is considered an architectural reserve. Walking hour after hour here you can see the churches of the Bulgarian National Renaissance, old houses, the remains of the fortress wall. You should definitely go to the church of St. George, which is famous for its unique marble altar and the church of St. Zosima, built on the ruins of a medieval church. The excursion to the "Old School" will also turn out fascinating, because it is here that the art gallery is located. After seeing the sights in the city, take a boat to the island of St. Ivan.
Ropotamo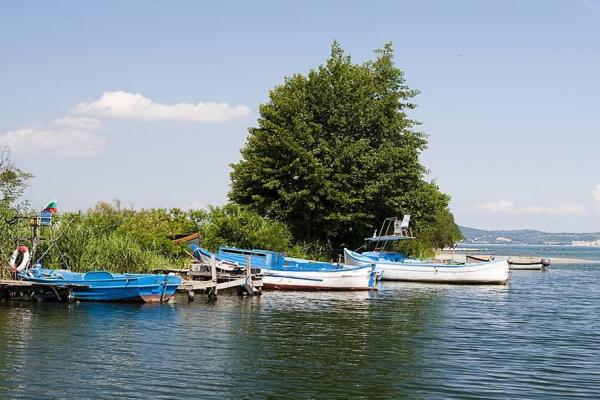 Those who get a boost of energy while exploring natural sights should visit the Ropotamo Nature Reserve, which is located along the river of the same name. The rich flora and fauna, panoramic views - all this makes an indelible impression. Walking through the territory, you can see fox, deer, otter, roe deer or doe in the distance. Tourists also arrange hour boat excursions, showing the most beautiful and secluded places. By the way, in this place there was once a fishing village, which disappeared after pirate raids. They say that it is here that the treasures of Volchan Voevoda are stored, therefore the reserve constantly attracts treasure hunters.
Ethnographic Museum Etar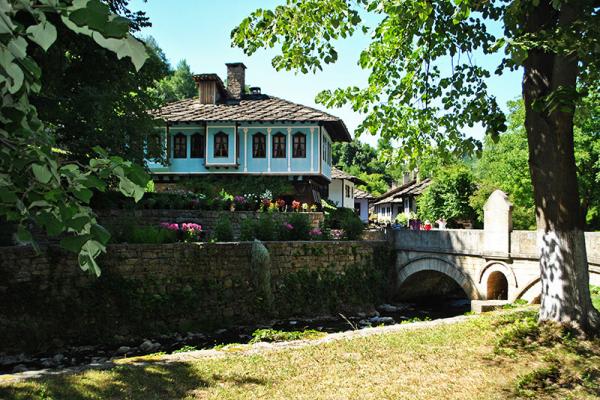 To get acquainted with the culture, way of life and traditions of Bulgaria, you should go to the Ethnographic Museum of Etar. Here you can not only see the production process of certain products, but also contribute to the creation of products. Visitors are invited to try their hand at the loom, to mold a pot, to bake buns. During the tour, you will also be able to get acquainted with completely unique crafts by glancing at a jewelry workshop, a workshop for making the image of saints, or joining a cart and locksmith's business. In addition, the museum houses a unique collection of mechanisms that are actuated under the pressure of water.
Valley of roses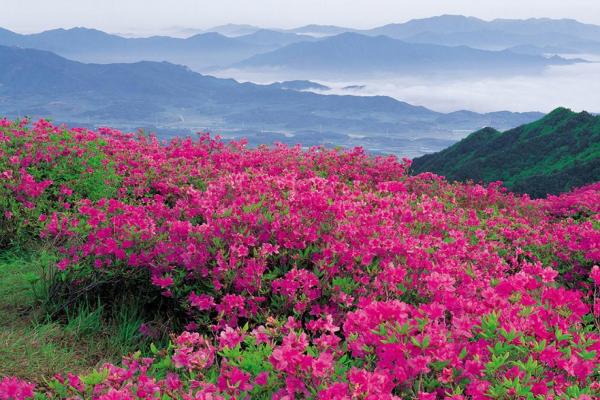 Having rented a car, go to a completely charming place located near Kazanlak - the Valley of Roses. When approaching the destination, within a kilometer radius, a pleasant aroma of flowers is already heard. The main attraction here is, of course, roses. Arriving here in June, you should definitely stay until dawn to watch hundreds of thousands of buds bloom and hear the enchanting sound of the waving of the petals. It will be interesting to visit the Museum of Roses, which tells about the development of the production of rose oil and walk to the Thracian tomb, built in the 3rd century BC for the ruler of Roigos.
Food: atmospheric restaurants, cafes and bars
100% Family Restaurant
The Meridian Hotel | The Arda Hotel https://www.facebook.com/100FamilyRestaurant/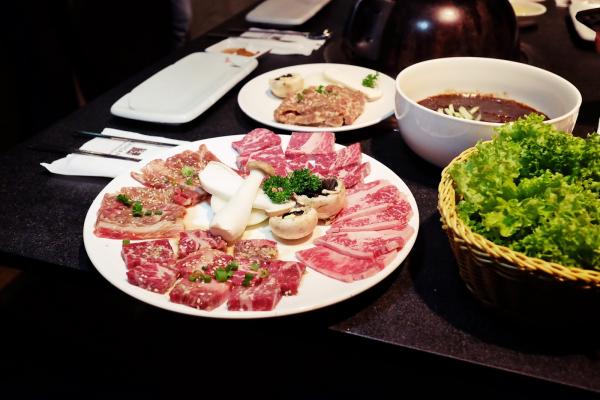 For a hearty breakfast, head to 100% Family Restaurant. A cozy homely atmosphere, deliciously prepared food and fast service - what else is needed for a pleasant meal. Especially for couples there is a children's menu with a good selection of dishes. There is also a small play area for children, where kids can spend time in a fun company. A good selection of wines allows you to choose something special in addition to the main course.
Bolero Bar-Pizza-Restaurant
https://www.facebook.com/bolerosunnybeach/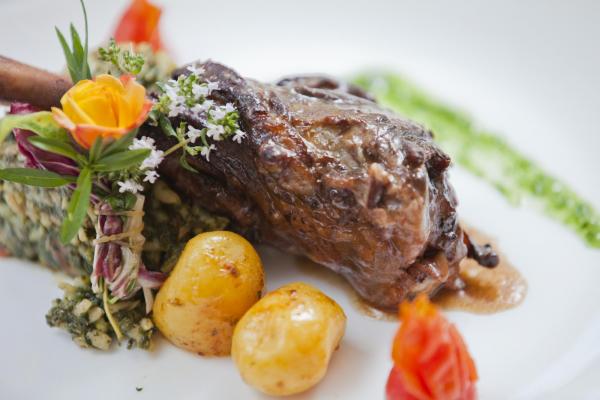 For lunch in Sunny Beach, Bolero Bar-Pizza-Restaurant is suitable. It is far from noisy streets, so either seasoned tourists or locals come here. Outside, the institution does not attract attention, while going inside, it impresses with a stylishly designed interior. The restaurant offers its guests delicious dishes and large portions for an average price, which is why it has been popular for several years. Arriving for lunch, you should try chicken soup, paella, cold cuts, chocolate fondant.
Stella di mare
https://www.facebook.com/pages/Italian-Restaurant-Stella-di-Mare/245570772215189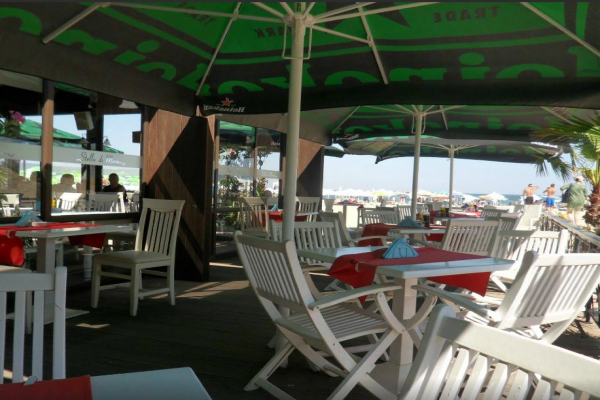 For delicious Italian food, head to the Stella Di Mare café, which has a simple interior, fast service and an original taste of dishes. It is worth trying gnocchi with mushrooms, risotto with mushrooms, octopus. Chefs are skillfully prepared, so every dish tastes neither more nor less - a masterpiece. If you are renting a car, you can use the parking lot nearby.
La bamba restaurant and beach bar
between The fat cat and complex Heaven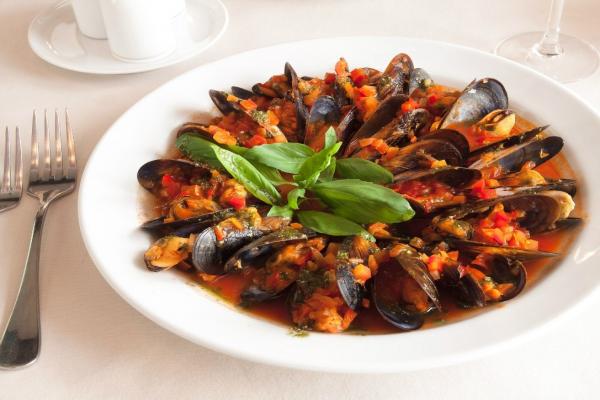 If you stroll along the coast and want a quick bite to eat, check out La Bamba Restaurant and Beach bar. Simple food and fast service are the key to the cafe's popularity. You can order rice with mussels and shrimp in tomato sauce, steak, fish, homemade wine. Whatever you order will be freshly prepared and served hot. There is a play corner for children, which is very convenient if you want to spend time in the company of friends.
Palace Hotel & Restaurant
Sunny Beach Promenade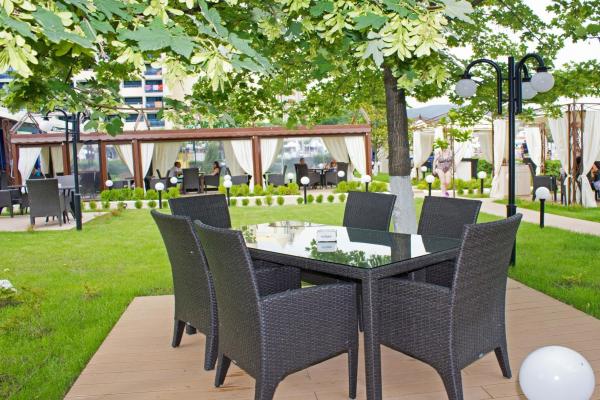 If you want to treat yourself to a delicious meal, head to the Palace Hotel & Restaurant. In the warm season, you can sit on a cozy veranda with a canopy and enjoy delicious dishes. It is especially worth trying pasta, fish and local wine. Each dish is prepared strictly in compliance with the technology, which makes it taste amazing. Friendly staff will help to decide on the order, will tell in detail about each dish and advise a drink. There is a playground for children.
Where to live: cozy hotels in Sunny Beach
Isola paradise
Kv. Chaika 37
+359 55 424 805 http://www.izolaparadise.com/index.htm double room - from € 71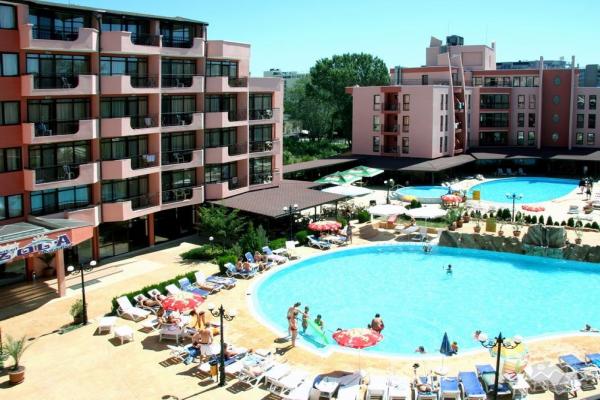 Isola Paradise is a great option for those planning to rent a car. The guests are offered a swimming pool, spa, fitness center, billiards, parking. For a fee, you can use the hairdresser. Competent staff will make every guest feel comfortable and help to resolve any troubles. Nearby is the central square of the resort town and many restaurants where you can pass the evening in good company.
Laguna park hotel
Sunny Beach
+359 55 427 024 http://www.lagunapark-bg.com/en/ double room - from € 114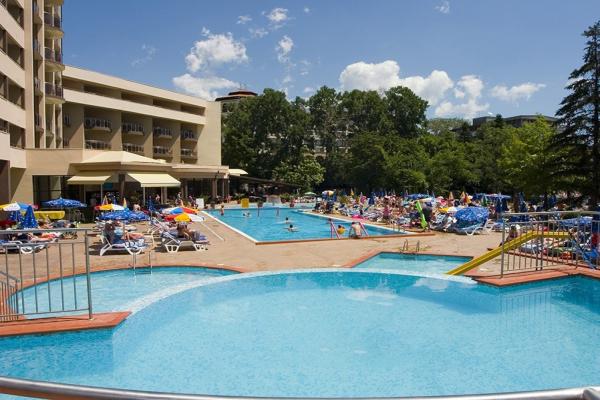 If you are looking for a full-service stay with children, opt for the Laguna Park Hotel. The hotel area is large and beautifully furnished. There are paths for evening walks, many plants and a recreational area with pools and an aqua park. After a busy day, you can work out in the fitness center or go for spa treatments. For tourists traveling without a car, a shuttle service is available.
Iberostar Sunny Beach Resort
Sunny Beach | Burgas District
+359 55,441,050 https://www.iberostar.com/en/oteli/sunny-beach/iberostar-sunny-beach-resort double room - from € 50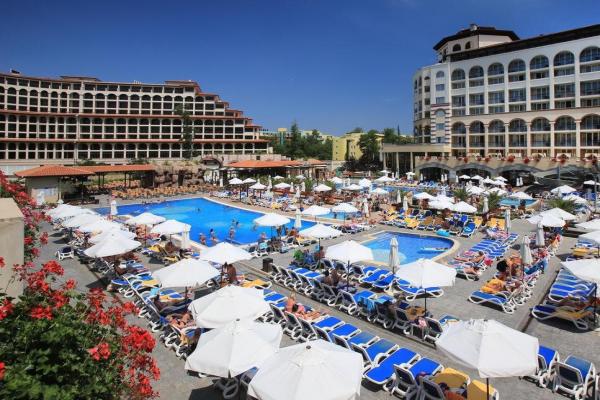 For demanding tourists, Iberostar Sunny Beach Resort is suitable. The hotel has a whole complex for a pleasant leisure: several pools, a zone with sun loungers, a fitness center, and a spa. In the evening, you can have a good time with a glass of wine and talking in the bar, and have a delicious breakfast in the restaurant. A conference room is equipped in case you need to conduct a business meeting, or a banquet hall for important events.
Royal palace helena sands
Sunny Beach
+359 55 420 010 http://www.helenaresort.com/ double room - from € 77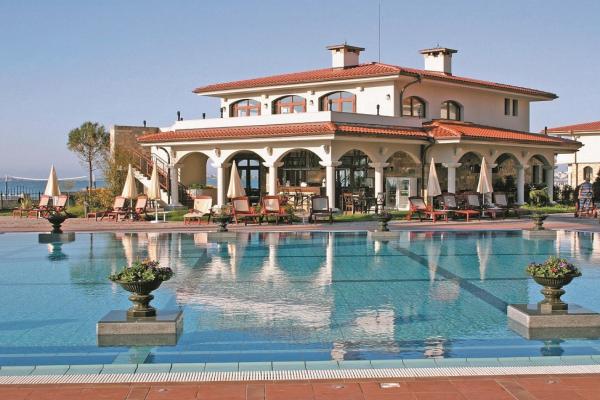 Royal Palace Helena Sands is an elite hotel in Sunny Beach, where you can actively relax without even leaving the hotel. For entertainment, tourists are offered a spacious pool and a fitness center. After seeing the sights and taking a walk along the shore, you can go for spa treatments. Tourists using rental cars can take advantage of free parking; a transfer service is available for guests traveling without a car.
Forum hotel
Sunny Beach
+359 55 425 080 http://www.imperialgroup.bg/en/about-the-hotel-forum/ double room - from € 31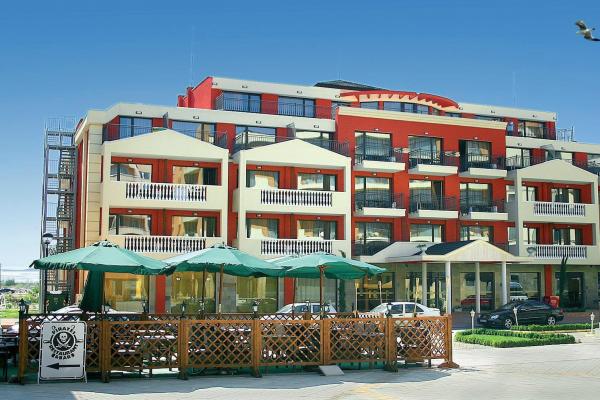 If you plan to travel a lot around the surroundings of Sunny Beach and are looking for a budget hotel, choose Forum Hotel. The local beach is a 3-4-minute walk, nearby there are also restaurants, shops. The rooms are standard, without frills, while equipped with everything necessary. It offers sea views. A comfortable atmosphere is suitable for both relaxing with children and for a group of friends.
Where to park a rented car in Sunny Beach
Renting a car in Sunny Beach with BookingCar is profitable, convenient, simple!
In case of any problems associated with car rental in Sunny Beach, BookingCar will solve them as quickly as possible.
We will be with you 24 hours a day.
All you need is to contact us.
© Anastasiia Voloshina, 2017
Like this? Share in social networks: