Bookingcar offers a wide selection of car rental options in Sochi
Here you can find a car of any class that best suits your needs.
Our prices are one of the best prices on the market.
See for yourself!
Professional support
Our professional call center will help you understand all the intricacies of car rental. We guarantee full support throughout the rental period.
Sochi is not only the most popular resort in the Krasnodar Territory, but also in Russia. The city is developing rapidly, offering tourists the best beaches, restaurants, hotels every year. Well-developed infrastructure makes Sochi comfortable for locals and tourists. The most popular resorts are Matsesta, Krasnaya Polyana, Hosta, Adler, Dagomys. Travelers will appreciate not only comfortable beaches and numerous parties, but also ancient churches, famous museums and galleries. To visit all popular places, travel around the resorts of Sochi, rent a car and enjoy the beautiful nature, historical and cultural sites.
Bookingcar recommends:
Car rental at Sochi airport
Sochi International Airport ( Sochi International, Airport then ) - download scheme
IATA code: AER
Location: 28 km from Sochi
Official website: http://basel.aero/sochi/
Information: 8 (800) 333-19-91
The following companies provide car rental at Sochi Airport: Sochi Rent-a-Car, Europcar, Rent Motors, Avis. Car rental desks are located in the arrivals hall. Near the airport there are 6 parking lots, where the first 15 minutes of parking are free.
What to see in Sochi: interesting sights of the city
Arboretum
Ave. Kurortny, 74 http://www.dendrarium.ru/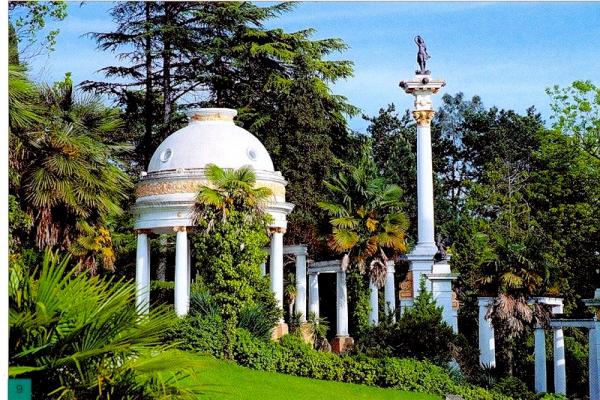 The Sochi Arboretum is an open-air museum where various flora samples from the southern countries and the Caucasus are presented. Here you can see with your own eyes the metasequoia, which scientists considered extinct, to see the Cathedral of St. Michael the Archangel, which was built in honor of the end of the Caucasian War and visit the marine aquarium. Walking around the botanical park, it will be interesting for children to see porcupines, black and white swans, and adults, listening to the guide, to learn interesting facts about certain plants. The territory of the arboretum is huge, so in order to have time to inspect all tourist sites, it is better to move around on an electric car that runs every 40 minutes.
Winter theater
Teatralnaya St., 2 http://www.skfo.online/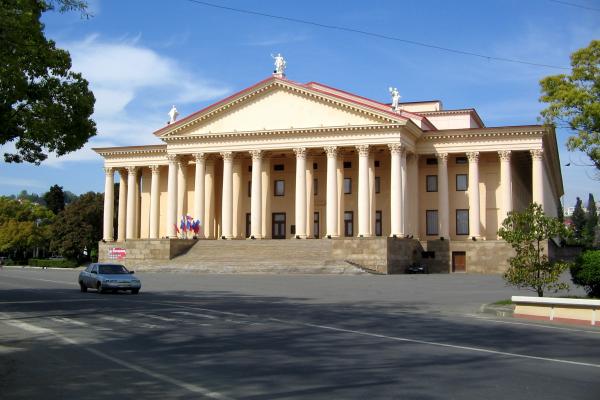 If, when visiting a new city, you have a tradition of culturally enriching yourself in local theaters, then the Winter Theater in Sochi is definitely a place worth visiting. Rent a car and go to a theatrical production or to a performance by the KVN team. The building is located in the Central district. The architecture of the building is very unusual: Corinthian columns and an exquisite facade organically fit into the architecture of the city.
Olympic Park
Nizhneimeretinskaya Bay http: //xn----8sbwaafbgebmvqgqj.xn--p1ai/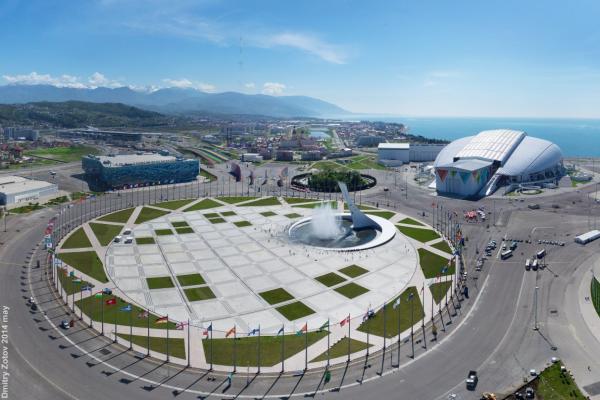 Olympic Park is a legendary large-scale and special place in Sochi. Sports facilities were built to host the XXII Olympic Games. Fisht Stadium is located in the park, where the opening and closing ceremonies of the games took place, the Bolshoi Ice Palace, which hosted ice hockey competitions, the Iceberg Ice Palace, the Adler Arena ice skating center and some other arenas. The first thing that strikes is the scale of the entire complex. You can get around it on foot or for convenience inspect on an electric car.
Theme Park "Sochi Park"
Ave. Olympic, 21 https://www.sochipark.ru/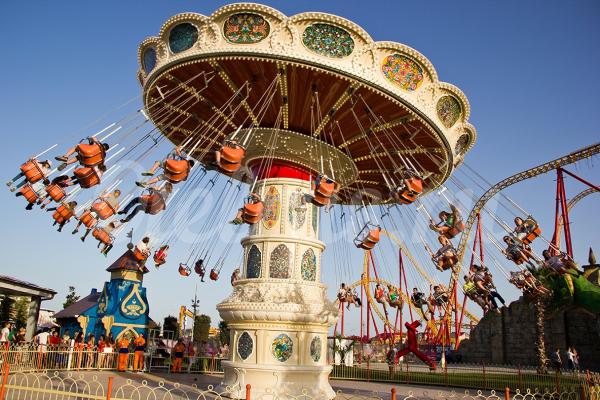 If you want to plunge into the atmosphere where a fairy tale becomes a reality, remember your childhood and captivate your children, visit the theme park in Sochi. Ultra speed rides will not leave anyone indifferent. The journey of tourists begins with the "Alley of Lights", which can be continued on the breathtaking attractions "Quantum Leap" and "Firebird". For preschool children there are small swings and sandboxes. After you get a boost of adrenaline and vivid emotions, dine in one of the cafes in the park.
Concert Hall "Mandarin Hall"
SEC Mandarin, st. Bestuzheva, 1/1, Adler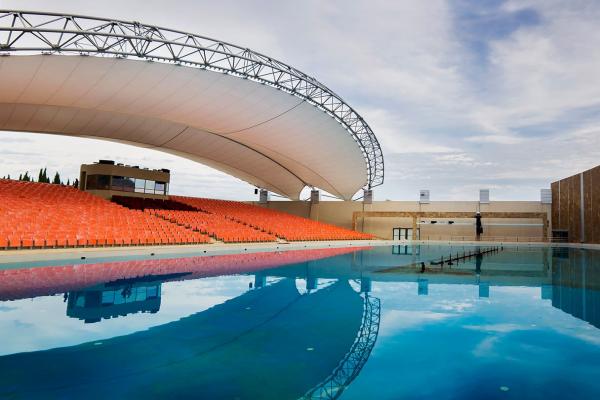 When you rent a car, go see the spectacular performance at Mandarin Hall. The decoration of the concert hall fully reflects its name. In the design of the auditorium, an orange color is used, which adds to the effectiveness of the representations and moods of visitors. Indoors is a swimming pool from which the scene rises. Theatrical circus shows, concerts and events here are always spectacular and unforgettable.
In the vicinity of Sochi: the best automobile routes
Adventure Park "Skypark AJ Hackett Sochi"
St. Krasnoflotskaya, Cossack Broad https://www.ajhackett.com/sochi/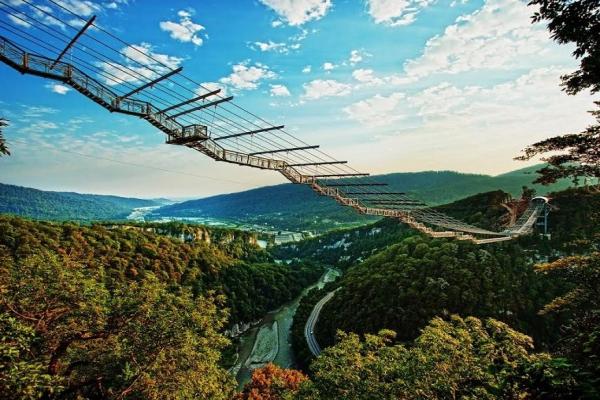 If you like to actively relax and enjoy explosive entertainment, then you will appreciate the adventure park in Sochi. Be sure to walk along the longest Skybridge footbridge, which is located above the Mzymta River. And if you didn't have enough impressions and would like to get some more adrenaline, go to the highest attraction in Europe "Bungee-207 m". Experienced instructors will conduct training before the jump, and during the jump you will be shot by the camera. So not only unforgettable emotions, but also pictures for memory are guaranteed to you. Alternatively, you can have fun at the Mowgli Rope Park or head to the interactive bungee jumping museum.
Thirty three waterfalls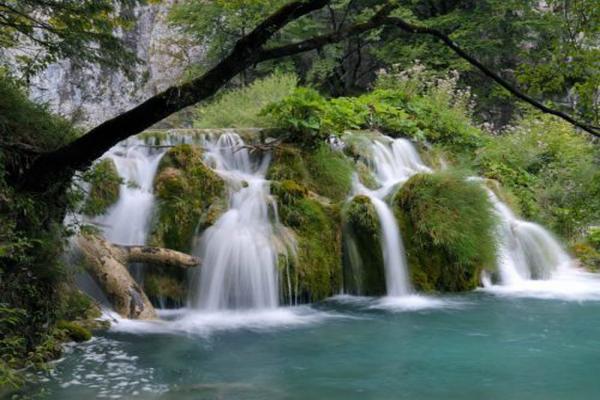 If nothing inspires you so much as natural attractions, you should definitely visit Thirty-three waterfalls located in a mountain gorge. The place is famous for the fact that there are a huge number of rapids and waterfalls. They are multilevel and dispersed along the Dzhegosh stream. The highest is 11 meters, the lowest is 2 meters. Each of them will amaze tourists with its splendor. It is especially spectacular here in the spring, after the rainy season. Then the Dzhegosh brook becomes stormy, and streams of water roll down at an incredible speed down the rocks.
Tea houses in Uch-Dere
Pos. Uch-Dere, st. May 9th, 46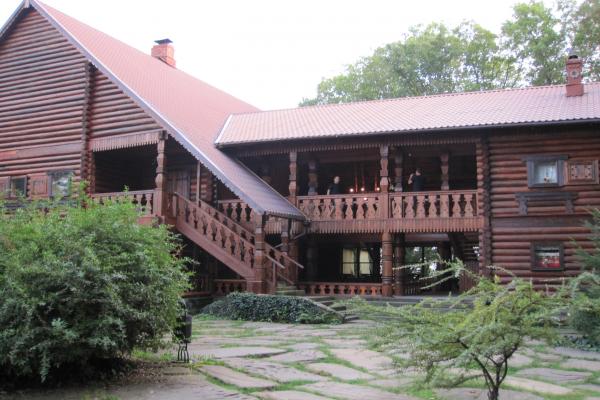 After renting a car, go see the Russian landmark in Uch-Dere. Tea houses were built in the mid-70s without a single nail. Foreign delegations were sent here to familiarize themselves with the original Russian traditions. In the vicinity of the houses grows a tea tree - an incredibly fragrant plant. Here you can see how tea is processed and brewed. In addition, in the Tea Houses it will be possible to see objects of national handicraft art: Vologda lace, Zhostovo trays, Dymkovo toy, Gorodets painting. The exact miniature copies of the Kizhi Museum of Russian Architecture deserve special attention.
Akhshtyrskaya cave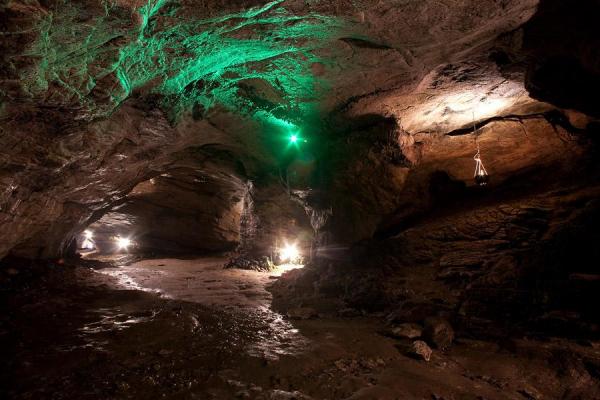 A unique natural object began to form 350 thousand years ago, the entrance to it is located at an altitude of 120 meters. The cave itself is small - its length is 160 meters. There were traces of not only animals that were hiding from the weather or lived here, but also the ancient ancestors of man. Some traces of people's lives have survived to this day - stone partitions, the remains of foci. The platforms at the entrance to the cave are adapted for excursions: lighting and stairs with a railing make movement comfortable and safe.
House-Museum "Stalin's Cottage"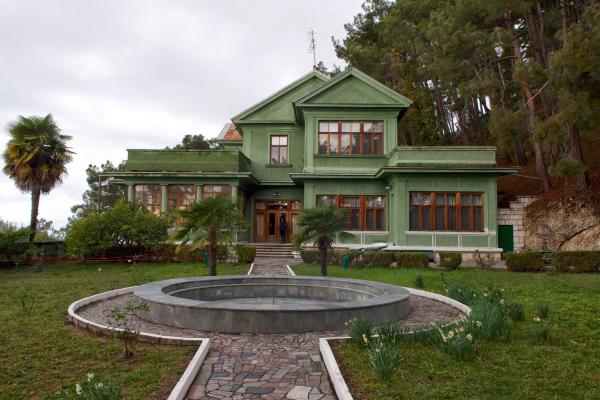 They say that Stalin most of all loved to relax in his summer house in Sochi near the Black Sea coast. Over time, the territory was equipped as a museum, and to this day everything has been preserved in its original form. Interestingly, the house is not distinguished by luxury and pomp. The facade is painted a dull green color, and inside there is neither exquisite furniture, nor expensive paintings. During the tour you will be able to examine the personal belongings of the great leader: a sofa, a carpet and a desk, behind which the wax figure of Stalin sits. In addition, you will be introduced to little-known facts and stories from the life of the "father of peoples".
Food: atmospheric restaurants, cafes and bars
Hops & Suneli
St. Democratic 52A | Shopping Center New Century, Adler http://hmeli-adler.lrgsochi.ru/

If you are in search of a universal establishment where tasty and fast food is prepared at an affordable price, leave the rented car in the parking lot at the shopping center and go for lunch in Hmeli & Suneli. The menu offers dishes from Russian and Caucasian cuisine. Here, vegetarians, meat lovers, and sweet tooth can find something for themselves. When ordering, they will help you choose the right drink for the main course and recommend something special. The cozy atmosphere and stylish interior make a good impression.
Seli-Poeli
St. Old Hunter, 17, Adler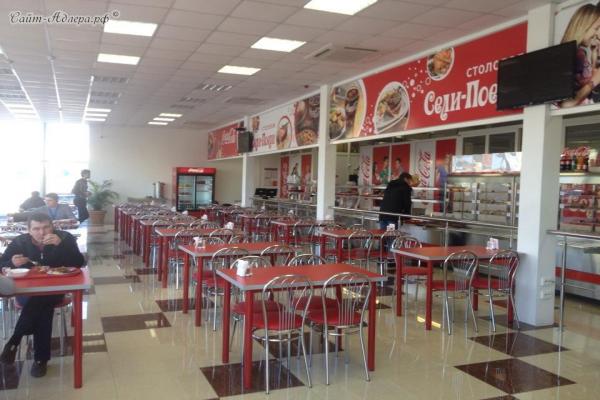 You can have a quick and cheap meal in the Seli-Poeli dining room. There is always a large flow of people, which guarantees the freshness of the prepared dishes. The menu is varied, so if you plan to dine here regularly during your vacation, you can try something new every time. The interior does not stand out, while the institution is always clean and cool. In "Seli-Poeli" you can not only hide from the heat and eat, but also have a tasty and satisfying lunch.
Burger Pub "Nice Place"
Mountain Carousel, 6, Apart, 28, Esto-Sadok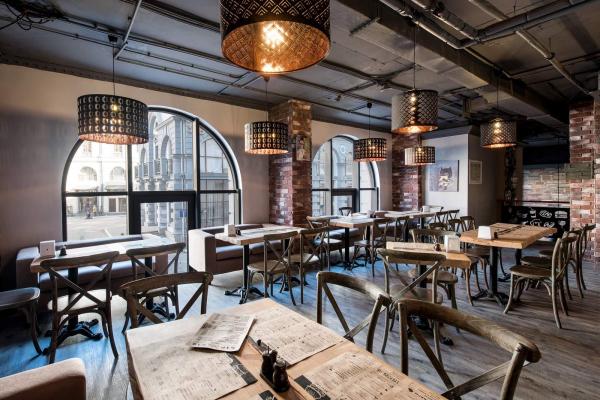 Do you like burgers? After a mountain walk, head to the Burger Pub Good Place. Stylish interior, quick service and comfortable atmosphere make for a pleasant pastime. Here you can try burgers with turkey, king prawns, beef. The cutlet is invariably juicy, so the burger is incredibly tasty. In addition, the menu includes salads, soft drinks, craft beer.
Restaurant Che? Kharcho!
St. Olympic, 35 | Rosa Khutor, Esto-Sadok http://www.che-harcho.ru/rus/rosa/main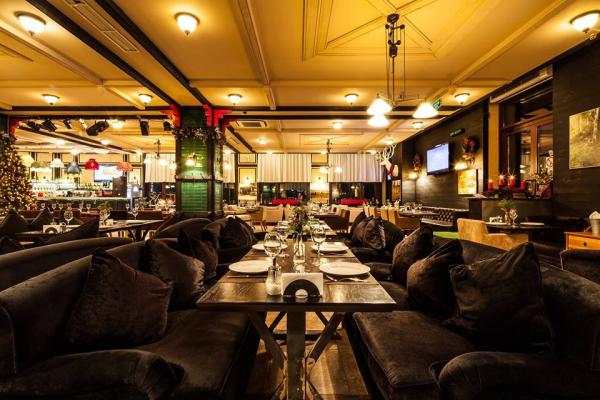 Hire a car and head to the Che restaurant? Kharcho! The choice here is small, however, you can try the famous kharcho soup, barbecue, Adjarian khachapuri, salads, sauces for every taste. Khinkali deserve special attention: they are served in original baskets. It offers beautiful mountain views. Nice interior and friendly staff will surely make your meal memorable. The institution does not play intrusive music, so you can enjoy a delicious lunch and sincere conversations.
Follow Me Cafe
St. Rosa Square, 1, Esto-Sadok http://followmecafe.ru/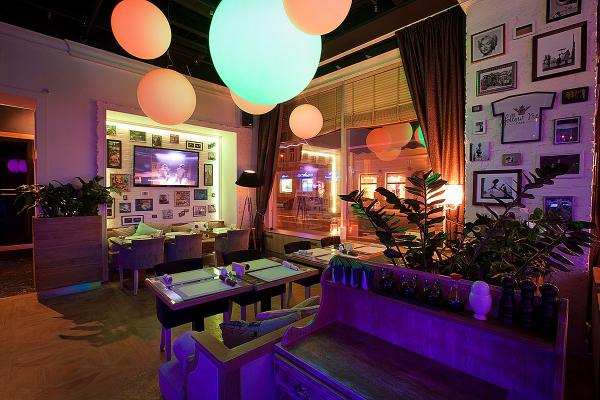 Follow Me Cafe is a universal establishment where you can have lunch with your child, have dinner with friends or have a business meeting. This is a very bright and atmospheric place, which is located on the waterfront. It is worth trying a salad with veal, trout, cocktails of their own production. The staff is always polite and courteous. If necessary, they will advise you in favor of which dish and drink to make your choice. It is better to sit on the second floor to be able to enjoy the views from the windows.
Where to live: comfortable hotels in Sochi
Citrus hotel
St. 15 Embankment, Adler
8 (862) 237-00-37 http://www.citrushotel.ru/ double room - from € 43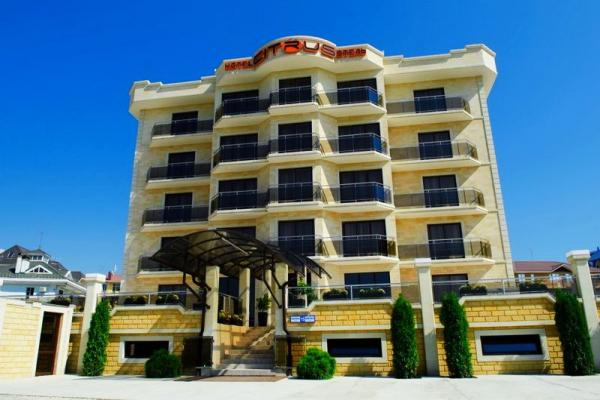 Cirtus is a cozy hotel near the sea. Here at your service will be a swimming pool, a nanny for a child, a conference room, and room service. A varied and delicious breakfast will delight every tourist. The windows offer breathtaking views of the mountains and the river. There are no noisy establishments nearby, so in the evenings nothing will disturb your peace. If you plan to travel in a rented car, you can use the free parking.
Mercure Sochi Center
St. Ordzhonikidze, 11a
8 (862) 262-97-40
double room - from € 61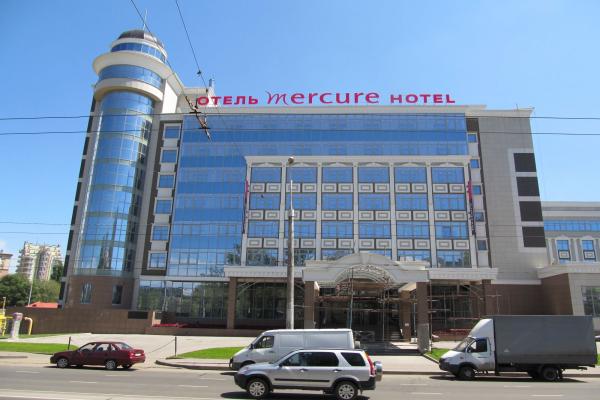 The rooms of the Mercure Sochi Center Hotel have all the conditions for a comfortable stay: a spacious shower room, bath amenities, air conditioning. If necessary, a shuttle service will be provided. You can enjoy sea or city view from the room. The hospitable staff will help you quickly check into the apartment and solve all your questions. After sunbathing, Mercure Sochi Center Hotel offers spa treatments or a fitness center.
Bogatyr hotel
Olympic
Avenue , 21, Adlerovsky District, Sochi 8 (862) 241-77-77 https://www.sochipark.ru/bogatyr double room - from € 92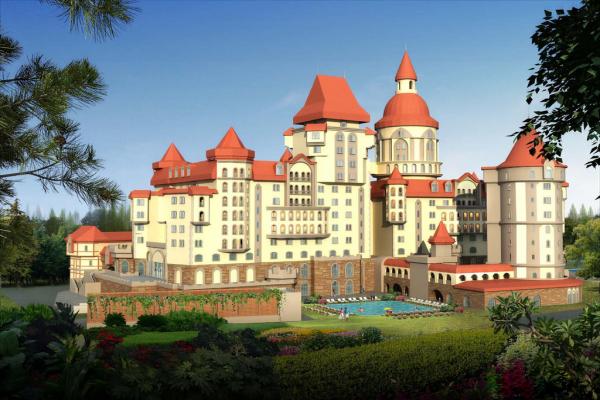 The advantage of the Bogatyr Hotel is that nearby are the main attractions, including the Olympic Park. The hotel has a fairy tale atmosphere: it seems as if some kind of magic is about to happen. The territory of the Bogatyr Hotel is small, while there is a swimming pool, a children's playground and an amusement park, which you can get a 50% discount on. In addition, travelers will appreciate the excellent service, delicious breakfasts and friendly staff.
Bridge Resort Hotel
St. Figure, 45, Sochi
8 (862) 444-43-33 http://bridgeresort.ru/ double room - from € 59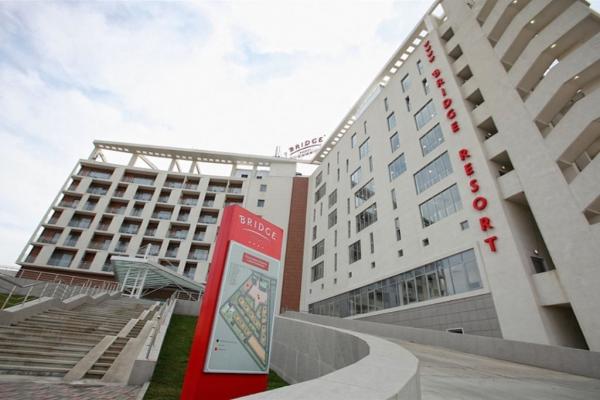 If you plan to stay at the Bridge Resort, then you can safely rent a car. At your service will be not only free parking, but also a fitness center, spa, pool. By the way, for the younger generation there is a separate pool, which is very convenient for young children. Breakfast is delicious and varied, the restaurant has a calm and pleasant atmosphere. The hotel staff is friendly, any of your request will be granted at the time.
Russian Seasons Deluxe Hotel
Etc. Triumfalny 3, Sochi
8 (800) 505-18-07 https://rshotel.ru/ double room - from € 79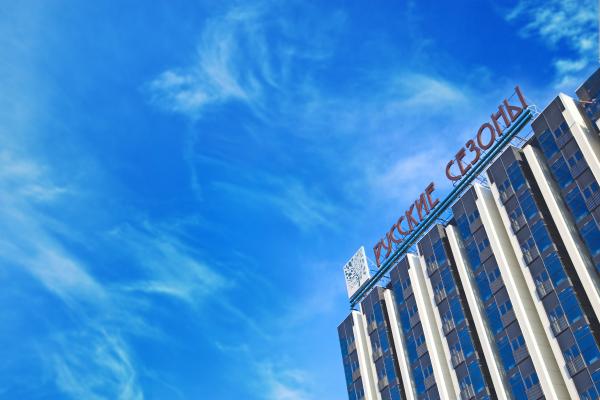 From your stay at the Russian Seasons Deluxe Hotel, you will certainly have the most vivid memories. The hospitable staff will welcome you and take care of all your needs. Delicious breakfasts, spacious rooms, beautiful views from the window - this is just a small list of the advantages of the hotel. At your service will be not only a spa, fitness room, free parking, but also a large conference room, dry cleaning. Even if the weather during your trip is rainy, you will surely find something to do at the hotel.
Where to park a rented car in Sochi
Renting a car in Sochi with BookingCar is profitable, convenient, simple!
In case of any problems related to car rental in Sochi, BookingCar will solve them as quickly as possible.
We will be with you 24 hours a day.
All you need is to contact us.
© Anastasiia Voloshina, 2016
Like this? Share in social networks: