Hot deals in Punta Cana Airport
Bookingcar offers a wide range of car rental options in Punta Cana.
With us you can choose a car of any class that best suits your needs.
Our prices are one of the best prices on the market.
See for yourself!
Professional support
Our professional call center will help you understand all the intricacies of car rental. We guarantee full support throughout the rental period.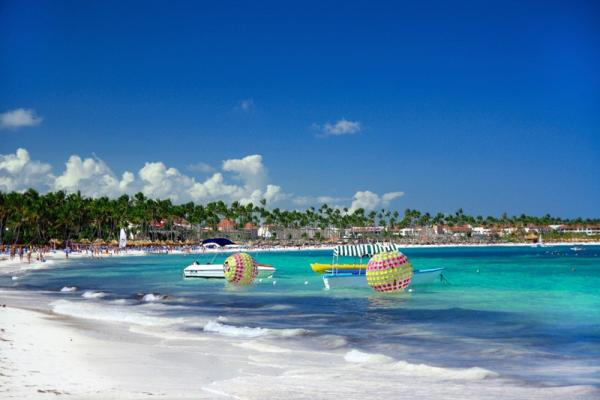 Punta Cana is one of the most favorite resorts among tourists. Famous bounty beaches, fantastic palm trees, fish and birds - everyone here will find something for themselves that will impress him. If you are a fan of measured relaxation, then, for sure, appreciate the beaches with white coral sand, the Cote d'Azur and the incredibly blue sea. If you like active pastime then diving, surfing, wakeboarding, parasailing, wakesurf can become your occupation during the holidays. After taking sunbathing and getting an adrenaline rush, rent a car and go explore the nearby territory. In the area there are wild beaches untouched by man, a vacation on which will be a real pleasure.
Bookingcar recommends:
Car rental at Punta Cana Airport
The international airport of Punta Cana ( Punta Cana International, Airport then ) - download scheme
IATA code: PUJ
Location: 8 km from Punta Cana
Official website: www.puntacanainternationalairport.com/
Information: +1 (809) 959-23-76
Car rental services at Punta Cana International Airport are provided by companies such as: Nelly, Hertz, Thrifty, American Int., Budget, Sixt, Europcar, Avis. Rental desks are located near the bulletin board. Memo to those who are going to travel in a rented car: there is no long-term parking at the airport.
What to see in Punta Cana: interesting sights of the city
Mangroves
Undoubtedly, Punta Cana is an amazing place: luxurious beaches, unique flora and fauna. But to understand this, it is not enough just to walk around the city and sunbathe on the beach. Rent a car and drive to an amazing place - mangroves. Have you seen this before? No! This is a miracle of nature, which can only be seen on the coast of Punta Cana. It is a forest in which trees grow directly on the water. Their roots are on the surface and look completely unusual. It may seem to some that these are stilts, and to others - the long arms of a monster. In general, the imagination knows no bounds here. By the way, here you can make several dozens of great photos.
Manati Park
Bavaro www.manatipark.com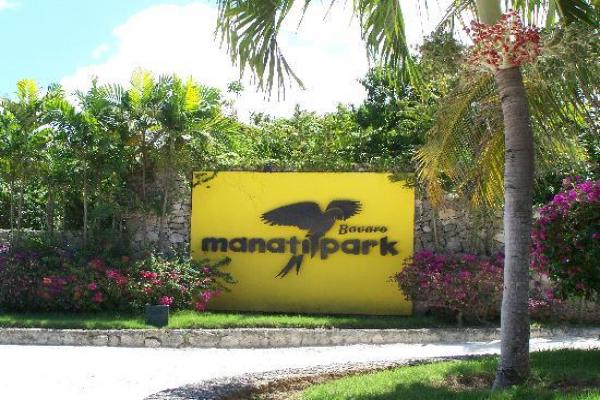 Manati Park is a kind of kaleidoscope of entertainment. Making your way through the thickets of tropical plants, you can stumble upon cells with rare animals, ethnic museums or entire performances organized by local residents. In this place, the color and originality of Punta Cana is fully felt. It will be interesting here for children. Whoever they meet in the park: graceful flamingos, colorful parrots, carnivorous caimans and clever dolphins.
Marine Park "Marinarium"
Cabeza de Toro, Bavaro
If you are a lover of the underwater world, then the marine park will definitely surprise you. Here you will meet different inhabitants of coastal waters and you can see the most unusual coral reefs. After a short walk, take one of the excursions to choose from: Snorkeling Cruise or Reef Explorer. During the first you will go on a catamaran cruise, the glass bottom of which will allow you to see all the beauties hiding at the bottom. Upon reaching your destination, you will be offered to swim in an aquarium with stingrays and nanny sharks. During the second - to ride a kayak, see the full variety of exotic fish and watch sharks nearby.
Ocean Blue & Sand Waterfalls
Playa Bavaro, Punta Cana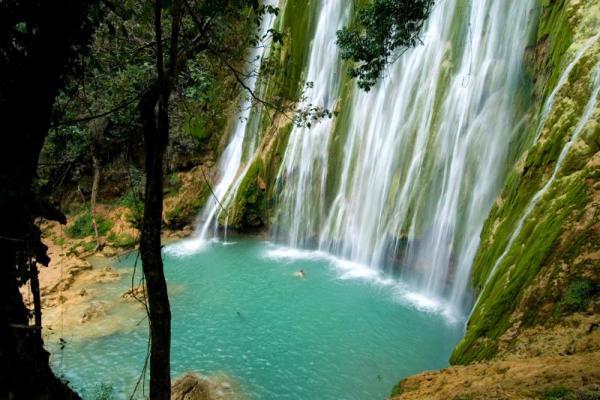 A picturesque and amazing place - Ocean Blue & Sand waterfalls, where streams of water come down from cliffs 20 meters high. This place is covered with many legends and legends. For example, local residents claim that anyone who dares to swim in the lake, and then become under the water tearing off the rocks, will get rid of sins. By the way, at the entrance to the falls there is a convenient parking lot where you can leave a rented car.
Chocolate Museum
Presernov trg 4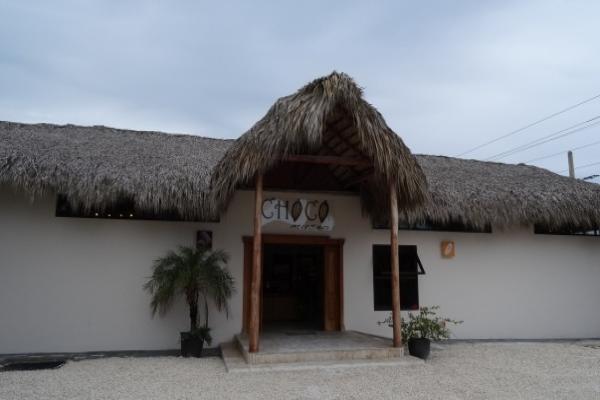 A nice end to sightseeing in Punta Cana is to visit the Chocolate Museum. Even the most indifferent to sweets people will be delighted by tasting the famous cocoa bean. Having familiarized yourself with the history of chocolate making, you can taste any kind of chocolate, walk through the store at the museum and buy a sweet gift for loved ones.
In the vicinity of Punta Cana: best car routes
Dolphin island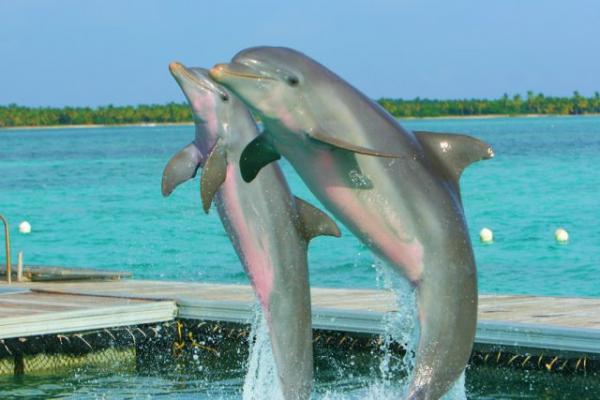 When traveling in a rental car around the resort, be sure to drive to the west coast. Having reached the coast, in the distance you will find a small island-platform. Leave your car and change to a boat running between the coast of Punta Cana and the islet. There are 5 pools in which dolphins live. They are so tame and friendly that you can pet them and swim in the company of several dolphins. A little extra, you will be allowed to splash with fur seals and lions. And if you are an avid extreme - they will even offer you swimming with stingrays and sharks. After a pleasant time, you can relax in a hammock and enjoy a cold drink.
Swamp bavaro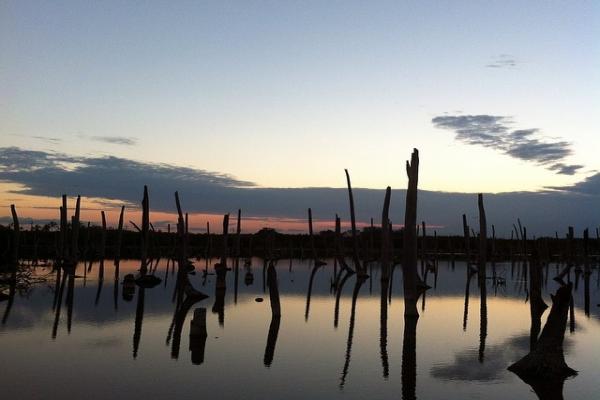 If you have already managed to take pictures wherever you can and still crave for fantastic shots, head towards the tiny town of Bavaro. One of the places that attracts tourists is the local swamp. It is a completely unusual sight: trunks of dry trees seem to emerge from the watery veil. Recalls the plot of surrealistic paintings by Salvador Dali, Victor Fota or David Bond. By the way, if you brought along a small boat or a surfboard, you can get to the nearby wild islands, where you will spend time in complete silence. By the way, here you can find the most unusual birds, which not only soar exaltedly in the sky, but also imposingly walk along the coast. Some of them can be found exclusively in this area.
The historic city of Higuey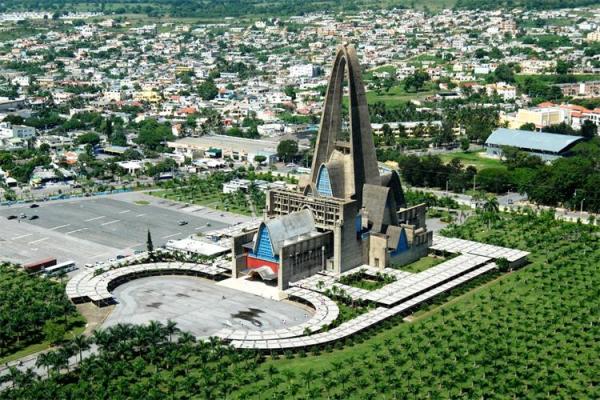 Founded at the end of the 15th century, the city of the Sun annually attracts many tourists. This is a small town, which has about 150 thousand inhabitants. Here are historical exhibits that tell of the events of centuries ago. Particularly popular are the Cross of Forgiveness, where it is customary to crawl on your knees in order to pray for sins and the Well of the Holy Virgin. Without fail, inspect the Church of the Holy Virgin La Altagracia and the Cathedral of St. Dionysius. By the way, monuments in the colonial style are considered here a national treasure of the country. The most convenient way to get to the town is by rental car.
Catalinita Island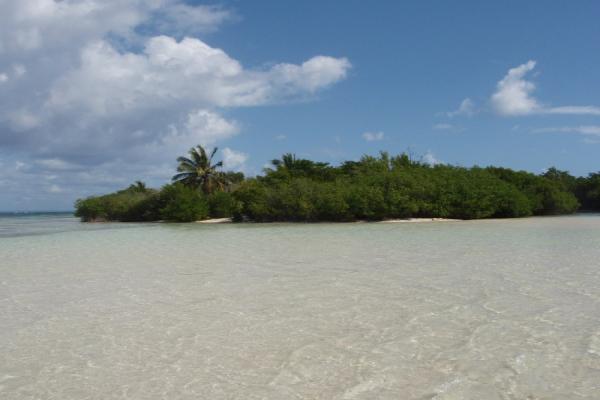 To carry out a "water safari", you can go diving or snorkeling by hitting the small island of Catalinita. The picturesque place is uninhabited, so no one will disturb your peace. Sometimes it happens that tourist groups get here. And if that happens when you find yourself on an island - do not be discouraged. Often, a cook comes with these groups so that tourists, after watching, can enjoy dishes from national cuisine. Therefore, you certainly will not remain hungry. Agree, this will be a pleasant bonus of your stay in Catalina.
Ecological Park Indigenous Eyes
Ave. Abraham lincoln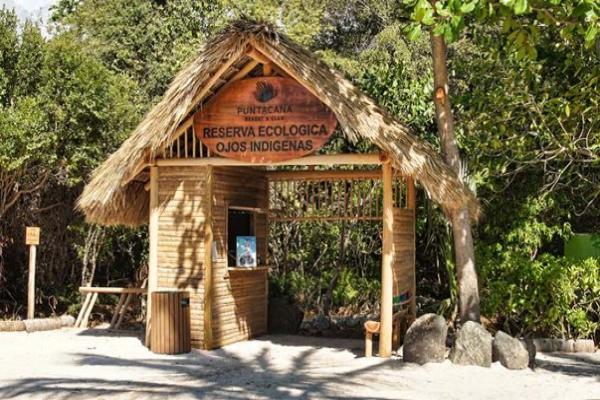 Indigenous Eyes Ecological Park has over 500 endangered plant species and about 100 bird species. Truly primitive flora and fauna have been preserved in this place. Arriving at the eco-park, you can take a forty-minute tour or explore everything yourself. At the entrance there is a convenient parking lot where you can leave a rented car, as well as an information stand that will help you navigate the terrain. Be sure to bring a swimsuit and towel with you. After viewing centennial trees of elaborate shapes, subtropical flowers of unusual sizes, you can swim in one of the local lagoons, which resembles the human eye.
Food: atmospheric restaurants, cafes and bars
Las lenas ii
Carretera Arena Gorda
+809 552 67 76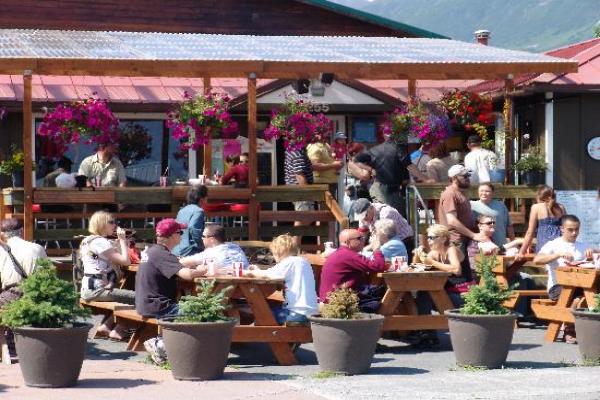 A great place to have a delicious breakfast or lunch is Las Lenas II - a Spanish-style coffee shop. There are always a lot of people here, and this is the best sign of quality. in this institution everything is simple and without unnecessary pathos, but it's cozy and tasty. Las Lenas II serves the most delicious coffee and homemade cakes. A nice bonus will be wireless Internet.
Captain cook
El Cortecito
+809 552 06 45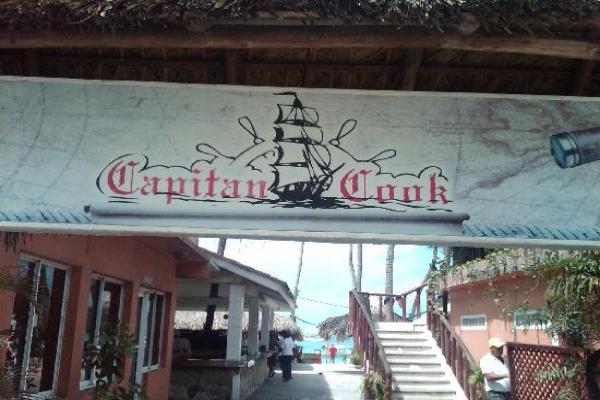 At Captain Cook you can have a tasty and budget meal. Here you will find the freshest seafood. The restaurant's specialties are lobster and mahi fish. If you plan to relax on the beach of El Cortecito, then this place will certainly become one of your favorites. There is nothing unusual in it: simple interior and serving dishes. But the breathtaking view of the coast and excellently prepared dishes leave a vivid imprint in memory.
Noah
Plaza Paseo San Juan
+ 809 455 1060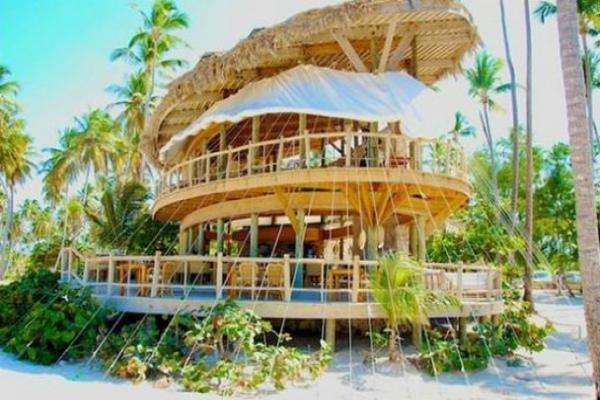 After renting a car, go to a small restaurant located directly on the coast of Punta Cana. In appearance, it resembles either a shell or a piano. The neoclassical style prevails in the interior. Here you can taste both dishes from local cuisine, and something completely unusual. Noah chef skillfully mixes the ingredients so that the result is something extraordinary and tasty - a kind of fusion. By the way, sometimes interesting events are held here, in which talented youth are involved. If you are lucky, you can not only have a delicious dinner here, but also listen to excellent music.
Mediterranean Seafood Grill
Bavaro beach 1
If you are a fan of Mediterranean cuisine, then this place will become for you an earthly paradise. The menu is dominated by seafood. Be sure to try the mussels with vegetables, crab sticks stuffed with rice and the signature "Sea Pearl" salad. Drink a fruit cocktail or a glass of fine wine. The place is in a picturesque corner where you can retire with nature and have a good time. In the evenings it becomes especially romantic here: the waiters place burning candles in candelabra, and a light breeze carries the smell of flowers around the restaurant.
El pulpo cojo
El Cortecito Beach
+ 809 552 0909
When you rent a car, move towards the restaurant El Pulpo Cojo, where you can enjoy real Dominican cuisine and enjoy the aesthetic pleasure of luxurious sea views. It is worth trying chicken in the Caribbean marinade, Esfero salad, rice with beans and shrimp. During the day you can hide on the terrace under a canopy, and in the evening - move to a table in the open. By the way, in the evenings local musicians play here.
Where to live: comfortable hotels in Punta Cana
Tropical Princess Beach Resort & Spa
Playa de arena blanca
+1 809-687-7788 www.princess-hotels.com/ double room - from € 180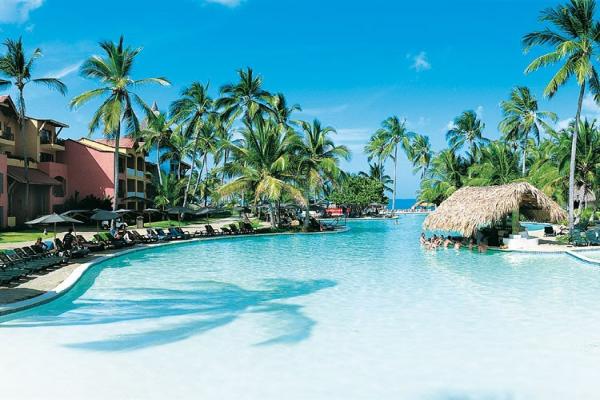 Tropical Princess Beach Resort & Spa is the best choice for a relaxing and relaxing stay. There is everything in order not to even go outside the hotel: a large area where you can stroll in the evenings, a fitness center and tennis court, which will allow you to spend fun leisure time. The restaurant serves delicious national food, and in the evenings arrange animated shows. By the way, on the territory of the hotel you can find peacocks and ducks, turtles and herons, which will be the same as you imposingly walk along the paths.
Tako beach rooms
Calle Dona Matilde
+1 809-801-4476 www.hotelnox.com double room - from € 45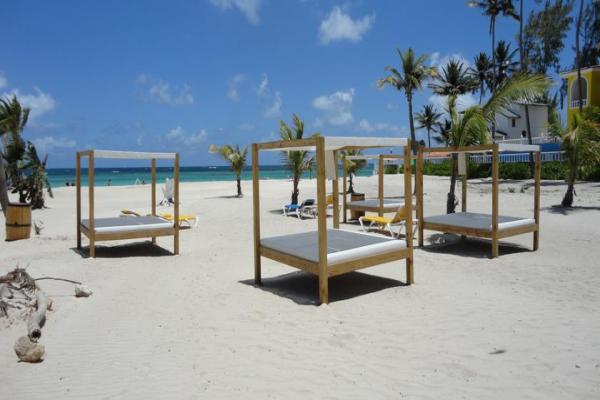 Tako Beach Rooms is a great option for a budget vacation. The hotel is a small building with 4 rooms. It is always clean and comfortable. Nearby are many restaurants and cafes where you can try dishes of various nationalities. What you came to Punta Cana for, you will undoubtedly find: white sand, cote d'azur and magnificent palm trees. For those traveling by rental car, parking is available.
Four Points by Sheraton Puntacana Village
Bv. 1ero. de Noviembre
+1 809-959-4444 www.fourpointspuntacanavillage.com/ double room - from € 80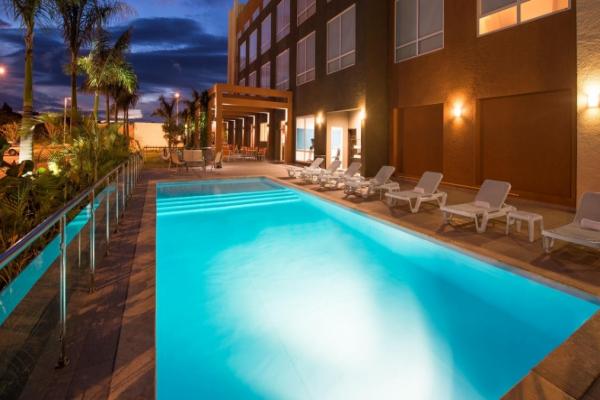 If you understand that it's difficult to transfer the flight, and do not want to spend more time on the road to the hotel, feel free to choose Four Points by Sheraton Puntacana Village. In order to overcome the distance from the airport to the hotel you will need about 7 minutes by car. By the way, you can get on foot through a specially equipped alley. It offers comfortable rooms, a spacious pool, a multifunctional fitness center, dry cleaning and laundry services. The hotel takes pride of place in the ranking of eco-leaders and has a certificate of quality. These indicators indicate that your stay here will be unforgettable.
Chateau del mar ocean villa
10, Calle Marcio Veloz Maggiolo
+1 809-552-0782 www.chateaudelmardr.com double room - from € 180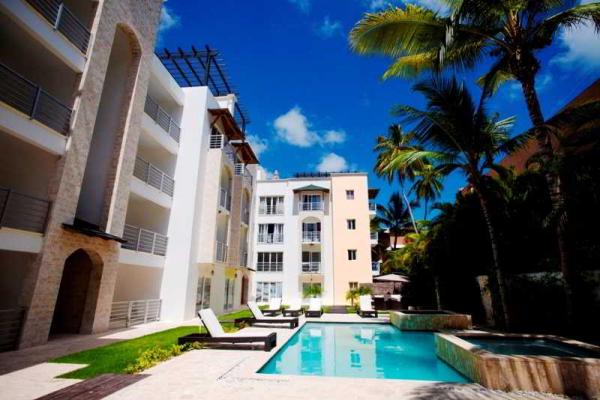 You can enjoy your time in Punta Cana at the Chateau Del Mar Ocean Villa. An absolute advantage is its proximity to the sea. One has only to leave the hotel, go through three steps - and here you are. You can sit on a sun lounger by the pool if you prefer the most safe pastime. Each room is equipped with a kitchenette, and free parking for rented cars is available at the hotel.
IBEROSTAR Bavaro Suites
Carretera Arena Gorda - Playa Bavaro
+1 809-221-6500 www.adorahotel.si double room - from € 110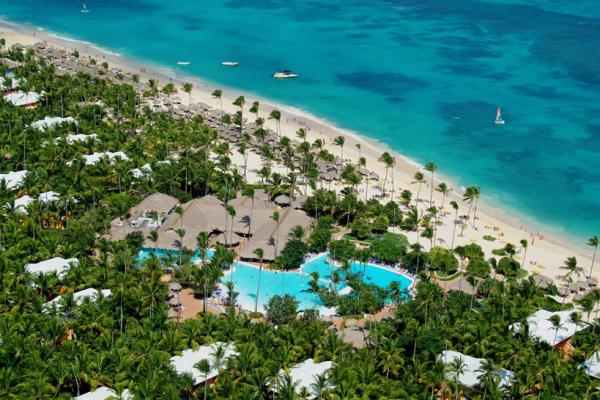 Actively and have fun at IBEROSTAR Bavaro Suites. For all your stay at the hotel, you will be surrounded by an atmosphere of calm and tranquility. Satisfied with a lazy rest by the pool, you can go to the water park at the hotel or to the diving center. In the meantime, you will gain new sensations, a professional nanny will take care of your children. It is worth noting that the hotel is famous for its delicious and original food.
Where to park a rented car in Punta Cana
Car rental in Punta Cana with BookingCar - profitable, convenient, easy!
In case of any problems associated with car rental in Punta Cana, BookingCar will solve them as quickly as possible.
We will be with you 24 hours a day.
All you need is to contact us.
© Anastasiia Voloshina , 2016
Like this? Share in social networks: