Bookingcar offers a wide selection of car rental options in Phuket
Here you can choose a car of any class that best suits your needs.
Our prices are one of the best prices on the market.
See for yourself!
Professional support
Our professional call center will help you understand all the intricacies of car rental. We guarantee full support throughout the rental period.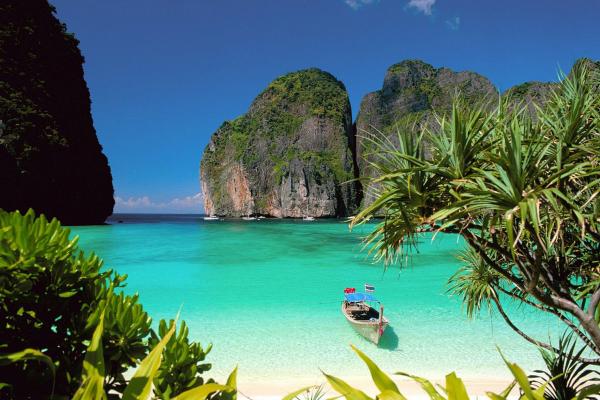 Phuket Island is associated with velvety sandy beaches, palm trees, emerald sea water, where you can swim for hours, comfortable hotels and noisy streets with tuk-tuks, food stalls and annoying street vendors. The colorful, diverse and distinctive Phuket is suitable for passive relaxation in the "hotel - beach - bar" mode, and for a long travel full of travels. Public transport in Phuket is a specific attraction that does not obey either the schedule or the traffic rules, so the best way to move around the island is to use a car that you can rent from representatives of rental companies and get it in a convenient place for you.
Bookingcar recommends:
Car rental at Phuket Airport
Phuket International Airport ( Phuket International, Airport then ) - download scheme
IATA code: HKT
Location: 32 km from the center of Phuket
Official website: www.phuketairportthai.com
Information: +66 76 351 166
At Phuket Airport's website, you can take advantage of car rental services from rental companies such as Alamo, Avis, Budget, Hertz, National, Sixt, Europcar, Thrifty and Dollar. The rented car will be delivered to any place convenient for you - to the entrance to the airport, to the hotel or to any other point that you specify during registration. At the airport, multi-level parking is open, the first 15 minutes of parking are free. For some companies rented cars, parking is free.
What to see in Phuket: interesting sights of the city
Wat Chalong Temple
Chaa road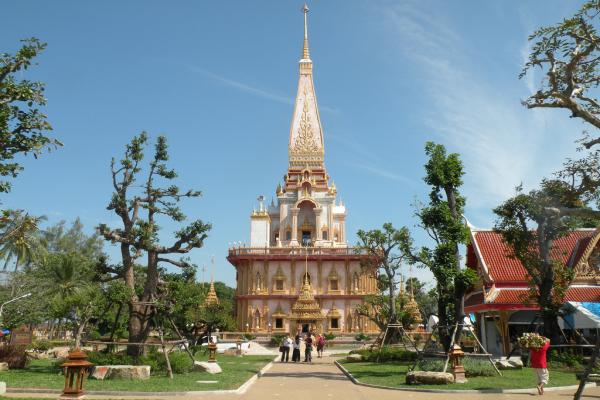 The most visited Buddhist temple in Phuket, having a royal status. The exact date of construction of Wat Chalong is unknown, only the date of the first mention of the temple is known - 1837. In appearance, Wat Chalong looks like a fairy-tale palace: roofs pointed upwards, bright yellow turrets, elaborate colored carvings on columns and walls, Buddha statues at every step and figures of elephants decorated with floral arrangements - in such an atmosphere, an atmosphere of joy reigns even on a cloudy day. , fun and happiness that does not destroy the general mood of solemnity and luxury. The entrance to the main temple of the complex, where a particle of the ashes of Buddha is stored, is closed to tourists, only monks can enter here during the services. Guests of Wat Chalong can visit the prayer hall - Viharu - and worship the statues of the three monks who once served in the temple. Pay attention to their appearance: the figures are pasted over with small pieces of golden paper - this is how believers express their reverence to the elders. Hearing the repeated sounds of exploding firecrackers, do not be alarmed - this ritual, according to Thais, helps to get rid of evil spirits and preserve the blessed aura of the temple. Firecrackers explode in a large capsule made of bricks, and a special person for whom this is a real craft manages the process.
Wat Siray Temple
Koh siray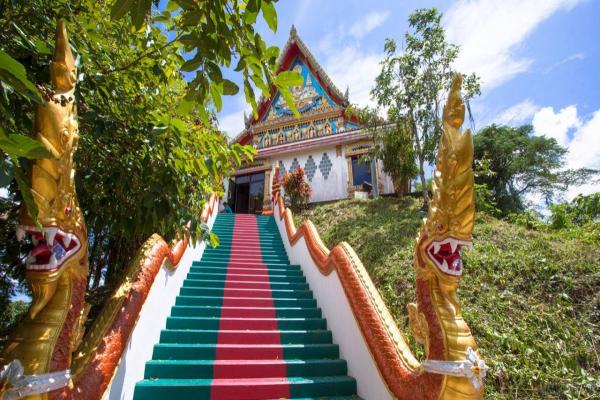 Wat Sirey Temple is located on the tiny island of Koh Sirei, connected to Phuket by a short bridge. Unlike Wat Chalong, there are practically no people here, the only permanent resident of the temple is an elderly guard. He accepts donations and gives tourists flowers and incense sticks that can be placed near the statue of the reclining Buddha. The island is incredibly quiet and calm, here you can spend several hours alone with your thoughts, take a walk through the garden and see Buddha statues showing the deity in different conditions. There is not a single bench on the temple grounds, so if you plan to meditate, take a rug or mat with you - a relaxed view of the reclining Buddha sets you up for relaxation, especially in such a picturesque place.
Big buddha
Soi Yot Sane 1, Chaofa West Road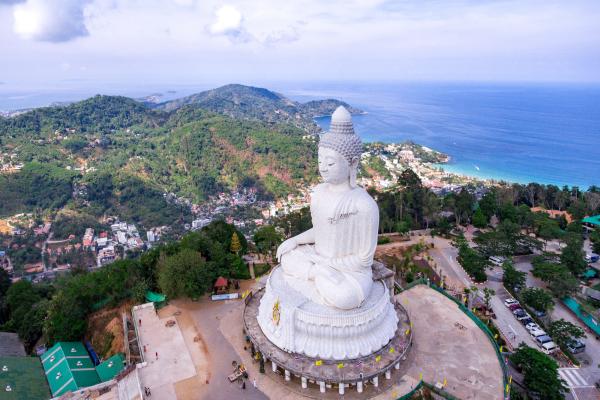 At sunset, we advise you to climb the mountain, on which stands a 49-meter snow-white statue of the Big Buddha. At this time of day, the views from the hill overlooking the southern and eastern parts of the island are most impressive. At the base of the monument, a temple has been under construction for several years now. Everyone can make a contribution by buying a marble tablet or a special bell. Before going up to the Buddha, visit the local monks who tie visitors with ropes on their hands to fulfill their wishes.
Phuket Zoo
23/2, Moo 3, Soi Palai, Chaofah Road, Muang www.phuketzoo.com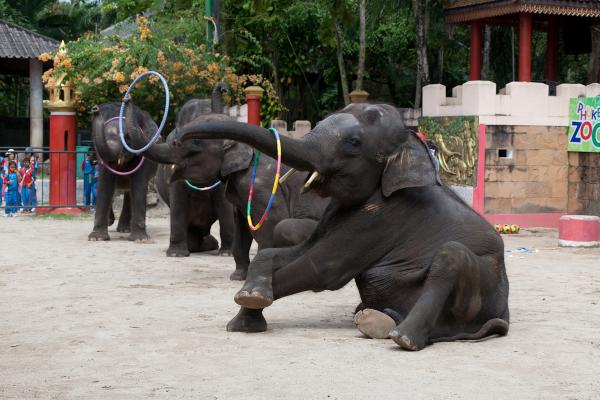 Among the attractions of the zoo are a park with exotic birds, shows with monkeys, crocodiles and elephants and a large garden with rare species of orchids. Each enclosure has a box where you can throw 20 baht and get food for the animal. It is better not to mess with local photographers and stop any attempt to put an animal on your shoulders - otherwise you will have to pay one or two hundred baht per photo.
Bird Paradise Bird Park
82/4, Moo 10, Soi Yodsanae, Chaofah Road, A. Muang www.phuketbirdparadise.com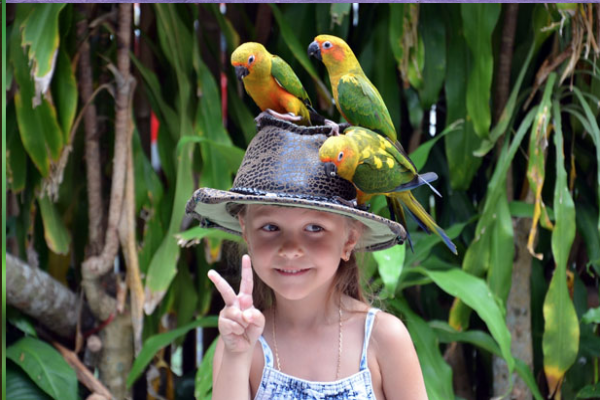 If you have never fed birds from your hands or heard parrots talking, then be sure to visit Bird Park. The birds behave kindly and happily sit on people's hands, but with one condition - if they are fed. From morning until five o'clock in the park there are performances with trained birds, which equally delight adults and children. The park, although small, but captivates instantly, especially the smallest visitors - where else can they pet exotic birds and feed them by hand, as if they were the most ordinary pets.
Phuket's best beaches
Kamala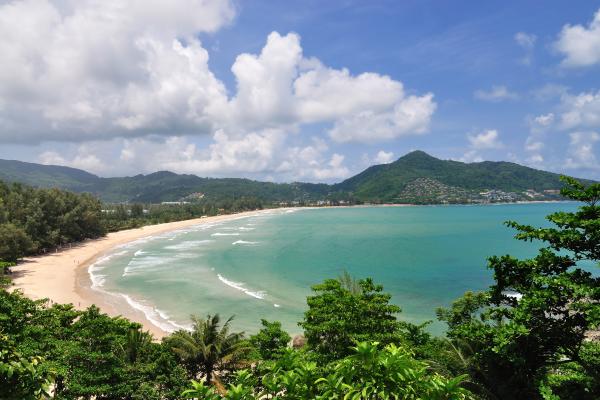 A two-kilometer beach in the west of the island, surrounded by green hills and dense thickets of forest. The southern part of the beach is quite noisy due to the many restaurants, bars and shops, as well as the local fishermen who leave their boats in the area. The north of Kamala is ideal for swimming: there are fewer tourists, and the water is clear and much cleaner than in the south. There is a parking zone along the beach, so there is definitely a parking space for your rental car.
Bang tao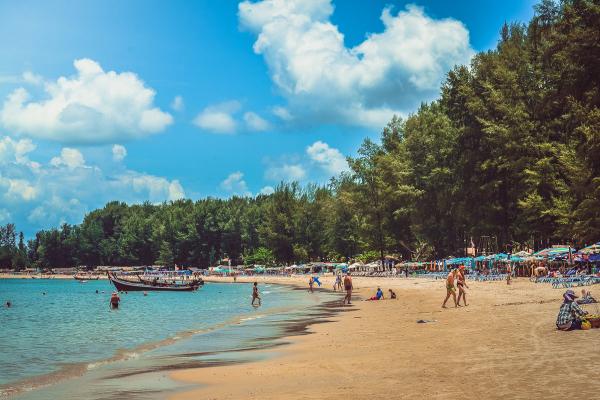 A wide beach with a length of eight kilometers. All infrastructure is concentrated in the southern part, the north is not crowded and quiet. Please note that not in all areas of the beach you will find sun loungers and umbrellas, so we advise you to bring a mat with you and purchase a beach umbrella in advance. Entrances to the beach are open from the side of local cafes, where you can park a car. The largest parking is located at the Nikki Beach Hotel.
Nai harn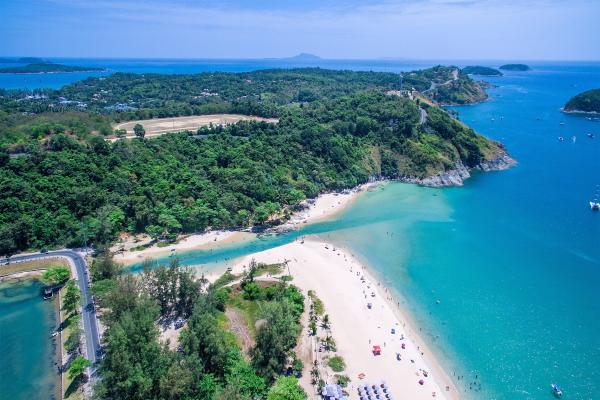 A small (only one kilometer in length) and rather chamber beach in the southwest of Phuket. Nai Harn is surrounded by palm groves on all sides, narrow straits pass between the parts of the beach, creating a beautiful pattern. Nearby is a village where you can have a bite to eat, have a cocktail in a bar and book a room in some modest but nice hotel. Near Nai Harn, next to the temple of the same name, you will find a large parking lot where you can park your rented car.
Karon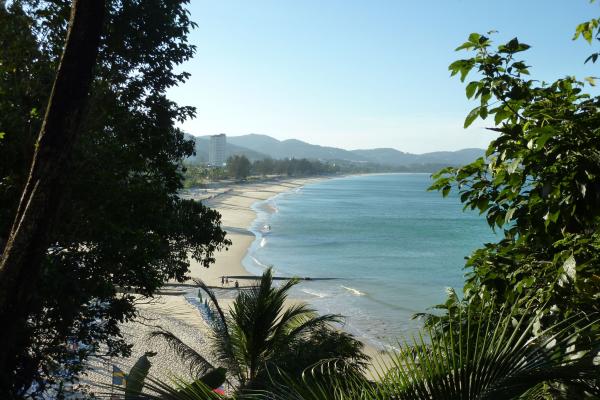 A popular beach in Phuket, within walking distance of large hotels of different price categories. Karon is good for passive relaxation, and for water sports. There are several points on the beach where you can rent equipment for diving, water skiing and even surfing.
Kata noi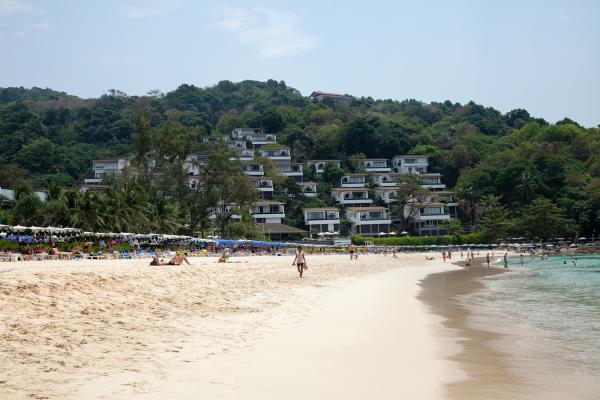 The south of Kata Noah is suitable for snorkeling: here is a beautiful coral reef and there are colorful tropical fish that are worth watching. Although the beach is short (about one and a half kilometers), it is wide, so even in high season you will find free sun loungers. There is a small parking lot at the entrance to Kata Noi, so you don't have to go around the area for a long time looking for a parking space.
Food: atmospheric restaurants, cafes and bars
Siam Supper Club
36-40, Lagoon Road General Description, Cherngtalay www.siamsupperclub.com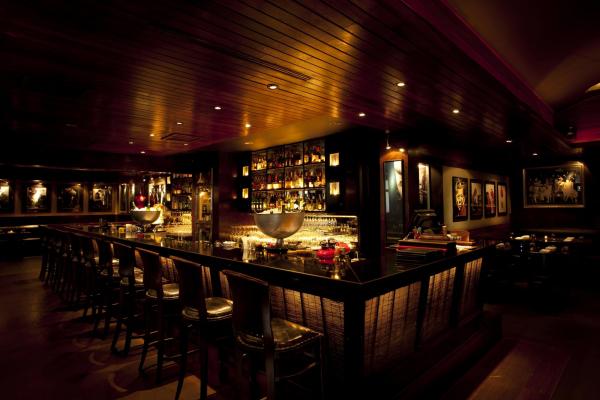 Having entered the Siam Supper Club restaurant and bar, the first thing you will see is a large bar counter with lighting and a wide cabinet where the best varieties of alcoholic drinks are presented. Dark leather sofas are placed along the walls, and above them are black and white photographs on the theme of music, cinema, literature and theater. The menu, like the interior of the establishment, is made with a reference to European traditions, but not without Asian identity. Along with pork ribs, steaks and lobster ravioli, Siam Supper Club offers tom yum, shrimp rice noodles, chicken curry and glass noodle salad with lime.
Baan Rim Pa Kalim
249/4, Prabaramee Road, Kalim www.baanrimpa.com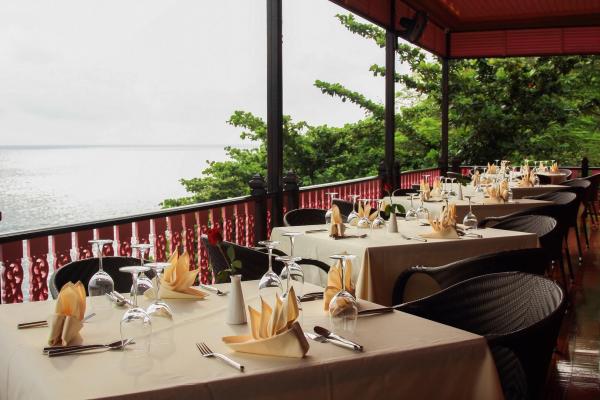 With its breathtaking ocean view, the terrace turns Baan Rim Pa Kalim from just an expensive gourmet restaurant to a perfect place for dates and family dinners. The restaurant is located on a cliff and has two floors, tables on the terrace are the fastest, so book in advance. Order Thai dumplings with chicken and crab, fried tiger prawns with tamarind sauce, and for dessert, take a banana baked in sweet coconut milk.
Bake
58, Lagoon Road, Cherngtalay, Thalang www.diningphuket.com/bake-phuket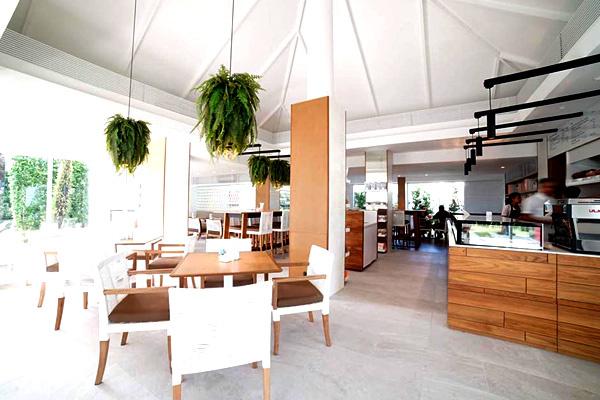 The Bake Bakery Network serves breakfast all day with hot pastries and brews excellent coffee, whose aroma wakes local and sleepy tourists in the morning. The menu mainly includes European cuisine (salads, pasta, pizza, sandwiches), so if you want to take a break in tasting spicy Thai dishes, then Bake will be just right. In total, there are four cafe cafes on the island, but the most comfortable and conveniently located is in the Laguna resort. You can hide from the heat in a spacious hall with windows over the wall, and in the evening dine outside under palm trees in the light of miniature table lamps.
Boonrat dim sum
5/2, Dilok Uthit 2 Road, Muang www.boonratdimsum.com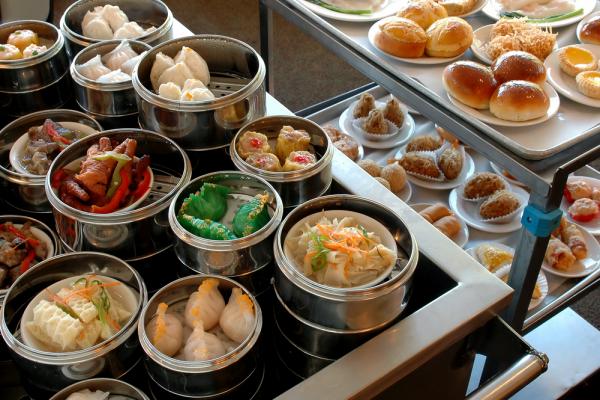 Dim Sum is a small portion of vegetables, rice, seafood and steam rolls, they are served on saucers during tea drinking. Boonrat starts working at 6 in the morning, there are always a lot of locals who usually pick up several types of dim sums and force them to the whole table. It is better to arrive early so as not to stand in line and have time to try as many variations of this dish as possible - some tastes are so popular that they leave the shelves in two to three hours.
Pure organic heaven
45/40, Soi-Ta-Aiad, Chalong www.facebook.com/pureorganicandnatural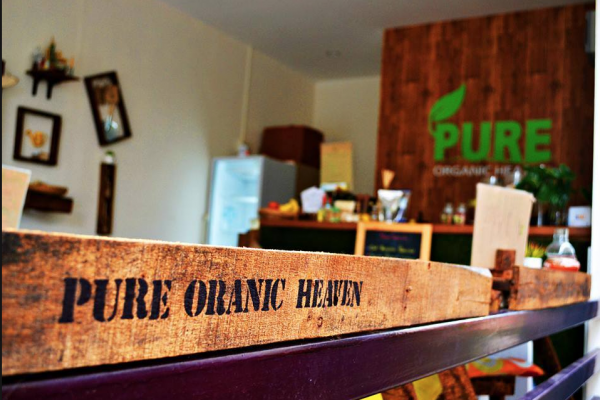 A favorite place for vegetarians and adherents of healthy eating. The menu includes a dozen types of smoothies, freshly squeezed juices, salads, burgers with vegetables and desserts based on tropical fruits. The cafe is combined with a natural cosmetics store, where, by the way, we advise you to buy coconut oil and body products (price / quality ratio - "five").
Where to live: comfortable hotels in Phuket
The naka phuket
1/18, 1/20 Moo 6 Kamala
+66 76 337 999 www.thenakaphuket.com double room - from € 243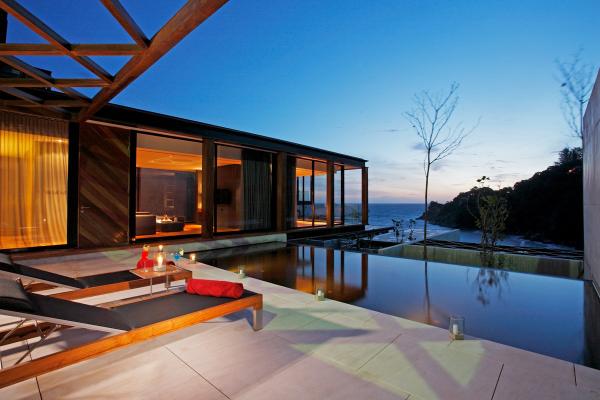 The complex of 94 villas, lost among the forest and golden sand, is an ideal picture for those who seek solitude and silence. The walls in the houses are replaced by huge panoramic windows from floor to ceiling, so you can enjoy the sea and the cleanest beach around the clock. Each villa has its own dark wood terrace, pool and bar with a large selection of wines. The five-story spa offers all kinds of massages and relaxing treatments that can be combined with workouts in the spacious gym or outdoors. For those who rent a car, free parking is available at The Naka.
Angsana laguna phuket
10 Moo 4 Srisoonthorn Road
+66 76 324 101 www.angsana.com double room - from € 154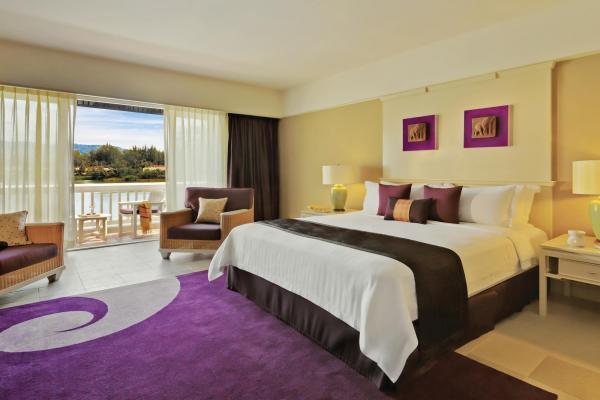 One option for families is the Angsana Laguna Hotel, with a 323-meter swimming pool that stretches along the cottages with rooms. Those who got a room on the ground floor can go down to the pool directly from their balcony. On the beach you can pet elephants, go diving or canoeing. A golf course is located in the surrounding area, and Angsana Laguna offers a free shuttle service. Free guarded parking is also available.
Dusit thani laguna phuket
390 Srisoonthorn Road, Chengtalay
+66 77 362 999 www.dusit.com double room - from € 121

Five star hotel on the shore of Bang Tao Bay. The room stock of Dusti Thani has 244 spacious rooms and 8 villas with access to a picturesque patio. Adjacent to the hotel is Bao Tang beach with velvety white sand, for guests there is a separate area with sunbeds and umbrellas. It offers - spa and fitness center, tennis court, golf course, sports and culinary master classes. If you are traveling in a rented car, you can leave it in the free parking lot at the hotel.
The kee resort & spa
152/1 Thaveewong road, Kathu
+66 76 335 888 www.thekeeresort.com double room - from € 104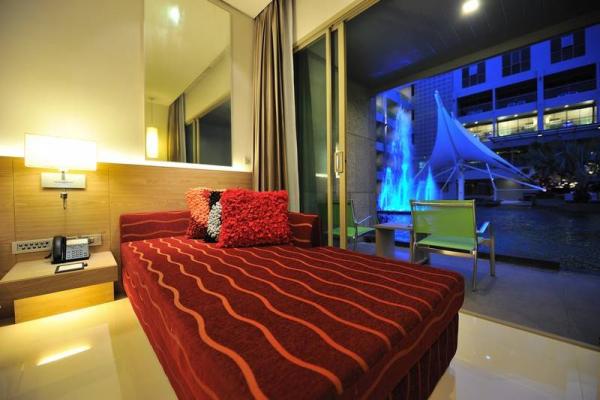 Nice hotel on Patong Beach, located in the heart of Patong nightlife - Bangla Road. Classic rooms overlooking the pool with a fountain, guests from the first floor can get into the pool from their balcony. The Kee Resort has a rooftop lounge bar with soft sofas, soft music and a large wine list. Free parking is available at the hotel.
Kamala Resort and Spa
9/24 Surin-Rawai Road, Moo 5, Kamala, Kathu
+66 76 279 903 www.kamalaresortandspa.com double room - from € 90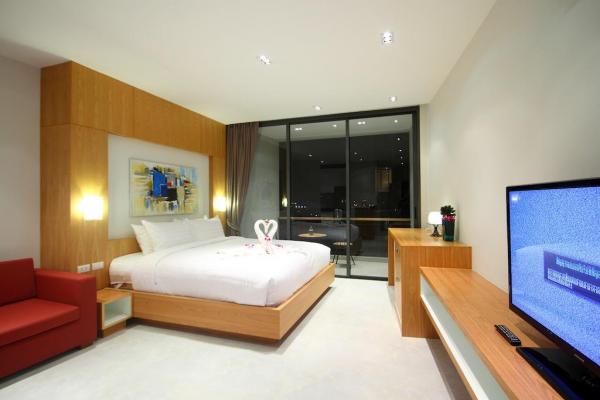 Affordable, friendly hotel near Phuket FantaSea theme park. Large bright studio rooms with pool views. Kamala Resort has a tour desk, a wellness center with sauna and massage services, and a gym. A nice bonus is free parking for your rental car.
Where to park a rented car in Phuket
Renting a car in Phuket with BookingCar - profitable, convenient, easy!
In case of any problems associated with car rental in Phuket, BookingCar will solve them as quickly as possible.
We will be with you 24 hours a day.
All you need is to contact us.
© Ellina Rudenko, 2016
Like this? Share in social networks: