Car rental in Novosibirsk
Bookingcar offers a wide selection of car rental options in Novosibirsk
Here you can choose a car of any class that best suits your needs.
Our prices are one of the best prices on the market.
See for yourself!
Professional support
Our professional call center will help you understand all the intricacies of car rental. We guarantee full support throughout the rental period.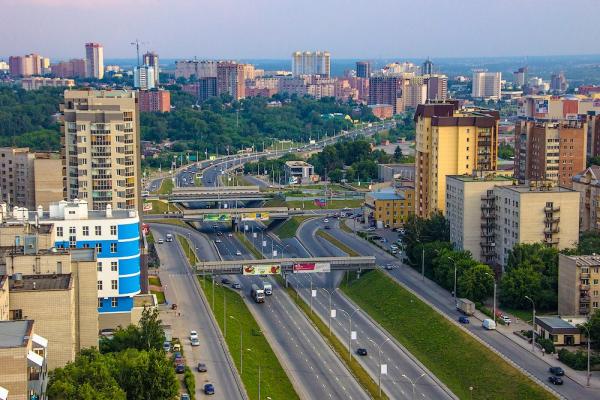 Novosibirsk is considered a fast-growing city. This is the cultural, scientific center of Siberia and a major transport hub. Be sure that you will not be bored here. The city offers many historical monuments, concert venues, objects of modern architecture, shopping centers and restaurants. There will be something for every tourist to do: someone will like numerous museums, someone will be interested in visiting theaters, and nature and animal lovers can visit the botanical garden and the zoo with pleasure. This city has a lot of interesting places, so make a tourist route, rent a car and enjoy the views around you.
Bookingcar recommends:
Car rental at Novosibirsk airport
Tolmachevo International Airport ( Tolmachevo International, Airport then ) - download scheme
IATA code: OVB
Location: 17 km from Novosibirsk
Official website: https://tolmachevo.ru/
Information: 8 (383) 216-99-99
A car rental service at the Novosibirsk airport is provided by different companies: Avis, Naprokat, Europcar. The rental car reception is located in Terminal A, in the arrivals hall of domestic airlines. Near the airport there is free parking, short and daily.
What to see in Novosibirsk: interesting sights of the city
Bard Alley
St. Kamenskaya, 1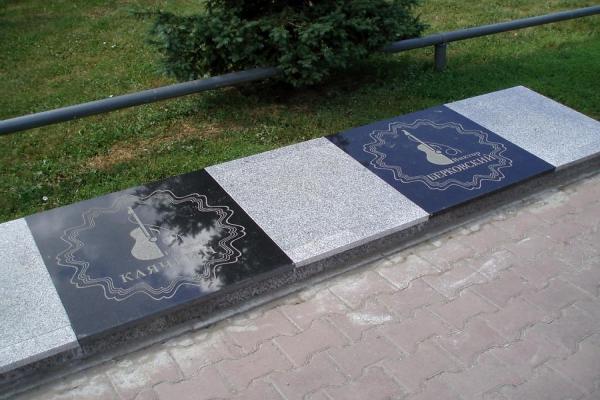 Arriving in Novosibirsk, go see the Alley of the Bards - this is a granite avenue of stars. She has no such in any Russian city. Local artists often won prizes at concerts and festivals, so the idea was proposed to capture famous names on granite. This is a favorite place not only for locals, but also for tourists. It is considered one of the romantic in the city, in addition, improvised concerts by street musicians are often arranged here. Walking along the alley on a weekend, you can not only get acquainted with popular personalities, but also listen to high-quality music.
Novosibirsk Zoo
St. Timiryazev 71/1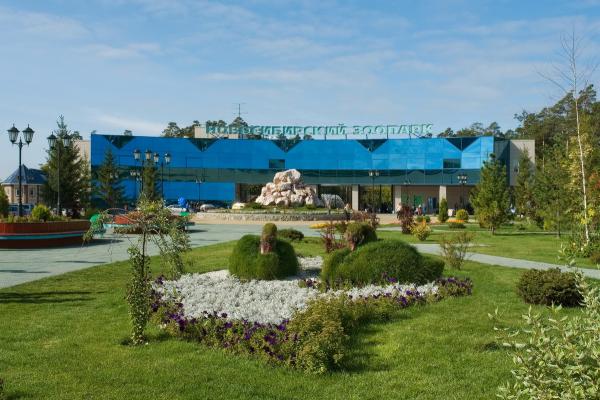 Nature and animal lovers will be interested in visiting the Novosibirsk Zoo, which is considered one of the largest in Russia. Here you can see the snow leopard, Asian wild boar, Putorana sheep. In one day, you can't get to know all the animals; more than 10,000 pets live in the zoo. In order not to get lost in the vast territory and see the rarest individuals, visit the zoo with a guided tour, which lasts 2 hours on average. To comfortably reach your destination, rent a car.
Opera and Ballet theatre
Prospect Red, 36 http://www.novat.nsk.ru/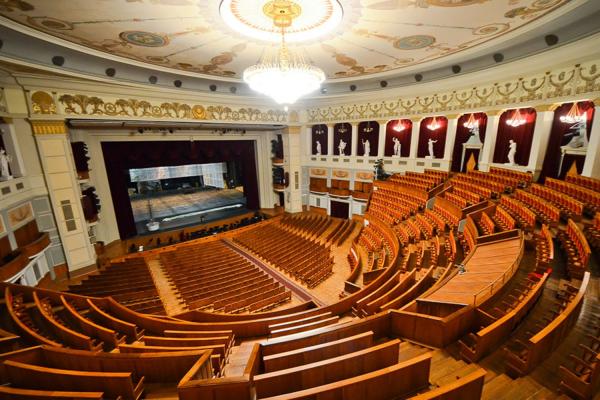 The Opera and Ballet Theater is a symbol of Novosibirsk. It is considered the largest opera house in Russia. Art connoisseurs come here from all corners, and tickets for performances are booked in a few months. By the way, many secrets and legends go around this place, and some of them are supported by reliable facts. Rumor has it that under the building is a city where during the Second World War the treasures of the Hermitage and the Tretyakov Gallery were hidden.
Novosibirsk planetarium
St. Klyuch-Kamyshensky plateau, 1/1 http://www.nebo-nsk.ru/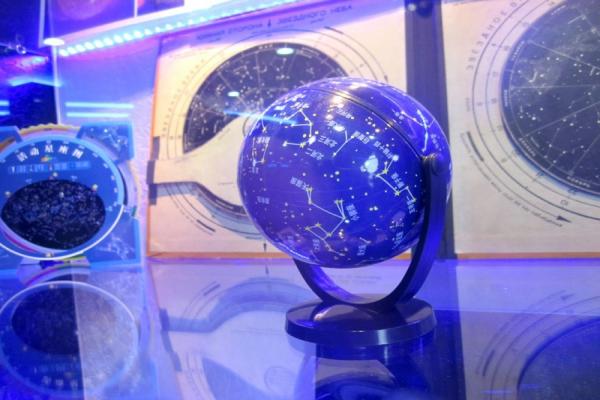 The Novosibirsk planetarium is considered to be a significant landmark of the city. It is equipped with the latest technology, so it will be interesting for both children and adults. From the Foucault tower in real time, you can watch the stars. On specially equipped sites you can find interesting facts about the planets of our solar system and the sun. During the tour, you can visit the scientific and technical museum and participate in educational and entertainment programs.
Toy railway
Zaeltsovsky Park, 2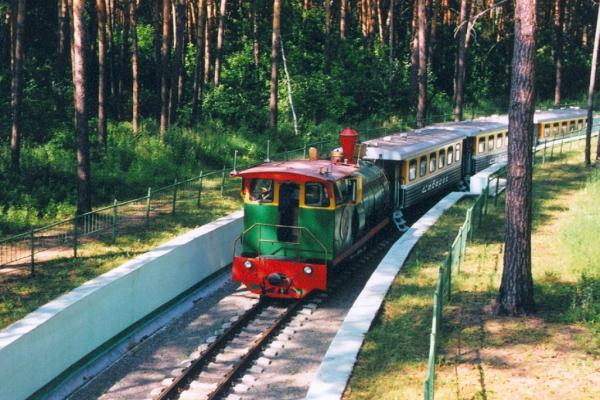 Rent a car and go on a tour of the children's railway. If you travel with children, then there is no better place for entertainment. Trains, platforms, station - everything is real here. The object is considered a branch of Russian Railways. Railroad employees are teenagers who are in high school. The children's railway owns passenger cars, open cars and narrow-line diesel locomotives. A ride on the train will be a pleasure for adults and children.
In the vicinity of Novosibirsk: the best automobile routes
Barsukovskaya cave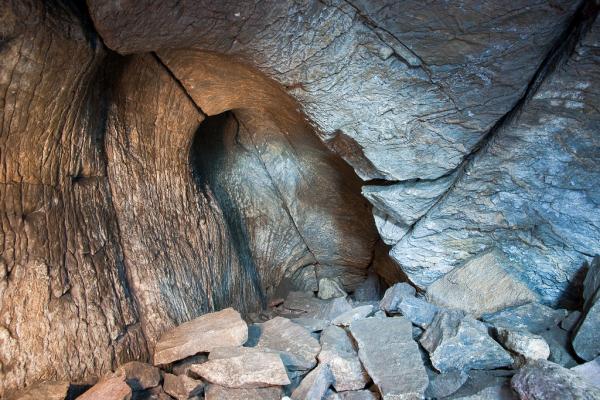 After enjoying the city sights, go to the cave, which is located in the village of Barsukovo. It is believed that previously there were wide entrances, however, during the Civil War, they were inundated. Now it's quite difficult to get into the cave, you have to maneuver through narrow mazes, passages, grottoes. Stalagmites and stalactites are practically not found here, however, voids in the rock are of different interest. In winter, bats hide in numerous gorges in them. And in the summer the cave is empty, only sometimes single animals climb here for an overnight stay. Scientists claim that the numerous underground passages of the Barsukovskaya cave descend below the river Dill.
Belovsky waterfall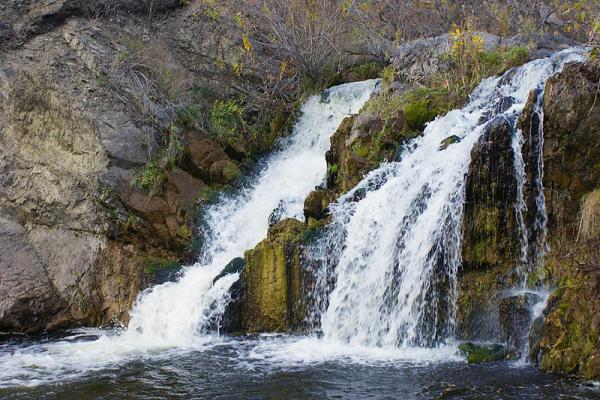 In the village of Belovo there is a picturesque attraction - Belovsky waterfall. The uniqueness of the waterfall is that it is located in a flat area. Its source is the blue lake, which was once a place for coal mining. Then a dam was installed here, which restrains the flow of water. After the territory was abandoned, they broke out. Today Belovsky Falls is a wonderful place to relax, which attracts from all around. Someone arranges for themselves a hydromassage bathtubs, becoming under streams of water, someone fishes in a reservoir located nearby.
Pokrovsky Monastery
Zavyalovo village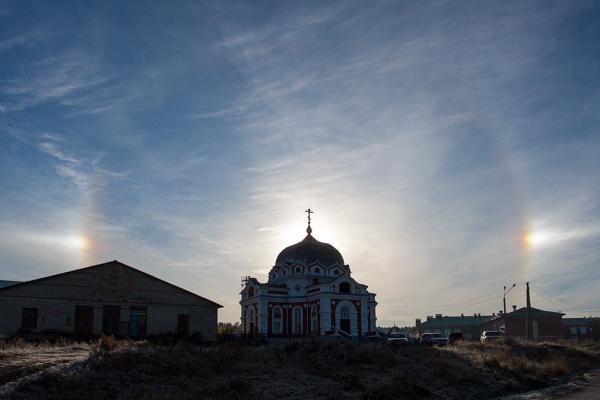 If you are traveling in a rented car around Novosibirsk, we advise you to call in the Pokrovsky Monastery. It is considered an architectural monument and a popular pilgrimage site. Once the monastery building was used to store grain, but today it is a richly painted structure, inside which is stored a collection of chronicles and old books. By the way, on its territory is the grave of a merchant who founded a temple at the end of the 19th century. Until now, the memory of the creator, who had a great effort to build a shrine, is kept here.
Museum of Gennady Zavolokin
Village New Sharap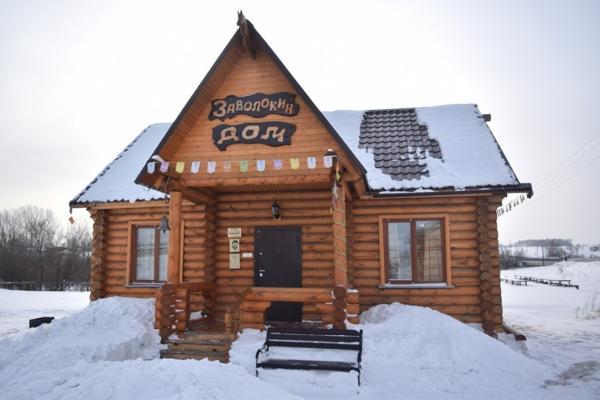 Not far from Novosibirsk there is a museum dedicated to the famous TV presenter and musician Gennady Zavolokin. During the tour, you can see the exhibits from the artist's creative and personal life. In addition, there is a collection of accordions, vinyl records, accordions, bicycles. This place has become famous thanks to the music festival "Play, accordion", which has been held here for a long time. By the way, it was Gennady Zavolokin who was the first presenter of this TV show.
Krasnozerskoe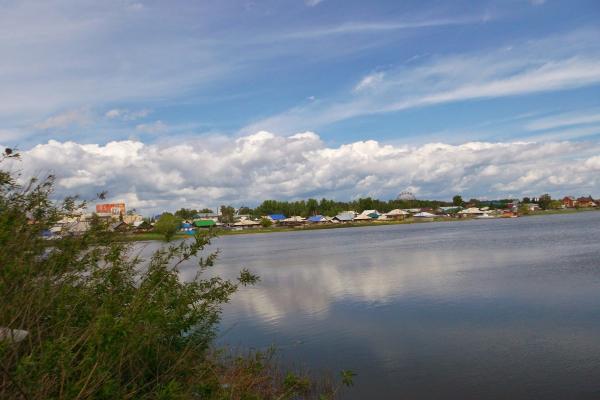 If, in addition to the sights, you want to improve your health, go to the village of Krasnozerskoye. Here are the famous drainless lakes Gorky and Ostrovnoye, brine and sulfide mud, many of which have medicinal value. They have analgesic, anti-inflammatory and absorbable effects. In addition, they strengthen the body's immune system. Staying in the village, you can improve your health in the sanatorium "Krasnozersky". You will be able to attend mud procedures, drink healing mineral water. An art museum of local lore works in Krasnozersky, where a large collection of works by the founder of the Novosibirsk Art Gallery is presented.
Food: atmospheric restaurants, cafes and bars
Traveler´s Coffee
St. Kamenskaya, 1A http://www.travelerscoffee.ru/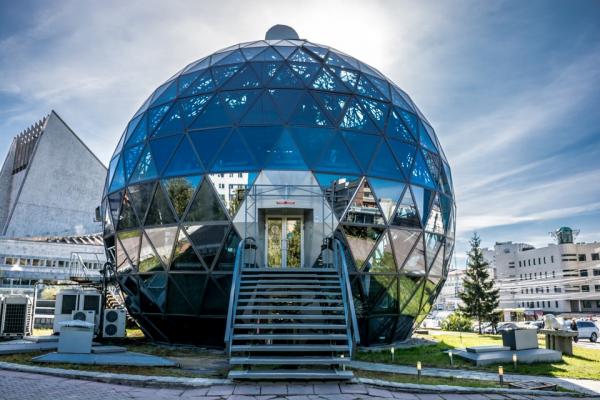 For delicious desserts and coffee, head to Traveler´s Coffee. The institution is open from 8 in the morning, which is very convenient for early walks. The coffee shop is located in the center, it looks completely unusual from the outside: the building resembles either a spaceship or a comet. Indoors, the atmosphere is cozy and romantic. Crouching at a table on the 3rd floor, you will have a beautiful view of the city. Especially in the evening, the panorama of the city becomes fascinating. By the way, if you travel by rental car, you can leave it in the parking lot near the coffee shop.
Dozen
St. Military, 5 | SEC Aura, 4th floor http://univerfood.ru/dyuzhina.html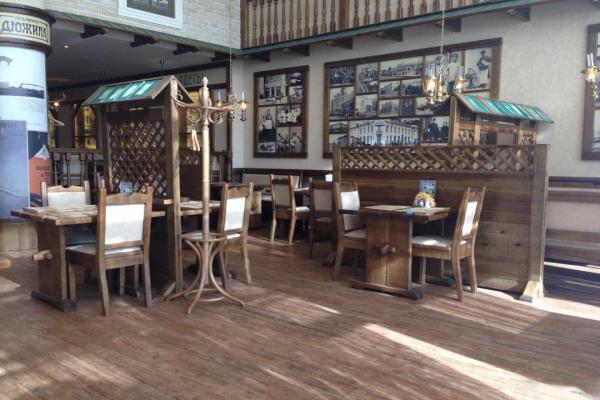 Do you want Siberian delicacies? So that a wide selection, fast service and affordable prices? Then you should definitely visit the Dozen cafe. Siberian dumplings and dumplings, mushrooms, little tinctures, tincture on pine nuts - and you have a pleasant snack. The institution has a simple atmosphere, conducive to soulful conversations and a pleasant pastime. The peculiarity of this network is that dumplings are located in shopping centers.
BEERMAN ON THE RIVER
St. Dobrolyubova, 2A http://beerman.ru/ru/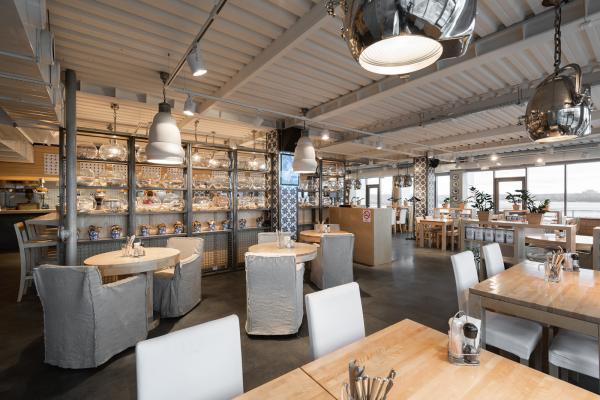 In the BEERMAN institution on the RIVER there is a choice of dishes and drinks for any occasion. Here you can hold business meetings, dine during a break between walks in the city or celebrate a special event. The institution is divided into zones: in the cafe you can just sit with the children, drink coffee and try desserts. On neutral territory - meet with colleagues or dine in a friendly company. On the top floor there is a terrace with a beautiful view of the Ob River.
Goodman Steakhouse
St. Sovetskaya, 5 | BC Kronos, 1st floor http://www.goodman.ru/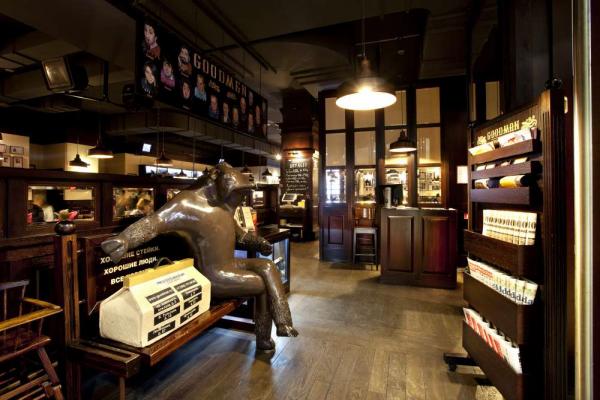 If during a walk you wanted an excellent steak, leave the rented car in the parking lot at the shopping center and go to Goodman Steakhouse. A visit to this place will bring you extremely positive emotions. Here you can offer a piece of meat of any roast and any tenderloin, salads and desserts (for those who do not eat meat), a varied wine list. The staff is attentive to each visitor, so any wishes regarding the presentation and preparation of dishes will certainly be taken into account.
Mexico city
St. Oktyabrskaya, d. 49 | Lenin Square http://mehico.ru/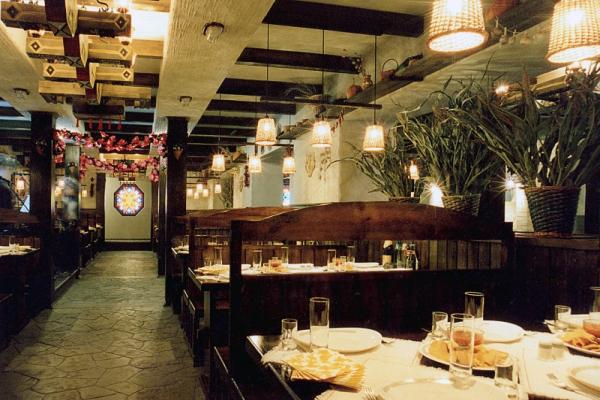 If you are looking for a place to try Mexican cuisine or stay until late at night, visit the Mexico City Restaurant. The interior is made in the best Mexican traditions, the service and the atmosphere as a whole make a good impression. There is an open oven in the hall from where you can watch how the dishes are prepared. Especially worth trying are the tenderloin steam, chicken burritos, and steak. By the way, the institution has an excellent wine list.
Where to live: comfortable hotels in Novosibirsk
River park hotel
St. Dobrolubova, 2
8 (800) 200-96-66 http://www.riverpark.ru/ double room - from € 51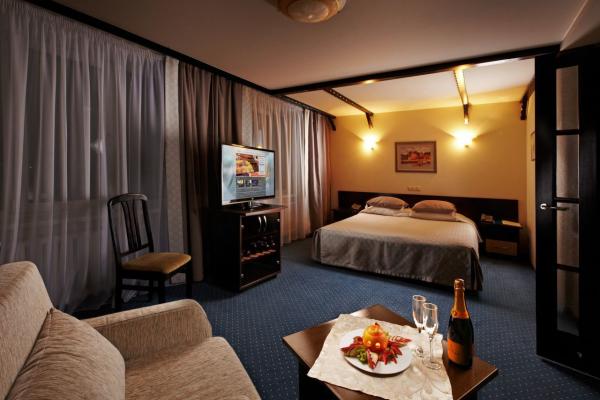 If you plan to stay in Novosibirsk for a day or two and are looking for a budget accommodation option, opt for the River Park Hotel. The rooms offer beautiful views of the Ob River, the apartments are cozy and spacious. In this hotel you can stay with children (the apartments are equipped with everything necessary) or for conferences (renting a room is available at a discount). There is also a fitness room for keeping fit and free parking for rental cars.
Skyexpo
St. Station, 100
8 (383) 363-00-88 http://skyexpo.ru/ double room - from € 43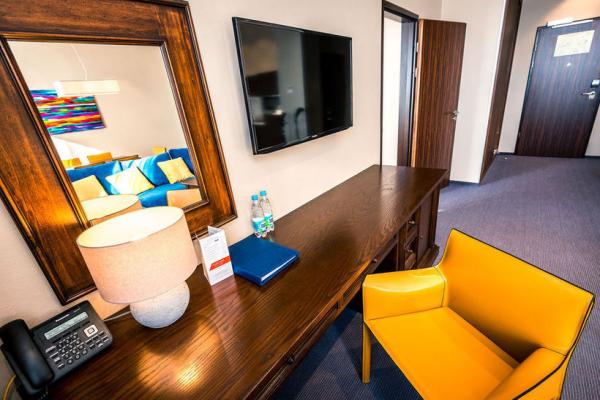 Skyexpo will be especially convenient for those who came to the exhibition at EXPO or who are looking for a hotel with the closest location to the airport. Guests are offered standard rooms, a studio, apartments. The restaurant is open around the clock, which is an important advantage. Breakfast is organized in buffet style. The rooms have everything you need for a comfortable stay. For a fee, Skyexpo also includes a pool and sauna.
Doubletree by Hilton Hotel Novosibirsk
St. Kamenskaya, d. 7/1
8 (383) 223-01-00 http://www.hilton.ru/hotels/doubletree-by-hilton-novosibirsk/ double room - from € 75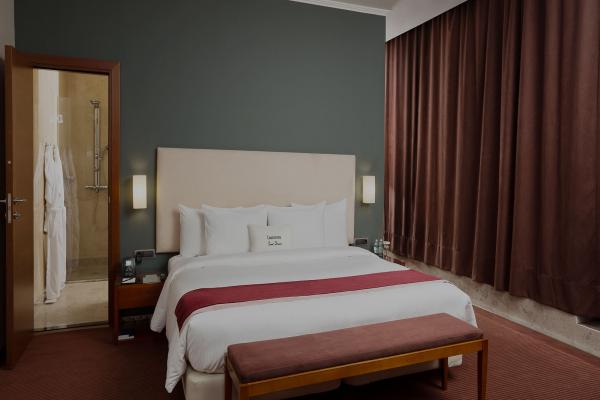 Doubletree by Hilton Hotel Novosibirsk is located in the heart of Novosibirsk. Nearby are the main attractions, various restaurants, coffee houses. The hotel staff is friendly and tries to please every client. Here they can take care of your needs and advise the best establishments for a pleasant pastime. Doubletree by Hilton Hotel Novosibirsk has everything to make every guest feel at home. After a hard day, you can relax in the spa or in the pool.
Novosibirsk Marriott Hotel
St. Ordzhonikidze, 31
8 (383) 230-03-00 http://www.marriott.com/hotels/travel/ovbmc-novosibirsk-marriott-hotel/ double room - from € 98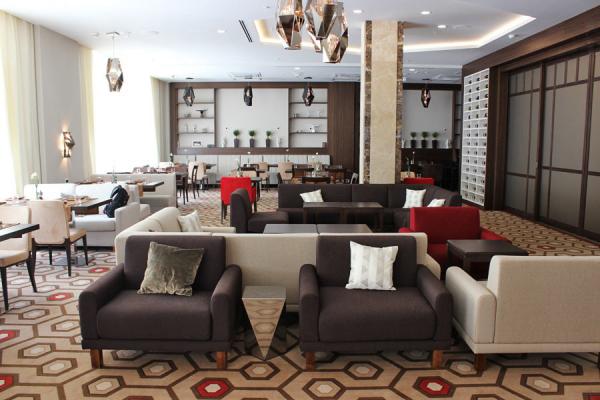 If you plan to rent a car and are looking for a five-star hotel with free parking, opt for the Novosibirsk Marriott Hotel. The price includes: pool, Turkish hammam, gym. Hearty and varied breakfasts are organized in buffet style. The apartments are spacious, bright and functional. The rooms have everything for a comfortable stay: kettle, iron, bath amenities, tea and coffee.
Nord castle
St. Airport, 88/8
8 (383) 200-12-00 http://nchotel.ru/ double room - from € 67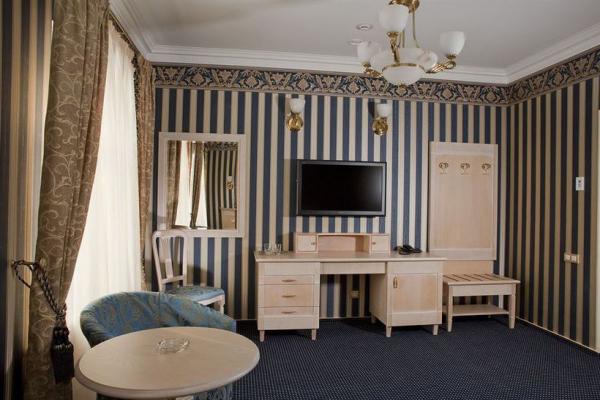 Nord Castle Boutique Hotel is located away from noisy streets and restaurants. The rooms are spacious and clean. The homely atmosphere reigns here, which is greatly facilitated by the staff. In summer, you can have breakfast on the outdoor terrace with great views. The apartments have everything you need, including bathroom amenities. In the evening, having finished all business and sightseeing, you can take a walk in the park near the hotel.
Where to park a rented car in Novosibirsk
Car rental in Novosibirsk with BookingCar - profitable, convenient, easy!
In case of any problems associated with car rental in Novosibirsk, BookingCar will solve them as quickly as possible.
We will be with you 24 hours a day.
All you need is to contact us.
© Anastasiia Voloshina, 2016
Like this? Share in social networks: