Bookingcar offers a wide range of car rental options in Netanya.
Here you can choose a car of any class that best suits your needs.
Our prices are one of the best prices on the market.
See for yourself!
Professional support
Our professional call center will help you understand all the intricacies of car rental. We guarantee full support throughout the rental period.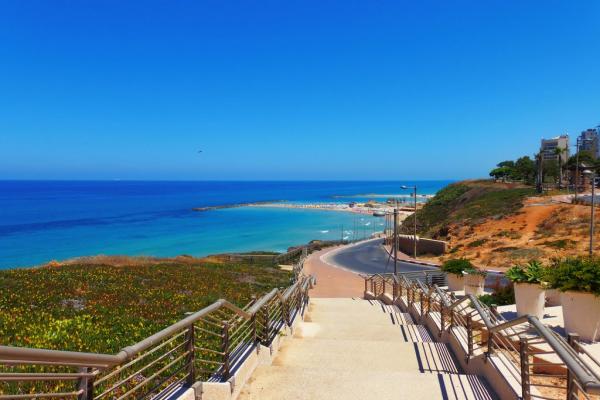 Netanya is a popular resort among those who seek a relaxing holiday near the Mediterranean coast. The town is replete with boardwalks, shopping centers, street cafes. Comfortable hotels, delicious food, friendly attitude of locals - it seems that everything here has a pleasant rest. Having rented a car, it is worth a ride along the 11-kilometer coastline and choose the most picturesque beach for yourself. Among the attractions that are definitely worthy of the attention of tourists are the museums of Pninat-Shivtea-Israel and Beit-Hagdudim, the municipal gallery, King Herod's amphitheater, and the "Palace on the Reef". You can shorten your evening leisure time in one of the many bars or a kosher restaurant. One way or another, in Netanya, for every tourist, there is a way how to spend a relaxing holiday.
Bookingcar recommends:
Car Hire at Tel Aviv Airport
There is no airport in Netanya, so it's more convenient to take tickets to Tel Aviv, and then get to Netanya by rental car.
The international airport is Ben Gurion ( Ben-Gurion International, Airport then ) - download scheme IATA code: the TLV Location: 53 km from Netanya Official website: www.iaa.gov.il/he-IL/airports/BenGurion Reference: +972 3-975 -5555



The following car rental companies operate at Tel Aviv Airport: Hertz, Budget, Avis, Dollar Thrifty, Eldan, Shlomo Sixt. Rental car rental desks are located in the arrivals area. Near the airport equipped with short and long-term parking.
What to see in Netanya: interesting sights of the city
Independence Square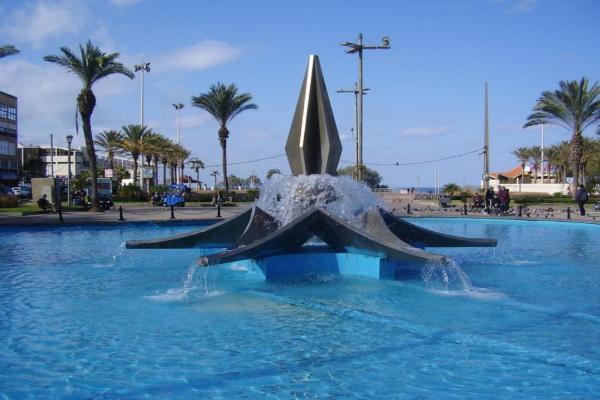 Arriving in Netanya, first go for a walk on Independence Square. The main attraction here is a fancy-shaped fountain that forms a modern composition. The gaze is drawn to a giant metal flower, clearly reminiscent of a lily and a small pool symbolizing the lake. Locals especially like to come here in the evenings, when the fountain is highlighted with multi-colored lights and mini spotlights.
Victory Monument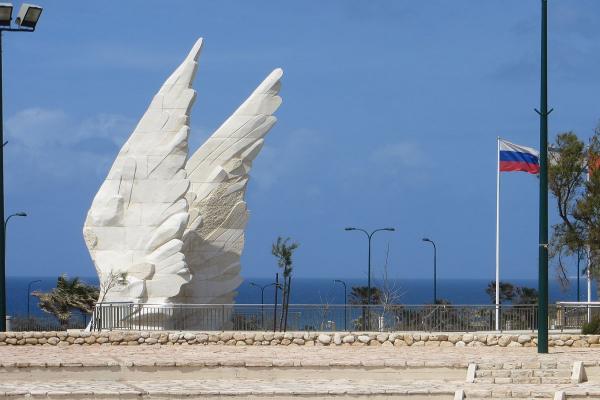 Having rented a car, go to the sea promenade to take a closer look at the majestic Victory Monument. It is as if fluttering over the sea, and white solemn wings symbolize freedom. After taking a few photos against the backdrop of the sights, you can sit on a bench and think about that great feat and victory over fascism. By the way, the monument is not typical for Israel, because Victory Day is not officially celebrated here.
Bike park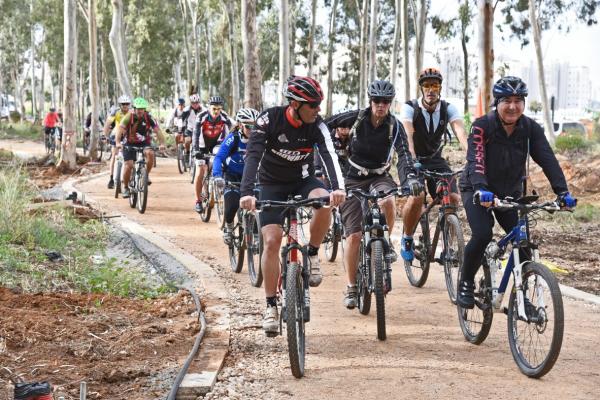 If you want some kind of diversity among sunbathing and soft waves, basketball courts and sailing, go with your friends or family to the bike park. It occupies a fairly large area of ​​4 hectares, each square centimeter is equipped so professionally that both amateurs and beginners will feel comfortable. All the necessary equipment in the park can be rented, so you do not have to prepare in advance for arrival.
Statues of street musicians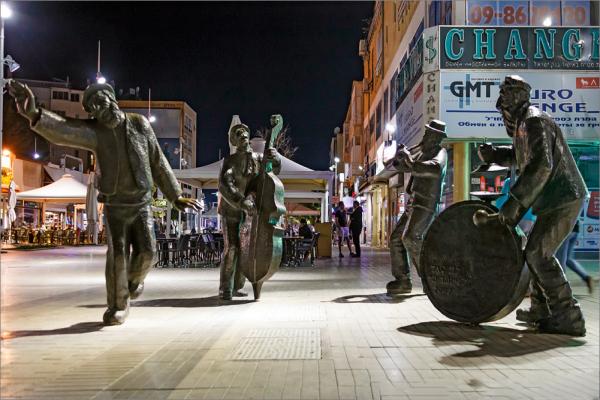 Walking along the streets of Netanya, you will hear the game of street musicians: sometimes mischievous and funny, sometimes thoughtful and sad. Someone throws money in hats, someone stops and dances. A few years ago, monuments to the very talented people who uplift the mood of others were erected in the city. You can admire the statues of street musicians sitting on the summer terrace in a restaurant located on the main street.
Herzl Beach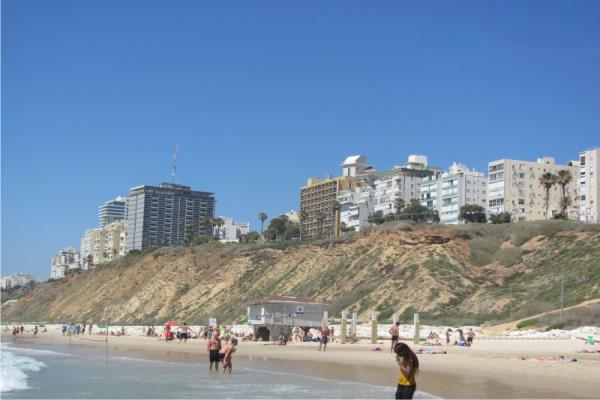 If the only reason you came to Netanya is the sun and the sea, first go to Herzl Beach. There are plenty of opportunities to have fun. The beach is equipped with a field for indoor soccer, volleyball, traditional football, in addition, you can take all the sports equipment. If you want a bite to eat, it is worth a glimpse into the Thai restaurant Kopipi. You can quickly get to the beach in a rented car.
Near Netanya: Best Car Routes
Orchid and Butterfly Park Utopia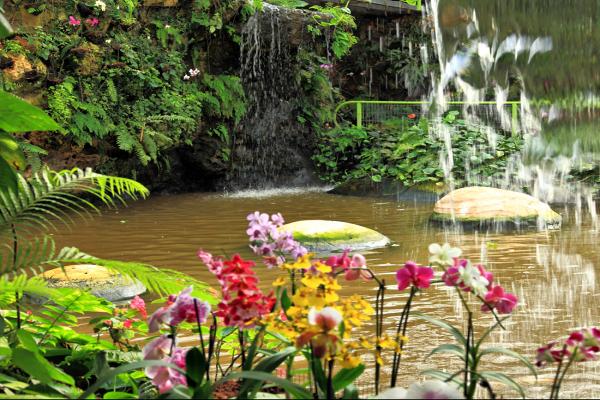 Not far from Netanya is a real paradise - a park of orchids and butterflies "Utopia". A huge area of ​​40,000 square meters is covered with a roof, and inside is a whole collection of butterflies and orchids, collected from all over the world. The most favorable atmosphere is created here, so the plants bloom all year round. During the tour you will be able to see the open garden with a pond and musical fountains, take a walk through the two-tier labyrinth, explore the Eretz Yisrael hill, a lively, play area. An impression will also be made by a path of spices and an alley with figuratively trimmed bushes and trees. Once in the park, it seems that dreams of utopia are quite real. By the way, if you are planning an event, be it a birthday, an anniversary or a conference, all this can be safely organized here.
Agamon Ahula Park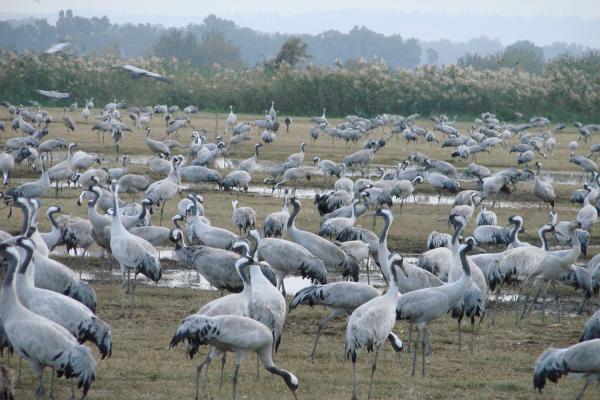 One of the most popular natural attractions in the vicinity of Netanya is Agamon Ahula Park, where a bird raid is observed twice a year. About 500 million find refuge here for the night. The spectacle is really impressive in its scale. Looking up, you can see hundreds of thousands of birds soaring in the sky above the park, looking around - to notice even more amazing individuals. Basically here you can see pelicans, cranes, herons. Sometimes there are so many of them that in the sky they look like a huge black spot. The eco-route is about 10 kilometers long, so it's more convenient to travel around the park by bicycle. Families with children are offered special trailers. Take a ride around the territory, stop near the Green Bridge observation deck - from here the most unusual views will open.
Museum of Jewish Battalions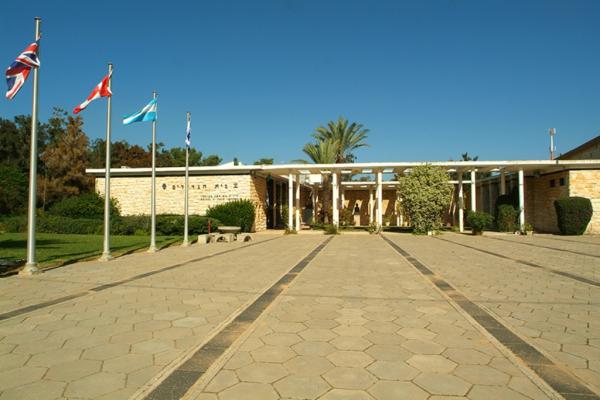 Not far from Netanya in the small village of Avihail is an important place for the history of the country - the Museum of Jewish battalions, founded by veterans of the British Mandate army. The presented exhibits tell about the legendary events of the First World War. Here you can find out how Jews from Canada, England, America became soldiers to liberate Israel from Turkish troops. The collection includes not only documents, photographs, maps, but also military weapons. The sound and sound performance and the film clearly show the course of history in those difficult times. If you want to quickly and easily get to the museum, rent a car.
Hamei Gaash Hot Springs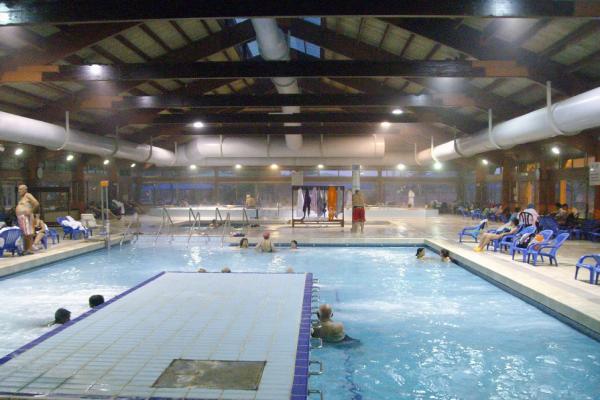 You can improve your health and diversify your tourist route by going to the Hamei-Gaash hot springs. It has a whole wellness complex with excellent service and a full range of services. Mineral baths, a sauna, a hydromassage, a swimming pool will surely help you relax and recharge your batteries with positive energy. The complex has a restaurant, the menu of which presents dishes for every taste. By the way, if you buy a ticket two hours before closing time, you can save half the amount.
Water park "Shfaim"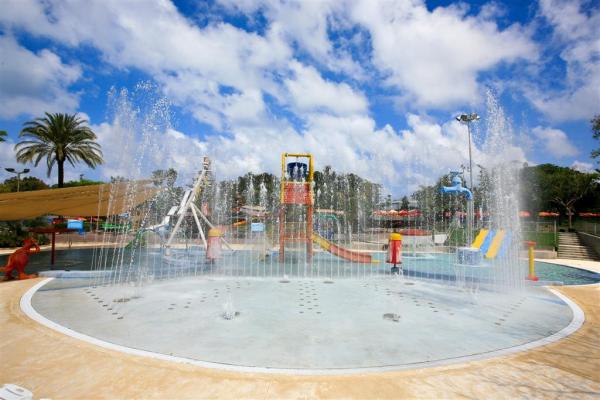 Whether you are traveling with children or friends, it doesn't matter, you can definitely have a great time at the Shfaim water park. 3 swimming pools, 22 water slides, recreation areas for children and adults - what else is needed for fun leisure? Having rolled on water slides, you can relax under umbrellas on sun loungers or go for a snack in one of the three cafes located on the territory of the water park. If you want to stay here for a couple of days, feel free to book a room at the Shfayim Hotel.
Food: atmospheric restaurants, cafes and bars
Caffe shtamper
Yehoshu'a Shtampfer St 6 www.facebook.com/pages/Shtampper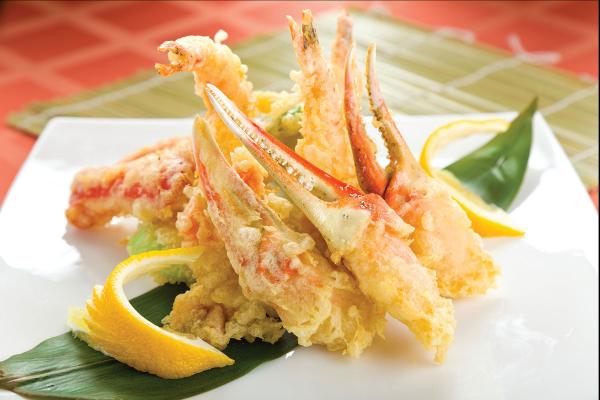 When you rent a car in Netanya, check out Caffe Shtamper for breakfast. This is a cozy place where you can stay in a closed room with sofas, in a covered tent or on the veranda. It is worth trying salads (served in large portions), sandwiches, dishes from the oven, burgers. As a drink - freshly squeezed juices, coffee or beer. The staff works quickly, despite the large flow, not a single guest will be left without due attention.
Pizza salsa
Dizengoff St 26 pizza-salsa.com

Pizza Salsa - a "must-visit" institution for lovers of Italian cuisine. Sandwiches with fish, spaghetti with fish in a creamy sauce, pizza - everyone will surely like it. Guests are greeted by a smiling girl, helps to settle comfortably. The staff is helpful and friendly, thanks to this the restaurant has a cozy atmosphere. The establishment is popular, so in the late afternoon you may have to wait until the table is empty.
Pundak ha-yam grill
HaRav Kuk St 1
Pundak Ha-Yam Grill restaurant is seemingly unremarkable, but it's definitely worth a look for lunch or a snack here. Whatever you order will be fresh and excellently prepared. Everyone should try seafood, salmon, flounder, and denis grilled fish. While waiting for the order, visitors receive pita, cucumbers, hummus as a compliment. Prices here are an order of magnitude lower than in neighboring establishments, and the dishes are excellent in taste.
Jacko
Sderot Giborei Israel 7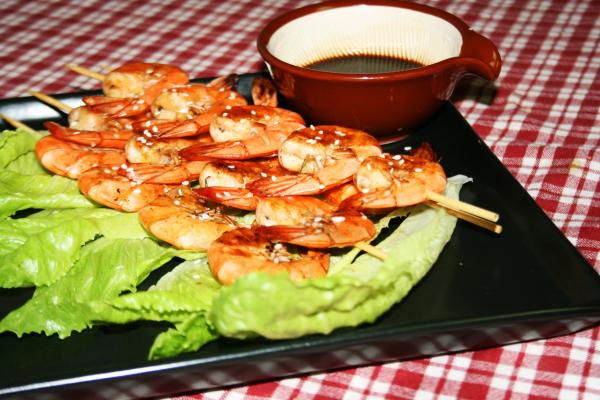 Jacko is Netanya's popular restaurant with Israeli and Mediterranean cuisine. The interior is simple, no frills, while the taste of the dishes speaks for itself: I want to return to this place again and again. Whatever seafood you order, everything will be originally prepared according to the chef's signature recipe. It is certainly worth tasting desserts and wine on the advice of a waiter. By the way, parking is equipped for rental cars for tourists.
Kitchen bar
Shderot Giborei Yisra'el 7 kitchenbar.co.il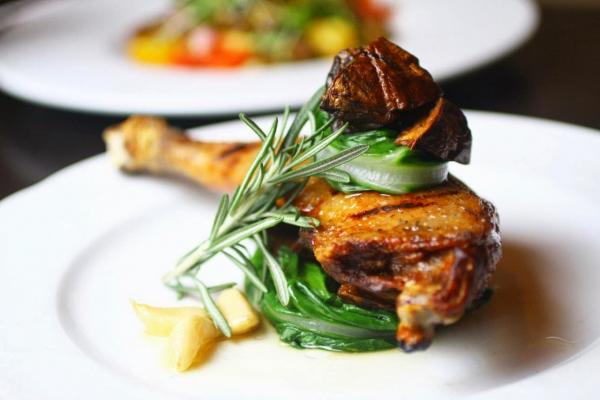 If you want to treat yourself to something completely extraordinary, take a look at the popular kosher meat restaurant Kitchen Bar. This is not a tourist place; local or experienced travelers come here. The interior of the restaurant is stylish and has a pleasant meal. The staff is competent, will be able to give competent recommendations based on your preferences. While waiting for the order you will be offered to taste several dishes to choose from.
Where to live: Netanya's cozy hotels
Hotel boutique alma
Dizengoff St 67
+972 9-973-6000 www.hotel-alma.co.il double room - from € 79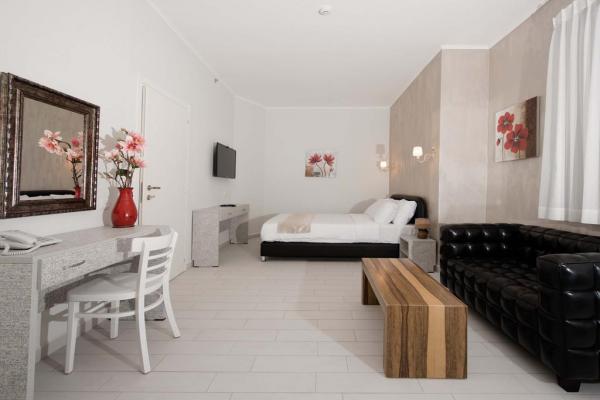 Great value-for-money stay in Netanya - Hotel Boutique Alma. Its main advantage is its convenient location. Nearby is the main street with many tasty and interesting places, the sea can be reached in 5 minutes. The rooms are bright and airy, cleanliness is maintained daily. In the mornings, delicious breakfasts are served, which can be fully satiated. For any help, you can safely contact the hotel staff.
Ramada Hotel and Suites Netanya
Sderot Oved Ben Ami 41
+972 9-886-7777 www.wyndhamhotels.com/ramada-hotel-and-suites-netanya double room - from € 108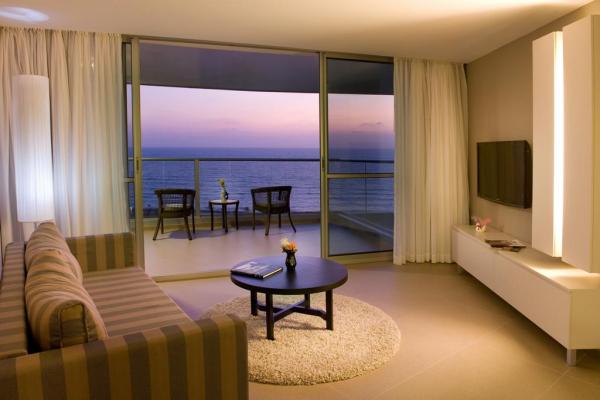 If you plan to rent a car and are looking for a hotel overlooking the beach - Ramada Hotel and Suites Netanya will do just fine. The rooms have a stylish interior; in the evenings it is especially mesmerizing to watch from the windows how the sun goes off, hiding behind the sea surface. For relaxation, guests are equipped with a spa area where a whole range of services is provided: fish foot massage, back massage, sauna. The staff leaves a good impression, helping to quickly acclimatize and solve any troubles.
Margoa Hotel Netanya
Gad Machnes St 9
+972 9-862-4434 www.hotelmargoa.co.il double room - from € 116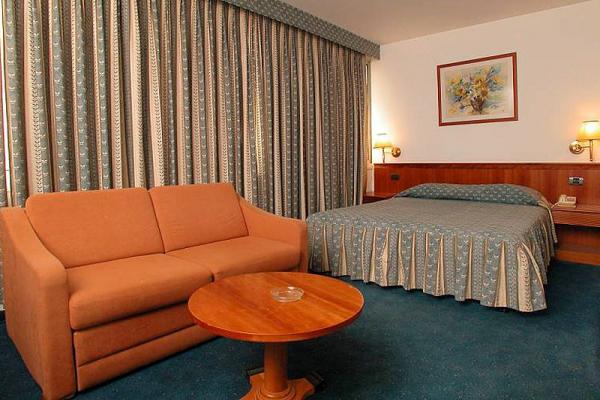 For families, Margoa Hotel Netanya is a good choice. The rooms are cozy and bright, equipped with everything necessary for every guest to feel comfortable. It offers scenic views of the beach. The staff makes every effort to ensure that each guest has the best experience of the hotel: here you will be deliciously served in the best Jewish traditions and will give all the necessary recommendations. The hotel has a tour desk where they can organize any excursion. Couples can take advantage of babysitting services.
KiKar Hotel
Kikar HaAtsmaut 9
+972 9-862-4422 www.kikarhotel.com double room - from € 78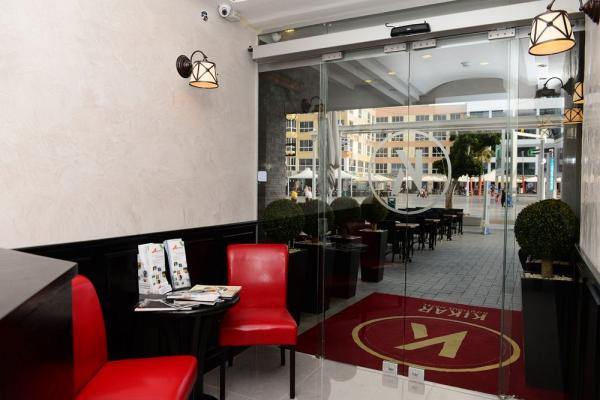 For a short overnight stay, the KiKar Hotel is suitable. The central square, exactly as the beach can be reached in a matter of minutes. By choosing this option, you can quickly see all the sights of Netanya. There are many delicious restaurants and entertainment venues nearby. The rooms are cozy and bright, a friendly impression leaves a friendly staff. By the way, several languages ​​are spoken here, so problems with understanding should not arise.
Blue weiss hotel
Gad Machnes St 22
+972 9-860-3939 www.blue-weiss.com double room - from € 106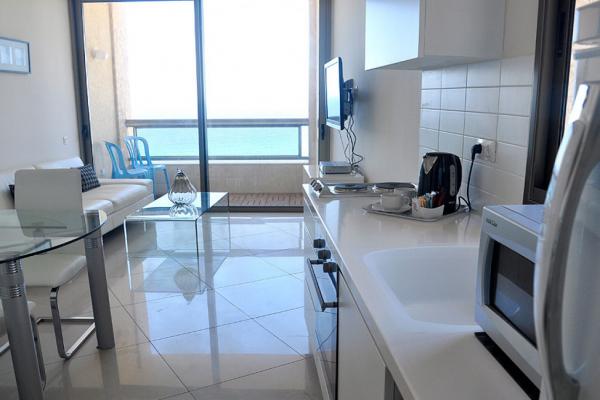 For travel on a rental car, the Blue Weiss Hotel is suitable. The rooms at the hotel are spacious and offer beautiful sea views. The apartments are equipped with everything necessary to feel comfortable in any weather. The staff is very polite and friendly, responds to any requests instantly. It offers free parking, for couples with children - family rooms. If you don't want to go anywhere in the evening, you can pass an hour or two in the hotel bar.
Where to park a rented car in Netanya
Car rental in Netanya with BookingCar - profitable, convenient, easy!
In case of any problems associated with car rental in Netanya, BookingCar will solve them as quickly as possible.
We will be with you 24 hours a day.
All you need is to contact us.
© Anastasiia Voloshina, 2017
Like this? Share in social networks: