Bookingcar offers a wide selection of car rental options in Miami
Here you can find a car of any class that best suits your needs.
Our prices are one of the best prices on the market.
See for yourself!
Professional support
Our professional call center will help you understand all the intricacies of car rental. We guarantee full support throughout the rental period.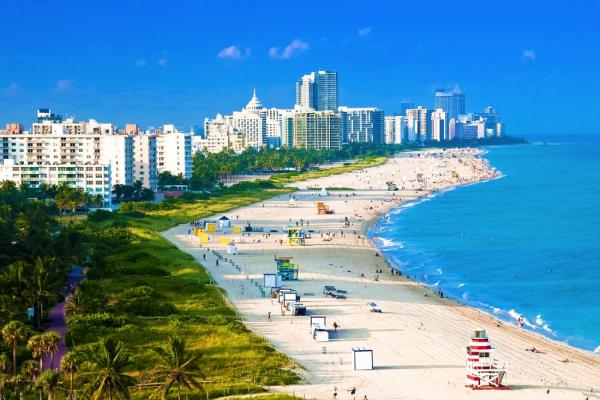 Sunny Miami in the main resort state of Florida attracts residents from all over America and other countries, promising a wonderful holiday on the wide sandy beaches on the shores of the Atlantic Ocean. Here at any time of the year you can swim in the warm azure waters and sunbathe on the beach. Arriving at Miami Airport, rent a car to drive along the coast, seeing the most luxurious villas and ancient mansions, reserves with lions, alligators and monkeys, an amazing park with stones weighing several tons and the best sandy beaches of America.
Bookingcar recommends:
Car Hire at Miami Airport
Miami International Airport ( Miami International, Airport then ) - scheme
IATA code: MIA
Location: 13 km from the city
Official website: miami-mia.worldairportguides.com
Information: +1 305 876 ​​7000
The following car rental companies provide car rental at Miami Airport: Alamo, Europcar, National, SIXT, Thrifty. Rental car desks are located in the arrivals area. Parking zones are located in the central part of the airport near the terminal building.
What to see in Miami: interesting sights of the city
Freedom tower
Biscayne boulevard, 600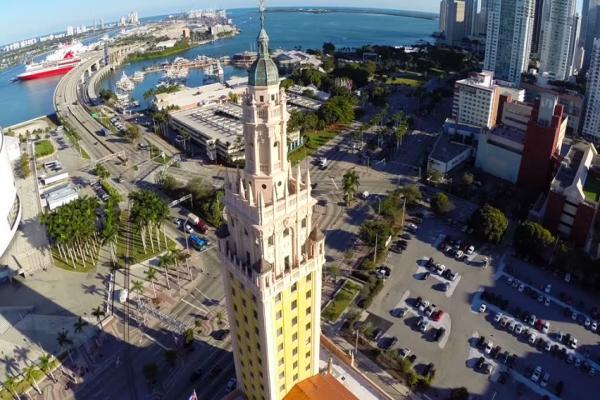 National historic landmark and symbol of Miami - Freedom Tower rises above the city, inviting you to enjoy the best panoramic view. Its size and bright yellow color will not allow to miss this attraction. The tower is built in the style of the Spanish Mediterranean revival and resembles the Giralda tower in Seville. Visitors are invited to view the exhibits located inside the Museum of Modern Art. Initially, the building was built (in 1925) for the Miami News newspaper, later the federal government began to deal with Cuban refugees in it, and now it houses a college of art and a museum.
Villa Vizcaya
South Miami avenue, 3251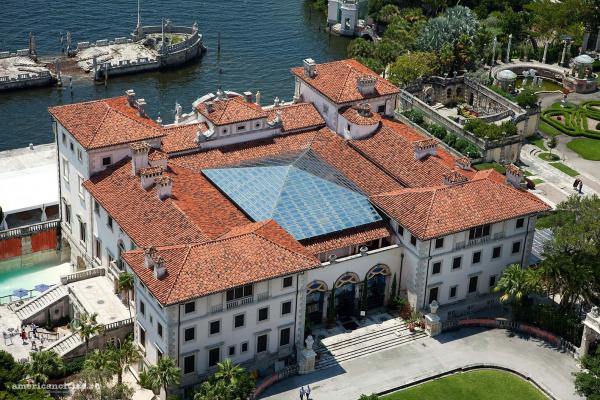 The chic villa of Vizcaya is the perfect embodiment of the whole spirit of an elite resort. The museum and the extensive Vizcaya gardens, comparable to those of Versailles, are open to visitors so that tourists arriving in Miami can see how Tuscan and Mediterranean traditions are combined in this architectural creation. Inside the mansion, luxurious interiors of the 15th-19th centuries have been preserved. In 1887, it was here that President Reagan received Pope John Paul II, and later the villa served as a backdrop for many films. Couples dreaming of romantic photo shoots during their honeymoon often come here. The museum itself does not have excursions in Russian, but a Russian-speaking guide can be found in advance on special sites or by consulting a hotel.
Miami Zoo
1 Zoo Boulevard 12400 SW 152 street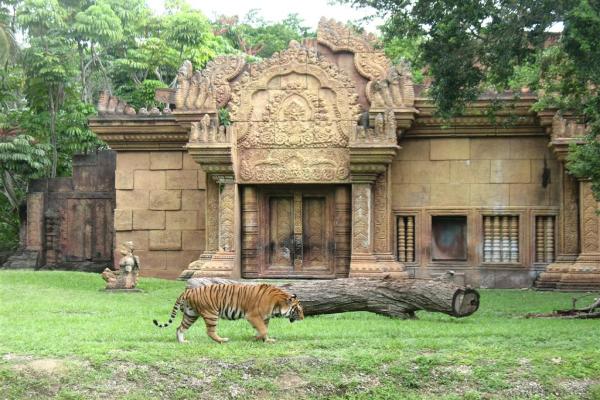 Miami Zoo is the largest and oldest zoological garden in Florida and the only one in America. Walking through its vast territory (300 hectares), you can see species of animals that are no longer found anywhere in the country. The zoo has as many as 5 kilometers of footpaths, which can also be taken on a rented bike. The zoo is divided into four zones corresponding to parts of the world - Asia, Africa, Amazonia and Australia. Young visitors will be delighted with the children's zoo, where you can pet and feed non-hazardous animals bought special food here. The size of the park and the variety of activities provided allow you to spend the whole day there.
Coral castle
6801 Hollywood Blvd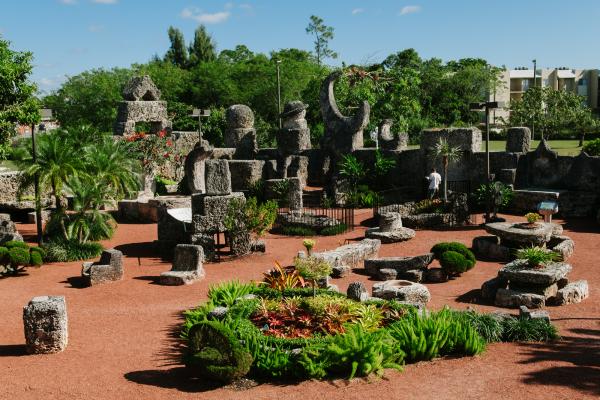 Coral Castle is of interest around the world, as no one has been able to reliably explain its appearance. In fact, this is more likely not a castle, but a bizarre pile of stones, each of which weighs more than a ton. The bizarre park was created by Edward Didskalnin, and it is still unclear how he managed to drag them individually, without attracting attention. Many suspect that he possessed supernatural abilities or came up with a special technology that he carried with him to the grave. At the entrance, visitors are greeted by huge gates weighing more than 8 tons, which until recently could open and close. The author said that he had unraveled the secret of the construction of the Egyptian pyramids, because he managed to build a huge castle exceeding the weight of the Cheops pyramid. This creation, causing so many conversations and attempts to solve his secret,
In the vicinity of Miami: the best car routes
Pinecrest gardens & fresh market
11000 Red Road, Pinecrest, FL 33156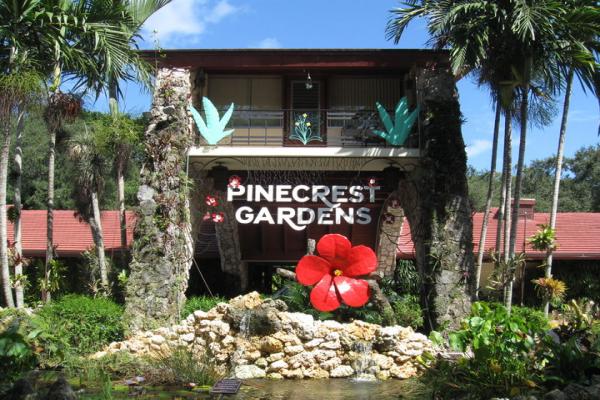 If you have already explored the whole of Miami and enjoyed a vacation on the beautiful beaches, use the services of representatives of rental companies and visit other attractions of Florida. Noteworthy is the Pinecrest gardens park, at the entrance to which the Fresh market organic market is located. Park the rented car in the free parking lot of the park. Fans of exotic fruits will appreciate their variety, as well as not miss the opportunity to purchase local products to try them and bring with them from a trip. Subtropical plants typical for this region grow in the park. In Pinecrest gardens you can admire waterfalls and ponds, take pictures surrounded by butterflies, look at turtles and colorful birds, visit the botanical garden.
West lake park
1200 Sheridan St., Hollywood, FL 33019
West Lake Park offers an incredible experience with long walks among mangroves and canoeing or kayaking down the river. Guests can also play volleyball or squash on equipped courts, use the extensive tennis court, go fishing on the large lake and hunt for crabs, see birds, turtles, squirrels and iguanas living in the park. For visitors, lectures are held on various exotic animals and plants.
Alligator Park Sawgrass Recreation Park
1006 US27, Weston, FL 33327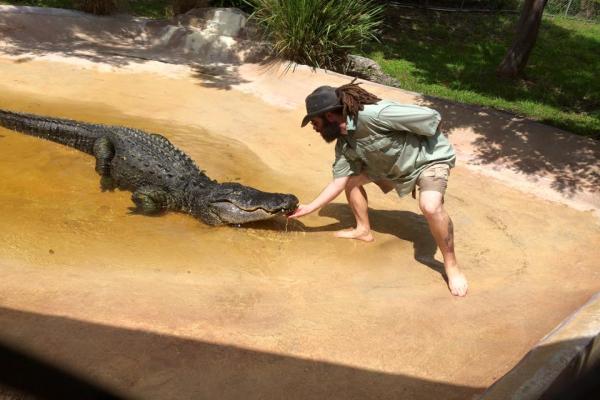 Sawgrass Recreation Park allows you to see real alligators on a flat-bottomed boat ride through a marshland typical of Florida and tickle your nerves, seeing how they swim in the immediate vicinity of the boat. After a walk, you can try alligator tails on the grill and see a show with alligators. In memory of a trip to tropical Miami and to the farm, you can take a photo with an alligator cub.
Lion Safari Park
Lion Country Safari 2003 Lion Country Safari Road Loxahatchee, FL 33470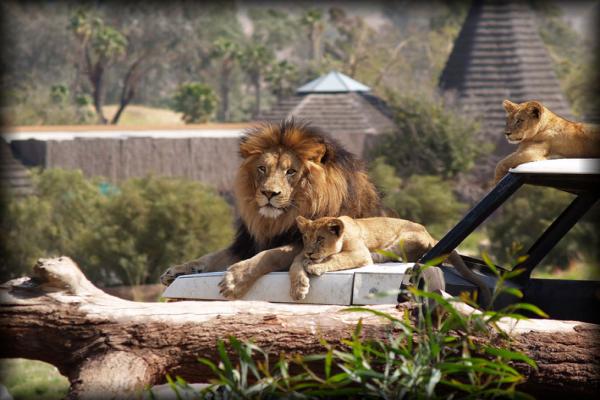 Arriving in Miami, you should not miss the opportunity to visit a real safari, however if you are not traveling on a personal car, you will have to rent a car, because a safari involves a trip through the park by car. Driving through the savannah, you will find yourself next to lions, rhinos, ostriches and monkeys, between you will be only the glass of the car. There you can feed giraffes and parrots, ride a ferris wheel and a catamaran, visit the labyrinth and play mini-golf.
Food: atmospheric restaurants, cafes and bars
The capital grille
444 Brickell Ave
+1 305-374-4500 www.thecapitalgrille.com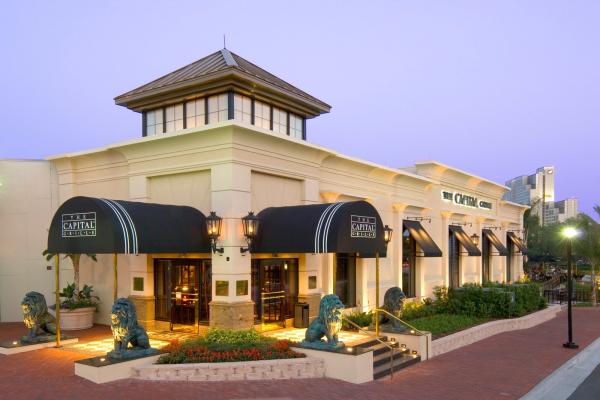 In America, you just need to try real steaks, and fresh seafood on the ocean, so many visitors choose The Capital Grille restaurant, where you can order a juicy steak and a plate of seafood with huge lobsters. Stylish interior with wooden wall decoration, pleasant music and friendly staff add to the popularity of the establishment, so deciding to come here for lunch or a romantic dinner - take care of booking a table. A rented car can be parked in the restaurant.
Pollos & Jarras
115 NE 3rd Ave
17865674940 pollosyjarras.com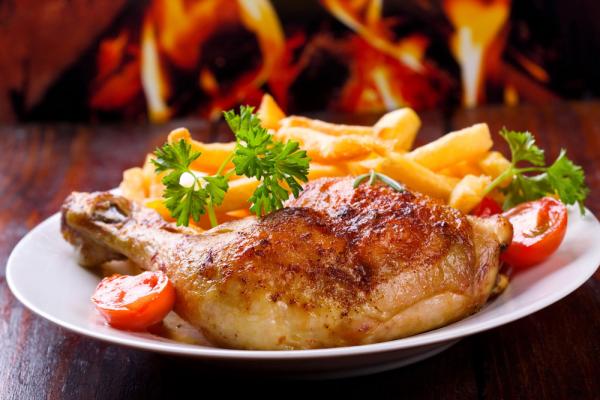 You can have a cheap meal at the Pollos & Jarras eatery, where, according to many locals, they cook the best grilled chicken in the city. This is a great place to run for a quick lunch or watch a sport game with friends that is broadcast on multiple screens. Often there is a queue of people wishing to chat with friends over beer with juicy chicken and french fries, but quick waiters manage to quickly serve everyone.
Truluck's restaurant
777 Brickell Avenue
305-579-0035 trulucks.com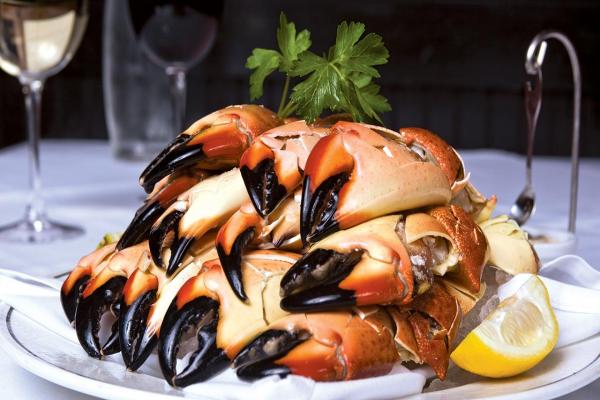 Having succumbed to the general charm of magnificent Miami, I would like to afford dinner in an elite restaurant with an elegant serving of dishes and an atmosphere of luxury - this is the impression that Truluck's restaurant gives. The institution specializes in seafood; visitors especially note local fish and crustaceans. When ordering desserts, the portions of which are very impressive, bring plastic copies to facilitate the selection. Those arriving in a personal or rental car are greeted at the entrance by parking attendants to take the car to the parking lot.
La Mar by Gaston Acurio
500 Brickell Key Dr, Mandarin Oriental
+1 305-913-8358 www.mandarinoriental.com/la-mar-by-gaston-acurio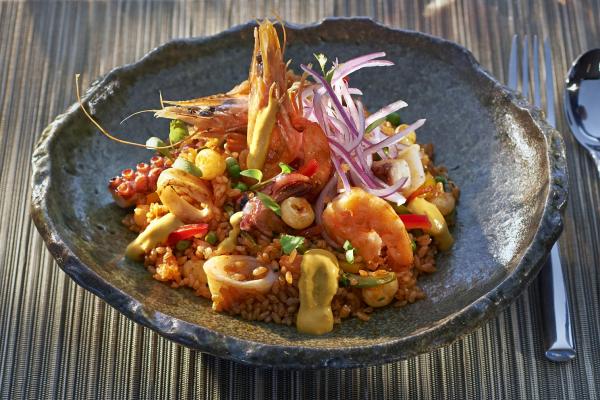 La Mar's restaurant, created by the founder of modern Peruvian cuisine, Gaston Akurio, offers stunning views of Miami. Here they offer to try the traditional cuisine of Peru - fish ceviche, Peruvian carpaccio tiradito, espanadas pies; and desserts are served in birdhouses. You can enjoy a designer cocktail on the open veranda. There is a large influx of visitors during the hours of lunch and especially dinner in this atmospheric establishment, so you need to reserve a table for several days.
Farfalle restaurant
333 SE 2nd St
+1 786-359-4104 farfallemiami.com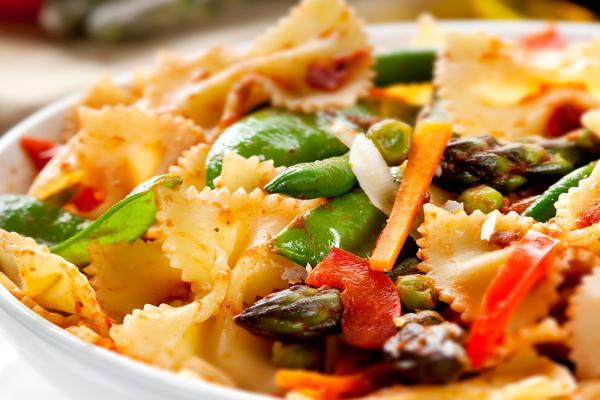 The Farfalle Restaurant is a great place for family dining. It serves plentiful portions of homemade pasta with vegetables and seafood according to the best family recipes preserved by the Italian owners of the institution. It is also worth trying the local pizza and ravioli with crab, having a meal with a glass of perfectly selected red wine.
Where to live: comfortable hotels in Miami
The sagamore hotel
1671 Collins Ave
810 1 305-535-8088 www.sagamorehotel.com double room - from € 166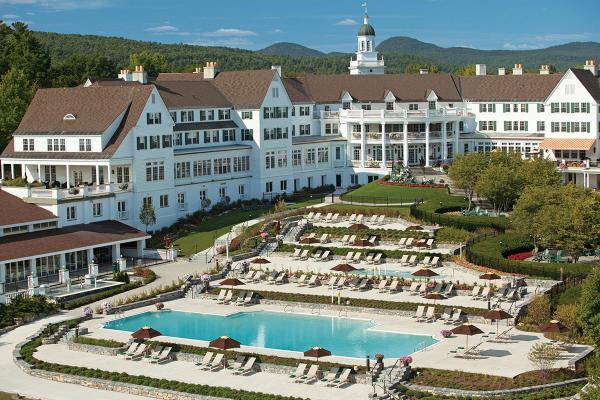 Located on the beach, The Sagamore Boutique Hotel provides its guests with luxurious white suites with king-size beds and bright bathrooms with a jacuzzi. The hotel has several restaurants, an extensive park and a gallery of modern painting. Near the beach adjacent to the hotel, guests can swim in the warm pool, have a snack near it in the grill bar and enjoy a signature cocktail while relaxing on a sun lounger. The hotel is located in the historic district of Miami, which allows quick access to all attractions. By renting a car, you can leave it in the hotel parking lot.
JW Marriott Marquis Miami
255 Biscayne Boulevard Way www.marriott.com/miamj-jw-marriott-marquis-miami/ double room - from € 226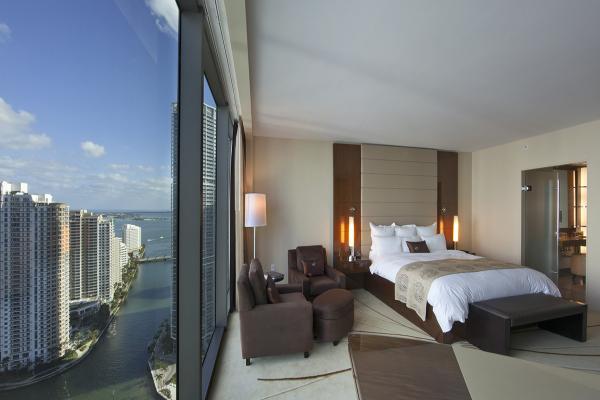 The chic five-star Marriott Marquis Hotel in the heart of Miami provides an opportunity to stay in a spacious room with amazing views from the windows to the floor. Panoramic views can also be enjoyed from the outdoor pool and restaurant, where breakfast is served in the morning. There is also a second gourmet French restaurant where you can have lunch and dinner. Pool access can be combined with spa treatments. If you went to the organic market, you can ask the staff for a free small fridge, which will be installed in the room during your stay.
Hampton Inn & Suites by Hilton Miami Brickell Downtown
50 SW 12th Street
810 1 855-605-0317 www.hilton.ru double room - from € 133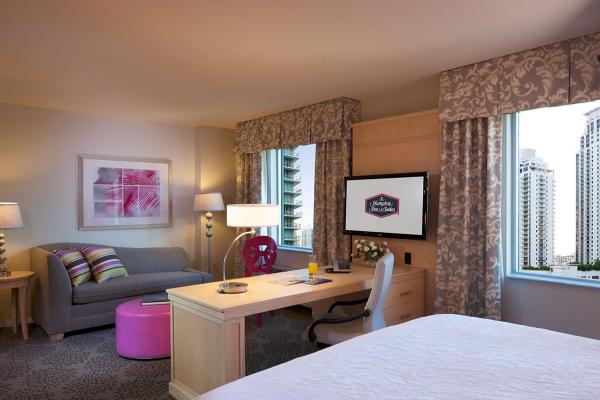 The Hampton Inn Hilton is located next to the Metromuver Free Monorail. So, if you rented a car at the pick-up point at the airport, you can rent it during your stay in Miami and rent a car again to visit the sights of Florida. Each room has a TV, safe, hairdryer, toiletries, a comfortable living room and work area, everything you need to make coffee and tea.
Fontainebleau miami beach
4441 Collins Avenue
810 1 305-697-6100 fontainebleau.com double room - from € 133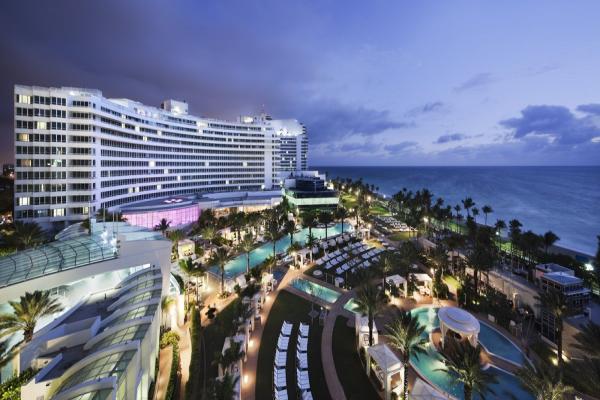 The fashionable Fontainebleau Miami Beach Hotel is a great place to relax with the company. Modern rooms and bars where bright parties are held, 9 restaurants with varied cuisine and ocean views, a cafe with fresh pastries, six outdoor pools, a dedicated beach and a children's pool. Parties are held almost every evening, so this hotel is often chosen by young people coming with noisy companies, but do not settle here if you dream of a quiet secluded place.
Where to park a rented car in Miami
Car rental in Miami with BookingCar - profitable, convenient, simple!
In case of any problems related to car rental in Miami, BookingCar will solve them as quickly as possible.
We will be with you 24 hours a day.
All you need is to contact us.
© Anastasiia Goryacheva, 2017
Like this? Share in social networks: