Car rental in Los Angeles
Bookingcar offers a wide selection of car rental options in Los Angeles
Here you can choose a car of any class that best suits your needs.
Our prices are one of the best prices on the market.
See for yourself!
Professional support
Our professional call center will help you understand all the intricacies of car rental. We guarantee full support throughout the rental period.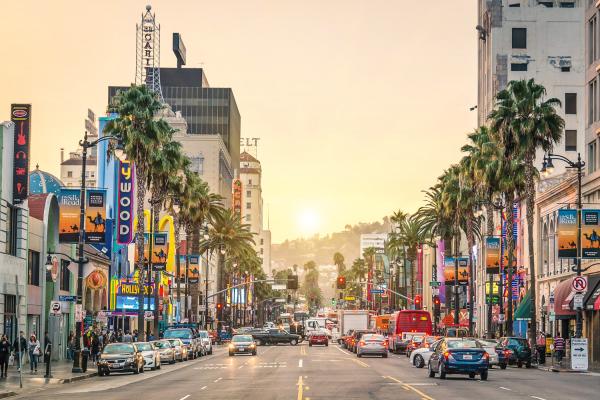 Sunny Los Angeles is famous for the luxury of Hollywood, where people from all over the world go in the hope of fulfilling their dreams - representatives of almost all countries live here. City of Angels unites the most creative personalities, strong-willed dreamers and risky adventurers. Los Angeles is surrounded by mountains and picturesque green hills, and overlooks the Pacific Ocean, the coast of which was occupied by beach lovers. After renting a car, go explore the huge city, do not forget to take a picture at the Hollywood sign on the hill, walk along the avenue of stars, and later, go to dinner in one of the restaurants on the beach overlooking the ocean.
Bookingcar recommends:
Car rental at Los Angeles Airport
Los Angeles International Airport ( the Los Angeles International, Airport then ) - scheme
IATA code: LAX
Location: 27 km from the city
Official website: www.lawa.org/welcomeLAX
Information: +1 310 646 52 52
The following companies offer car rental services at Los Angeles Airport: Alamo, Europcar, National, SIXT, Thrifty. Rental car rental desks are located in the arrivals hall. The airport has allocated 8 thousand parking spaces in three zones: two along the perimeter of the airport (parking is cheaper here) and one in the central zone near the terminal.
What to see in Los Angeles: interesting sights of the city
Hollywood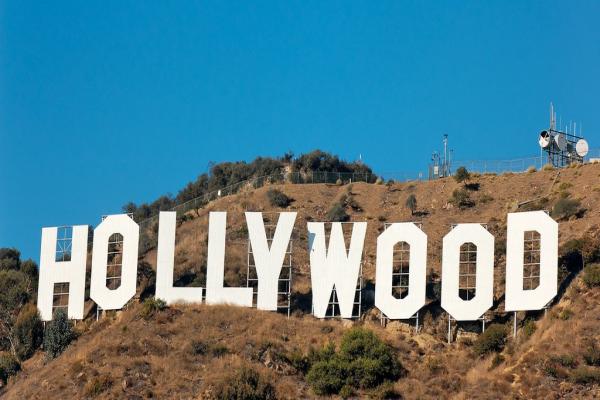 Large white letters HOLLYWOOD, shaded by densely growing greens on Mount Lee, is perhaps the most famous inscription with the name of the city. The inscription appeared in 1923, thanks to enterprising realtors who tried to sell more expensive land around the city. By 1978, it had deteriorated and was replaced by a new similar, but made of stronger and more durable materials. Old letters were sold for 450 thousand dollars. The inscription is visible from all corners of Los Angeles, and yet the best place for photographs on its background is the observation deck of Griffith Park opposite Mount Lee. Approaching the inscription itself is prohibited by law, which is closely monitored by security cameras and round-the-clock security.
Avenue of Stars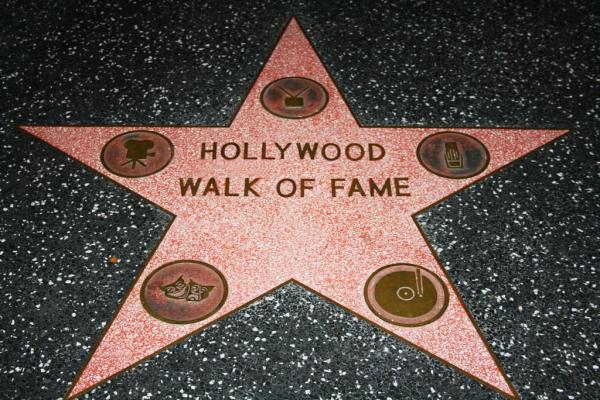 Avenue of Stars - one of the most popular attractions in Hollywood and all of Los Angeles. Each year, more than a dozen million guests arrive in the city to find their idol among the stars in the stone slabs of the sidewalk. This attraction has already stretched over 18 quarters, and continues to grow - new stars "light up" every two weeks. In addition to the name, each star has a movie camera, a TV, a phonograph, a microphone or two masks, depending on their role in show business. The boxing matches of Mohammed Ali were also equated with theatrical art. Some fictional characters are immortalized on the alley - Mickey Mouse, Donald Duck and The Simpsons. And some real personalities were twice awarded stars, for example, John Lennon as a member of The Beatles and a solo artist, like Ringo Star and George Harrison
Beverly hills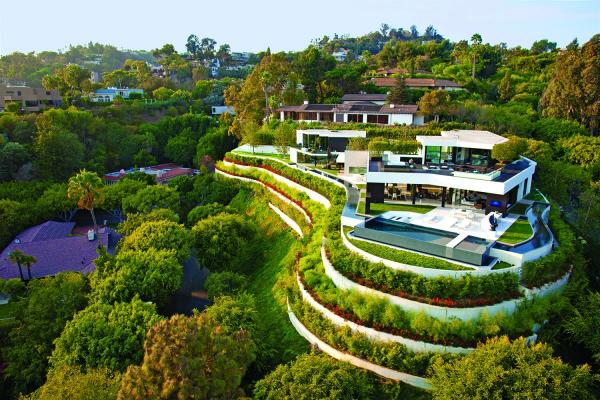 To experience all the luxury of Los Angeles, go to the western part of the city - Beverly Hills. Many fans of the glossy lifestyle come here in personal and rental cars to see celebrity mansions on Roxbury Drive. Here lives Steven Spielberg, Sylvester Stallone, Mick Jagger, Madonna and Bruce Willis, and for some time the Russian composer Sergey Rachmaninov also lived. In Beverly Hills, you can visit the Museum of Television and Radio (Paley Center for Media), which displays exhibits from the early 20th century that tell the story of the creation of Hollywood films. It is worth driving to the Greystone Mansion Park, where the films were made: Social Network, Big Lebowski, Star Trek, What Women Want, 2 km from Beverly Hills, a rented car can be left in a free parking lot.
Grauman's Chinese Theater
6801 Hollywood Blvd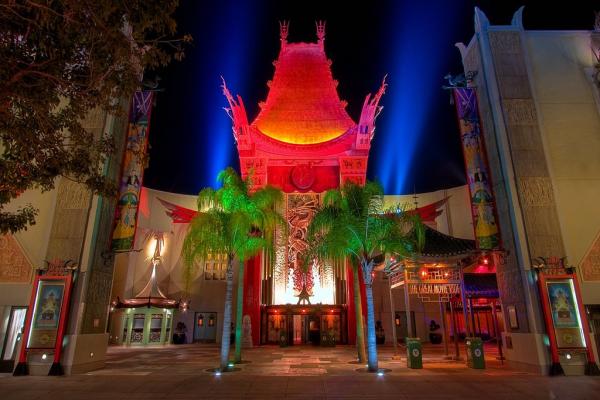 The building of the Grauman's Chinese Theater is deservedly considered the most beautiful and unusual in Los Angeles. The Chinese Theater was founded in 1927 by Sid Grauman and today it hosts high-profile Hollywood premieres. In the courtyard of the building are three-meter fountains in the form of lotuses and hand and foot prints of cinema stars (you can find the "traces" of your idol on the map at the entrance). Inside, guests are greeted by a rich interior in the style of imperial China.
Walt Disney Concert Hall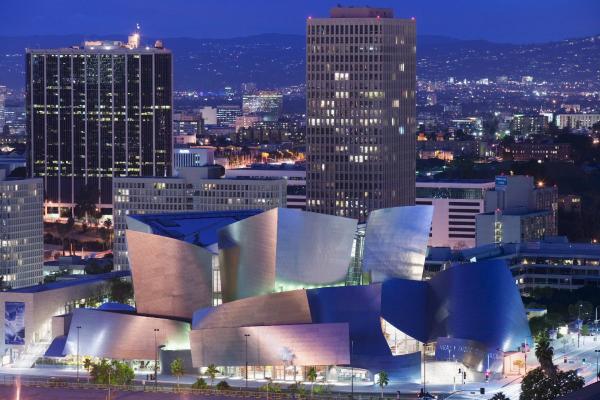 A spectacular concert venue was erected by Walt Disney widow Lillian in memory of her husband. The unusual stainless steel construction caused many problems - the reflected sun heated the sidewalks and nearby houses, blinded pedestrians and drivers. However, it was soon possible to solve the problem by treating the surface with a sandblasting machine. The Los Angeles Philharmonic Orchestra found the hall acoustics best for their performances.
Near Los Angeles: Best Car Routes
San diego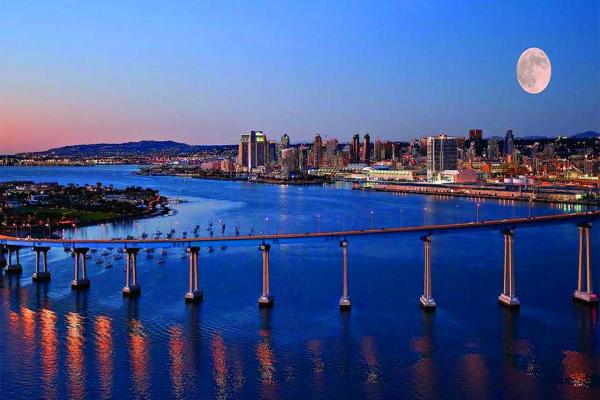 If you have already explored the whole of Los Angeles, rent a car to drive to the southernmost point of California (190 kilometers) and one of the oldest cities in America - San Diego. Here you will find beautiful beaches, huge skyscrapers, Sea World with marine inhabitants from all over the planet and an amusement park, a huge zoo with a cable car and 4000 species of animals, some of which are listed in the Red Book, and the colorful old city.
Yosemite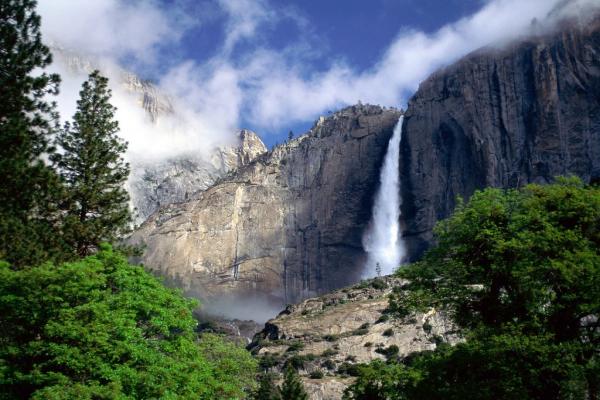 Yosemite or Yosemite National Park (Yosemite National Park) is protected by UNESCO, thanks to its natural heritage - 95 percent of its territory is still wild. The park has the highest waterfall in North America and is home to more than 400 animals, some of which are almost never found in the world. The vast territory of the park makes it possible to drive into it in a rented car, having traveled part of 560 kilometers of its roads.
Death valley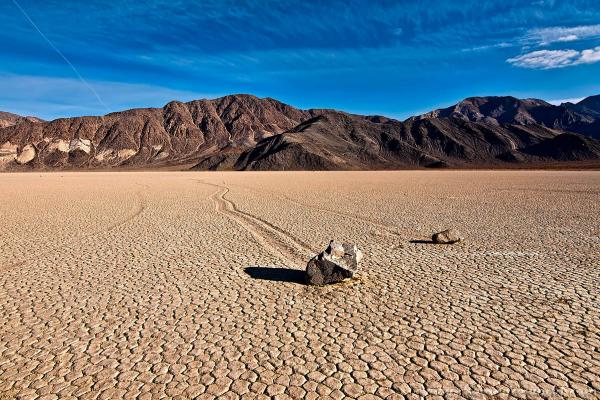 The legendary and harsh desert Valley never ceases to attract visitors who love risk. The earth here is cracking from drought, the bright sun mercilessly burns, and there is not a single tree under which you could hide in the shade - and so for 140 miles, because it is the largest national park in the United States. However, in the park at Fernis Creek, just a thousand years later, the Indian tribe of Timbis lives. Visiting the Death Valley is not easy, but many are eager to come here for spectacular views, a mystical story and a test of willpower. To facilitate your trip, it is better to avoid overheating and come in winter or at least in autumn.
Las Vegas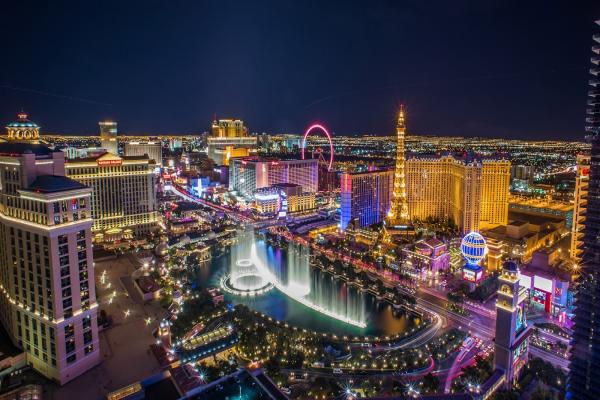 If you like bright neon signs, luxurious casinos, noisy parties and spectacular theater performances - do not miss the opportunity to visit the world entertainment capital of Las Vegas. Ordering a rental car on our website will allow you to receive and rent a car in any city convenient for you. In Los Angeles, on one Strip, you will find copies of all the world's major attractions, you can climb the Eiffel Tower, sail along the Venetian canals, ride a roller coaster over Manhattan, see pirates capture the English frigate and go to dinner in an upmarket restaurant overlooking the musical fountains .
Food: atmospheric restaurants, cafes and bars
In-n-out burger
9149 S Sepulveda Blvd www.in-n-out.com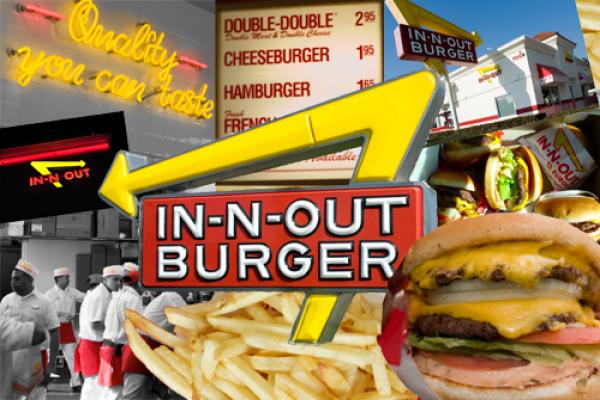 A budget and satisfying opportunity to have a meal in Los Angeles, a favorite of the local population - the In-n-Out Burger chain of eateries. Sometimes there is even a queue that quickly served by efficient waiters. Big juicy burgers according to original recipes do not leave indifferent those who want to try real American fast food. Having bought Coca-Cola, you can come up to refill the glass for free. At the request of the client can make a vegetarian burger.
Craft Los Angeles
10100 Constellation Blvd www.craftlosangeles.com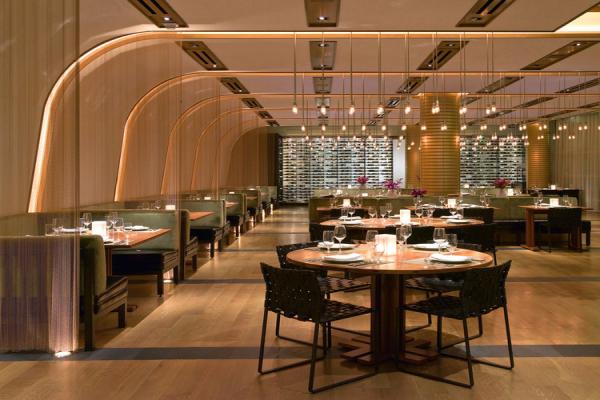 You can dine in the pleasant atmosphere of a quiet and stylish restaurant in Craft Los Angeles, where smiling waiters will help with the choice of dishes and quickly bring your order. Residents of Los Angeles often choose this place for romantic dates with muffled relaxing music. Here, meat is also perfectly prepared (large portions of juicy steaks are brought in a hot pan), and fish (which is served with spinach garnishing it with a shade). Pleasantly surprised by a large selection of desserts and wines.
25 degrees
7000 Hollywood Blvd www.thehollywoodroosevelt.com/25-degrees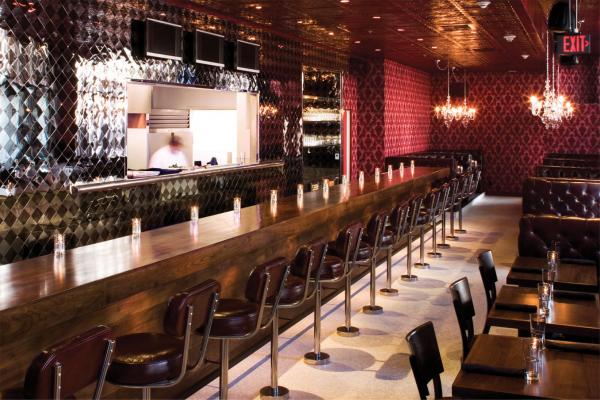 In the heart of Los Angeles on Hollywood Boulevard, the 25 Degrees restaurant is open around the clock, where they are always ready to prepare a delicious dish and treat them to a cocktail. The time difference for tourists from Russia to America for some time is very hindered, because when it is night in Los Angeles, it is day in Moscow. For those who did not have time to get used to another schedule, such a restaurant working 24 hours a day is a real salvation. Here, at any time, you can have breakfast with oatmeal, dine with a large burger with any toppings of your choice, and drink an original alcoholic cocktail.
Bestia restaurant
2121 E 7th Pl www.vicandanthonys.com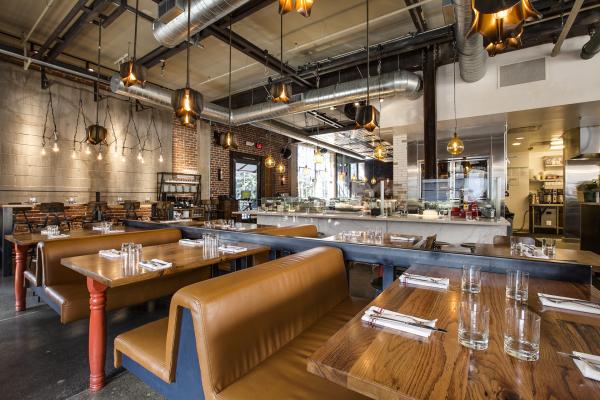 Bestia Restaurant is recognized as one of the best Italian restaurants in Los Angeles, which explains its popularity - it is almost impossible to enter the street without prior reservation. Unusual Internet, pleasant staff, an extensive menu and a wine list, with the choice of which a professional sommelier is ready to help. It is worth trying pizza, homemade pasta and ravioli.
Water grill
544 S Grand Ave www.watergrill.com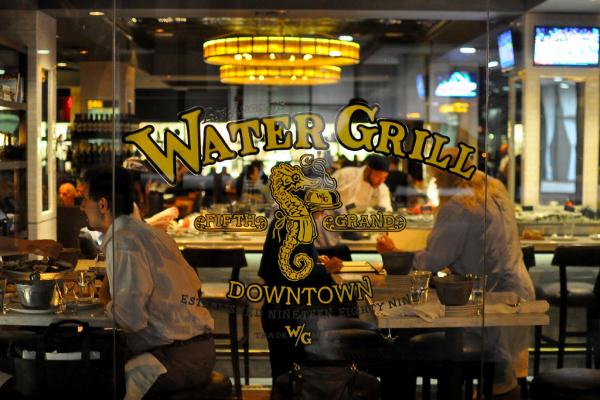 Many residents of Los Angeles agree that fresh seafood should go to the Water Grill restaurant. For a snack, you can take a large plate with oysters, mussels and scallops, and as a main dish - steamed lobster, octopus or grilled fish, complementing the meal with a glass of local California wine. A steak with a glass of draft beer will not disappoint, although this is not the most popular choice in this establishment.
Where to live: comfortable Los Angeles hotels
The Westin Los Angeles Airport Hotel
5400 W. Century Blvd.
810 1 310-216-5858 www.westinlosangelesairport.com double room - from € 116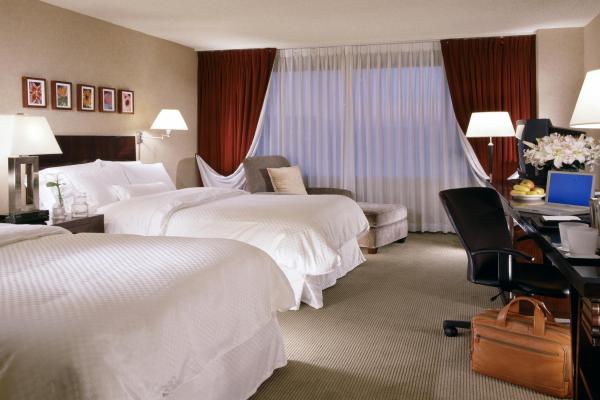 Belonging to the international hotel chain The Westin Los Angeles Airport is popular with travelers arriving in Los Angeles for a short term. Located 5 minutes drive from the airport. The hotel offers the services of car rental companies, however parking at the hotel is paid. There is a large swimming pool in the courtyard; you can have dinner at a local restaurant with Wi-Fi.
Magic castle hotel
7025 Franklin Avenue, Hollywood
810 1 323-825-09 magiccastlehotel.com double room - from € 192

When approaching the Magic Castle, you will immediately see the magic castle. It will become a wonderful background for your photos, and children will appreciate the magicians' shows taking place in it. However, the rooms themselves are not in the castle, but nearby - in a yellow building with a swimming pool and a large garden around. The spacious rooms, in addition to a wide bed, have a coffee and tea corner, a bathroom with soft bathrobes and daily updated clean towels, Wi-Fi. A continental breakfast is served in the lobby in the mornings. The famous Graumen Chinese Theater is just a five-minute walk away. For longer trips, you need a pre-arranged rental car.
The charlie west hollywood hotel
819 N Sweetzer Ave, West Hollywood, CA
(323) -988-9000 www.thecharliehotel.com double room - from € 190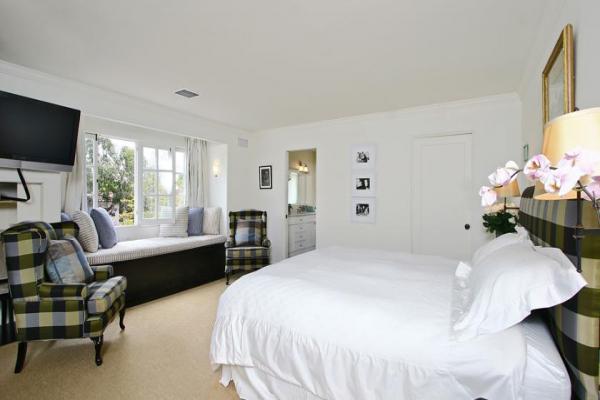 The Charlie Hotel has taken over the historic scenic home of Charlie Chaplin in West Hollywood. It offers accommodation in beautiful bright rooms with soft beds, flowers on the nightstands, a living room with sofas and armchairs, where you can comfortably relax while listening to trills of birds from an open window overlooking a flowering courtyard. Just a half kilometer from the bustling Sunset Boulevard, you can relax from the hustle and bustle of the big city. A rented car can be left at the hotel's free covered car park.
The sunset tower hotel
8358 Sunset Boulevard, West Hollywood
810 1 323-451-7040 www.sunsettowerhotel.com double room - from € 325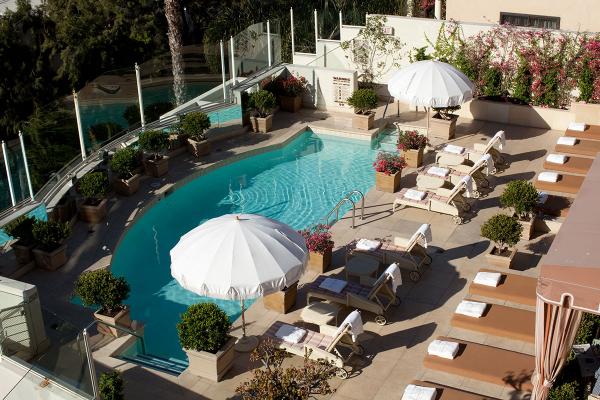 The Sunset Tower Hotel awaits true connoisseurs of elite relaxation at its guests on Sunset Boulevard. Situated in a tall tower, elegant French-style rooms offer panoramic views of Los Angeles. Guests can enjoy the rooftop pool and relax in the spa. Dine in the hotel restaurant or at the poolside bar. During cleaning, daily homemade cookies are placed in the rooms.
Where to park a rented car in Los Angeles
Car rental in Los Angeles with BookingCar - profitable, convenient, simple!
In case of any problems associated with car rental in Los Angeles, BookingCar will solve them as quickly as possible.
We will be with you 24 hours a day.
All you need is to contact us.
© Anastasiia Goryacheva, 2017
Like this? Share in social networks: