Bookingcar offers a wide range of car rental options in Kemer
Here you can find a car of any class that best suits your needs.
Our prices are one of the best prices on the market.
See for yourself!
Professional support
Our professional call center will help you understand all the intricacies of car rental. We guarantee full support throughout the rental period.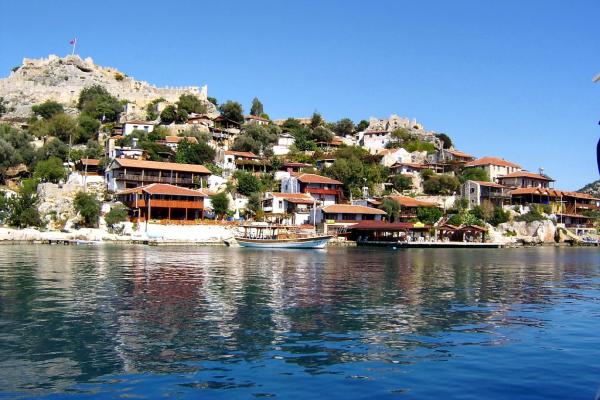 Kemer is a small resort town with a huge number of hotels with first-class service and spectacular views. In addition to the standard set of services, the city is rich in attractions. Having rented a car, it's worth allotting time for excursions (for example, visiting Yoruk Park) and taking a walk along the main street. The surroundings of Kemer are rich in the ruins of ancient cities and monuments of various civilizations. Whether you have a long vacation or not, you should definitely visit Mount Yanartash, Cirali, Phaselis, Olympos. The restaurants and cafes of Kemer abound in national dishes, and the chefs, trying to surprise the guests, invent new combinations of ingredients. There are many shops in the city where you can update your wardrobe or buy something for a gift to your family. Local markets are a real adventure: here you can find anything, besides,
Bookingcar recommends:
Car hire at Kemer Airport
National Antalya Airport ( Antalya International, Airport then ) - download scheme
IATA code: AYT
Location: 50 km from Kemer
Official website: www.icfairports.com
Information: +90 242 444 74 23
The following car rental companies operate at Kemer Airport: Alamo, National, Budget, Hertz, Europcar, Avis, Filo Car Rental, AytuCar, Travelium Car Rental. Car rental desks are located in the arrivals hall. There are several parking areas near the airport. You can calculate the cost of parking on the airport website.
What to see in Kemer: interesting sights of the city
Ataturk Boulevard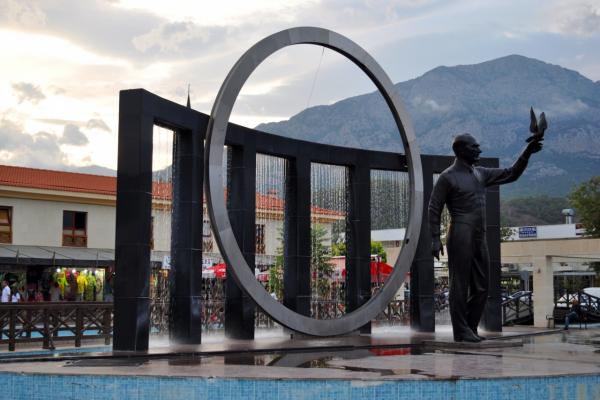 Arriving in Kemer and checking into the hotel, the first thing is to go for a walk along Ataturk Boulevard. Having passed the site with hotels, it is worth going to its central part, which in combination is also the center of the city. Here several things attract attention: picturesque nature, a monument to Mustafa Kemal and a magnificent dancing fountain. Having examined the latter, it is worth keeping your eyes on the clock tower, which is considered a symbol of the city. Arriving on the boulevard on Monday, you are lucky enough to see a market with a huge assortment of souvenirs, textiles, fruits. If you don't feel like wasting time, any day you can go further along the boulevard in its third part, where branded stores are located.
Ethnographic Park Museum Yuruk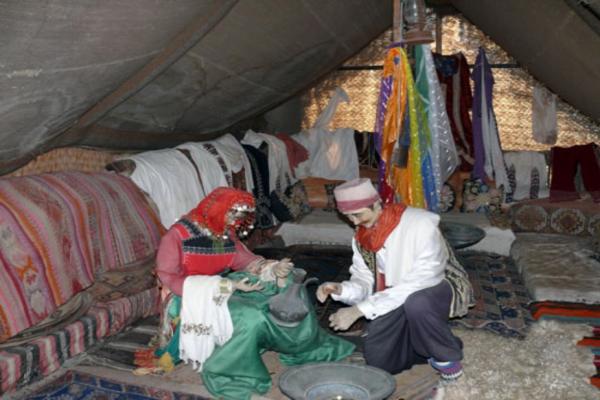 Ethnographic Park Museum Yuruk is one of the most fascinating attractions in Kemer, which can be reached by rental car. The open-air museum seems to carry visitors several centuries ago, showing what a Turkish village was like, telling about the traditions and way of life of nomadic tribes. The tour takes place in the form of a theatrical show: actors in traditional costumes show scenes from the life of local residents, and in the end it is proposed to taste a national dish.
Waterpark "Water World"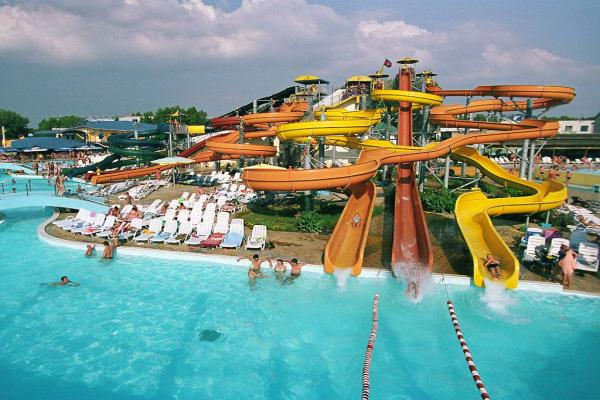 When traveling with children, it is worthwhile to allot a day to visit the Water World water park. By the way, in the company of friends here, too, will have fun. Fans of active leisure will be able to ride on more than 50 water slides, including extreme ones. If you are not ready to experiment, you can happily while away the hot hours by the pool with soft drinks and taste Turkish cuisine in the restaurant.
Cableway to the top of Tahtali mountain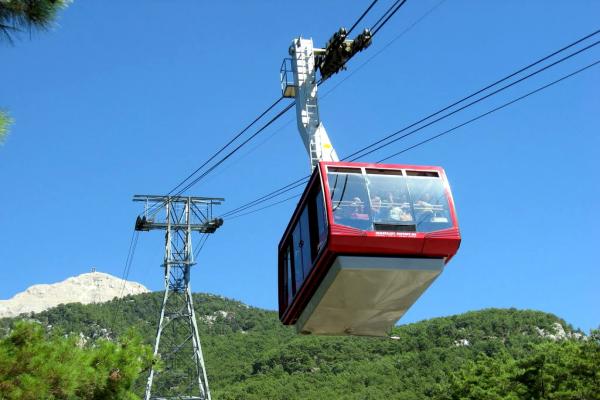 If the streets of Kemer are explored far and wide, if you want to diversify your sunbaths not only with delicious food, but also with bright emotions, you should climb the cable car to the top of Tahtali Mountain. It offers panoramic views of the city and the Mediterranean Sea. Not far from the starting point is a zoo where it will be interesting to visit adults and children. After the tour, you can share your impressions by tasting local specialties in a cafe nearby.
Moonlight park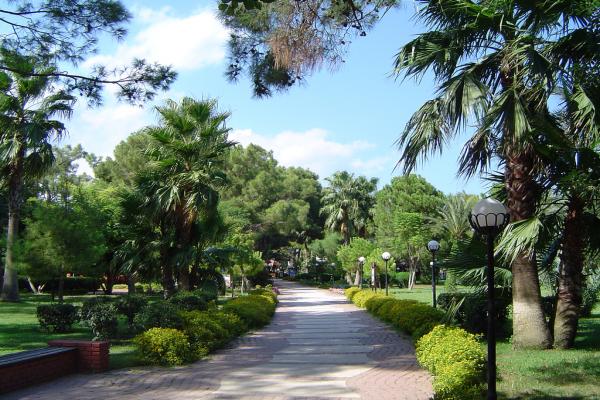 Walk along the coast, go water skiing or catamarans, windsurfing or diving will work out by renting a car and heading to the Moonlight Park. For little lovers of entertainment, pools with children's slides are equipped here and animators work. No less exciting is a visit to the dolphinarium, which ends with animal feeding and a photo shoot. You will have a bite to eat in one of the restaurants, and staying until the evening in the park, you will be able to watch a movie in the open air or have fun at a disco.
In the vicinity of Kemer: the best car routes
Phaselis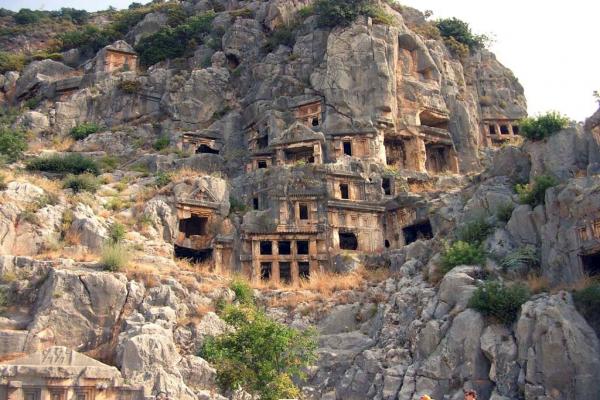 Not far from the picturesque Kemer, the ruins of Phaselis, founded in the VI century, are preserved. For many centuries, the place belonged to different peoples, including the Romans, Lycians, Byzantines, Persians, therefore, differences in architecture can be traced even in ruins. The town has a rich history: it was a center of trade (valuable goods, spices, aromatic oils were actively sold here) and served as a kind of refuge for immigrants from Asia Minor. Arriving on an excursion, tourists will be able to stroll along the South Port and inspect the ancient watch tower, see fragments of the triumphal gate, amphitheater, tombs, necropolis, theater, aqueducts. No less spectacular - view of the Mediterranean Sea.
Olympos
Continuing to explore the ancient settlements, you should go on an excursion to the ancient town of Olympos. The first pirates settled here back in the 2nd century BC, and soon the Romans conquered the territory. Confirmation of this is the preserved ruins of the temple of Hephaestus, the amphitheater and the bridge that connected the two cities. Centuries later, the Ottoman army conquered Olympos. While walking, you can see the ruins of Turkish baths, but only a small part of them. Today, the territory is considered part of the National Park: mass tourism is limited here. Despite the fact that the ruins of ancient architecture, confirming the existence of the Roman and Byzantine empires, the presence of the Ottoman troops, are poorly preserved and overgrown with greenery, they look charming and certainly will not leave indifferent any tourist.
Of the world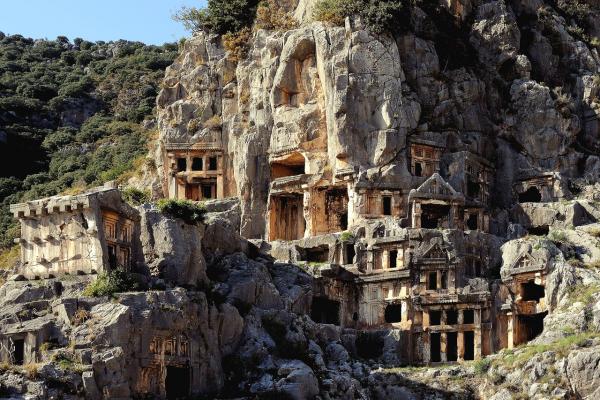 Having rented a car, you should go on an excursion to the city of Mira. For lovers of historically significant places - here is a real expanse. Among the main attractions are the ancient amphitheater and tombs. Interestingly, the Lycians believed that the higher the burial place, the faster the soul would rise to the gods. This explains why the tombs are carved in the rocks, and the tombs themselves are located on high ground. By the way, the town of Peace is considered a holy place: it was here that St. Nicholas was buried, or as the Wonderworker is also called. Christians come here mainly to pray for Holy healing, the rest to visit the most valuable monuments of archeology and history.
Cirali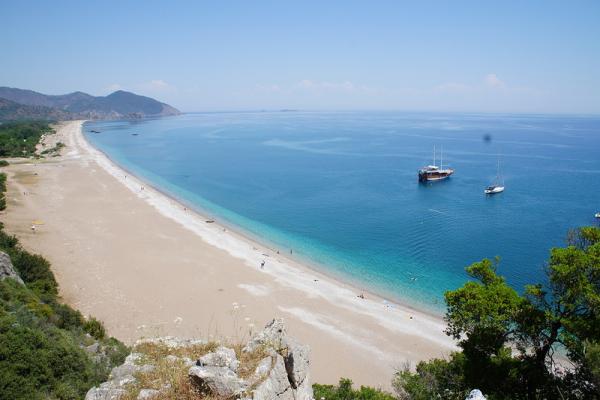 40 km from Kemer is the village of Cirali, which is considered to be a resort place. There are no noisy bars and discos until the morning. The bay is surrounded by mountains with a reddish tint, pebble beach and blue smooth surface. Nearby are many guest houses with beautiful views. The village consists of only a few streets leading to the sea. Here restaurants and cafes are located, offering tourists delicacies for every taste. If quiet leisure is boring, you can go to the open sea on a yacht or go fishing.
Goynuk Canyon
Fans of natural attractions should visit the Goynuk Canyon. Between Kemer and Antalya there is a gorge formed by the slopes of the mountains, along which water flows. A shallow lake is formed in front of the canyon. After exploring the local beauty and taking a walk along the pine forest, you can spend leisure time in the recreation area with a pond and a sanitary zone. If you want to see as much as possible, you should be ready to put on special equipment, and for safety it is better to go on an excursion with an experienced guide.
Food: atmospheric restaurants, cafes and bars
Casa La Luna
Merkez Mahallesi, Atatürk Cd.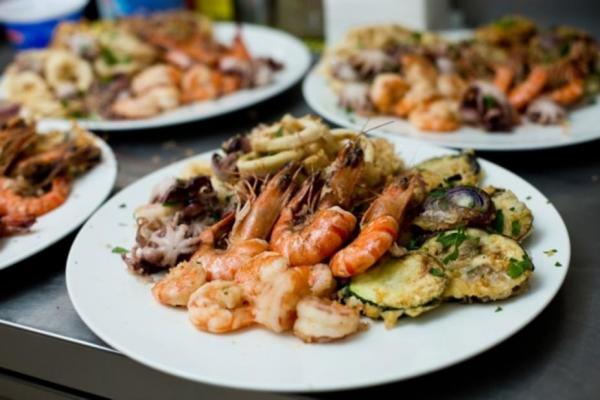 Whatever your eating habits, you can definitely order something for breakfast or lunch at Casa La Luna. A hospitable host greets guests during their stay and wonders if everything is delicious, whether they like the service. You should definitely try the salad with gorgonzola and nuts, tagliatelle, coffee. Depending on the weather, you can sit both inside and at the table on the terrace. By the way, a rented car can be left right next to the establishment.
Kemer pastanesi
Yeni Mahallesi, 133. Sk. No: 5 http://www.kemerpasta.com/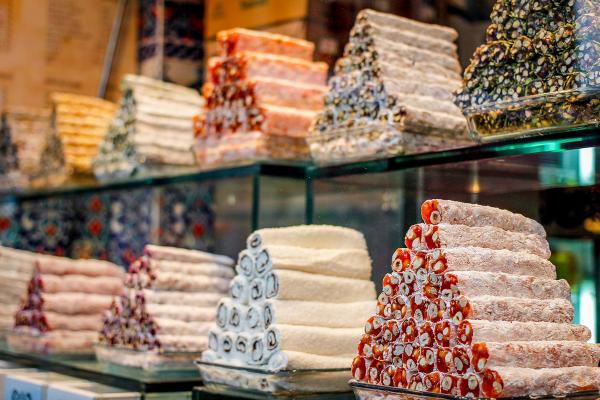 Would you like to taste local sweets? Without hesitation, head to Kemer Pastanesi. The assortment in the local patisserie is so large that even if you have been in Kemer for a long time, here you will surely find something new every time. Having ordered dessert and coffee, you can enjoy the cool morning air and, for example, read a fresh newspaper while sitting at a table on the street. Baklava, cherry cheesecake, Turkish sweets are beyond praise. The main thing is that whatever you want to try, everything will be fresh and cooked in accordance with the recipe.
Panorama restaurant
Beycik mahallesi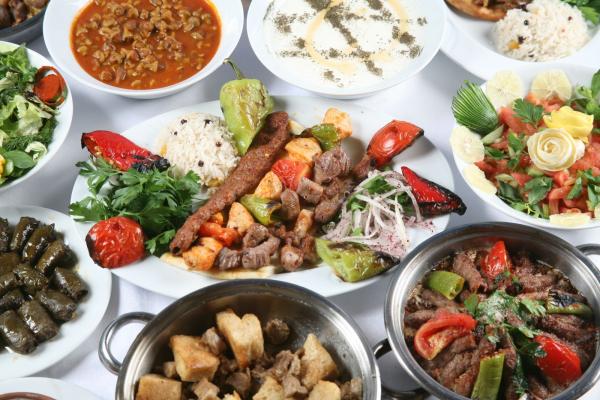 Returning from an excursion from Tahtalı mountain, do you want to have lunch in a pleasant place? Or relaxing in one of the Kemer hotels do you want to diversify your pastime? Panorama Restaurant is a cozy place for the whole family. The main highlight is stunning views of the mountains and lush greenery of the surrounding area. While waiting for the order, you can enjoy the fresh air, a light mountain breeze and talking in a pleasant company. The restaurant menu features Turkish cuisine. Whatever you order will be prepared exclusively from fresh ingredients (the owner of the establishment carefully takes care of this) and served in large portions.
Kemer la luna restaurant
Merkez Mah. 110 Sok. No: 16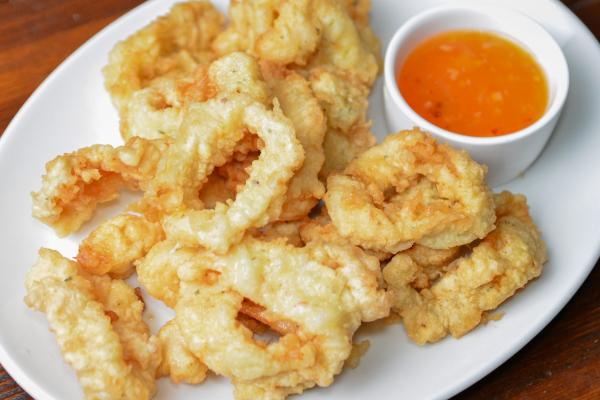 Whether traveling with family, friends, or alone, Kemer La luna Restaurant offers dishes to satisfy everyone's hunger. The menu presents a mix of dishes of Turkish cuisine, Russian, Mediterranean. It is worth trying seafood (for example, squid in batter), kebab, borsch, salad to your taste. From drinks it is worth trying wine or Turkish beer. To get to the institution, rent a car.
Casa De Flor Restaurant & Cafe
Merkez Mah. Ataturk Bulvari. 41 / B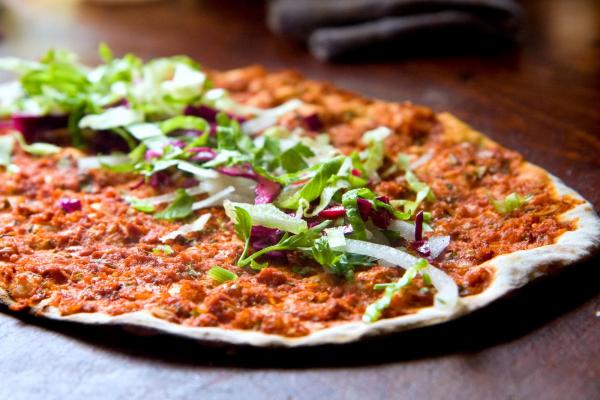 Looking for a place to spend your evening leisure? Casa De Flor Restaurant & Cafe is a cozy place where you can have a hearty meal or a bite to eat. The menu includes dishes of Turkish cuisine, Italian and excellent steaks. Couples with small children are offered children's chairs, paper, pencils. While the younger generation will be busy with games, the older one can slowly taste the dishes on the menu. When planning an evening, it is better to book a table in advance.
Where to live: comfortable hotels in Kemer
Crystal Flora Beach Resort
Göynük Mah. Başkomutan Atatürk Cad. No: 137
+90 444 0 558 www.crystalhotels.com.tr/crystal-flora-beach-resort double room - from € 162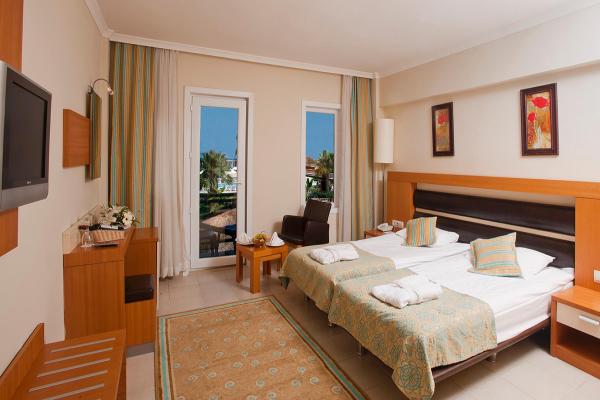 Looking for a good hotel to stay with your family? Crystal Flora Beach Resort is perfect. The main advantages are first-class service and picturesque views from the windows to the sea and mountains. The animation team every day tries to diversify the entertainment program in order to involve each guest in the competitions. Adherents of an active lifestyle will be able to spend time with pleasure on the tennis court or in the fitness center, for the rest there are swimming pools and a spa treatment area.
Garden Resort Bergamot Hotel
Yeni Mahallesi, 513. Sk.
+90 242 814 73 53 www.hotelgardenresort.com double room - from € 79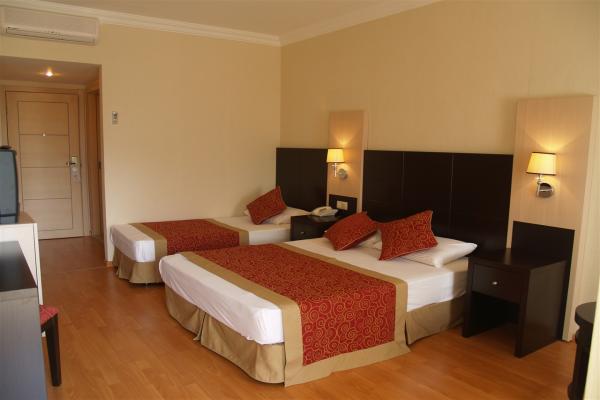 Have you rented a car and are looking for a comfortable hotel with free parking? Check out the Garden Resort Bergamot Hotel. The spacious apartments overlooking the beach have everything you need to feel at home. The staff is polite and helpful, always fulfilling customer requests. Spending your vacation at this hotel, you can not only go on excursions and swim in the pool, but also spend time actively playing football, volleyball, tennis. There is a play area for children. The hotel grounds are well equipped for evening walks.
L'Oceanica Beach Resort Hotel
Çamyuva Mah., 5087 Sk. 10/1
+90 242 824 70 90 www.loceanicahotel.com double room - from € 113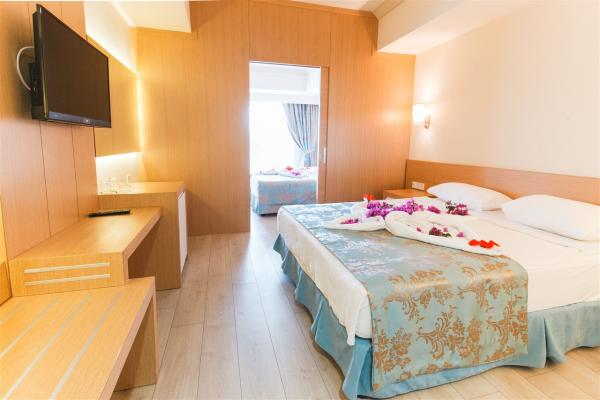 L'Oceanica Beach Resort Hotel is a romantic hotel where you can have an unforgettable vacation in any company. A large number of rooms allows you to choose comfortable apartments, including for families with children. It offers a shuttle service, 24-hour room service, a restaurant, a bar and a baby sitter. Spend leisure time by the pool, taking sun baths, in the fitness center, relaxing in spa treatments or in the jacuzzi.
Novia Gelidonya Hotel
Atatürk Bulvarı
+90 242 814 50 41 www.noviahotels.com double room - from € 88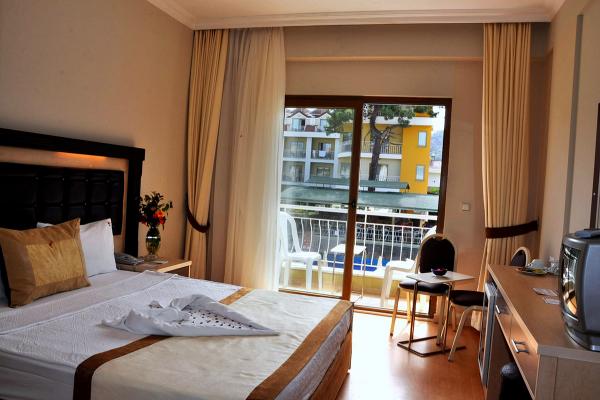 Novia Gelidonya Hotel is ideal for those who want to be in the center of Kemer. There are many shops nearby where you can buy anything from clothing to souvenirs. Plus, the main attractions can be reached very quickly. In the morning, a delicious breakfast with a huge assortment of dishes is offered: seafood, fresh fruits and vegetables, pastries, cheeses, sausages, meat. The competent staff will be able to make sure that the guests rest was pleasant and without any surprises.
Limak Limra Hotel
Sahil Cad No: 11
+90 242 824 53 00 www.berg-hotel.it double room - from € 161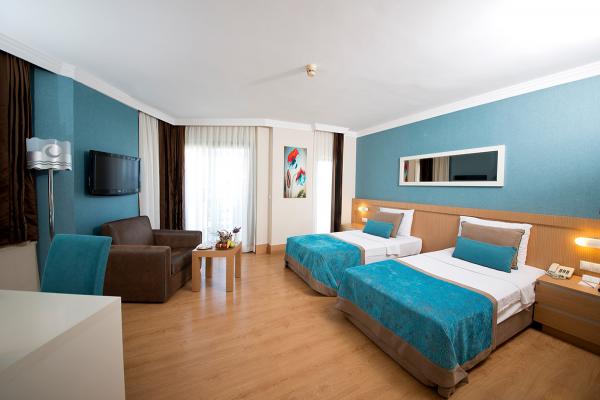 If you want an unforgettable vacation, you should choose Limak Limra Hotel. The apartments are spacious and functional. In the morning, a hearty breakfast is served with an assortment of dishes for every taste. Thanks to a fun team of animators and a wide entertainment program, you will definitely not be bored. Special rooms are equipped for couples, and a competent babysitting service is also available. For leisurely leisure guests are equipped with a tennis court and spa area, for tourists on rental cars - free parking.
Where to park a rented car in Kemer
Car rental in Kemer with BookingCar - profitable, convenient, simple!
In case of any problems associated with car rental in Kemer, BookingCar will solve them as quickly as possible.
We will be with you 24 hours a day.
All you need is to contact us.
© Anastasiia Voloshina, 2017
Like this? Share in social networks: