Hot deals in Dubai International Airport
Bookingcar offers a wide range of options for renting a car in Dubai
Here you can choose a car of any class that best suits your needs.
Our prices are one of the best prices on the market.
See for yourself!
Professional support
Our professional call center will help you understand all the intricacies of car rental. We guarantee full support throughout the rental period.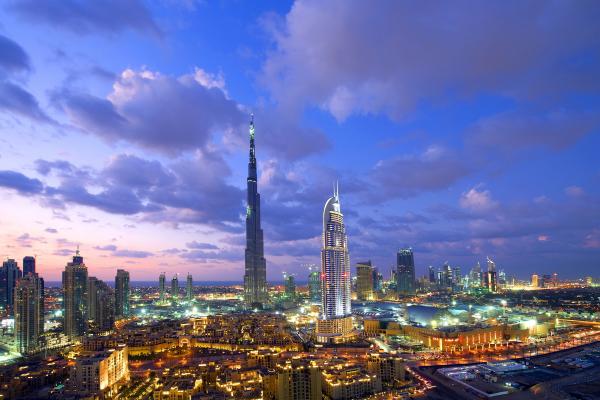 Of all the cities in the UAE, Dubai is perhaps the most famous and popular among tourists. More than half of the population is foreigners, so English is more common here than Arabic. At first glance, Dubai consists of only skyscrapers and shopping centers of impressive size, it seems that this city is entirely made of glass and metal, and where its soul is incomprehensible. But you should not make hasty conclusions and rank Dubai as the next metropolis, deprived of comfort and originality. Start your acquaintance with the city not with a shopping trip or Michelin-starred restaurants, but with an excursion to the mosque and the Historical Museum - then you will see a completely different image of Dubai. Using the car rental service, you will add new colors to your trip, complement it with interesting routes and you will be able to see that Dubai,
Bookingcar recommends:
Rent a car at Dubai Airport
Dubai International Airport ( Dubai International, Airport then ) - download scheme
IATA code: DXB
Location: 5 km from Dubai
Official website: www.dubaiairports.ae
Inquiries: +971 4,224 5555
Rent a car at Dubai Airport is provided by rental companies such as Dollar, Europcar, Fast Rent A Car, Hertz, Sixt and Payless. Rental desks are located in the arrivals areas at terminals 1 and 2. At the airport, short and long-term parking lots are open at each terminal. Special buses run from the main entrance to the terminal to the long-term parking area.
What to see in Dubai: interesting sights of the city
Burj khalifa
Mohammed Bin Rashid Boulevard www.burjkhalifa.ae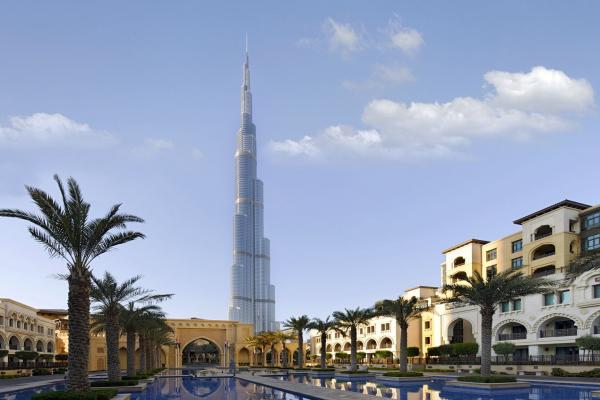 Climbing the tallest skyscraper in the world is an obligatory part of the program for everyone who comes to Dubai for the first time. This is better done in the evening, when the city is illuminated with lights and looks like a sparkling canvas. After you take a selfie at an altitude of 828 meters and take a picture of the city panorama (having previously won your place at the window), have a cup of coffee in At.mosphere Restaurant. Here you can continue to admire Dubai, but in a more relaxed atmosphere. By the way, it's better to buy tickets to the observation deck online - so they are much cheaper than at the box office.
Jumeirah Mosque
Jumeirah beach road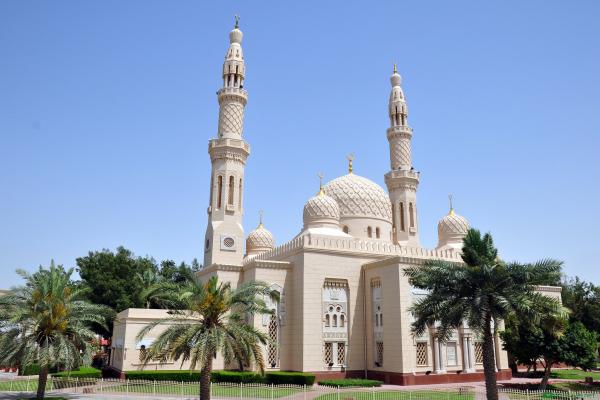 Compared with the Sheikh Zayed Mosque in Abu Dhabi (by the way, one of the largest in the world), the Jumeirah Mosque looks more modest and looks like its miniature analogue. Inside its wall is decorated with colored mosaics, because of the abundance of carvings on the ceiling, windows and floor, eyes are scattered - Islamic architecture cannot be confused with anything. The Jumeirah Mosque is the second in the country, where not only Muslims are allowed, but also representatives of other faiths. Tours take place at 10 am from Saturday to Thursday.
Dubai Aquarium
The Dubai Mall, Doha Street, Off 1st Interchange www.thedubaiaquarium.com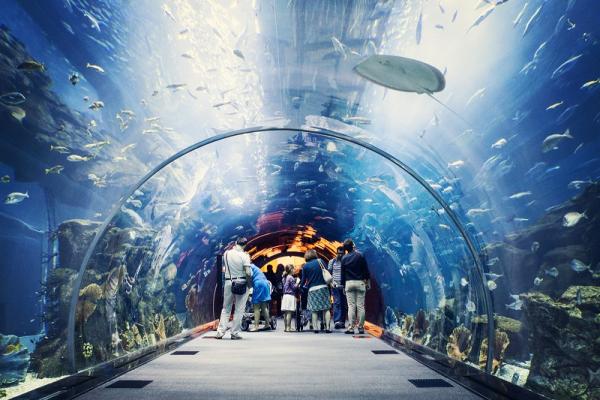 In the world's largest aquarium, sharks and stingrays do not just swim peacefully in large tanks, but follow you while you slowly, cautiously, walk through the glass tunnel. They float right above your head - so close that it seems as if you should extend your arm and you can touch them. From every corner there are rapturous and slightly frightened exclamations of children and adults who, with a bewildered gaze, follow the colorful underwater life. With a ticket to the aquarium, you can also visit the zoo and watch the cute penguins.
Al Fahidi Fortress
Al Fahidi Street, Bur Dubai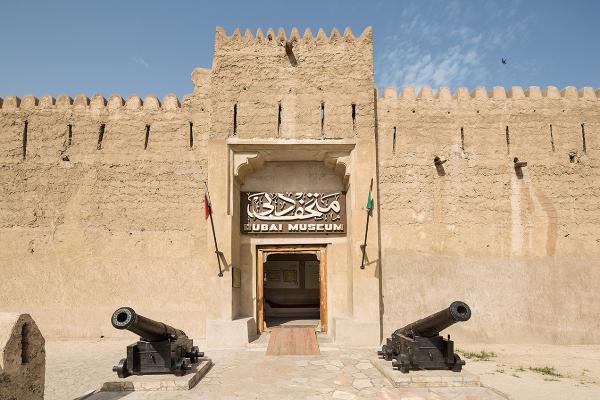 In the oldest building of the city - Al Fahidi Fortress, erected in 1799 - the Dubai Historical Museum is open. The museum's long galleries reproduce the old streets of the Arab city, bazaars, residential buildings, mosque interiors and retail shops. Wax figures in national costumes complement the pictures of everyday life. The museum's exposition includes a collection of jewelry, ceramics, colorful cards and household items telling about the life of the city at a time when oil fields had not yet been found. It is better to come to the fortress before lunch, so as not to get into the intense heat and take a walk along the streets of this impromptu city.
Amusement Park Dubai Parks and Resorts
Sheikh Zayed Road www.dubaiparksandresorts.com

A huge entertainment complex, which includes three theme parks, a water park, a shopping area with restaurants, bars, concert venues and a Polynesian-style hotel. Bollywood Park is inspired by famous Bollywood films, it hosts live performances, shows musicals in the Broadway style and, of course, dance. The Motiongate zone is already a Hollywood story with rides and shows based on DreamWorks, Sony Pictures Studios, Smurfs and Lionsgate. And in the Legoland interactive park, there are more than 40 playgrounds where you can fly by plane, build a race car and defeat the dragon - all with the help of the iconic Lego constructor.
Near Dubai: Best Car Routes
Sharjah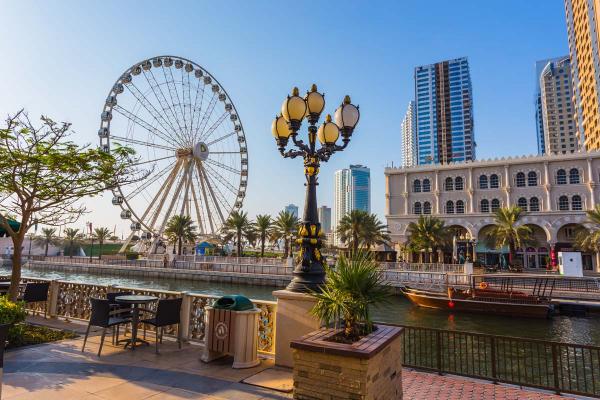 About 40 minutes by car, you will get to Sharjah, the cultural capital of the Emirates and the administrative center of the emirate of the same name, the strictest in the UAE. Here you will not find noisy hookahs and cannot order alcohol in the restaurant. However, such a strictness of laws and local customs does not hinder your vacation. At the Museum of Islamic Civilization, you will get acquainted with the culture and customs of the inhabitants of the Emirates, and at the Archaeological Museum you will see a collection of ancient jewelry, ceramics and coins found during excavations throughout the country. In the evening, take a walk around Al-Qasbah, where until late in the evening there are restaurants, cafes, a 9d cinema, children's attractions and a Ferris wheel.
Abu Dhabi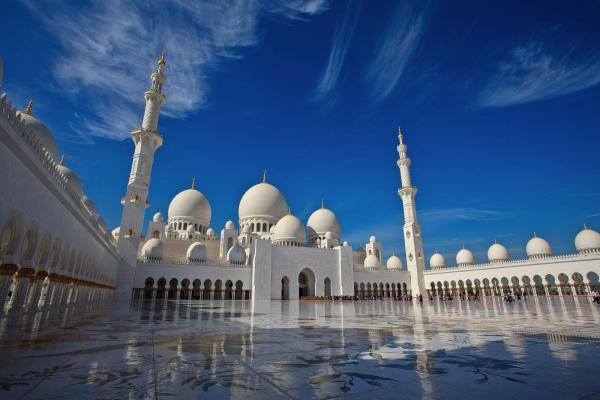 Having rented a car, go to the capital of the Emirates - Abu Dhabi. Over the course of 30 years, Abu Dhabi has transformed itself from a fishing village into a modern metropolis, the city of the future. The basis of the landscape is glass skyscrapers, which, it seems, have no end and edge. The main attraction of Abu Dhabi is the luxurious Sheikh Zayed Mosque. It is named after the first president of the UAE, who was buried here on the territory of the mosque. The building will intervene about 40,000 visitors, which everyone can become, regardless of religion. The mosque is decorated with the world's largest carpet, made according to the designs of Iranian artist Ali Khaliki, and seven massive glass chandeliers of gold leaf and Swarovski crystals. Also in Abu Dhabi you can visit the Ferrari World amusement park, where you will find retro models of iconic sports cars, a racing school,
Hutta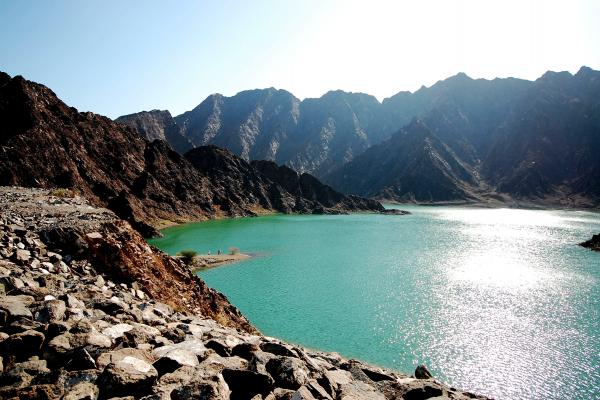 Hatta Mountain Resort is located 115 kilometers from Dubai, on the border of the Emirates with Oman. First of all, it is worth coming here for fantastic views of the lakes, reminiscent of oases in the desert. Despite the lack of equipped beaches, locals like to come to Hatta to swim in waterfalls and canyons. In the center of the Hatta is an ethnographic village that recreates the look of a traditional Arab village centuries ago. For the guests of the village, they hold events immersing in the atmosphere of ancient times: weddings, fairs and concerts of national music and dancing. The road to the Hutta is not easy - it is winding and bumpy, so if you plan to rent a car, then choose an SUV with which your trip will be comfortable in the mountains.
Food: atmospheric restaurants, cafes and bars
Ossiano
The Palm Jumeirah www.atlantisthepalm.com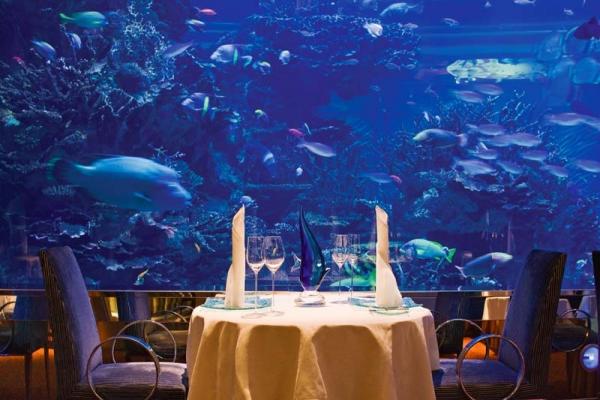 To visit the famous Atlantis Hotel on Palm Island, you do not have to spend a fortune. Pick up a nice evening outfit and head to the Ossiano restaurant, open at the hotel. Large aquariums are mounted in the walls of the establishment, in which sharks and whales do not swim. Order seafood (for example, oysters or tender salmon with mashed potatoes) and ask the sommelier to recommend you wine. The romantic atmosphere of the restaurant is complemented by live music, most often jazz.
Al fanar
Canal Walk, Dubai Festival City Mall www.alfanarrestaurant.com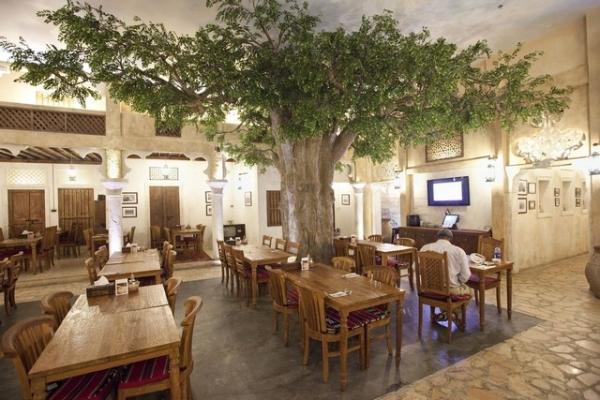 For acquaintance with the so-called "gulf cuisine" (culinary traditions that the Emirates have borrowed from their neighbors), authentic Al Fanar is suitable. The restaurant's interior is made with a reference to the traditional Arabic style. So, instead of laconic white plates - beautiful vintage saucers with patterns; Tea is served in tall faceted glasses. The specialty is stewed chicken with vegetables, rice and spicy sauce - look for the menu under the name "saluna".
La serre bistro & boulangerie
Mohammed Bin Rashid Boulevard www.laserre.ae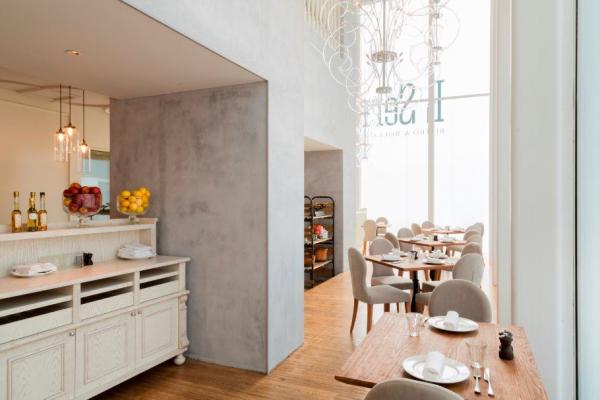 Restaurant with a French accent in downtown Dubai. It's great to come here in the morning and have breakfast at a table by the window. Order lush waffles with chocolate sauce and granola with berries and apples. And if you want to return La Serre for dinner, then try shrimp pasta or lamb chops. Be sure to book a table in advance, as there is a full house here in the evening.
Zahr el-laymoun
Souk Al Bahar, Downtown Dubai www.zahrellaymoun.com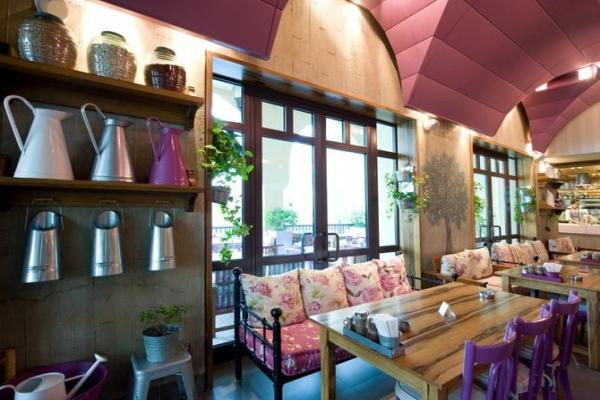 Oriental restaurant near Dubai Mall and Burj Khalifa. In the evening, you can watch the colorful fountain show from the restaurant's terrace. For drinks, be sure to try homemade lemonade - it is served in small decanters, so order two at once. Take juicy kebabs and tabule salad, and for dessert - pistachio pudding, which melts in your mouth, leaving a pleasant vanilla-cream aftertaste.
Sass cafe cafe
Tower 2, Podium level, Al Fattan Currency House www.sasscafe-dubai.ae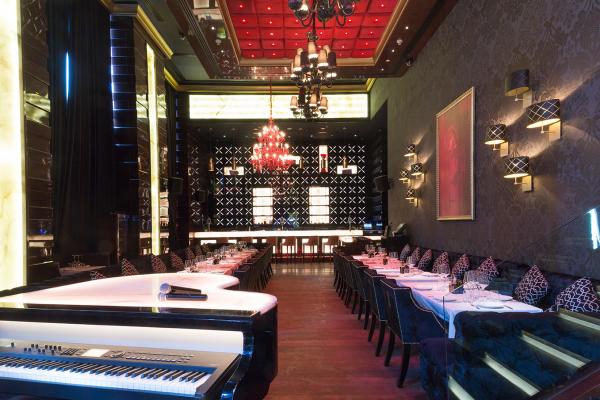 The main action in Sass begins after 23.00, when the main lighting is replaced by a violet-red backlight, the velvet chairs empty, and the guests go to the dance floor and, holding a glass of champagne in one hand, begin to dance to the tracks of famous DJs. If you come here during the day, then ask the waiter to take you to the terrace - it offers a beautiful view of the Burj Khalifa. For meals, try a salad with salmon, lobster risotto and cheesecake.
Where to live: comfortable hotels in Dubai
Jumeirah zabeel saray
Crescent Road, The Palm Jumeirah
+971 4,453 0000 www.jumeirah.com double room - from € 305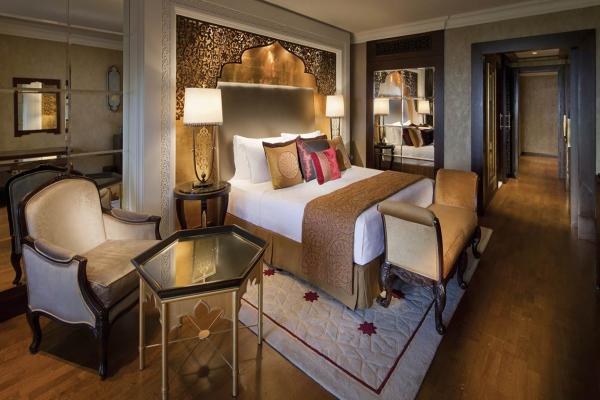 Luxurious hotel overlooking the Arabian Gulf. Glitter of marble, stucco molding on the ceiling, gilded chandeliers, velvet sofas and oriental patterns on pillows. Jumeirah Zabeel Saray is famous for its Talise Ottoman spa, the largest in the Middle East (approximately 8,000 square meters). The hotel has 10 restaurants of the most famous cuisines of the world - from Italian to Turkish. For guests using the car rental service, free parking is available.
The ritz-Carlton Dubai
Jumeirah Beach Residence
+971 4,399 4,000 www.ritzcarlton.com double room - from € 260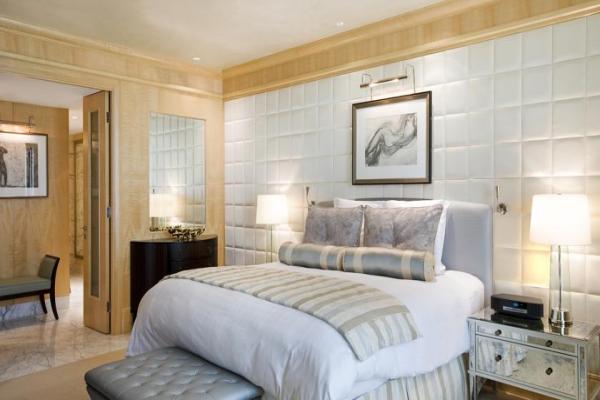 A five-star hotel of a global network that needs no introduction. Spacious comfortable rooms in beige and brown tones, balconies overlook the garden with large swimming pool. The hotel has a spa with a classic program: gym, sauna, hammam, several types of massage, body wraps and other body care services. For children, Ritz hosts cooking classes, drawing lessons, origami and sports games as part of The Ritz Kids program. For dinner, we recommend choosing Blue Jade, which was recognized by Time Out Dubai magazine as the best South Asian restaurant in 2015. If you have rented a car, free parking is at your disposal.
XVA Art Hotel
Al Fahidi Neighborhood, Bur Dubai
+971 4 353 5383 www.xvahotel.com double room - from € 136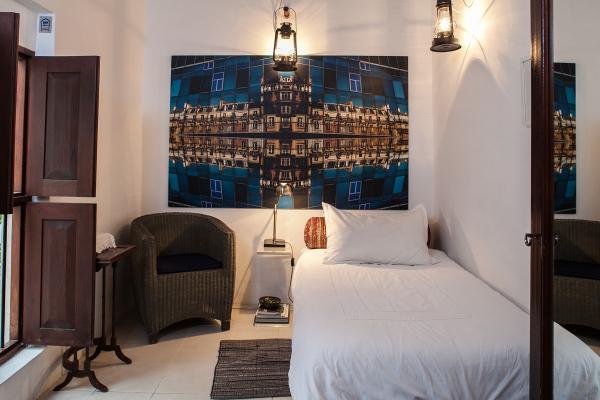 XVA Art Boutique Hotel differs from giant hotels with pools the size of a football field not only in its location in the historic city center (a five-minute walk from Al Fahidi Fortress), but also in the charm of small, cozy rooms (13 in all) in Arabic style. From the windows you can admire the minarets and towers of skyscrapers. In the morning, be sure to have breakfast in the garden, where palm trees and thick ivy coexist with paintings by local artists. The hotel has an art gallery open to collectors and connoisseurs of contemporary art. A nice bonus is free parking (you need to reserve a parking space when booking a room).
Rove Downtown Dubai
312 Al Sa´ada Street - Zabeel 2 Downtown
+971 4561 9999 http://www.rovehotels.com/hotel/rove-downtown-dubai/ double room - from € 109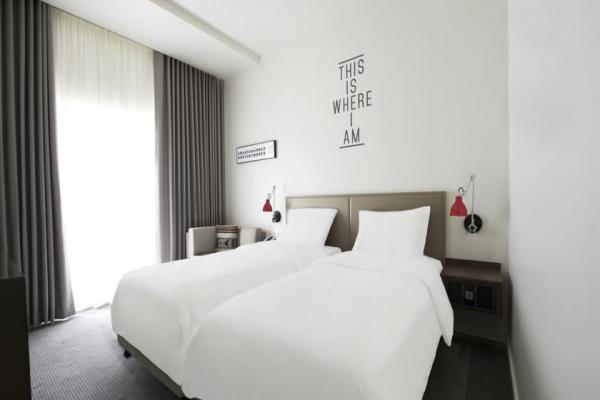 Design hotel next to Burj Khalifa Tower and Dubai Mall. Laconic interiors in smoky gray colors dilute the inscriptions and graffiti on the walls, bicycles as stands for countertops, colored poufs and canopies in the lounge area. The Daily Café has a varied breakfast menu and a good selection of national dishes, so if you do not have time to look for a place for lunch, you can have a bite to eat here. In the skyscraper, where Rove Downtown is located, there is parking, you can reserve a place for your rented car at the entrance to the hotel.
Ibis Styles Dragon Mart Dubai
Al Awir Road E44 on Hatta Road
+971 4563 0000 www.ibis.com double room - from € 72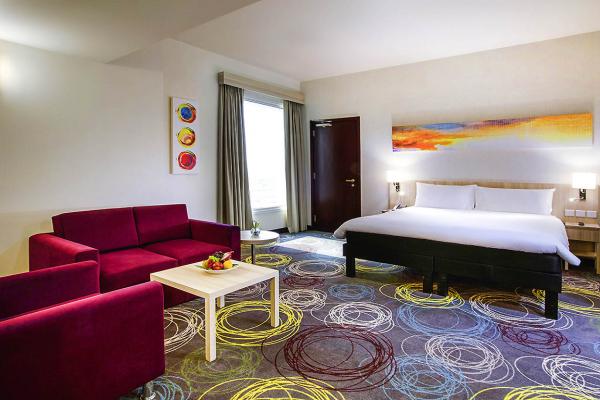 An inexpensive family-friendly hotel, 15 minutes from the airport and 10 from the center of Dubai. Brightly decorated rooms, all inclusive meals, a gym and Bricks Sports sports bar. Dragon Mar Shopping and Entertainment Complex is nearby, where you can spend the whole day at 4,000 stores. Free parking is available at the hotel (reservation is not necessary in advance).
Where to rent a rented car in Dubai
Renting a car in Dubai with BookingCar - profitable, convenient, easy!
In case of any problems associated with car rental in Dubai, BookingCar will solve them as quickly as possible.
We will be with you 24 hours a day.
All you need is to contact us.
© Ellina Rudenko, 2016
Like this? Share in social networks: