<! err get location-->
Bookingcar company offers a wide selection of car rental options in Cuba
Here you can choose a car of any class that best suits your needs.
Our prices are one of the best prices on the market.
See for yourself!
Professional support
Our professional call center will help you understand all the intricacies of car rental. We guarantee full support throughout the rental period.
If you decide to go to Cuba and want to book a car in advance, then it is better to turn to our website Bookingcar.su, due to the fact that many local rental companies, although they have existed in the market for a long time, have not bothered to get their own sites. If you are a fan of retro cars, then Cuba is your country, local rental companies usually work with such cars.
What you need to know about renting
Many local companies will be completely satisfied with the presence of a passport, a bank card and a driver's license, larger companies may also require international rights, so just in case, stock up on them.
As in other countries, you can't do without a bank card on which there should be enough money to rent a car, and also so that the company can block a certain amount during the rental, in case of various unforeseen expenses. The deposit amount, if the car is returned in the same condition, is unlocked.
The requirements for the driver are ordinary, the age should be from 19 to 75 years, driving experience of 1 year, for the rental of some special classes of cars, these criteria can be changed. Carefully read the contract before signing it and it is not at all advisable to lose it, in some rental companies, a fine of $ 50 is provided for this. When receiving a car, check its condition: damage, spare tire, warning triangle. If you find any damage during the acceptance of the car, then it must be included in the contract.
Almost all offers include basic insurance, as a rule in this case a deductible is provided, you can reduce the deductible and, accordingly, the deposit directly at the time of receiving the car. We recommend that you park your car in special parking lots, they are certainly not free, but in this case you will be calm both for the car and for the things left in it. Use the parking lot of your hotel for overnight parking; you should find out about the availability of such parking when booking rooms.
Rent price
Car rental in Cuba is not at all an expensive service; you will pay about $ 20 a day for an economy class car. This class includes cars such as the Hyundai Athos and Peugeot 206. In the high season, the cost can rise by 10% -15%. Of course, if you rent a car for a long period, then renting will cost you less than if you rent a car for 1-3 days.
Movement features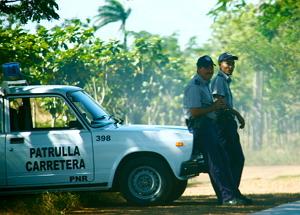 The rules of the road actually do not differ from those to which we are accustomed. Moreover, in Cuba, traffic jams are a rarity; local residents prefer to ride bicycles. It is cyclists that are a problem for motorists, you need to be careful and monitor how cyclists move with you in the same stream.
The main highways in Cuba are of good enough quality, which can not be said about other roads, so when choosing travel routes, it is more convenient to use the main routes. The most comfortable thing is to rent a car in Cuba, an SUV class. The cost of such a car is certainly more expensive, but you will be much more comfortable moving around in such a car.
The police here are very loyal to visitors, so in Cuba you have the opportunity to avoid fines. Even if the police stopped you, politely explain to them that you are a newcomer and, for example, did not notice the sign, there is a possibility that they will wish you a good day and will be released. If, nevertheless, you were issued a penalty receipt, ask where it is most convenient to pay for it.
Toll roads
There are no toll roads in Cuba, the only thing you have to pay for is driving along the Varadero spit, as it is recognized as an ecological zone, payment takes place at the entrance.
Parking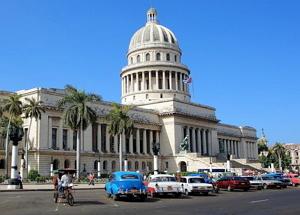 There are not many cars in Cuba, so there are no parking problems here. You can park in many places and find a place for free parking is very simple, the main thing is to follow the signs.
Motorists in Cuba prefer paid parking; payment for such parking is made through the cashier.
If you have any questions about car rental in Cuba, call us.
Car rental with BookingCar - profitable, convenient, easy!
In case of any problems associated with the rental car, BookingCar will solve them as quickly as possible.
We will be with you 24 hours a day.
All you need is to contact us.
Like this? Share in social networks: