Bookingcar offers a wide range of car rental options in Casablanca.
Here you can find a car of any class that best suits your needs.
Our prices are one of the best prices on the market.
See for yourself!
Professional support
Our professional call center will help you understand all the intricacies of car rental. We guarantee full support throughout the rental period.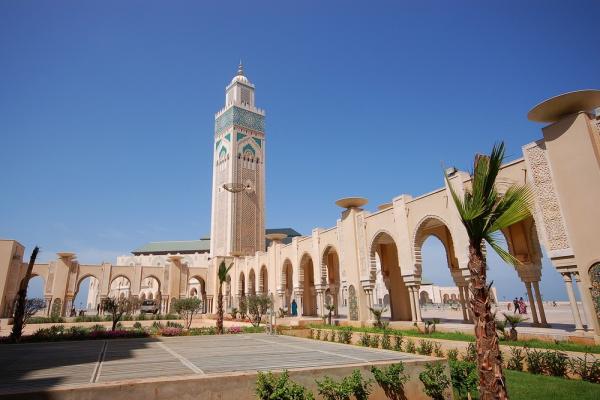 Casablanca is a colorful, colorful and rapidly changing city. Traditional Muslim attire was replaced by more European ones; skyscrapers "grow" in place of old buildings. Arriving for a couple of days or on a full trip, you should take a walk along the Corniche promenade at sunset, look into the popular Casablanca bar and visit the most iconic sights. Among such places are Medina, the building of Mahakma do Pasha and the Hassan II Mosque. No less colorful are Moroccan markets. What products are not found here. Lovers of nightlife enjoy spending their time in one of the bars or nightclubs of the city.
Bookingcar recommends:
Car Hire at Casablanca Airport
Casablanca Airport ( Casablanca Mohammed V Airport ) - scheme
IATA code: CMN
Location: 30 km from Casablanca
Official website: www.casablanca-airport.com
Information: +212 5223-39040
The following companies provide car rental services at Casablanca Airport: Afrique Ren, Avis, Budget, Europcar, Express, First Car, Hertz, Jet Car, National Alamo Car, Nava Tour, Renaissance Car, Sixt, Thrifty Car, Liege Tour, Select Rent , Air Car, Dollar Car. Car rental desks are located in the arrivals hall. Near the airport equipped with short-term parking and long-term.
What to see in Casablanca: interesting sights of the city
Hassan II Mosque
Casablanca cornich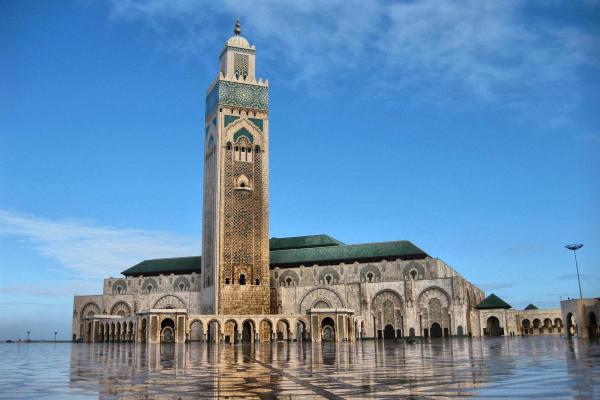 Having rented a car, go look at one of the spectacular mosques in the world - Hassan II Mosque. Among the elements that make an impression - a retractable roof, a 210-meter minaret, a laser beam and a heated floor. The construction is so magnificent outside that even if you cannot get inside, there will be a lot of emotions from what you see. What is only worth a walk through the surrounding territory, part of which is located directly above the ocean! Massive columns, bright and colorful decoration materials fascinate. If possible, you should look inside to see firsthand the sliding roof and massive Italian chandeliers, which are the only element of the mosque's decor.
Mahkama du Pasha
Appt Quartier Romandie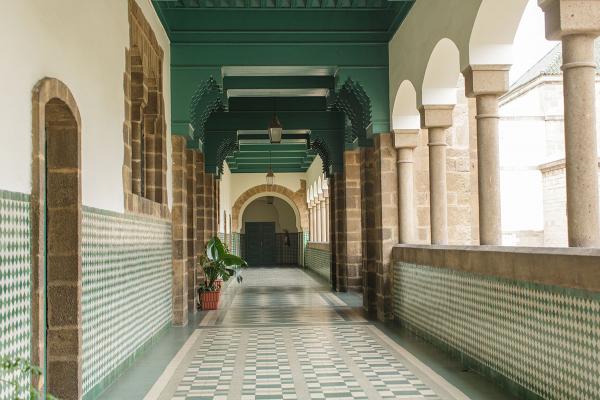 Connoisseurs of rich interior decoration should visit the palace of Mahcama du Pasha. Built in the middle of the last century, it amazes with filigree wooden ornaments, figured forging, multi-colored mosaics. The palace is replete with walls of different heights, towers in the Romanesque style, elegant arches. Once inside, you should definitely take a walk along several courtyards decorated with fountains and bushes, as well as visit the central reception hall with multi-colored glasses and a glass dome.
Quarter Habus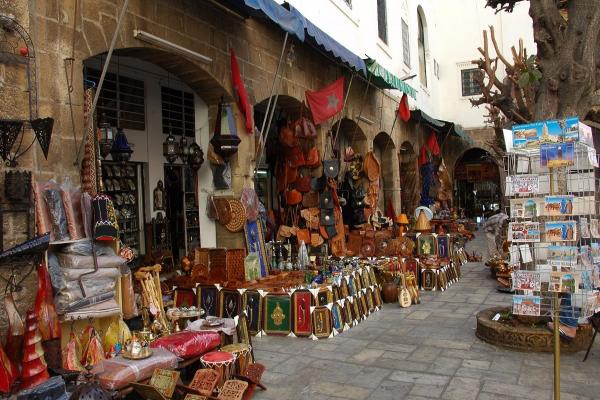 You can experience the true local exotic by going to the Quarter Habus. Here, Arabic and French motifs are distinctly interwoven. In addition to the legendary bazaars, the place is famous for its dense concentration of attractions. Walking around the quarter, it is worth visiting the church of Notre Dame de Lourdes and the King's Palace. Interestingly, the markets here specialize in a particular product. For example, there is a market for spices, a market for fabrics, olives. Hungry, you can have a bite to eat at one of the eateries.
League of Arab States Park
Parc de la Ligue Arabe, Boulevard Moulay Youssef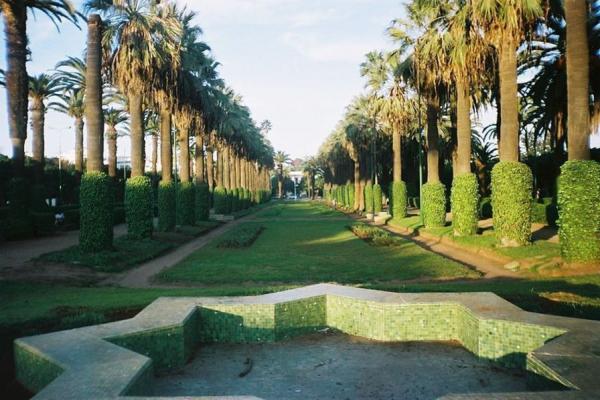 Another picturesque place of the city is the League of Arab States park. With family or in the company of friends, here you can stroll along the wide avenues, sit in a clearing with a picnic or get an adrenaline rush in the amusement park. Landscapes do not just impress: they fascinate with their luxury. What are the numerous flower beds, decorative ponds and panoramas of fan palm trees. It will be more convenient to get to the place by renting a car.
Medina of Casablanca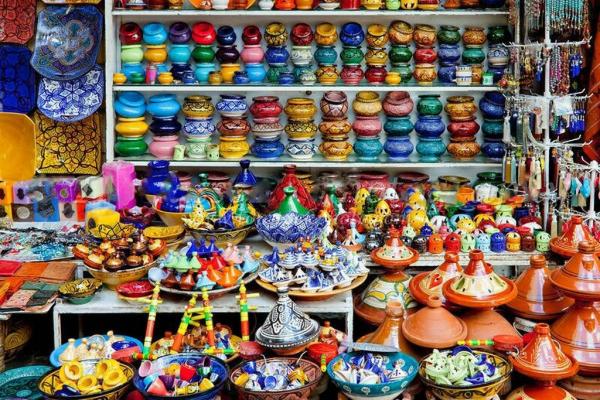 You can feel the atmosphere of the city by going to the Medina of Casablanca. Not every tourist comes here, only lovers of Arabian exotic get to this place. What attracts them is that here one can trace the course of life as it is. Observe the locals, enjoy the beauty of small white houses that are considered traditional, panoramas of small squares and colorful graffiti. The best time for an excursion is in the evening. Then the locals go out for walks in colorful dresses, and with sunset, the Medina takes on a completely magical look.
Near Casablanca: the best car routes
Rabat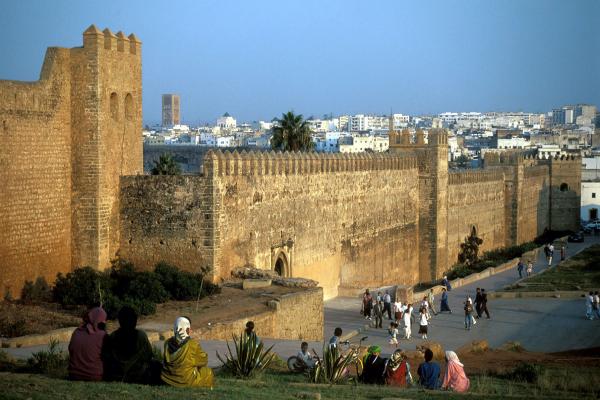 Satisfied with the views of Casablanca, having plenty of fun at the local beaches, go to Rabat to change the scenery. Located an hour away, the city stands out with its unique architecture and literally fascinates with oriental Moroccan flavor. Among the attractions that are worth visiting are the Kasba Uday fortress with an observation deck, the mausoleum of Mohammed V, the mosque of Yakub al-Mansur. Fans of unique old artifacts and interiors should go on an excursion to the Udaya Museum of Moroccan Art. Traditional women's jewelry, national clothes, pottery, the ancient lists of the Koran and much more will find a response in everyone. As a souvenir, you can buy decorative mirrors, mugs, bugs, carpets marked "made in Morocco."
Marrakesh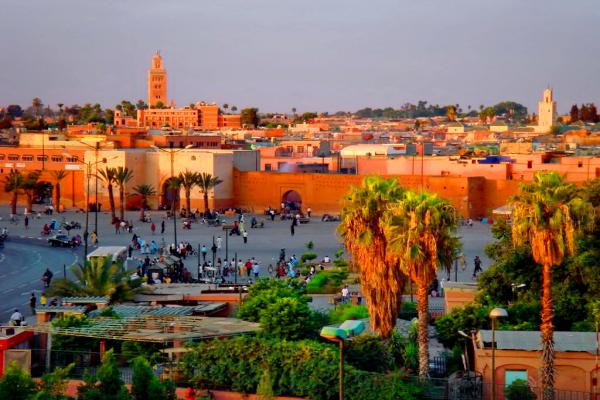 Hire a car and drive to the colorful town of Marrakech. The road will take about 250 kilometers, if desired, you can stop here for a couple of days. In addition, the riad hotels are something very special. Here you will move in time and feel like a medieval resident. The city is bright, bewitching, special. Among the places that are worthy of the attention of tourists are the Koutoubia Mosque, the Dar Si Said Folk Craft Museum, the El Badi Palace, the Majorelle Gardens and the Menard Gardens, and Ben Yussef Madrassah. It is better to arm yourself with a guide to find the main attractions as soon as possible. Well, if you want a romantic pastime, you should leave the car and get lost in the beauties of the local labyrinths. The town is replete with delicious restaurants, so plenty of walking, take a look at one of them for lunch.
Tangier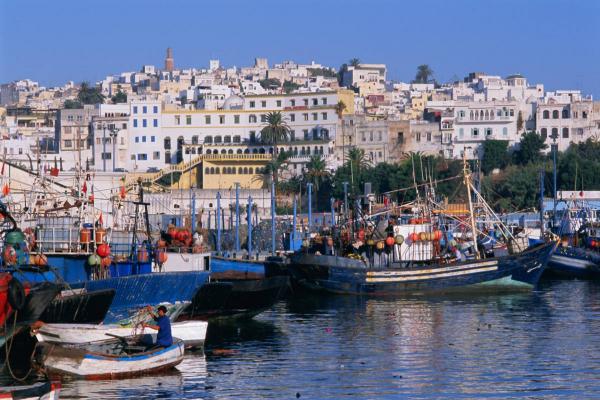 300 kilometers away is the charming port city of Tangier. Tourists adore it for its endlessly beautiful beaches, ancient Medina and the stunning Museum of Modern Art. Satisfied with the beauty of sights, climb to the observation deck at the Kasbah fortress. You will have breathtaking panoramas of the Spanish mountains and the Strait of Gibraltar. One of the noisiest, but at the same time colorful places is the "Big Bazaar". In addition to amazing handmade gizmos, here you will see a fakir, and snake charmers, and dancers.p>
Algeciras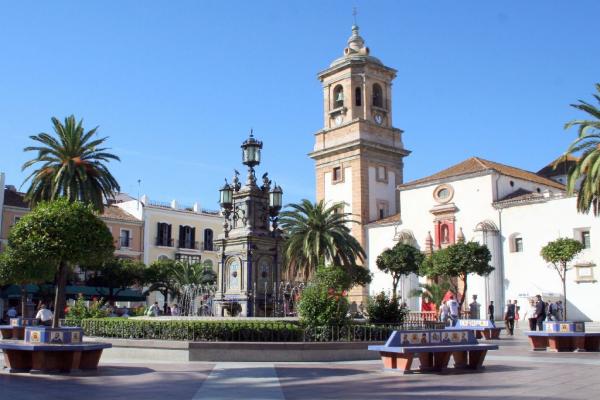 Continuing your journey around the area, head to Algeciras, which is 20 kilometers from Tangier. The geographical location (the town was built directly on the Strait of Gibraltar) led to the diversity of religions and cultures. If you want to sunbathe, go to Playa del Rinconcillo beach, if your goal is to see historically significant places, visit the aqueduct called Los Arcos del Cobre, the Church of Our Lady of de Palma, the defensive fortifications of the medieval period "Walls of Merinies". Travelers with children should pay a visit to the Ornipark Bird Sanctuary and Bahia Park Water Park on their tourist itinerary.
Chawen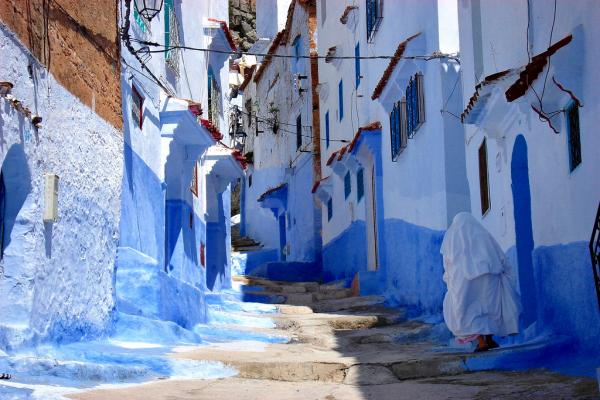 No less memorable will be an excursion to the "city of heavenly color" Chawen. Such an unspoken name is given for a reason. All buildings, as well as exterior elements are made in blue, azure tones. How to spend leisure time - plenty of options. You can visit the city museum, take a walk along the Medina or go to the city of the Al Rif mountain range (preferably accompanied by a local guide). Two days is enough to get acquainted with Chawen. It is best to come here in April. During this period, the town is especially picturesque and romantic. Blossoming colorful plants look mesmerizing against the blue shades of buildings. To get to the town, rent a car.
Food: atmospheric restaurants, cafes and bars
Patisserie bennis habous
2, Rue Fkih El Gabbas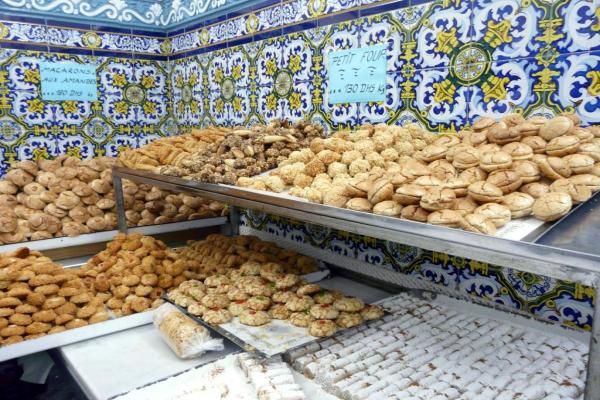 If you want to change the atmosphere and have breakfast somewhere outside the hotel, Patisserie Bennis Habous is perfect. The local patisserie is very popular. Everything that you like will be fresh and very tasty. The assortment is huge, prices are average. It is better to arrive early in the morning, because tourist lovers of Moroccan sweets are quickly buying up everything. If your eyes run up and it is difficult to choose something, you will be offered to try what you liked.
Restaurant la bavaroise
133 Boulevard Hassan 2 www.restopro.ma/bavaroise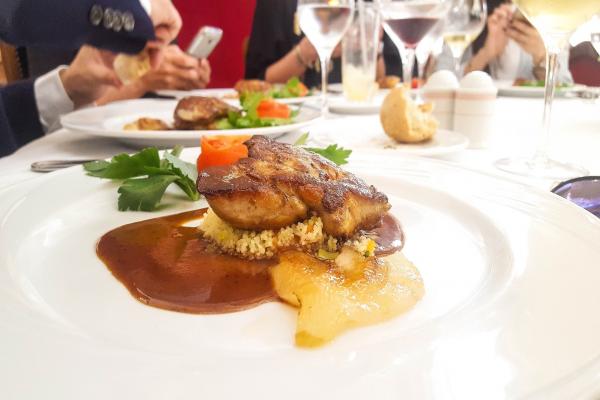 Fans of excellent steaks should check out Restaurant La Bavaroise. The cozy atmosphere in addition to delicious food makes the restaurant one of the best. You can try French meat and cheese, and if you explored this category of the menu far and wide, you should order one of the fish dishes. Sauces - deserve some praise. If you don't want to deal with the assortment of dishes for a long time, order something from the "Special Offer" section. While waiting for an order, enjoy a relaxed atmosphere and original serving.
Rick's cafe
Place du jardin public ، 248 Bd Sour Jdid ، Dar-el-Beida www.rickscafe.ma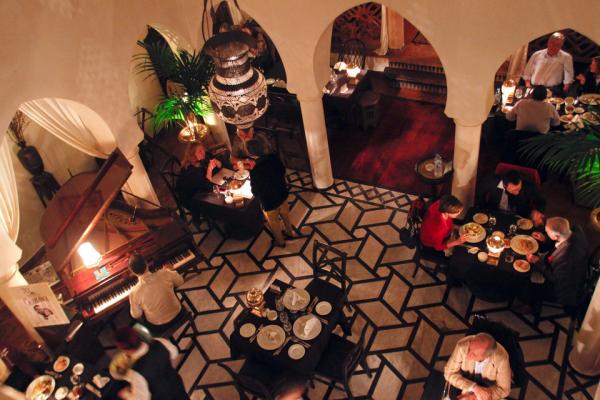 Go to a different era and taste the delicious Moroccan dishes, you can go to Rick's Cafe. The highlight of the institution is a slightly subdued light and fragments of melodies from the legendary film "Casablanca" in the background. As a bonus to restaurant visitors - excellent service. Whatever you order will be served quickly enough, but most importantly, unusual. To be sure to get to Rick's Cafe, you should book a table in advance. The most convenient way to get a rental car.
Blend gourmet burger
9 rue Theophile Gauthier www.facebook.com/blendgourmetburger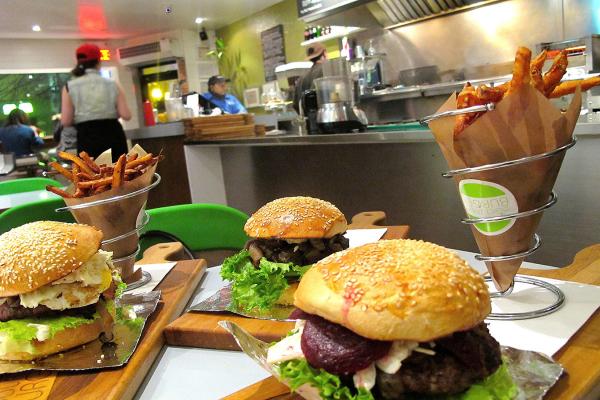 Blend Gourmet Burger is famous for its huge selection of dishes for vegetarians and vegans. If you want to try something tasty, but there is no desire to deal with the assortment of dishes, order a hamburger and potatoes. As a bonus, pickles will be served. For fans of desserts, a good selection of sweets is also presented. The inside is very lively, however, the waiters do an excellent job with the flow of guests. You won't have to wait long for your order.
Le route de l'isle
16, rue Rouget de l'Isle - Villa Elise www.facebook.com/lerougetlisle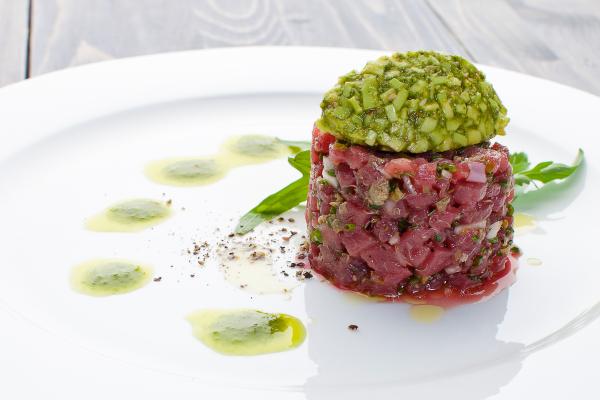 Looking for a place for a romantic dinner in Casablanca? For this case, Le Rouget de l'Isle is perfect. The chef personally approaches each guest and gives recommendations on dishes. You should definitely try tuna tartar, lamb according to the chef's signature recipe, and cold potatoes. The institution is famous for its excellent service: each guest here is made to feel special. You can sit both inside the institution and outside.
Where to live: comfortable hotels in Casablanca
Gray Boutique Hotel and Spa
14 Angle Rue ain El Aouda grayhotelandspa.com double room - from € 98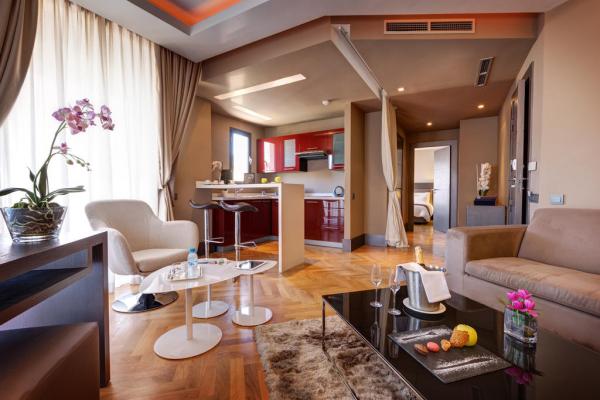 Planning on a rental car and looking for a comfortable hotel? Check out the Gray Boutique Hotel and Spa. It is located away from noisy streets, there is a park nearby, which is perfect for evening walks. The first thing that impresses is a stylish interior with European and Moroccan traditional motifs. Hearty breakfasts are available in the mornings. For the leisurely leisure of tourists, a fitness center and spa are equipped. You can park your car at the hotel's free parking.
Hotel & Spa Le Doge
9 Rue Dr Veyre
+212 5224-67800 www.hotelledoge.com double room - from € 149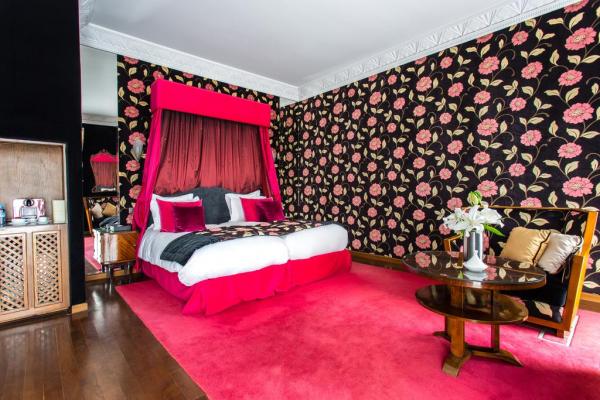 Lovers of romantic apartments should stay at Hotel & Spa Le Doge. One of the advantages is its favorable location. The French Quarter, Port and Medina can be reached quickly. The rooms are spacious and bright, each room is originally decorated. The staff is extremely attentive and polite to visitors, with the slightest problem you can safely seek help. You can shorten your evening leisure time in the hotel restaurant (here you will be offered an excellent dinner for two if traveling with your soulmate) or in the bar.
Club Val d'Anfa Hotel
Angle Boulevard De L'océan Atlantique et ، Boulevard De La Corniche Ain Diab
+212 5227-97070 www.valdanfahotel.com double room - from € 110

Looking for the best hotel in the price / quality category? Choose your Club Val d'Anfa Hotel. It offers spacious apartments in a traditional Moroccan style. It offers views of the promenade. Thanks to the competent and welcoming staff, your stay at the hotel will be unforgettable. If you want to usefully spend time, you can visit the spa, fitness center or pool. Not far from the hotel are the best nightlife, which will have fun.
Sheraton Casablanca Hotel & Towers
100, Avenue des FAR
+212 5224-39494 www.sheratoncasablanca.com double room - from € 101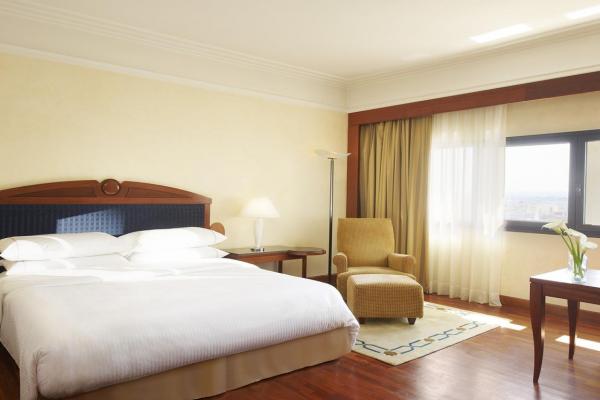 If you want to stay in a hotel with an ideal location, Sheraton Casablanca Hotel & Towers is the best choice. It is located in the center, there is a market nearby. The rooms are spacious, done in soothing colors. In the morning, a delicious breakfast buffet is served. You can pass the time in the evening at the hotel's night club. It features a jacuzzi, swimming pool, spa, fitness center. For tourists, a rental car is equipped with free parking.
Down Town Hotel By Business & Leisure Hotels
14, rue El Kadi iass, Maarif
+212 5229-96663 www.downtownhotelcasablanca.com double room - from € 123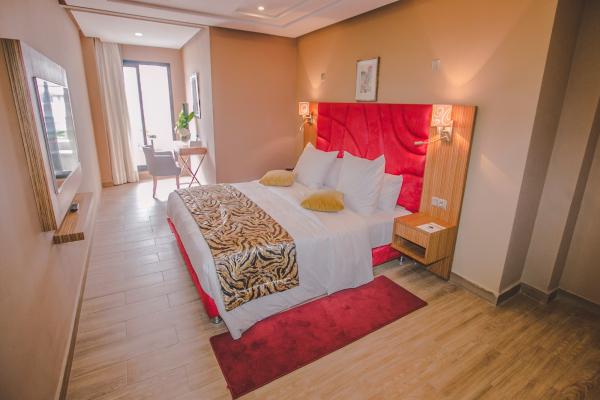 Looking for a hotel for a short stay? Down Town Hotel By Business & Leisure Hotels is perfect for this occasion. The apartments are quite spacious, and panoramic windows offer beautiful views of the city. Thanks to a well-chosen location, you can quickly get to the main places. The staff is very friendly, as much as possible to please every tourist. It offers a shuttle service, room-service, laundry.
Where to park a rented car in Casablanca
Car rental in Casablanca with BookingCar - profitable, convenient, easy!
In case of any problems related to car rental in Casablanca, BookingCar will solve them as quickly as possible.
We will be with you 24 hours a day.
All you need is to contact us.
© Anastasiia Voloshina, 2017
Like this? Share in social networks: