Bookingcar offers a wide range of car rental options in Bangkok
Here you can choose a car of any class that best suits your needs.
Our prices are one of the best prices on the market.
See for yourself!
Professional support
Our professional call center will help you understand all the intricacies of car rental. We guarantee full support throughout the rental period.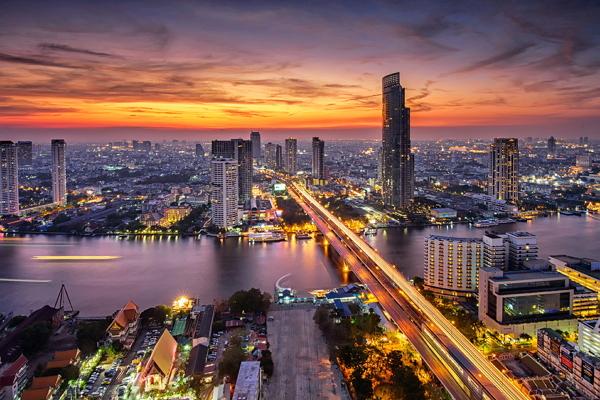 Translated from Thai, Bangkok is a "city of angels." The full name, consisting of 38 words, is listed in the Guinness Book of Records as the longest name in the world. Tourists usually stay for a short time in Bangkok and try to quickly leave for the islands to change the noisy streets and busy roads of the capital to a clean white sand beach. However, in Bangkok there are places where you can relax and completely forget that you are in the largest city in Southeast Asia. The main thing is to know the right places and not be limited to the tips of guidebooks. Do not think that because of the heavy traffic, renting a car in Bangkok is a waste of money. On the contrary, having rented a car, you will have more opportunities to get to know the city even better and visit the picturesque surroundings of Bangkok,
Bookingcar recommends:
Car rental at Bangkok Airport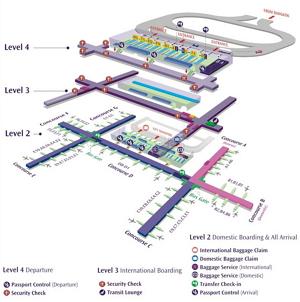 Bangkok international airport Suvarnabhumi ( Suvarnabhumi Airport ) - download the scheme .
IATA Code: BKK.
Location: 27 km east of downtown Bangkok
Official website: www.suvarnabhumiairport.com
Information: +66 (0) 213 21 888

Car rental services at the airport are provided by rental companies: Avis, Bizcar Rental, Budget, Hertz, National, Sixt and Thai rent a car. The airport is not so far from the center of Bangkok and is connected with it by a four-lane expressway, so you can quickly get to your hotel. Short-term and long-term parking lots adjoin the airport building, prices at which start at 25 baht per hour.
What to see in Bangkok: interesting sights of the city
Royal Palace
Na Phra Lan Rd, Phra Nakhon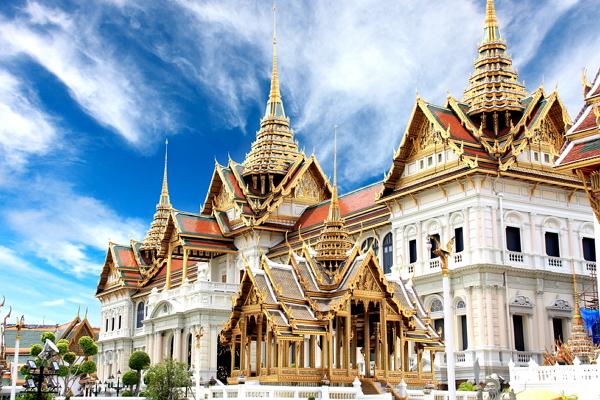 Even if you avoid popular tourist destinations where it's impossible to take a step without falling into the frame of the ubiquitous Chinese tourist, we advise you to spend an hour and a half to visit the main attraction of Bangkok - the Royal Palace. It covers an area of ​​218 thousand m2, which houses government buildings, the royal library, several temples and many statues similar to fairy-tale characters. Here is the famous Temple of the Emerald Buddha - a place of pilgrimage for Buddhists from around the world. You are unlikely to find such an abundance of color, mosaics and paintings elsewhere; this is an amazing example of Asian culture, which for Europeans in many respects remains a mystery. The palace is used for official receptions and royal ceremonies, but the monarch himself has not lived here for a long time. Please note that in open clothes you will not be allowed into the palace, so think about your outfit in advance. In extreme cases, you will be able to rent long trousers or a sarong (something like a skirt) at the entrance, leaving as a deposit about 200 baht, which will be returned to you at the exit.
Temple of the Reclining Buddha (Wat Pho)
2 Sanamchai Road, Grand Palace Subdistrict, Pranakorn District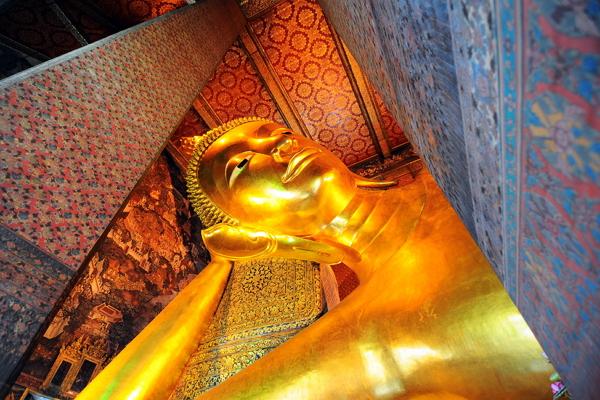 If it seems to you that the Buddha statues no longer surprise you, then you are mistaken. Entering the temple of Wat Pho, you will see a figure of a deity covered with gold leaf with the height of a five-story building. The Buddha is depicted in a supine position at the time of waiting for nirvana - in this position he is depicted quite rarely. When you go around the statue (its length is 46 m), pay attention to the feet, which are decorated with mother-of-pearl drawings that describe the nature of the Buddha. Also on the territory of the temple there is a library with a collection of ancient manuscripts, 4 meeting rooms, 95 stupas (Buddhist structures of a hemispherical shape) and several Chinese statues of bearded creatures acting as guardians of the temple.
Lumpini Park
Rama 4 Road, Wangmai, Pathumwan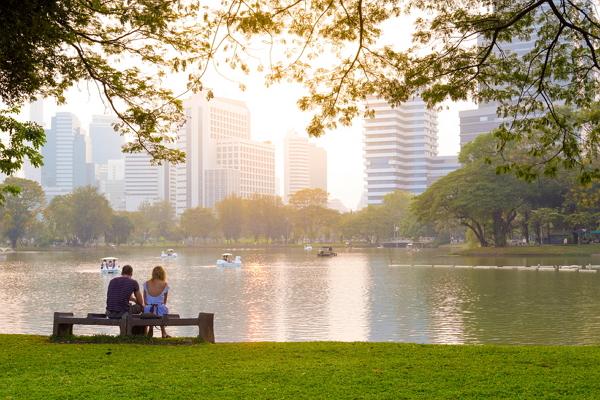 We advise you to hide from the noise and annoying street vendors in Lumpini Park, where you can feed fish in a pond, ride a catamaran and watch the lizards who freely move around the territory and are not at all afraid of people. The park is equipped with bike paths, tennis courts and fitness areas. From February to March, musical evenings with the participation of a symphony orchestra are held here. The park is very large, so at any time you can find a cozy place somewhere under a palm tree, take the pose of a reclining Buddha and meditate. If you want to have a picnic in the park, it is better to bring food with you, because apart from drinks and chips they sell nothing here.
Jim Thompson House Museum
6 Soi Kasemsan 2, Rama 1 Road, Bangkok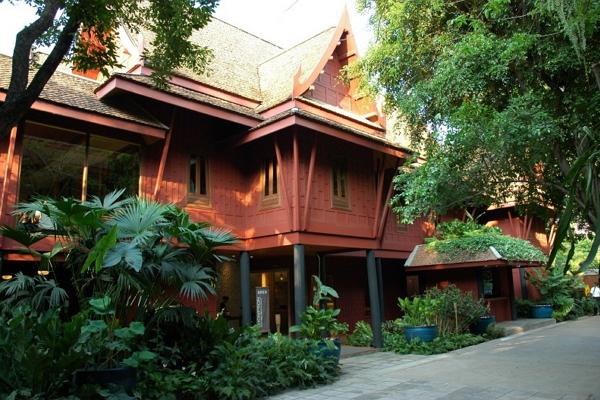 Jim Thompson is one of the first white people to settle in Bangkok. He was born in America and studied architecture at the University of Pennsylvania. In 1946, Thompson came to Bangkok to work, where he was engaged in the production of Thai silk, which at that time was in disrepair. Thompson created his own brand Jim Thompson, known not only in Asia, but throughout the world. His house-museum has a large collection of unique things related to the history of the Thai silk industry. You will be able to see live how silk is made and purchase something from the items of the popular Thompson brand. Near the house there is a small garden and cafe serving traditional Thai dishes.
Chatuchak Sunday Market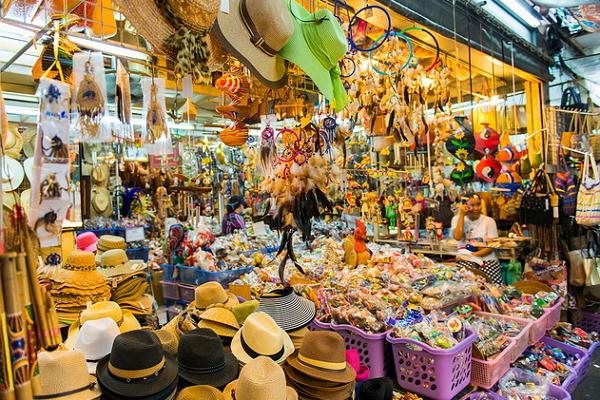 The main flea market of the city is located next to Chatuchak Park and occupies a vast territory with more than 15 thousand shops. Walking through the labyrinths of the market, you will find many unusual things with history and you certainly will not leave empty-handed: you can safely bargain with local traders, usually they are not very harmful and make concessions to tourists. Be careful with buying antiques, foreigners are often trying to slip a fake here. We advise you to take a card at the entrance, so as not to get lost among the narrow streets of the market.
Near Bangkok: Best Car Routes
Muang Boran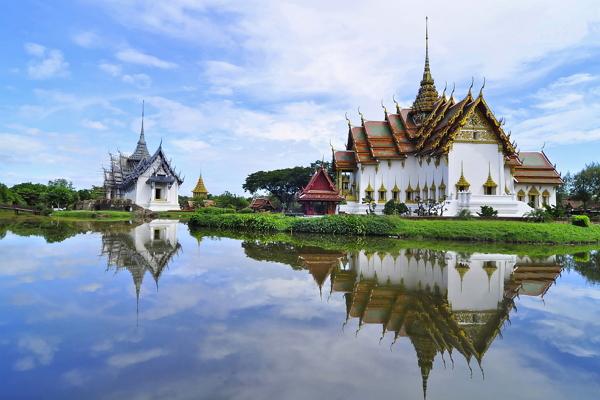 You can see Thailand in miniature at Muang Boran Theme Park. Copies of the country's main attractions are built on its territory, there are even life-size buildings. The park is very picturesque, some pagodas stand on the river and are literally buried in flowers. The price of the ticket includes a bicycle rental, which is very useful here: the territory of the park is huge and completely getting around on foot is quite tiresome. We advise you to come here in a rented car for the whole day to rush to enjoy the gorgeous views of Muang Boran.
Crocodile Farm in Samutprakarn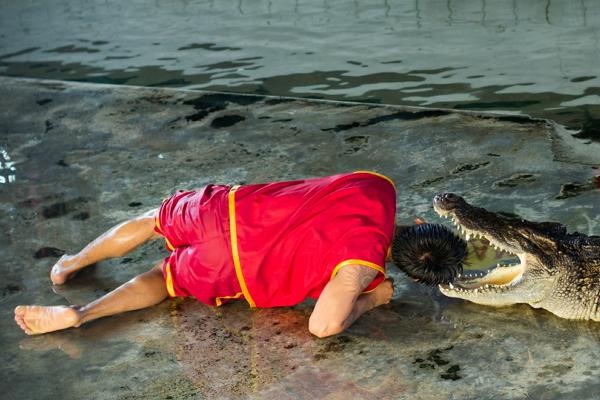 The largest crocodile farm in the world, containing about 30,000 crocodiles of various types and sizes. You will be able to feed the crocodile with a fishing rod, attend a show of trainers and try crocodile meat in a local restaurant. Those whose reptiles do not cause much tenderness can feed adorable tiger cubs from a bottle or pet a little elephant who still does not know how to control his trunk and clumsily waves it in different directions.
Ayutthaya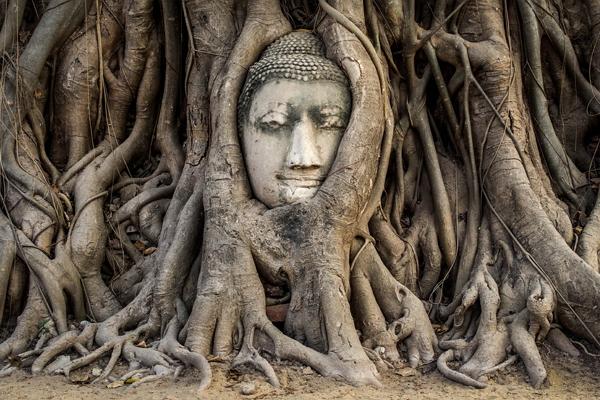 The historical capital of Thailand, the city that until 1767 was the largest on Earth. Portuguese and British merchants came here for spices and left, shocked by the power and wealth of local rulers. After the invasion of the Burmese army, the city turned into ruins, local residents were killed or enslaved, and the golden statues of Buddha were molten. Today, the ruins of Ayutthaya preserve the memory of past greatness and attract the attention of tourists who come here to see the ruins of the most powerful city in the past in the East. We recommend that you take a walk to the center of Ayutthaya and walk to Lake Phra Ram, where you will find an amazing place called Wat Maha That - the head of the Buddha, rooted in the roots of trees.
Damnoen Saduak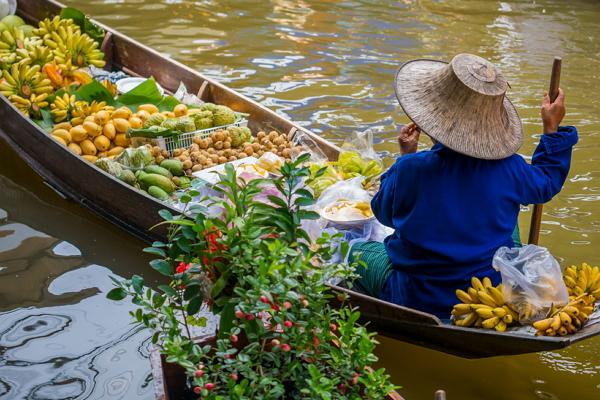 Having rented a car, go to the famous floating market Damnoen-Saduak, where life seems to have not changed from past centuries. At the pier you can rent a rowing or motor boat and sail along the canal to the malls. It is best to come here before 9 in the morning, when the market is local-oriented. Be sure to try something from the food that is cooked right in the boat. By the way, it was here that some episodes of the James Bond movie "The Man with the Golden Gun" were filmed.
Kanchanaburi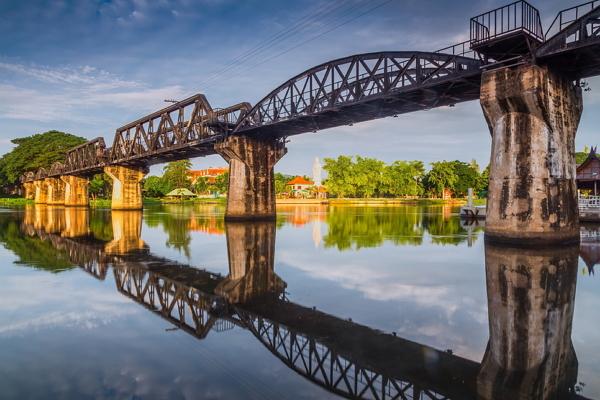 Kanchanaburi Province is known for its bridge over the Kwai River - it was built by prisoners of war during the Second World War. During the construction, more than 100 thousand people died, most of them are Thai workers. The bridge was part of the jungle railway, which was called the Death Road, as it sent goods for the Japanese occupation forces in Burma. Nearby is the Military Museum and the Art Gallery, where parts of the original bridge are preserved (it was blown up in 1944 and later rebuilt), and tourist trains go along the bridge itself. If you are interested in the history of this place, then we advise you to watch the David Lean film "Bridge over the River Kwai", thanks to which the bridge got its name.
Food: atmospheric restaurants, cafes and bars
Nahm
27 South Sathorn Road Tungmahamek Sathorn www.comohotels.com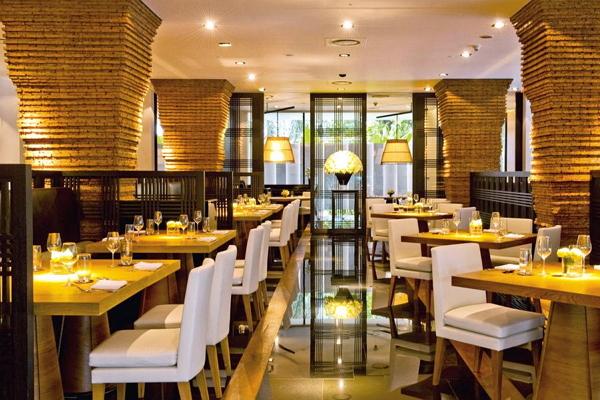 For classic Thai cuisine, we recommend going to Nahm, one of the best restaurants in Asia. The restaurant's interior is simple and decorated in golden brown tones, subdued light and pleasant music in the background add romance to this place. Hahm serves traditional and often forgotten Thai dishes, such as mother-of-pearl perch or curry made from smoked fish and chicken liver. The waiters speak good English and will help you not to get lost in the extensive menu, telling not only about the ingredients of the dish you are interested in, but also about the history of the recipe. Keep in mind that all dishes are very spicy, so be prepared for the most spicy lunch or dinner in your life.
Issaya siamese club
4 Soi Sri Aksorn, Chua Ploeng Road www.issaya.com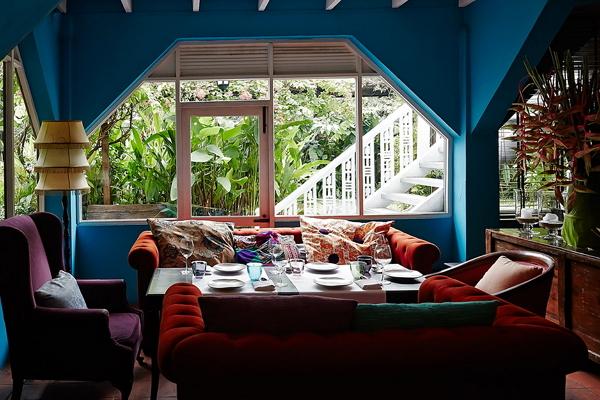 Dinner at an old villa in a tropical garden - be sure to include this item in your plans for Bangkok and execute it in the Issaya Siamese Club restaurant. The menu here is answered by the most famous chef Than Jan Kittichay, who, incidentally, starred in the Thai version of the Iron Chef show. The restaurant's interior resembles a cozy country house with all its attributes: a worn wooden floor, a variety of furniture, painted carpets, bright pillows and potted flowers. The windows overlook a dense garden where you can find soft bean bags and have a sweet nap in them after a delicious dinner. Try a salad of banana flowers and coconut core, and for dessert, order flavored jasmine ice cream.
The long table
48 Column Tower, Sukhumvit Soi 16 www.longtablebangkok.com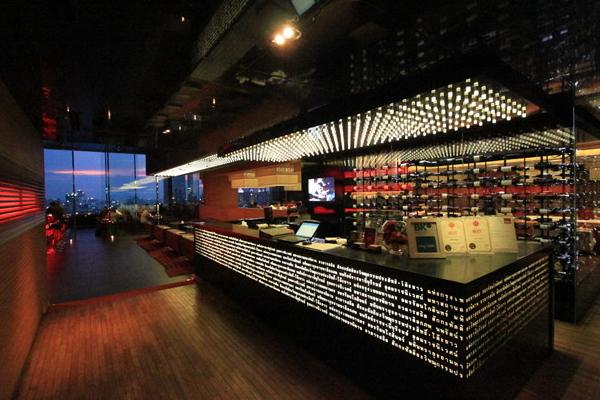 The Long Table feature in its 25-meter table that crosses the restaurant space horizontally. The institution is located on the 25th floor of a skyscraper, so if you want to see Bangkok from above, then you know where to go. Thai cuisine is on the menu, especially desserts are good here (be sure to order a dessert of mango, kiwi and rice - it is delicious). We advise you to come here in the evening, order some cocktail and take a table on the veranda - it offers a fantastic view. The dress code is strict here, so for one evening you will have to forget about sneakers and shorts.
Or Tor Kor Market
Thanon kampangphet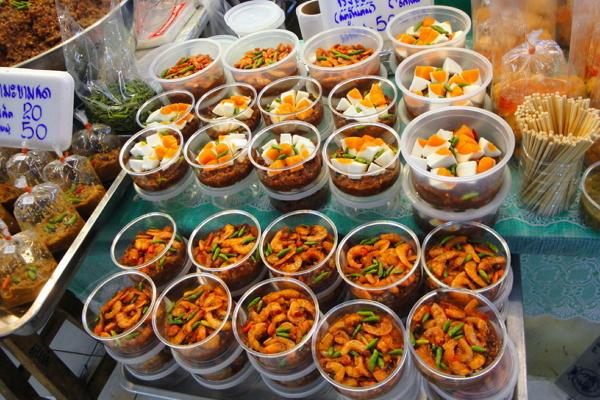 Seeing the shippers on the street of Bangkok - mobile food stalls - you will certainly feel squeamishness, because Asian street food looks quite specific. But believe me, having once tasted Thai street food, you can no longer stop. You don't have to worry about cleanliness: in terms of food, Thais are very scrupulous and always use only fresh ingredients. The best products in Bangkok are sold on the Or Tor Kor market, the prices here are slightly higher than in other markets, but this is justified. Try canned pork sausages and sugarcane juice. In general, try everything you like, and enjoy the taste palette of Thai cuisine.
Sensi
1040 Narathiwat Soi 17 Yak 5, Sathorn www.sensibangkok.com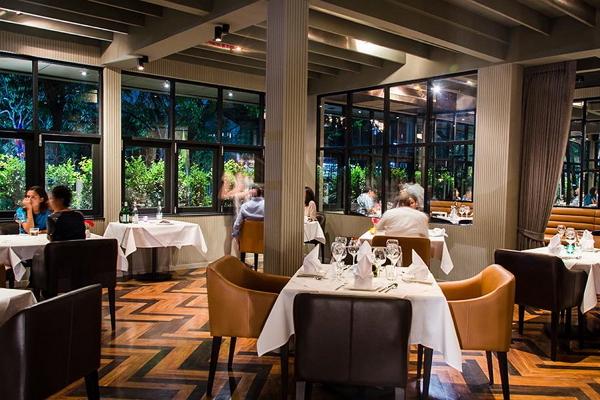 If you do not make friends with Thai cuisine and want something more European, then head to Sensi Restaurant, where they successfully experiment with Italian cuisine. Minimalist design and calm, relaxed atmosphere - it is after the riot of colors and noise of the streets of Bangkok. The restaurant chef loves to periodically go out into the hall, communicate with visitors and tell them about their dishes. We recommend that you try the tasting menu, which consists of several Sensi specialties. There is convenient parking near the restaurant, so you can easily come here in your rented car.
Where to live: comfortable hotels in Bangkok
Hansar bangkok
3/250 Soi Mahadlekluang 2 Rajdamri Road
+ 66 22 091 234 http://www.hansarbangkok.com double room - from € 160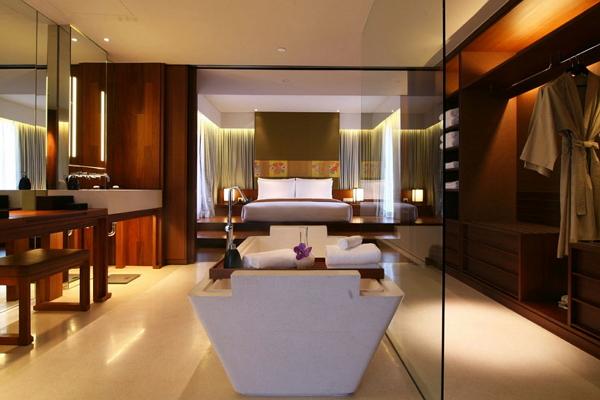 A stylish hotel with a superb design that will delight even the most demanding guests. The price includes a minibar, which is replenished every day with free drinks and snacks. The spacious bathrooms have a rain shower and bathtub, so you can arrange your own spa session. The hotel has a fitness center - a spa, and for those who do not forget about work even on vacation, a special room is open where you can sit in silence with your laptop.
Anantara Bangkok Riverside Resort & Spa
257 / 1-3 Charoennakorn Road
+66 32 520 250 www.bangkok-riverside.anantara.com.ru double room - from € 114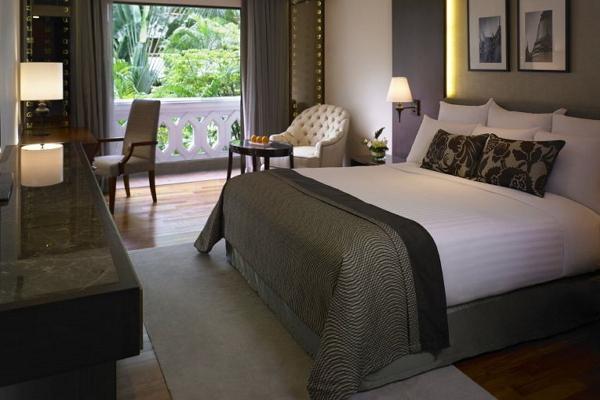 Luxury spa hotel overlooking the Chao Phraya River. On the territory there is a large outdoor pool with hydromassage, palm trees and flowers everywhere, there is also a beautiful promenade with a restaurant where you can try seafood barbecue. The interiors of the rooms are made in warm brown-beige tones, on the floor - dark wood, and on the walls - paintings in oriental style. We advise you to pamper yourself and go for a few relaxing massage sessions, which can be booked at the local spa. If you are traveling in a rented car, you can leave it in the free parking lot at the hotel.
Oriental residence bangkok
110 Wireless Road
+66 21 259 000 www.oriental-residence.com double room - from € 100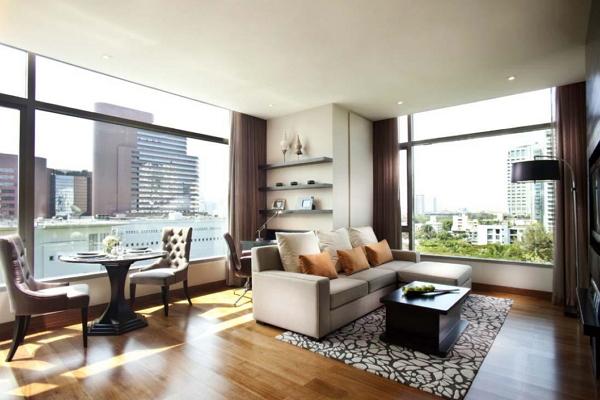 Located in central Bangkok, the hotel is within walking distance of Lumpini Park. The spacious and bright rooms are equipped with a kitchen, so if you suddenly want to cook an omelet according to a recipe known only to you in the morning, you won't have to go far. The main charm of the rooms is the huge windows that start almost from the floor. The hotel has a cozy lounge area with a large pool, a bar and soft beds under awnings.
Inn A Day Hotel
57-61 Maharat Road
+66 22 210 577 www.innaday.com double room - from € 79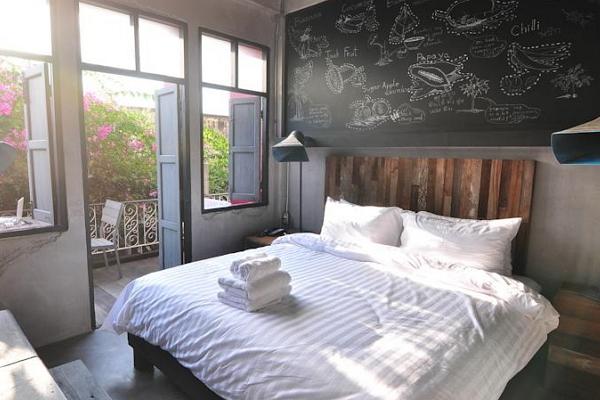 Getting into the room of Inn A Day Hotel, it seems like he was in the building of a former factory or in an abandoned warehouse, which they decided to remake as a hotel. Gray-blue shades in the interior, bare concrete walls, frayed wooden doors and female mannequins with lamps instead of the head, which are used here as lamps, are a little crazy, but very stylish and atmospheric design of the hotel. There are rooms with a balcony and wonderful views of the Temple of Dawn (Wat Arun). The hotel also offers bike hire.
Beverly 33 by Aspira
11/1 Sukhumvit Soi 33
+66 22 608 603 www.beverly33.com double room - from € 39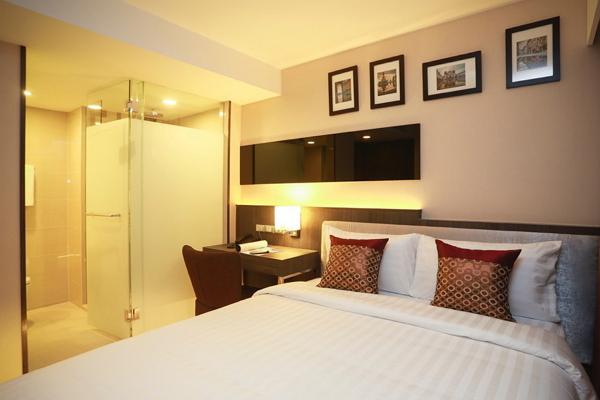 Pleasant modern apartments, where there is everything in order to feel at home. Each apartment has a small balcony overlooking the courtyard. On the roof of the hotel you will find a pool - be sure to swim in it at sunset. Beverly 33 by Aspira provides free parking, which is very handy here in Bangkok, since parking in the city is stressful.
Where to park a rented car in Bangkok
Renting a car in Bangkok with BookingCar - profitable, convenient, simple!
In case of any problems associated with car rental in Bangkok, BookingCar will solve them as quickly as possible.
We will be with you 24 hours a day.
All you need is to contact us.
© Ellina Rudenko, 2015
Like this? Share in social networks: