Bookingcar offers a wide range of car rental options in Bali
Here you can find a car of any class that best suits your needs.
Our prices are one of the best prices on the market.
See for yourself!
Professional support
Our professional call center will help you understand all the intricacies of car rental. We guarantee full support throughout the rental period.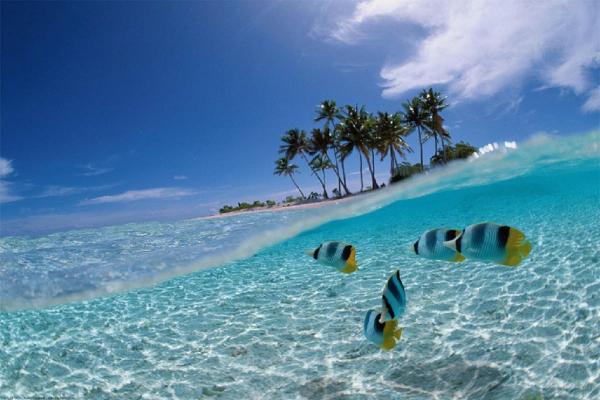 Bali Island is a truly paradise place where tourists invariably love to come in search of an unforgettable beach holiday and vivid impressions. The special atmosphere, the color of the surroundings, completely original architecture literally attracts guests from all over the world. Someone here finds the best beaches for surfing, someone - excellent villas for privacy, and someone comes for a tasting of local cuisine and long walks in the sights. It is worth preparing for complete exoticism and surprise. To feel comfortable traveling around the island in search of unique places, it is worth taking a car rental. Lovers of active leisure will enjoy trekking, diving, surfing. Fans of a rich excursion program will be delighted with the abundance of ancient attractions on the island.
Bookingcar recommends:
Car Hire at Bali Airport
Bali Ngurah Rai Airport ( the Ngurah Rai ) - download the general scheme and the scheme of the arrivals area
IATA code: DPS
Location: 13 km from Denpasar
Official website: bali-airport.com
Information: +62 361 9351011
The following car rental companies operate at Ngurah Rai Airport: Thrifty, Toyota, Hertz. Local rental companies are also represented. Rental car rental desks are located in the domestic and international terminal. Near the airport there is a parking lot with a capacity of up to 2000 cars.
What to see in Bali: interesting sights of the city
Besakikh Temple
Desa Besakih, Rendang, Besakih, Rendang, Kabupaten Karangasem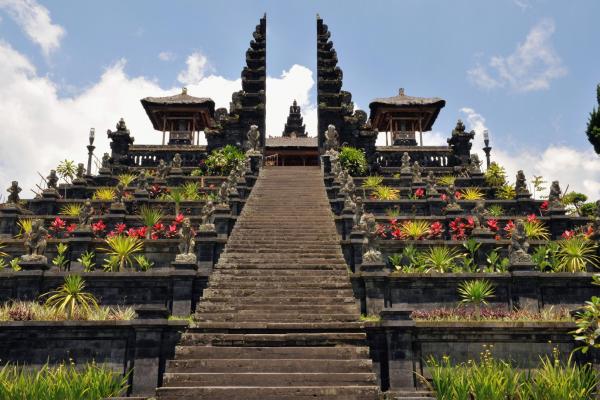 Having rented a car, go on an excursion to one of the most popular places on the island - Besakikh Temple. On the slope of Mount Agung is a unique complex consisting of more than 80 religious buildings. The place is considered the best for pilgrimage. For exploring the Balinese religion, some legends, interesting facts - this is the best attraction. Particular attention is drawn to the Besakikh temple. A lot of stairs leading to the sky itself, a breathtaking landscape with rice fields, rivers and mountains - all this undoubtedly impresses. Here, ceremonies are often held during religious holidays, having learned in advance the schedule, you can personally see unforgettable events.
Monkey forest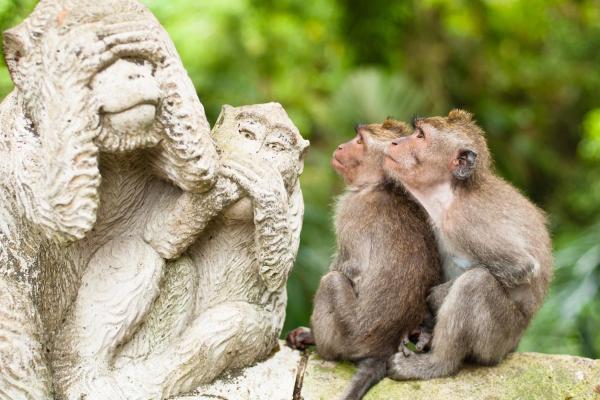 Monkey Forest is one of the spectacular sights where it will be interesting to go to any company, including with children. The road lies through green spaces and labyrinths, and peculiar temples encountered on the way add some mysticism. But you should not be afraid. The purpose of the trip is to see the nimble monkeys, which every now and then amuse tourists. On the way there will be unique local plants that will make no less impression. Going into the forest of monkeys, put on comfortable clothes to explore the surroundings without unnecessary inconvenience.
Art market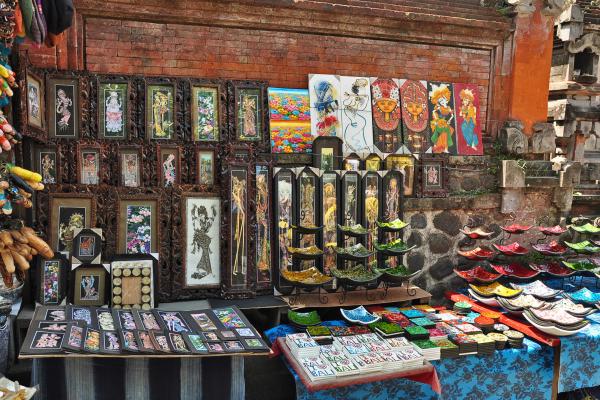 Inveterate collectors and lovers of the beautiful should visit the art market in Ubud. Here you will be able to purchase completely unique and high-quality items, whether it be shawls, wicker baskets, shirts, copper Buddha figurines or original souvenirs. It is interesting that between the shops there are art galleries, visiting which is no less exciting than buying Balinese original gizmos. The main feature of the market is the excellent quality of everything that they decide to purchase.
Rice terraces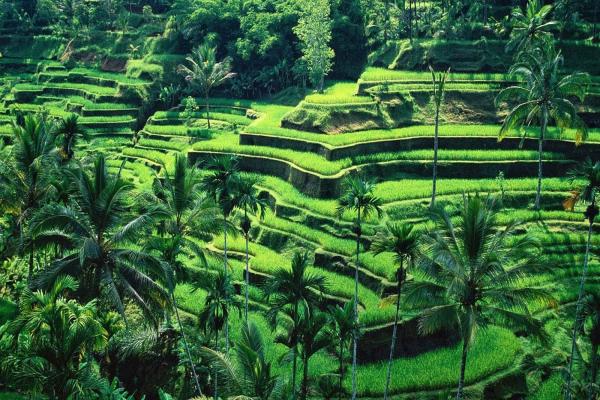 To fly to Bali and not to see the rice terraces is a real crime! Having rented a car, go to Tegallalang for an excursion in search of amazing terraced landscapes. Interestingly, the rice growing cycle in Bali is very short by agricultural standards, so the species change very quickly. Fans of bright sights can be lucky to see wavy terraces filled with water or a real composition of young rice shoots, or a view of the golden terraces from which they are about to harvest.
Bali Safari Park and Marine Park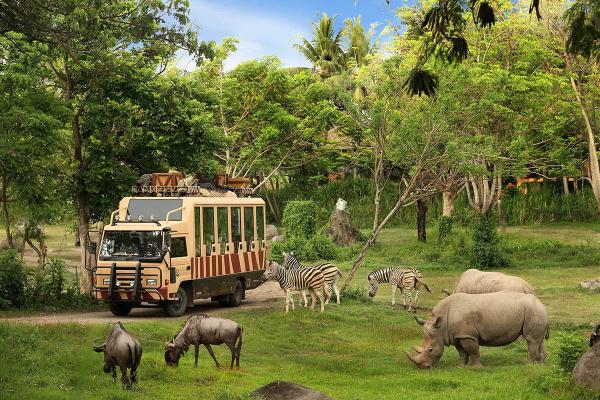 Fans of active leisure should visit the Safari Park and the Marine Park. Whatever one can meet here: the white Indian tiger, ostriches, lions, Himalayan bears, baboons and other unique representatives of the fauna. The complex also has exhibitions: Lake Manyara with hippos, an exposition with dragons of Komodo Island, Rantambor. Once in the "Elephant Village", you can ride on elephants and make a series of memorable pictures.
Near Bali: best car routes
Rincha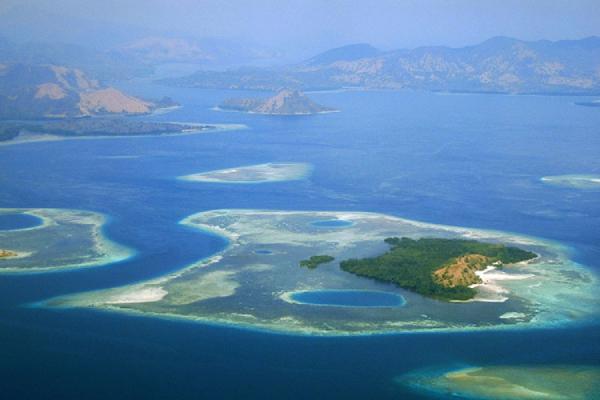 Having traveled all the main attractions of Bali and imbued with the atmosphere of the island, head for the island of Rincha. Getting to your destination is not difficult - small boats run regularly, delivering tourists. The island is small, but there is more than enough color here. What are the little villages where people earn their living by collecting shellfish, algae and fishing. By the way, about 2400 dragons live on the island, which is a pleasure to watch. Do not forget to grab a pipe and a mask in order to have time to explore the underwater world near the island: which unique individuals you will not have to meet.
Lombok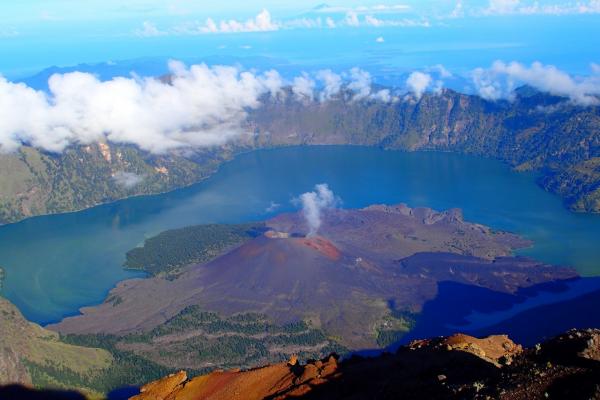 One of the islands where you can spend a rich time exploring historical and natural sights is Lombok. The best way to travel, unlike other islands, is to rent a car. There are many travel agencies offering to visit the most spectacular and the most remote places that make a lasting impression. One of the most popular attractions is Mount Rinjani. There is also a volcano and a volcanic lake. You can view it from afar, but you can get a special pleasure when you go on a hike for two or three days and see incredible landscapes nearby. An excellent pastime option is to visit the Narmada Water Park, which was used by the royal family in the past. On its territory there are lakes and springs, a Hindu temple, the "fountain of youth", a swimming pool, the king's old rest house.
Komodo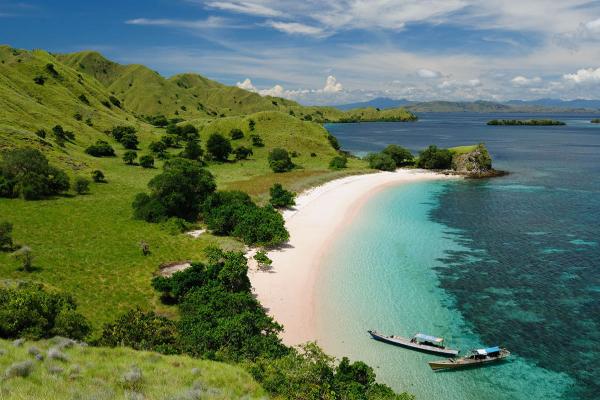 No less colorful is Komodo Island. Attention deserves a national park, included in the list of 7 new wonders of the world. The island is also unique in that it has a pink sand beach, of which there are only seven on our planet. Spending leisure time in such a place is a pleasure. The island is by no means deserted: in addition to tourists, about 2,000 permanent residents live here. Among the main attractions on the island are watching lizards and scuba diving.
Sumbawa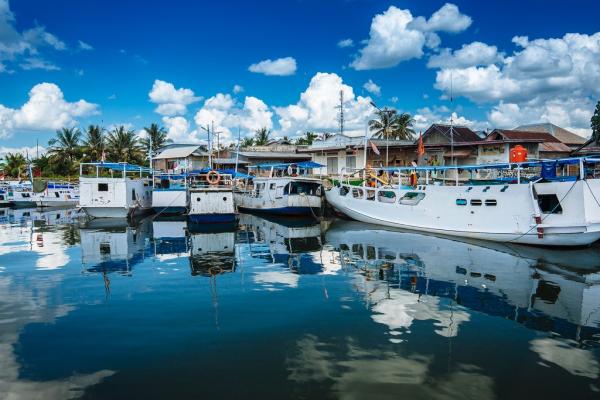 No less picturesque place - the island of Sumbawa, which mainly attracts avid surfers. The first thing that catches your eye is the landscape, not like the traditional Indonesian. Here, the tropical jungle gives way to views of hills and forests. The highlight of the island is the coastline, indented by bays and kilometers of deserted beaches. It should be borne in mind that the infrastructure in Sumbawa is poorly developed, therefore, neither parks nor restaurants can be found here. The flow of tourists from this is rather weak, but if your goal is privacy and surfing, there is no better place. By the way, you need to take all the necessary equipment with you; rental services are not provided on the island.
Gili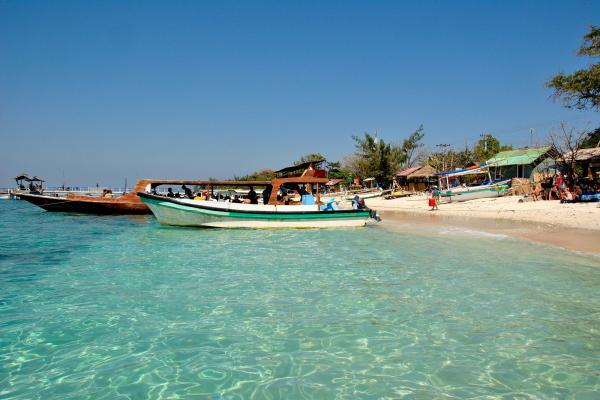 If you want to change the situation for 3-4 days, the Gili Islands are perfect. This is a real paradise where you can have a romantic time with your soulmate, enjoying the unique scenery, diving or diving with a mask. You can stay in one of the bungalows right on the coast. The daily routine here is extremely relaxed, be prepared to spend time leisurely, eating omelettes, fresh fruits, watching the neighborhood from a cafe, and then watch the colorful inhabitants of the underwater world. Newlyweds especially like to be here: they come for solitude, relaxation and complete "doing nothing".
Food: atmospheric restaurants, cafes and bars
Grain
Jl. Raya Seminyak No.16 AB, Seminyak, Kuta, Kabupaten Badung www.grainbali.com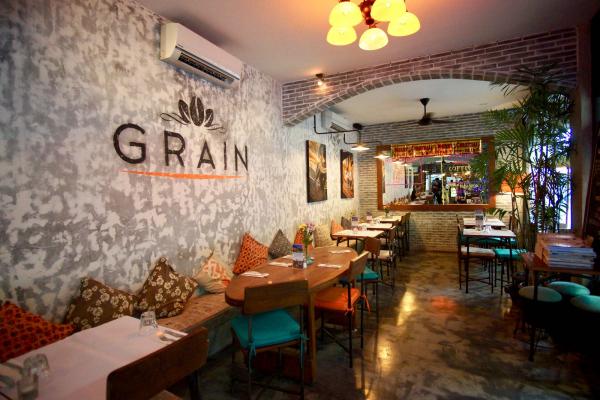 For breakfast on the island, the Grain restaurant is perfect. From 7:30 in the morning, the institution opens its doors to visitors, delights with delicious dishes and original drinks. The interior of the establishment is cozy and bright, to match the best Indonesian traditions. The menu pays special attention to healthy dishes, so if you eat the right food, the Grain Restaurant will definitely delight you. It will turn out to comfortably accommodate a large company or a quick bite to eat alone. It's more convenient to get to the place by renting a car.
Fatboy's The Burger Bar Bali
Jalan Batu Belig No.80, Kerobokan Kelod, Kuta Utara, Kabupaten Badung www.facebook.com/fatboysbali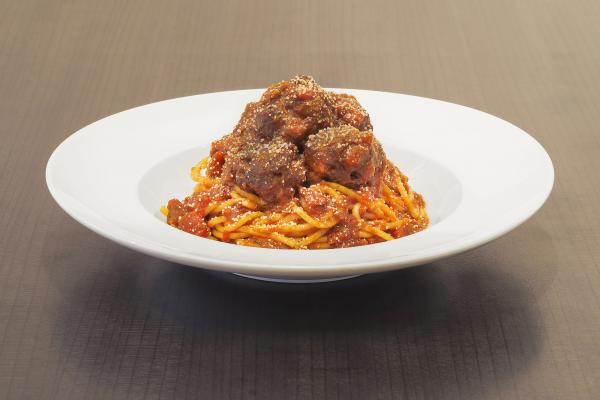 If you can't imagine your vacation without a juicy burger, head to Fatboy's The Burger Bar Bali. A large assortment will surprise even the most avid lover of American and Australian cuisine. Vegetarian dishes are also on the menu, so no one will leave hungry from here. Fatboy's The Burger Bar Bali can be visited on the way to the sights to have a quick bite to eat or go out for dinner with friends and enjoy the cozy atmosphere of a Balinese restaurant.
Warong legong
Jalan Professor Doktor Ida Bagus Mantra No. 300A, Keramas, Blahbatuh, Medahan, Blahbatuh, Kabupaten Gianyar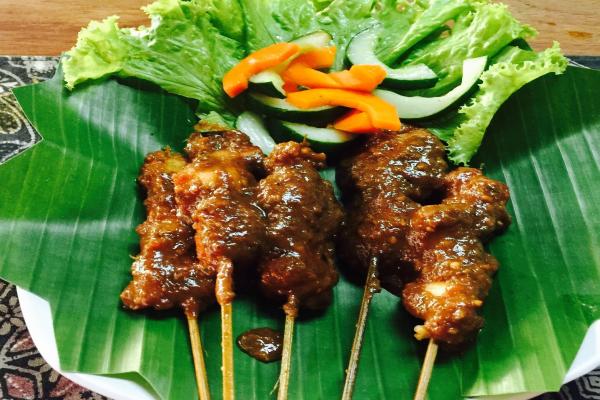 Those wishing to try Indonesian cuisine should check out Warong Legong for lunch. Everything that you order will be invariably delicious, and before the meal and after they will serve original snacks as a bonus. Do not rush to quickly get enough of the main dishes, leave a place for desserts, which the cook prepares according to the signature recipe. It is worth trying lamb with rice, burgers, juices. The staff is very attentive to each guest, so if you need advice in choosing dishes, you can safely seek help.
Secret garden restaurant
Jl. Pura Dalem, Lovina, Singaraja, Anturan, Desa Anturan - Singaraja - Lovina, Kabupaten Buleleng www.secret-garden-restaurant.biz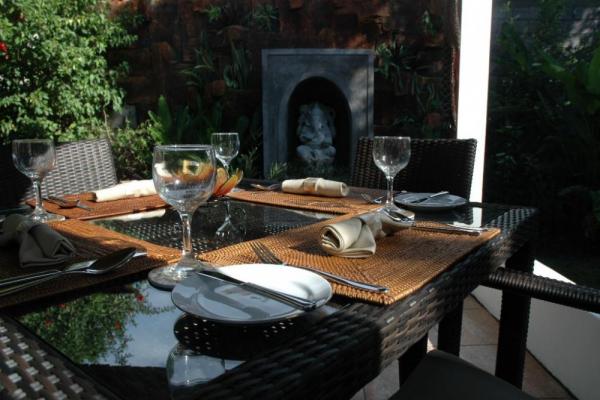 If you want something more traditional for dinner, check out Secret Garden Restaurant. The menu offers Italian dishes, and the main highlight is excellently prepared seafood. The original interior, pleasant music and absolutely delicious dishes will not leave anyone indifferent. If necessary, you can arrange a transfer to the hotel. For tourists on rental cars to get to the restaurant is not difficult.
Sangsaka restaurant
Jl. Pangkung Sari No.100, Kerobokan, Kuta Utara, Kabupaten Badung sangsakabali.com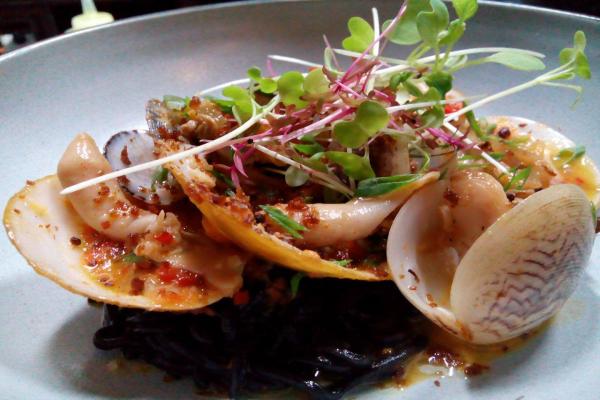 If you prefer gourmet establishments, head out to sample local specialties at Sangsaka Restaurant. The first thing that will impress is the stylish interior and the attentive attitude of the staff to each visitor. If you want to try several different dishes, choose from the menu with small portions, and if you purposefully come, say, for fish, immediately open the menu with large portions. And by all means try the wine on the advice of the waiter. Whatever you order will be perfectly prepared and elegantly served.
Where to live: comfortable hotels in Toulouse
Villa saraswati
Jl. Rsi Markandya, JL. Mpu Beradah, Banjar Payogan, Kedewatan, Ubud, Kabupaten Gianyar
+62 821-4785-0410 villasaraswati.com double room - from € 125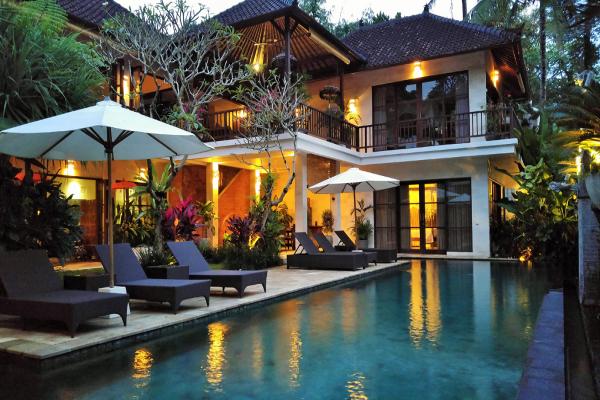 Looking for a villa for a romantic pastime in the French style? Villa Saraswati is perfect. It offers spacious apartments with stunning views. In the mornings, delicious breakfasts are offered; for the leisurely leisure, guests are equipped with a pool and a beautiful garden. If you travel without a car, you can use the shuttle service to the center of Ubud. With any request or question, you can safely contact the hotel staff.
Alam KulKul Boutique Resort
Jalan Pantai Kuta, Legian, Kuta, Legian, Badung, Kabupaten Badung
+62 361 752520 alamkulkul.com double room - from € 74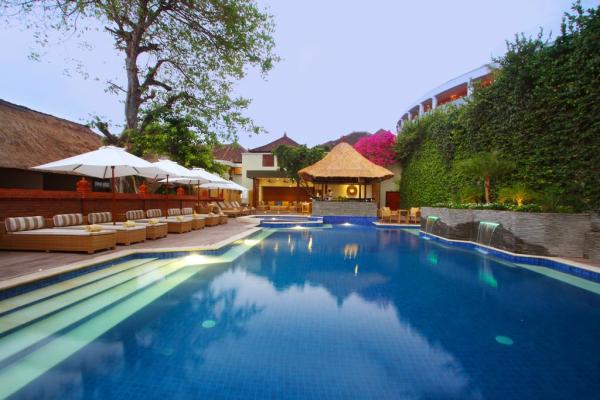 If you are looking for a budget option and plan to travel with a rented car, opt for the Alam KulKul Boutique Resort. The first thing that catches your eye is a very beautiful area of ​​the hotel with a well-kept garden and a pond, which is especially pleasant to walk at dawn. The spacious apartments overlook the beach. The ocean can be reached in a few minutes, and if the weather is not very favorable, you can spend time by the pool. It offers free parking, a restaurant, a spa.
Cicada luxury townhouses
Jl. Pura Telaga Waja, Petitenget, Seminyak, Kuta Utara, Kerobokan Kelod, Kuta Utara, Kabupaten Badung
+62 361 8476649 http://www.cicada-seminyak.com/ double room - from € 129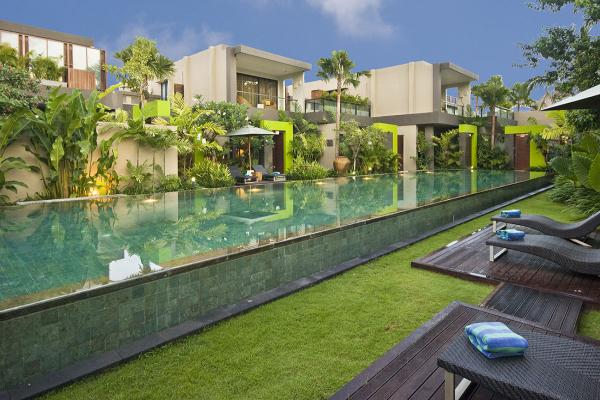 For a vacation with the whole family, Cicada Luxury Townhouses are perfect. The guests are welcomed by hospitable staff and helps to settle comfortably. It offers guests spacious apartments with a cozy interior and some bonuses. For example, in a studio room you will enjoy a private pool. A varied breakfast is served in the morning. At the hotel, everything is organized in such a way that you feel comfortable with both the baby and the older child.
The samara
Jl. Kajeng, Ubud, Kabupaten Gianyar
+62 361 8493591 www.thesamara.com double room - from € 83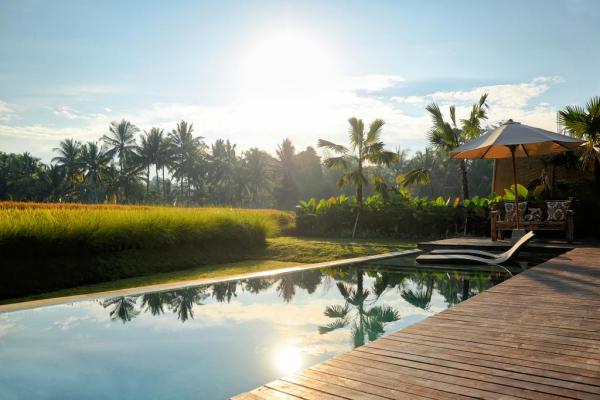 Appreciate value for money? The Samara will definitely appeal to you. It is located in a picturesque place right in the middle of rice fields. Waking up in the morning and seeing such a landscape is a pleasure. Polite staff will do everything possible to make you feel comfortable, in addition, will be able to tell a lot of interesting veils about the area and about the island as a whole. Delicious breakfasts are offered in the mornings, in the evening you can pass the time in the restaurant or in the hotel bar.
Komaneka at Rasa Sayang
Jl. Monkey Forest, Ubud, Kabupaten Gianyar
+62 361 975491 rasasayang.komaneka.com double room - from € 196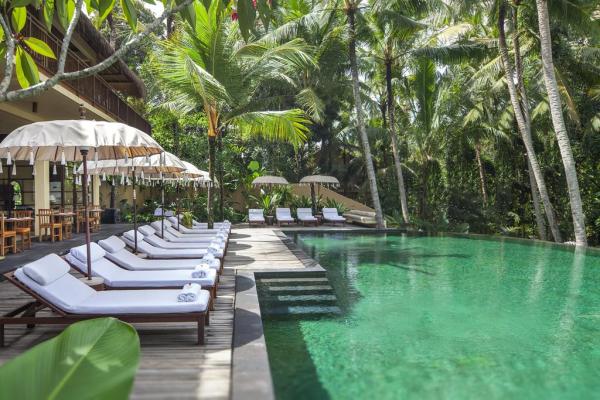 Prefer to stay in trendy places? Going to Bali, feel free to book your apartment in Komaneka at Rasa Sayang. It is located in the center of Ubud, which means there will definitely not be doubts about how to spend the evening leisure. Nearby are many beautiful places that are worth visiting for every tourist. The interior of the hotel is simple, but very cozy and bright. The hotel staff deserves special praise, which seeks to make each tourist's vacation as enjoyable as possible. Free parking is provided for tourists on rental cars, for lovers of complete relaxation - a spa area.
Where to park a rented car in Bali
Car rental in Faro with BookingCar - profitable, convenient, easy!
In case of any problems associated with car rental in Bali, BookingCar will solve them as quickly as possible.
We will be with you 24 hours a day.
All you need is to contact us.
Like this? Share in social networks: