Bookingcar offers a wide range of car rental options in Abu Dhabi
Here you can find a car of any class that best suits your needs.
Our prices are one of the best prices on the market.
See for yourself!
Professional support
Our professional call center will help you understand all the intricacies of car rental. We guarantee full support throughout the rental period.
Abu Dhabi is the richest emirate among the United Arab Emirates. Life here is measured, without unnecessary fuss and worries. Locals care little about tomorrow's problems. Even if oil reserves run out once there will be enough dividends for several generations. Holidays in Abu Dhabi is considered prestigious and expensive. Here are your rules and your entertainment. All the main attractions are collected on the island of Yas, which is very convenient for tourists. After exploring historic sites, cathedrals and cultural sites, head to Ferrari Amusement Park. Fans of spectacles and speed will be interested in visiting the Formula 1 track and amateur circuit. In order to comfortably move around the city, and at the same time feel the charm of local roads, rent a car.
Bookingcar recommends:
Car Hire at Abu Dhabi Airport
Abu Dhabi International Airport ( Abu Dhabi International, Airport then ):
Download the scheme of Terminal 1
download scheme Terminal 1
download scheme of Terminal 1
IATA code: AUH
Location: 30 km from Abu Dhabi
Official website: http://www.abudhabiairport.ae/english/
Inquiry: +971 (2) 505 5555
The following companies provide car rental services at Abu Dhabi Airport: Hertz, Thrifty, Budget, Sixt, Avis, Europcar. Racks for issuing rental cars are located opposite the information board. Outdoor parking is also available near the airport. For parking up to 30 minutes you will pay $ 1-3, per day - $ 30-65.
What to see in Abu Dhabi: interesting sights of the city
Sheikh Zayed Mosque
Sheikh Zayed Grand Mosque Center http://www.szgmc.ae/en/#_=_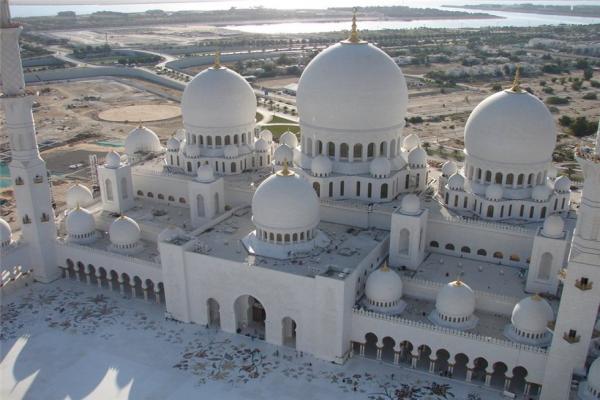 Truly magnificent and magnificent structure - Sheikh Zayed Mosque. Even if you find yourself passing through to Abu Dhabi - this is the first place worth visiting. The mosque is more considered a cultural attraction than a religious object. Moreover, if you want to examine it from the inside, you will have to follow some Muslim rules. At the entrance, men need to take off their shoes, women - to change into a burqa, which is issued for free. The first thing that catches your eye is a huge carpet weighing 5 tons, located around the perimeter of the mosque. Marble floors and huge chandeliers catch the eye. In this place you feel close to the Almighty. Here, the soul is purified and rests.
Observation deck Observation Deck at 300
Jumeirah At Etihad Towers Corniche Rd | Al Ras Alakhdar
+971 2 811 5666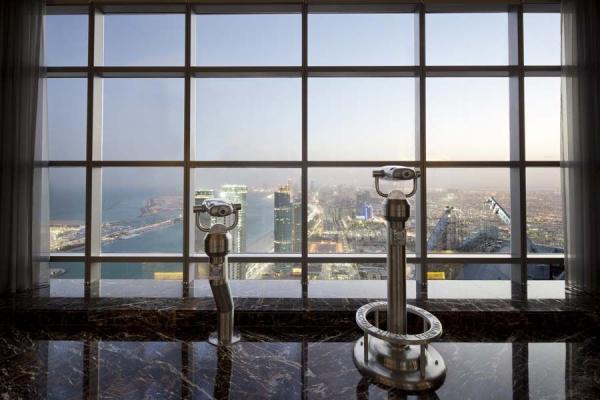 To fully enjoy the views of the city, you should definitely visit the observation deck. Leave the rental car at the building and rise to a height of 300 meters (74th floor). An unforgettable landscape will open before you. It is especially romantic to visit the observation deck at sunset, when the city begins to play with new colors. There is also a cafe where you can have coffee and a snack. A visit to the institution is included in the ticket price.
Ferrari World
Yas Island https://ferrariworldabudhabi.com/#_=_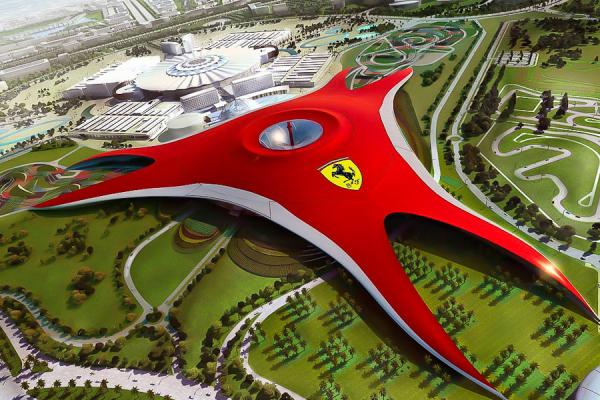 You can plunge into the world of cars and speed, once in the Ferrari Park. The magnitude of this place is amazing. The visitors are presented with luxurious buildings of streamlined forms, 3D entertainment, attractions, go-karts. Car lovers will be interested in visiting the Ferrari Museum, which traces the history of the brand. This is a universal place where it will be interesting to spend time not only for the male part of the population, but also for girls and children. To tourists: Ferrari World will not let you in if you are wearing shorts.
Aldar hq
Al Raha Beach http://www.aldar.com/en/Pages/default.aspx#_=_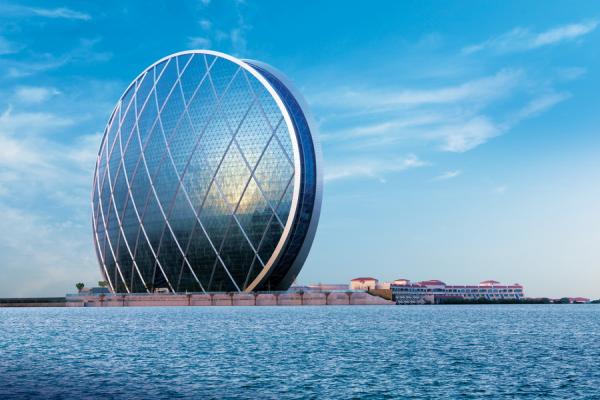 Driving around the city in a rented car, be sure to stop near the Aldar HQ building. You will see it from afar and you can definitely not confuse it with any other. The construction is made of metal and glass in the shape of a circle. Often it is called a miracle of architecture. After the construction project was implemented, the building was immediately entered into the Guinness Book of Records. Tourists can view it exclusively from the outside. Offices are located inside.
Cornish Embankment
After a busy day, you can head to the evening promenade along the Corniche promenade. If you are lucky, then you will be taken to The Mother of the Nation Festival, which is held for children, but adults will be interested in it. A lot of attractions, events will make your evening fun and exciting. In addition, on the promenade you can ride a Ferris wheel, see the city from the observation deck, visit the Emirates Palace Hotel.
In the vicinity of Abu Dhabi: the best car routes
Masdar city
7 street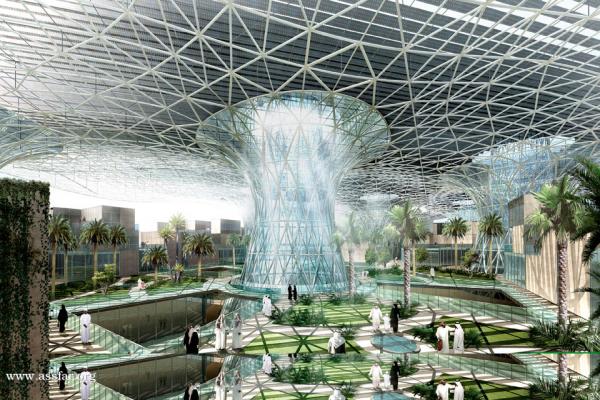 After renting a car, head to Masdar City. This is the part of the city where the Institute of Technology and hostels are located. It is also called the "city of the future." Scientists who implement the most daring technological projects live here. All mechanisms presented in the town work without human intervention. Electric cars are especially striking, which you can move around without any effort, solar panels and street air conditioners that maintain temperature in the scorching heat. The most daring and unusual ideas here become a reality. To get to know the city better, take a guided tour.
Emirates park zoo
12th Street http://emiratesparkzoo.com/cgi-sys/suspendedpage.cgi#_=_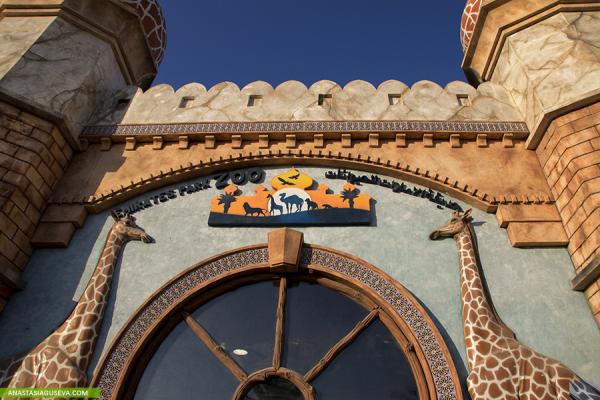 For unforgettable emotions go to the Abu Dhabi Zoo. The territory is well-designed, so during the walk there will be enough strength to approach every animal, even the youngest visitors. Animals here live in love and care. All inhabitants are well-groomed, are in beautiful large open-air cages. In the zoo you can see giraffes, elephants, lions, reptiles. A special delight is the opportunity to feed each animal, pet or just look at it closely. Be careful: while you turn away, a giraffe can chew on your hat, and a monkey can pull something out of his hands. From time to time, shows are held here, which will be especially interesting for children to get to.
Eastern Mangrove Lagoon National Park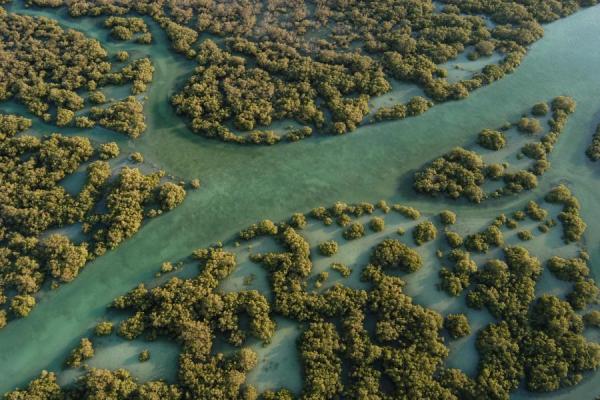 Having driven away in a rented car a little from the center of the metropolis, you will find yourself in a fabulous calm place. Rent a kayak and go on a two-hour tour of the area. Gray mangroves that grow right in salt water, frisky fish and crabs, flamingos and herons will surely please your eye. By the way, in addition to excursions, you can go fishing or swimming on the boards here. Always calm water and a quiet atmosphere leave a lasting impression.
Manarat al saadiyat
Saadiyat Island Shk Khalifa Bin Zayed Al Nahyan Highway | Saadiyat Cultural District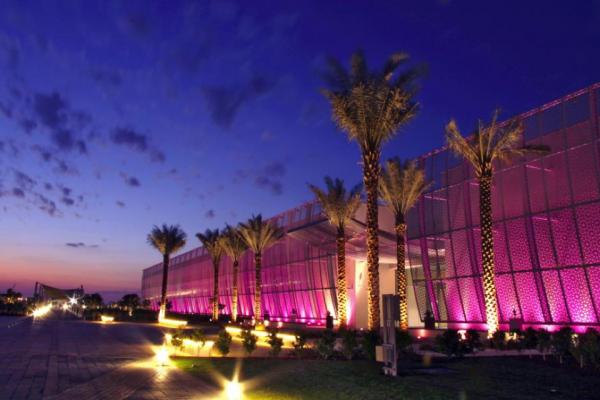 Tourists in Abu Dhabi have the opportunity to visit the Manarat al Saadiyat Museum, which is considered the cultural district of the city. The exhibition center presents exhibits of future architectural projects, objects of avant-garde art, an exhibition of light and an exhibition from the British Museum. After exploring, you can dine at the museum restaurant. You will appreciate a large selection of dishes and quality service.
Qasr Al Hosn
Al Hosn Zayed The First St http://qasralhosnfestival.ae/ar/#_=_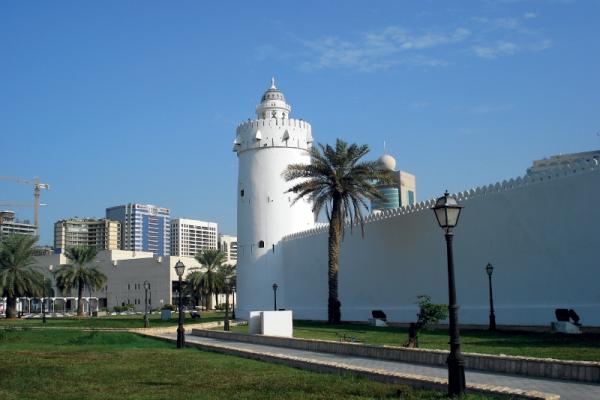 The fort is located at the entrance to the city, and in order to comfortably get here, it is best to rent a car. The first thing that impresses is the contrast: the old fort, built at the beginning of the XVIII century, is located among modern high-rises. A ruling family lived here 50 years ago, and today Qasr Al Hosn is a museum. Every February, a festival of local culture is held, accompanied by music and dancing. Here you can get acquainted with the culture and life of local residents, visit palm climbing, find out how Arabs began to extract oil and how the emirates developed.
Food: atmospheric restaurants, cafes and bars
Rosewater
Jumeirah At Etihad Towers Corniche Rd
+971 2 811 5666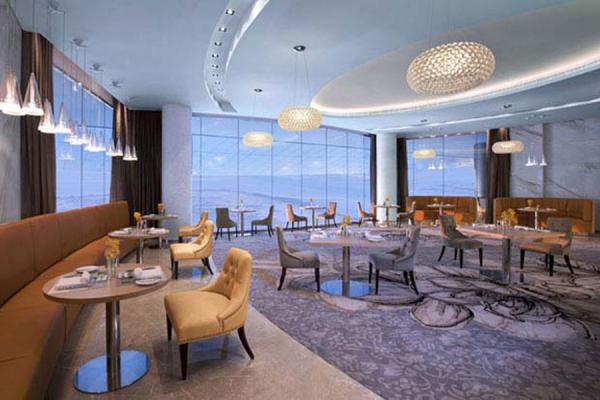 Have a delicious breakfast in Abu Dhabi at Rosewater Restaurant. It is best to book a table by the window or on the terrace. It will turn out not only to enjoy delicious food, but also excellent views of the city. At your choice you will be offered dishes from many cuisines of the world, while the presentation of each of them is completely unique and interesting. By the way, the institution is ideal for a romantic dinner or family dinner. Rolls, seafood, chocolate fondue and a wine list deserve special praise. Travelers using rented cars can use the free parking.
Koi Restaurant & Lounge
The Collection, Saadiyat http://www.koirestaurant.ae/about-us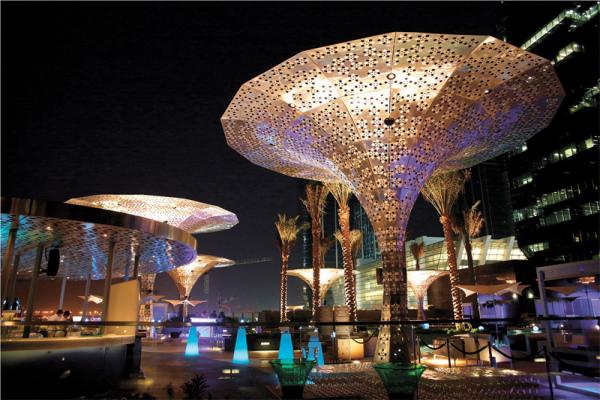 Rhythmic music, subdued light and a cozy interior will make your stay at Koi Restaurant & Lounge as pleasant as possible. Fans of seafood and Japanese cuisine will love sushi and a variety of salads, those who prefer Asian cuisine will be able to fully enjoy the variety of hot dishes. You should definitely try lobster, shrimp, sake. Cocktails that are prepared according to unique recipes will be a great addition to your meal.
Boa steakhouse
Sheikh Zayed Bin Sultan Road http://www.boaabudhabi.ae/#_=_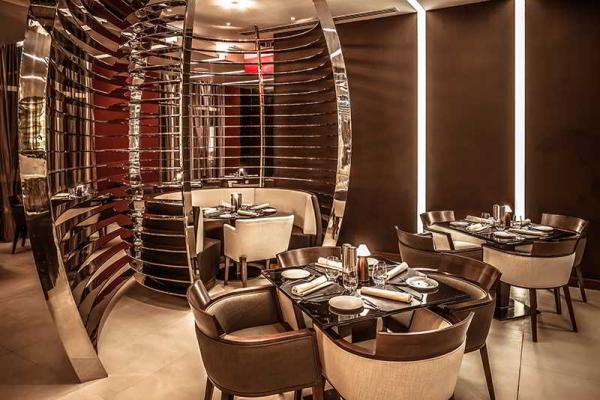 When traveling in a rental car in Abu Dhabi, be sure to stop at the BOA Steakhouse to enjoy a delicious steak cooked in accordance with all cooking rules. The steak offers a wide selection of salads and drinks. The institution offers a varied wine list and a wide selection of designer cocktails. An addition to delicious food will be a bewitching view of the marina and stylish interior. If you can not decide on the order, ask for help from the waiters. You will certainly be advised of something special.
Brasserie angelique
Jumeirah At Etihad Towers Corniche Rd
+971 2 811 5666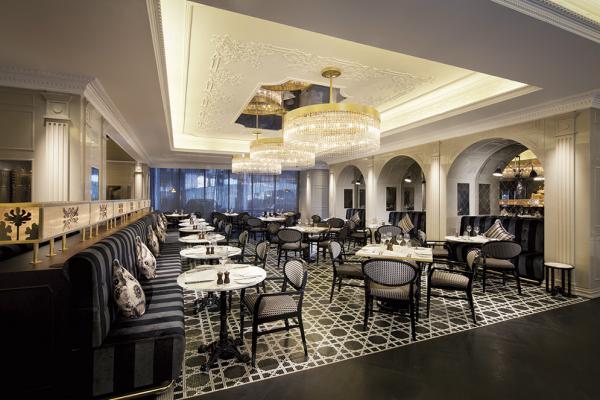 Brasserie Angelique is a French restaurant located in Etihad Towers. This is a kind of piece of Paris in Abu Dhabi. The establishment is open from 12:00 until late in the evening. If you plan to have dinner there, it's better to check the opening hours and book a table in advance. Here you can taste delicious hot dishes, pastries and excellent wine. Each visitor has an individual approach, so you will feel like a VIP.
Circo abu dhabi
Abu Dhabi King Abdullah bin Abdulaziz Al Saud St http://www.dining-intercontinental-ad.ae/restaurants/circo-abu-dhabi/#_=_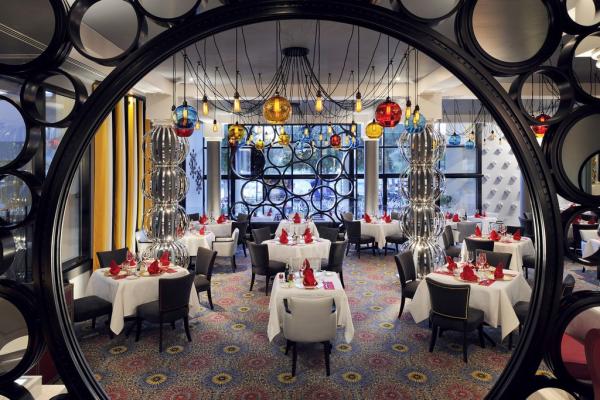 Circo Abu Dhabi is one of the most popular restaurants in Abu Dhabi. The menu includes Italian, Mediterranean, European cuisines. You can also enjoy gluten-free dishes. Cooking technology is strictly observed by cooks. The place is suitable for a family dinner or a business lunch. This is exactly the place, waiting for an order in which you will look forward to the original presentation and unforgettable taste of dishes. The so-called "happy hours" are held daily, during which you can have a bite to eat at Circo and get a good discount.
Where to live: comfortable hotels in Abu Dhabi
Rosewood Abu Dhabi
Al Maryah Island, PO Box 41184
+971 2 813 5550 http://www.rosewoodhotels.com/en/abu-dhabi double room - from € 126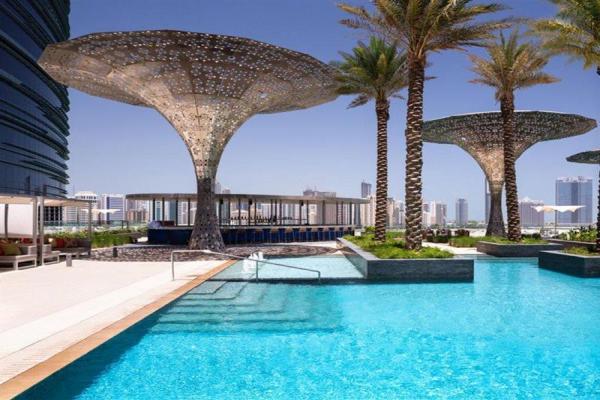 Rosewood Abu Dhabi is one of the best hotels in Abu Dhabi. Spacious rooms, stylish interiors, first class service. Nearby is the world-famous Gallery Mall, where you can go shopping, and after a snack in a restaurant for every taste. Rosewood Abu Dhabi features a pool, spa, fitness center and restaurant. If you travel with children, on occasion your child can be entrusted to a professional nanny. Car rental guests can also enjoy free parking.
Park Hyatt Abu Dhabi Hotel & Villas
Saadiyat Island
+971 2 407 1234 http://abudhabi.park.hyatt.com/en/hotel/home.html double room - from € 184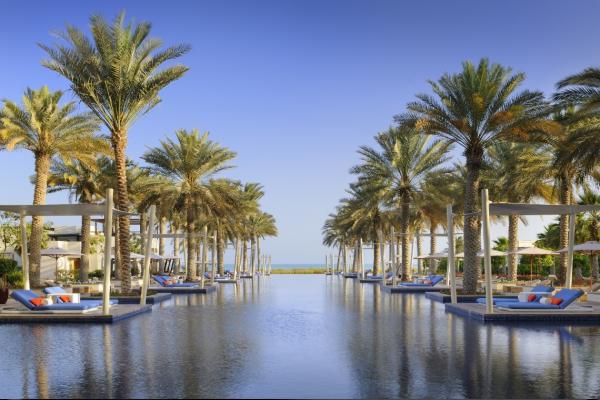 Luxurious apartments with their own veranda and pool will make a lasting impression even on the most avid tourist. The rooms offer wonderful views of the beach and the sea. During the day you can play golf or tennis, and in the evening - visit the spa, jacuzzi. In order not to go far, you can have dinner at the restaurant at the hotel, where you can choose from a wide selection of dishes from local cuisine, European, Japanese. The staff at Park Hyatt Abu Dhabi Hotel & Villas is multinational, so there will be no language barrier.
Shangri-la hotel
Khor Al Maqta, Qaryat al Beri
+971 2 509 8888 http://www.shangri-la.com/abudhabi/shangrila/ double room - from € 195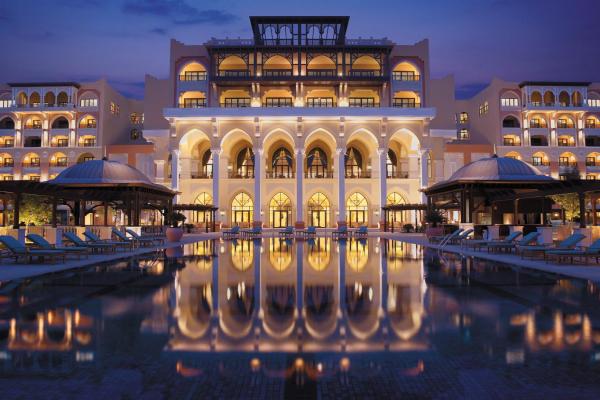 Hotel Shangri-La is an excellent solution for travelers with rented cars and those who, in addition to a beach holiday, are planning to explore the city. The main attractions of the city are only 15-20 minutes away. The rooms are spacious and offer magnificent views of the mosque. The interior of the hotel is made in the best oriental traditions. It offers guests free parking, a swimming pool, spa, fitness center. Other facilities include babysitting services, laundry facilities and a conference room. There are several restaurants on site. So, for example, you can have lunch in an Italian restaurant, and dinner in Arabic.
Holiday Inn Abu Dhabi
31st Street | Between Muroor And Airport Road
+971 2 657 4888 http://www.ihg.com/holidayinn/hotels/gb/en/abu-dhabi/auhar/hoteldetail double room - from € 125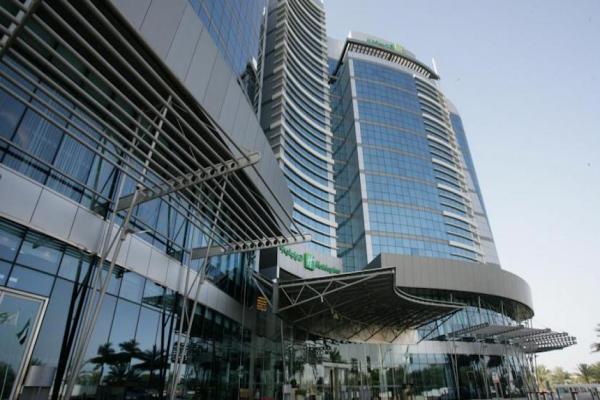 Holiday Inn Abu Dhabi offers comfortable apartments with beautiful city views, delicious breakfasts and extremely helpful staff. Here you will get everything you need for a comfortable stay at the hotel. You can start the day with a workout in the fitness center, at lunch you can swim in the pool, and in the evening relax at the spa treatments.
Southern Sun Abu Dhabi
Al Mina Street Tourist Club Area
+971 2 818 4888 https://www.tsogosun.com/south-sun-abu-dhabi double room - from € 80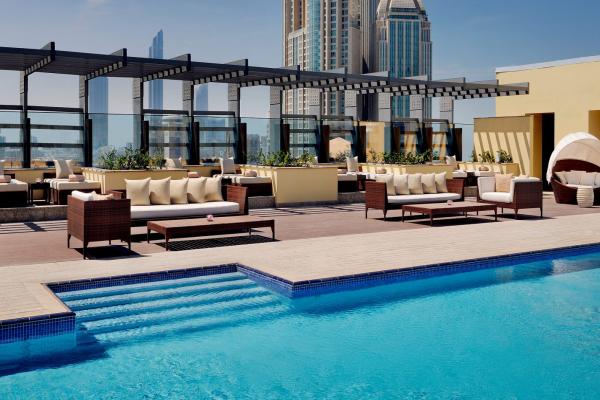 Incredibly stylish and comfortable hotel is located near the island of Yas, where the main attractions of Abu Dhabi are located. Here you will try some of the most delicious breakfasts, you can work out in the fitness center, and then relax in the sauna. On the top floor there is a pool, which in the evening turns into a bar. Here you can have fun with friends over a glass of wine and listen to quality music.
Where to park a rented car in Abu Dhabi
Car rental in Abu Dhabi with BookingCar - profitable, convenient, easy!
In case of any problems related to car rental in Abu Dhabi, BookingCar will solve them as quickly as possible.
We will be with you 24 hours a day.
All you need is to contact us.
© Anastasiia Voloshina , 2016
Like this? Share in social networks: