Best car rental prices in Vietnam
Standard
suitable for traveling in the company of 4-5 people
Luxury
suitable for traveling in the huge company
Van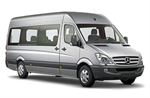 Jeep
Special
€
190.65
price for 3 days
€
219.98
price for 3 days
€
205.32
price for 3 days
€
219.98
price for 3 days
€
219.98
price for 3 days
€
190.65
price for 3 days
€
219.98
price for 3 days
€
205.32
price for 3 days
€
219.98
price for 3 days
€
219.98
price for 3 days
€
193.67
price for 3 days
€
224.45
price for 3 days
€
208.57
price for 3 days
€
224.45
price for 3 days
€
224.45
price for 3 days
Explore Vietnam in a hire car
For someone, Vietnam is excellent beaches and exotic food, for someone - centuries-old temple complexes of vanished civilizations and unique beauty of nature. Understand what is special in Vietnam, you can go on a trip and travel around the country on a rental car. To be sure of the quality of services, it is better to contact Bookingcar.su. The company cooperates only with reliable car rental service providers, so no unexpected situations will arise.
If you are a fan of a rich excursion program, go to Hanoi. It is amazing how the culture of the West and the East, old-fashioned traditions and advanced technologies are intertwined here. Da Nang will conquer with its stonecutters workshops, authentic bars, the festivities that last until the sun rises. Ancient palaces and temples, protected by UNESCO, have been preserved in Hue and Danang. The southern regions are considered the most developed, so tourists often prefer to stay here. Young people like to relax in Nyachang, couples with children in Phan Thiet. For a relaxing holiday, hidden from hundreds of tourists in the tropical jungle, you should go to Phu Quoc.
Reviews
Liked the car that gave Bookingcar us in Da Nang
Stephanie V.

, 24 February 2019
Everything is super, not counting the fact that the tank was not full when issued. This fact asked to fix, so that later to me no complaints. In this regard, Bookingcar like. And the prices are normal, and the choice of cars. For example, on her last trip to Da Nang, a decent car could only be picked up on this site.
Inessa Filatova

, 31 October 2018