Bookingcar offers a wide range of car rental options in Protaras.
With us you can choose a car of any class that best suits your needs.
Our prices are one of the best prices on the market.
See for yourself!
Professional support
Our professional call center will help you understand all the intricacies of car rental. We guarantee full support throughout the rental period.
The small resort town of Protaras, located near Ayia Napa, is ideal for a quiet family vacation. There is no need to rush anywhere, life is measured and calm. You can spend hours lying on a warm sand, drink delicious frappe and enjoy the views of the Mediterranean Sea. A few decades ago this place was uninhabited, and today many tourists gather here. The sea in Protaras is incredibly clean and calm, the beaches are considered one of the best in Cyprus, and the bays are especially relief and outlandish. Some travelers come here exclusively to enjoy the famous Protaras bays. If you look closely, you can consider the elaborate paintings on a rocky canvas, for example, the silhouette of a girl or an intricate flower.
Bookingcar recommends:
Car rental at Larnaca Airport
There is no airport in Protaras, so you will have to fly to Larnaca and continue to get to your destination. In order not to go into the intricate system of public transport, it will be easiest to rent a car and comfortably get to Protaras.
Larnaca International Airport ( Larnaka International, Airport then ) - download scheme
IATA code: LCA
Distance from Larnaca Airport to Protaras - 70 km
Official website: www.hermesairports.com/
Information: +357 77 778833
The following companies are rental leaders at Larnaca Airport: Budget, Maggiore, National, Herz,, Alamo, Avis, Sixt. They have the most loyal pricing and rental conditions. Rental desks are located at the entrance to the airport premises. Both short and long term parking are available.
What to see in Protaras: interesting sights of the city
Historical Museum
Ayias Theklas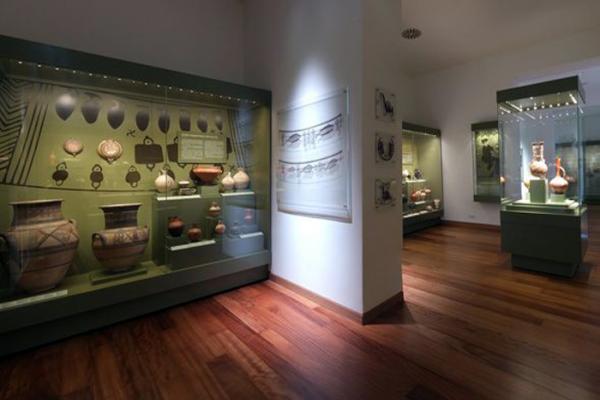 In the center of picturesque Protaras is a historical museum. Here are several collections. One tells of an earlier historical period. Here are clothes, murals, tools and household items. And the other is a collection of historical objects of the last several centuries. The museum also presents individual thematic exhibitions: a collection of children's toys, pottery attributes and much more.
Church of the Prophet Elijah
Akefalou Str.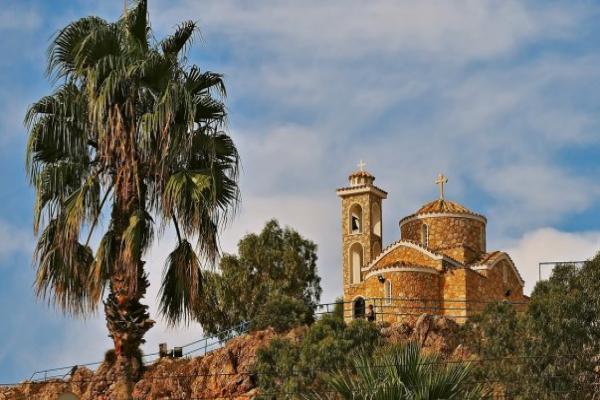 To reach the church you have a difficult walking path. Initially, it was built of wood, but after a major fire, the building had to be completely restored. Today, the Church of the Prophet Elijah is a stone building, inside of which is a magnificent altar, magnificent frescoes and icons. Going up to the church and going down, be sure to count the steps. If this number matches, you are a sinless person.
Bay "Blue Lagoon"
Blue lagoon bay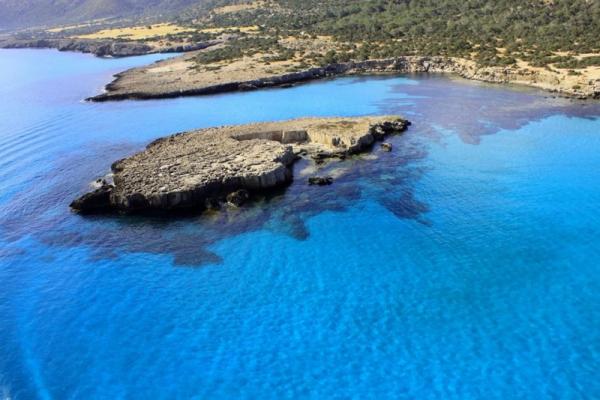 Hundreds of thousands of tourists come to Protaras to enjoy the breathtaking views of the bay. This is a unique natural attraction of Cyprus, where you want to stop and try to catch a wonderful moment. There is always a crystal clear sea and there are no storms. When you are in the bay, you will be overcome by a state of calm and tranquility.
Church of St. Nicholas
Kalamies Beach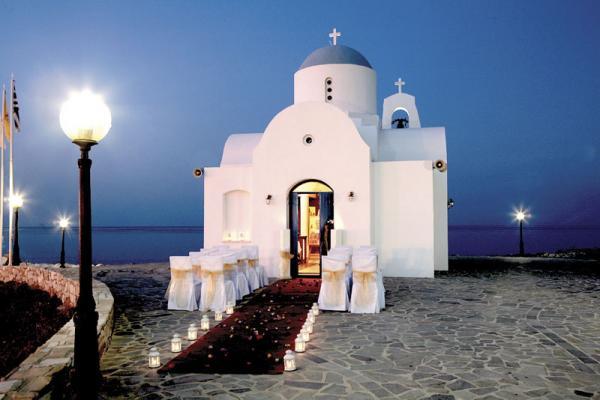 The obligatory point on your map of the tourist route should be the Church of St. Nicholas. Outside, this is not a particularly remarkable place that attracts little travelers. However, as soon as you go inside, you will see amazing views of ancient murals. Each painting is a unique creation, where you can trace the divine history or biblical legend. The temple is especially popular among locals who often hold wedding ceremonies here.
Dancing fountains
Avenue Protara, 6
+3 (5799) 62-31-43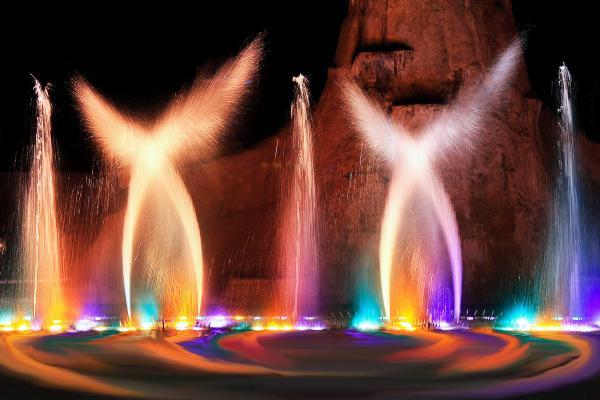 After strolling around the main attractions during the day, in the evening you can go to a show of dancing fountains. Under pressure, streams of water rise upward and intertwine with each other, and searchlights and laser systems form light rays that make this action completely fabulous and unforgettable. Having bought a ticket to the show, in addition to the main program, you can also visit the buffet.
Near Protaras: the best car routes
Church of St. Barbara
Protara Str.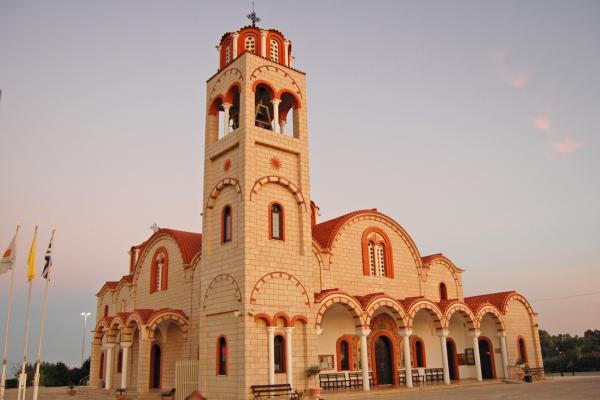 Having rented a car, go to the small town of Paralimni, which is a 20-minute drive from Protaras. The most striking attraction here is the church of St. Barbara. Her decoration attracts more from the outside. Warm light colors, rounded shapes and bewitching arches make a lasting impression. If you go around the church from the back, you will have a magnificent view of the Mediterranean Sea.
National Forest Park "Cavo Greco"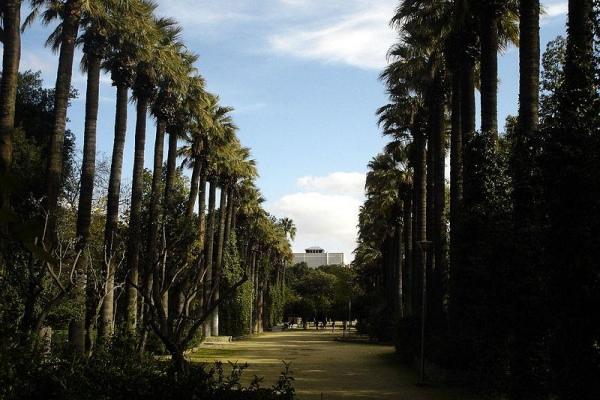 Not far from Cape Greco is the Cavo Greco Park. Here you can relax: ride a bike, play tennis or badminton. And you can just walk along the alleys, enjoy entire collections of flowers and trees. The territory of the park is 380 hectares, on which about 400 plant species are collected, and 30 of them grow exclusively in Cavo Greco. Walking in the park, be sure to go to a small church, which is located on the outskirts, and drink holy water from the source. And then head to the east side of the park, where there is a cave of amazing beauty. It is best to devote all day to visiting the forest park: take some food for a snack and enjoy the beauty of nature. It will be more convenient to get to the park with a rental car, which can be left in the free parking lot at the entrance to Cavo Greco.
Liopetri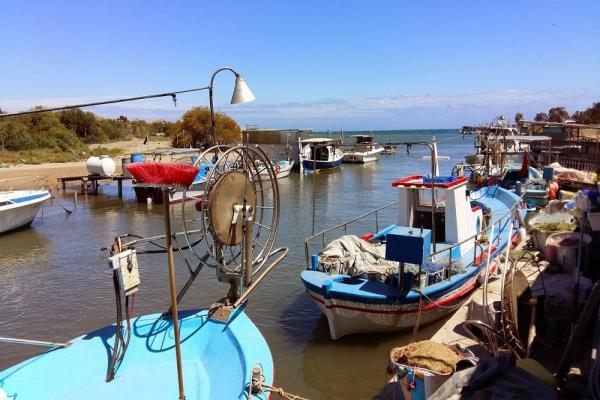 Having fully explored the sights of Protaras, head to the fishing village of Liopetri. The surroundings of Liopetri are extraordinarily embossed and picturesque. This is a very colorful place where you can fully get acquainted with the traditions and customs of Cypriots, their way of life. In one of the local restaurants you can try freshly caught fish or something from the sea menu. In the village there are huge fields where fruits and vegetables are grown. If you agree with the locals, then you can try something directly from the plantations.
Sinners Bridge
Protaras beach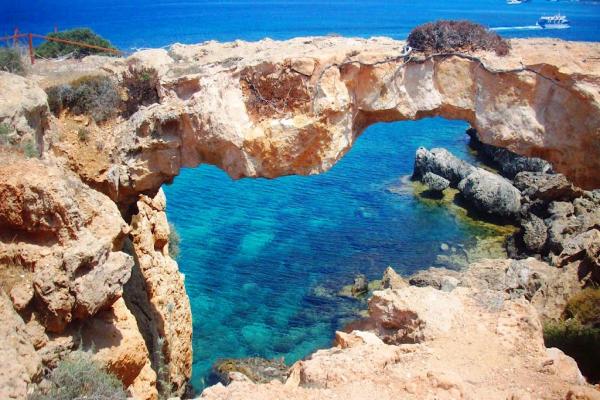 Upon arrival to Protaras, immediately go to the local beach, which is considered one of the best in Cyprus. There is an unusually blue and transparent sea. When swimming in the water, look around carefully, for sure, there you will see several small fish that have fought off their pack. Walking along the beach, you will notice a bridge of unusual design. If you look closely, it becomes clear that nature was the architect of this elaborate structure. According to legend, the bridge will collapse when the most wicked person passes over it. And the most interesting thing is that a huge crack is already visible in the middle of the bridge.
Windmill valley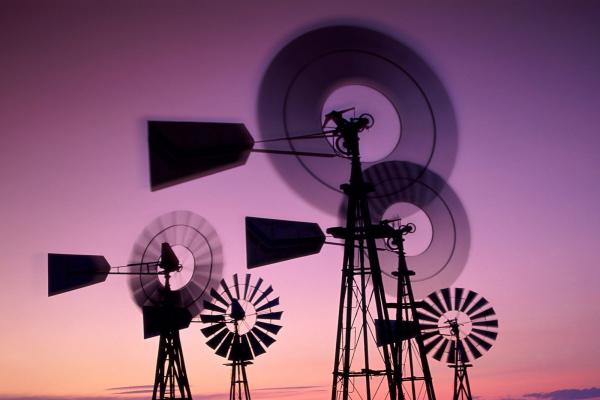 Hire a car and drive from Cape Cape Greco towards Paralimini. You will certainly be struck by several hundred windmills that are arranged in an intricate system. At first glance it seems that there is nothing remarkable in this valley, however, if you pause, you can feel all the power and magnetism of natural phenomena. This place looks especially lyrical at sunset, when the colors of the evening sun are reflected in the wind stations.
Food: atmospheric restaurants, cafes and bars
Patisserie amelie
Protaras 37
+357 2383 1501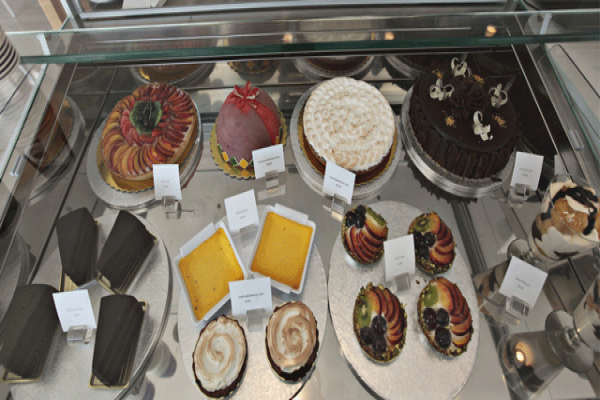 You can have breakfast in Protaras in the excellent Patisserie Amelie Patisserie. This is a place where you constantly want to return and discover new goodies. Someone will like waffles with a cup of coffee, and someone will enjoy strudel or ice cream. It also offers something special from the local cuisine. The coffee shop has an incredibly relaxing white interior and a wonderful summer terrace. In fine weather, you can enjoy a piece of cake with juice at a table on the street, and in the evening move to the confectionery hall.
Yianna marie restaurant
Lefkolas 21
+357 23814440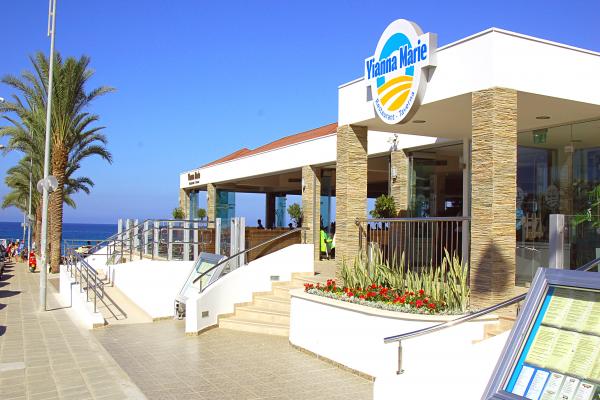 Yianna Marie Restaurant is a universal institution that will suit any occasion. Here you can have breakfast, try seafood for lunch, drink a glass of wine and try some of the local dishes for dinner. The portions are incredibly large, so in order to save money, you can safely order one dish for two. Yianna Marie Restaurant serves Greek, Mediterranean and European cuisines. In the restaurant you can not only have a quick bite to eat, but also spend a romantic evening with your loved one.
Di Capilla Seaside Stories
Side Road Pernera-Protara www.dicapilla.com/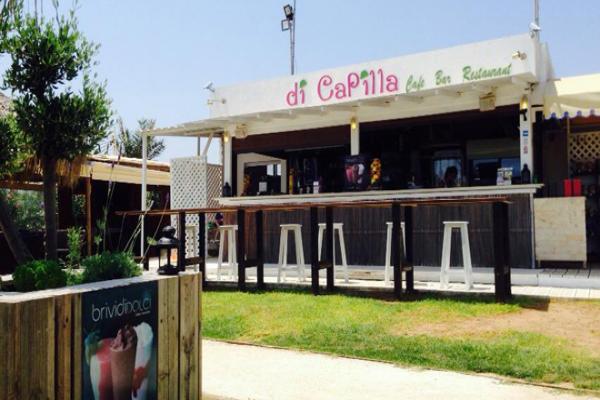 After an evening promenade, you can go to Di Capilla Seaside Stories and try something from Greek and Mediterranean cuisine. This establishment is ideal for both breakfast and lunch. There are all conditions to relax with children: highchairs, wheelchairs, feeding area. Sitting at a table in the open air, you can see the surf and the cote d'azur. Those traveling with a rented car can park their car for free at the restaurant.
Kokos bar
Pernera Avenue www.facebook.com/Kokos-Bar-Pernera-1448730622070523/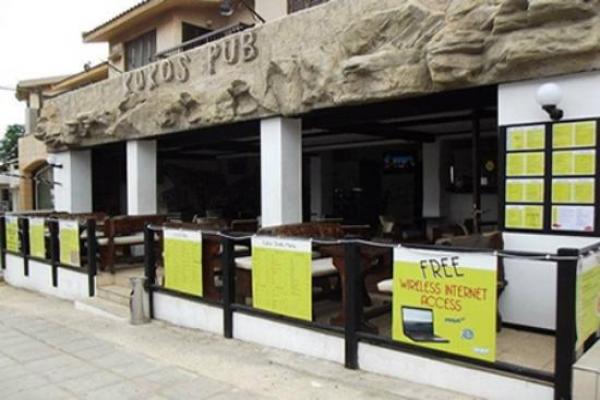 If you need a quick and budget meal, then the most suitable place in Protaras is Kokos Bar. There is always excellent service and a wide range of dishes. You can try something from British or Greek cuisine. In the evening, unusual cocktails are served here, which you should definitely try. The pub regularly holds interesting promotions. Arriving in Protaras, be sure to monitor the best offers, so you can have a tasty and inexpensive dinner, while having fun.
Kafkaros
50-52 Sloane Square Chelsea www.facebook.com/pages/Kafkaros/392392764151529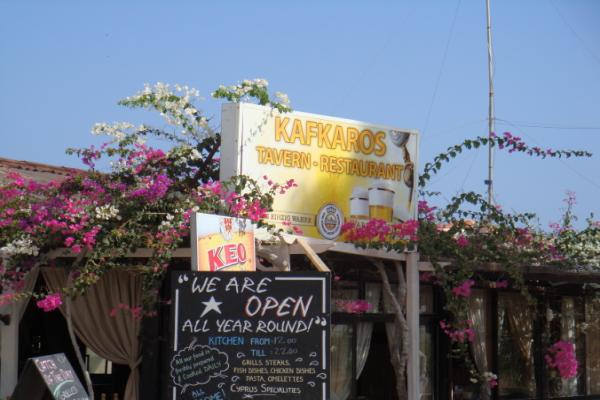 When traveling on a rental car from Paphos or Cape Greeks, be sure to stop for a snack at Kafkaros. The main highlight of the restaurant is that the owner personally meets visitors, talks about dishes and some novelties, recommends something special. There is a quiet spiritual atmosphere where you will feel at home. Kafkaros has all the conditions for relaxing and enjoying delicious food.
Where to live: cozy hotels in Protaras
Debbie Xenia Hotel Apartments
Po Box 33280 5312 Paralimni Pernera
+357 23 832300 www.debbiexenia.com/ double room - from € 45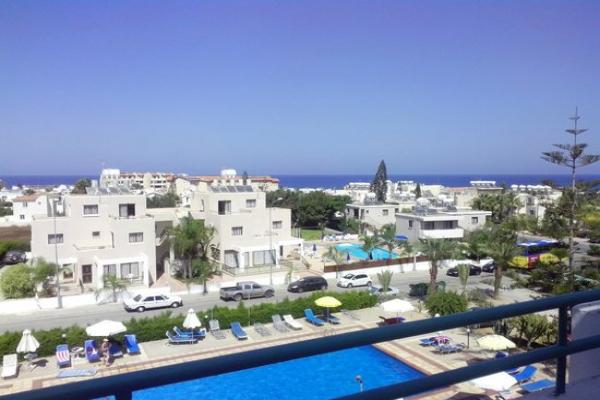 If you are used to outdoor activities and you don't care about staying in a luxury hotel, then you should pay attention to Debbie Xenia Hotel Apartments. There is everything in order to have a great rest in Protaras: a swimming pool and sun loungers, Internet access, game rooms and a garden. The beach is just 300 meters from the hotel, and there are many bars, restaurants and shops nearby. If necessary, you can buy everything you need.
Anais bay hotel
Protaras Cavo Greco Avenue 435
+357 23814250 anaisbay.com/ double room - from € 115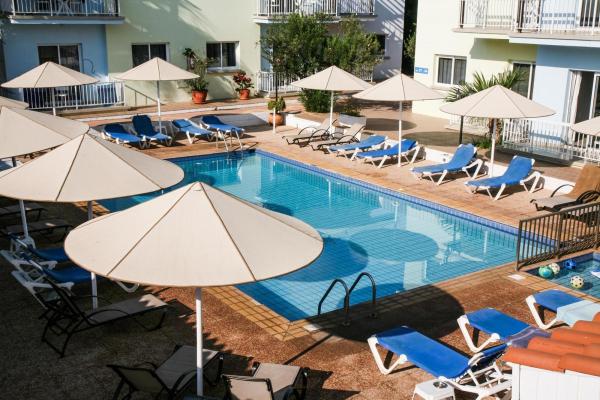 A small, cozy hotel is located on the third line from the sea. At Anais Bay Hotel you can spend your holidays as actively as possible: work out in the gym, play tennis, billiards or basketball. There will also be a small library at your disposal. There are all amenities for relaxing with children. The hotel has a children's pool, a playground, children's chairs and a feeding area.
Pernera beach hotel
Pernera
+357 23 831 011 www.pernera-hotel.com/ double room - from € 90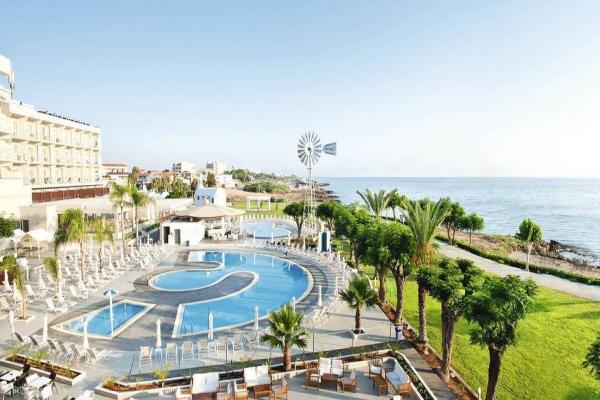 Pernera Beach Hotel is located right on the seafront, while there are several pools on site. Today you can swim in the pool, and tomorrow go to the sea. The hotel is very comfortable and ideal for families and honeymoons. The advantage of the hotel is that in addition to the main rest, you can also visit the spa center, play tennis, play sports in the gym or spend the evening in a local restaurant. If you are traveling by rental car, you can park it at the hotel.
Vrissiana beach hotel
Hotels Avenue, Protara
+357 23 833444 www.tsokkos.com/ double room - from € 113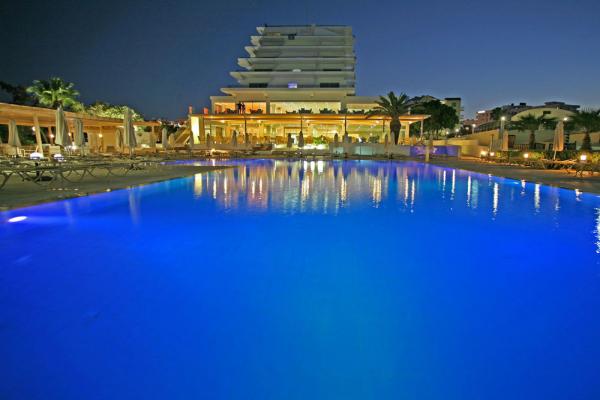 The hotel is ideal for those who decide to spend a romantic vacation here. The rooms offer bewitching views of the sea and the hotel courtyard. In the evening, you can sit by the pool and enjoy the beautiful scenery around. The hotels offer laundry and dry cleaning services, free parking and a conference room. After relaxing by the sea or by the pool, head to the spa and treat yourself to pleasant treatments.
Family Life Nausicaa Beach
Leoforos Protara - Kavo Gkreko
+357 23 831160 louishotels.com/en/louis-nausicaa-beach.html/ double room - from € 125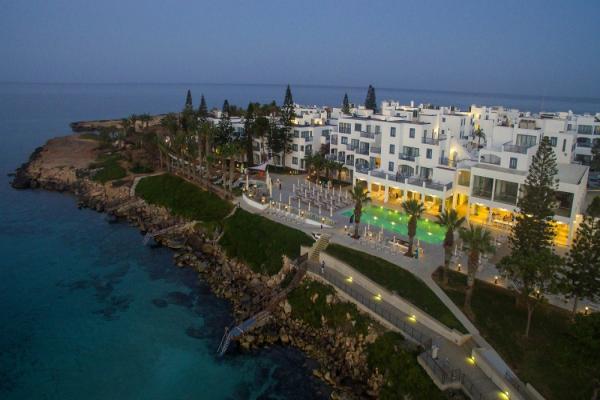 Hotel Family Life Nausicaa Beach is one of the few who, having been in it, wants to come back again and again. The atmosphere really sets you up for relaxation, and the hotel staff tries to make your stay as comfortable as possible. At your service there is a tennis court, a fitness center, spa, free breakfast and parking (for those who decide to rent a car).
Where to park a rented car in Protaras
Car rental in Protaras with BookingCar - profitable, convenient, easy!
In case of any problems associated with car rental in Protaras, BookingCar will solve them as quickly as possible.
We will be with you 24 hours a day.
All you need is to contact us.
© Anastasiia Voloshina, 2016
Like this? Share in social networks: