Bookingcar offers a range of car rental options in Lisbon.
With us you can choose a car of any class that best suits your needs.
Our prices are one of the best prices on the market.
See for yourself!
Professional support
Our professional call center will help you understand all the intricacies of car rental. We guarantee full support throughout the rental period.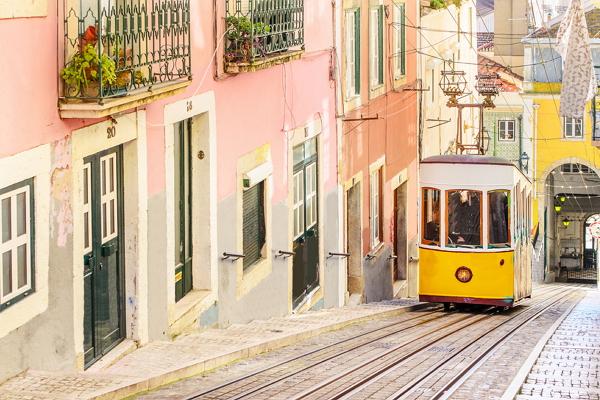 In the capital of Portugal - Lisbon - every tourist will find entertainment to his taste. Cultural lovers can enjoy the many museums that are open for free on Sundays; those interested in science can visit the interactive Museum of Electricity; and cozy cafes and bars in the historic Alfama district will delight those who want to try traditional Portuguese dishes and experience the local flavor. If you do not want to be limited to just a trip to Lisbon and plan to travel along the Portuguese Riviera, then we advise you to rent a car that will save you time on the road and save you from unnecessary transportation costs.
Bookingcar recommends:
Car hire at Lisbon Airport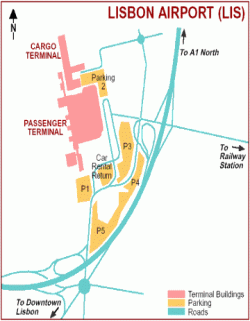 The international Lisbon Portela Airport ( Lisbon You Portela Airport then ) - download scheme
IATA code: LIS content
Location: 7 km from the center of Lisbon
Official website: www.ana.pt
Reference: +351 218 413 700
At Lisbon Airport you can find representatives of international rental companies such as Avis, Goldcar, Hertz, Gorent, Europcar, Guerin, Budget and Interrent. At the car rental point, you will receive all the necessary information on car rental and can find out about the intricacies of driving in Portugal. There are several short-term and one long-term parking at the airport, which are located next to the passenger terminal. You can get to the parking by free bus, which is very convenient if you have a lot of things with you.
What to see in Lisbon: interesting sights of the city
Belem Tower
Av. Brasilia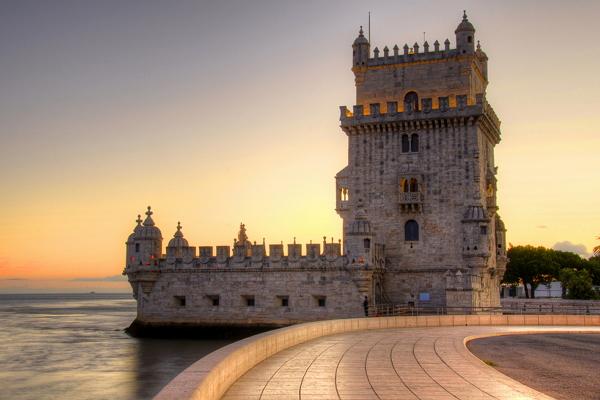 The main symbol of the city, built in honor of a landmark historical event - the discovery of Vasco da Gama sea route to India. From here, caravels went on long journeys, here they met sailors after long voyages. At different times, the tower was a fortress, a powder warehouse, a prison, and customs. The Belem Tower is very firmly connected with Lisbon, even the terrible earthquake of 1755 could not destroy it (for reference: the element was so powerful that it even changed the channel of the Tagus river). When you walk along the Belem embankment, be sure to look at your feet: on the square in front of the tower there is a beautiful map of the world with the routes of sea expeditions.
Jeronimos Monastery
Praca do imperio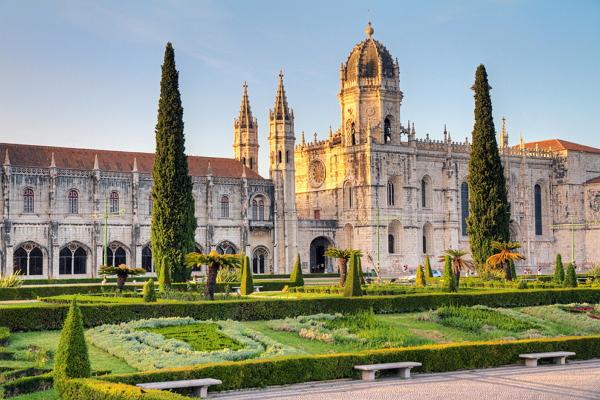 Monastery of Jeronimites or Monastery of Jeronimos - a magnificent monument to the era of the Great geographical discoveries. According to legend, it was here that Vasco da Gama and his companions spent the night in prayers before sailing to India. In the Gothic decor of the building, marine elements can be traced: sea knots, corals, anchors, ropes - such a synthesis of Gothic and marine style was later called manuelino. The Portuguese kings Manuel I and Juan III, the poets Camoens and Fernando Pessoa, and, of course, the great Vasco da Gama rest in the monastery. We advise you to visit the Maritime Museum, which is located in the western wing of the monastery: the collection has more than 20,000 exhibits, including nautical charts, navigational instruments, the uniform of sailors and officers, as well as the originals of old ships.
Azulejo Museum
Rua Madre de Deus 4 http://www.museudoazulejo.pt/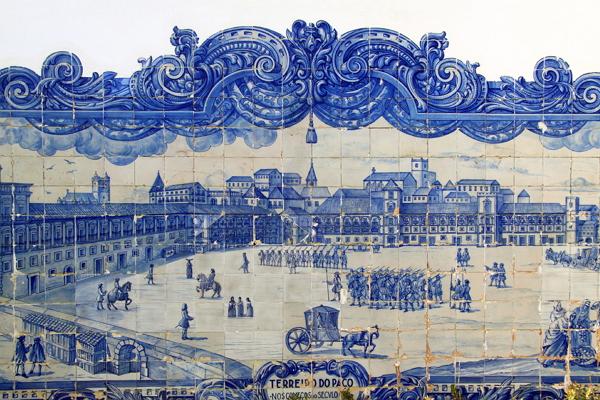 A museum dedicated to the history of manufacturing the famous Azulejo tiles, which is considered a national treasure of Portugal. The main exhibit of the museum is a large panel in 1730, depicting Lisbon before the earthquake of 1755, which, by the way, became one of the most destructive in history (about 80 thousand people died in 6 minutes). Previously, azulezha was produced on an industrial scale, but now it is produced almost individually in private workshops, which makes it especially valuable. If it's hard for you to imagine how you can devote an entire museum to ceramic tiles alone, then we recommend that you look into this museum and see for yourself that Azulejos is a unique work of art.
Elevator Santa Zhusta
Rua de santa justa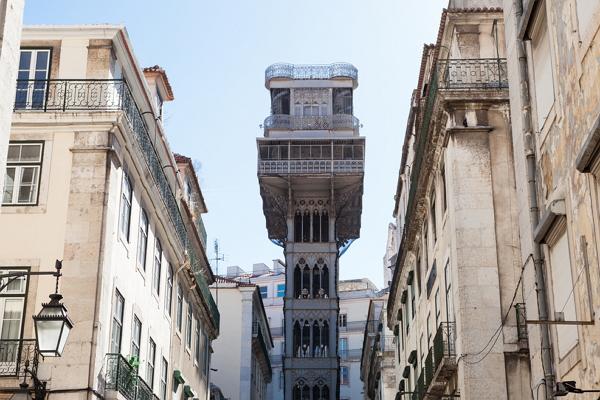 Lisbonians call this elevator "Eiffel", as it was designed by one of the students of the famous French engineer Gustave Eiffel. The elevator is designed for two elevators that synchronously move in opposite directions. The facades of the building are made in the Neo-Gothic style, the elevator cabs are finished with wood and mirror panels. The Santa Zhusta elevator is not only entertainment for tourists, it is also used by local residents to overcome a steep hill and climb from the lower parts of the city to the upper ones. The observation deck offers a gorgeous view of the Baixa area, and there is also a cafe where freshly squeezed juices from juicy Portuguese oranges are prepared.
Pinhole camera in the castle of St. George
Rua de santa cruz do castelo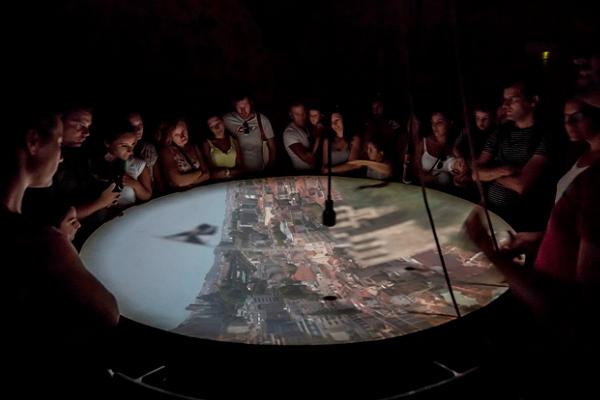 It's worth to come to St. George's castle for one thing - to look into the pinhole camera, which allows you to get an optical image of objects. On a huge hemispherical screen, you will see a 360-degree panorama of Lisbon and you can see the city in detail. From the castle itself there were only walls and towers, from which a magnificent panorama of the capital opens. In the courtyard there is a small cafe where you can rest after a long climb to the castle.
In the vicinity of Lisbon: the best car routes
Sintra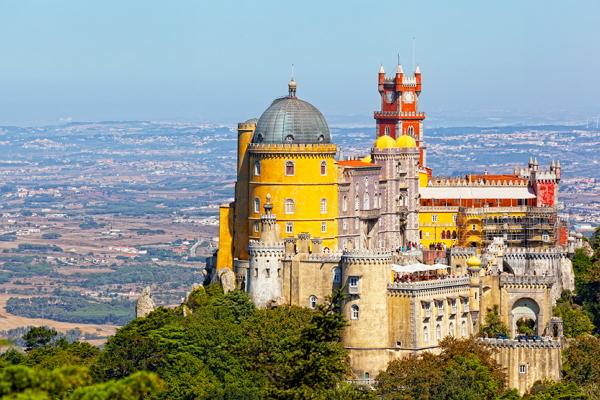 It is most convenient to get to Sintra in a rented car: only half an hour on the road, and you will find yourself in the old city, founded back in 1154. It was off the coast of Sintra that Christopher Columbus found salvation when he fell into a severe storm on the way to Spain; Lord Byron dubbed this city the "Garden of Eden" and the most beautiful city in Europe when he traveled to Portugal at the beginning of the 19th century. Indeed, Sintra has something to impress tourists with: this is the fabulous Pena Palace, which for many years served as the summer residence of Portuguese kings; and the Castle of the Moors, built before the foundation of the city; and Quinta da Regilera Garden, considered the most romantic place in the area. When walking around Sintra, be sure to go to a local restaurant and try the famous cheesecake, which is made from four types of cheese and soaked in almond liquor.
Obidush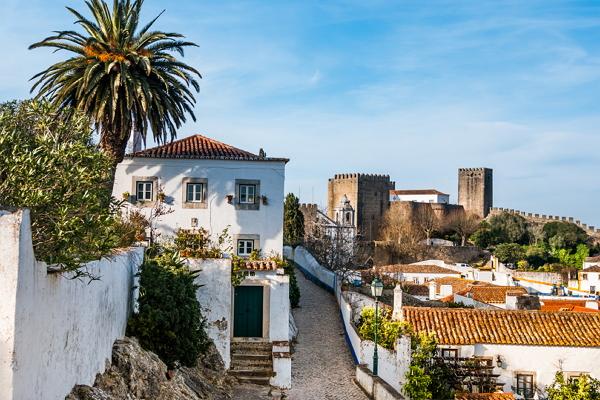 Behind the atmosphere of the Middle Ages it is worth going to the "city of brides" - this is the name of the small village of Obidos, which many Portuguese kings gave to their future wives. All Obidos is an open-air museum. Inside the 14th century ramparts are medieval buildings reminiscent of illustrations for fairy tales of knights and their beautiful ladies. The main attraction is the Church of Santa Maria, in which in 1441 the 9-year-old King of Portuglia Afonso V and his 10-year-old cousin Isabella Coimbra were married. At the end of the street on which the church stands, there is a staircase leading to an ancient fortress - it offers a lovely view of the surroundings. We advise you to come here in July, when Obidush turns into a real Medieval settlement for several days: local residents dress up in old costumes, stage performances,
Cape Cabo da Roca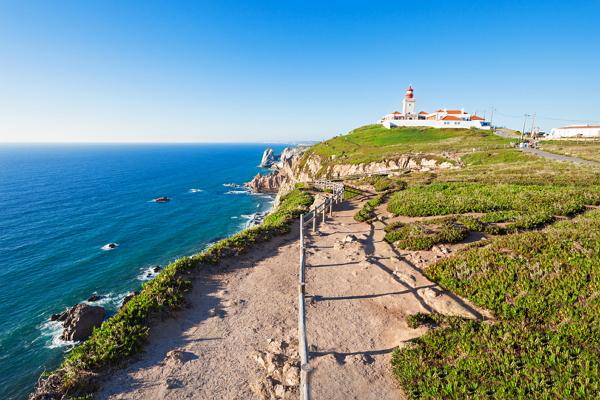 To the westernmost point of Europe - Cape Roca - from Lisbon can be reached in just an hour on a rented car. The energy at this place is fantastic: the view of the vast ocean is fascinating, a person seems to be a grain of sand next to such a powerful and great element. Taking a picture against the backdrop of a lighthouse, admiring a gorgeous view of the ocean and buying a certificate of visiting the "ends of the world" - that's all the fun on Cape Roca, but it's definitely worth a visit. We recommend you to come closer to sunset: the sun sets directly in the ocean, and the sky turns into such fabulous tones that it takes your breath away from such an unearthly beauty.
Cascais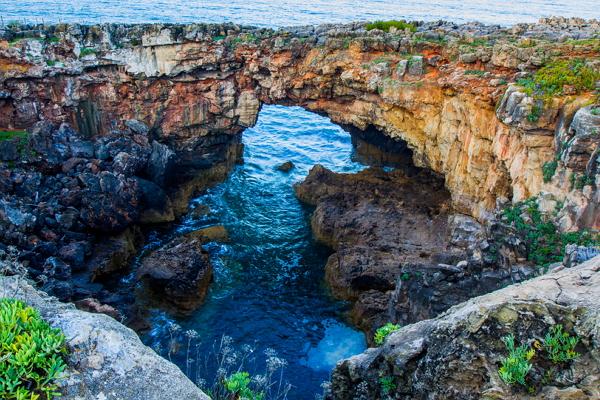 Cascais is a large resort of the Portuguese Riviera, offering tourists wonderful conditions for a measured and lazy beach holiday. In the western part of the city is the beach of Guincho, where you can not only spend the whole day enjoying delightful idleness, but also do, for example, kitesurfing. There are no outstanding architectural monuments in Cascais, but there are many picturesque places for walking, one of them is the Boca do Inferno cave, whose name translates as "Gates of Hell". In bad weather, waves crash against the cliffs with a strong crash, sending up a whole spray fountain - a gloomy but very impressive view. Along the coast you will find many restaurants serving fresh grilled fish,
Ericeira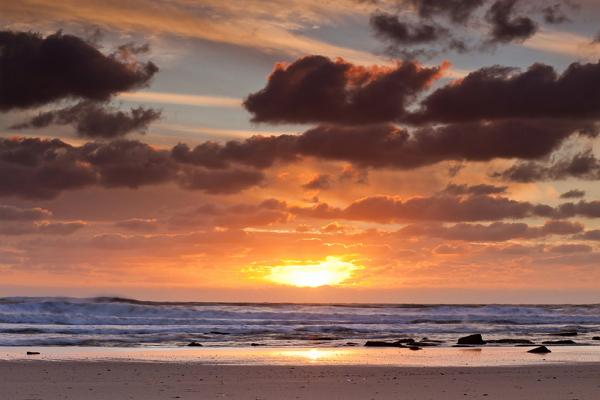 If you have long wanted to learn how to ride a surf, then in Portugal you will have a great opportunity to do this. Ericeira is known as one of the largest surfing centers in Europe: there are 10 centers for practicing this sport, and local beaches are considered one of the best for board riding. We recommend the beaches of Praia do Lizandro, Praia do Norte, Praia do Norte and Praia da Ribeira de Ilhas, which, by the way, host world championships. In addition to excellent soft sand beaches, Ericeira has interesting sights: late Gothic buildings of the 15th century are preserved in the old part of the city, and between the fishing port and the central hotel you will find a picturesque stretch of coast where you can see underground passages and boiling ocean water through large openings in the rocks .
Food: atmospheric restaurants, cafes and bars
Churrasco da graça
Largo da graça 43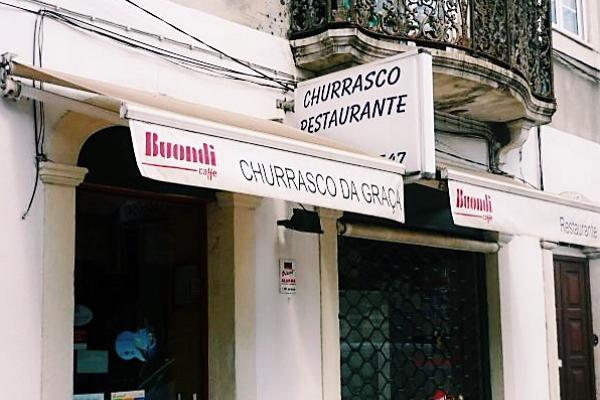 This small restaurant is very easy not to notice, but having lunch in it, you definitely can not forget it. Juicy steaks with a side dish, octopus and delicious grilled tuna are just a few of the dishes prepared at Churrasco da Graça and served with lots of fresh vegetables. The portions are impressive, one steak can be enough for the whole day, but believe me, this will not stop you from coming here for dinner with a glass of homemade wine. The atmosphere of the restaurant resembles a cozy place for "your": here you will find yourself far from tourist noise and feel the mood and aroma of this Portugal, which the guide will not tell you about.
A cevicheria
Rua D. Pedro V 129
In A Cevicheria, familiar seafood sounds in a new way: instead of large whole pieces of fish, you will be served a Ceviche - Peruvian dish, consisting of finely chopped fish, marinated in lime juice, and then added onions, vegetables and other ingredients depending on the chef's plan . The main feature in the restaurant's interior is a large octopus figure hanging above a snow-white bar, behind which smiling chefs in striped aprons prepare delicious ceviche. The floor is tiled with white and blue azulejo tiles, reminding visitors of Portuguese traditions. A Cevicheria makes sure that every visitor leaves the restaurant with a smile on his face and a pleasant aftertaste, so returning here is doubly pleasant.
Bela Vinhos e Petiscos
Rua dos Remédios 190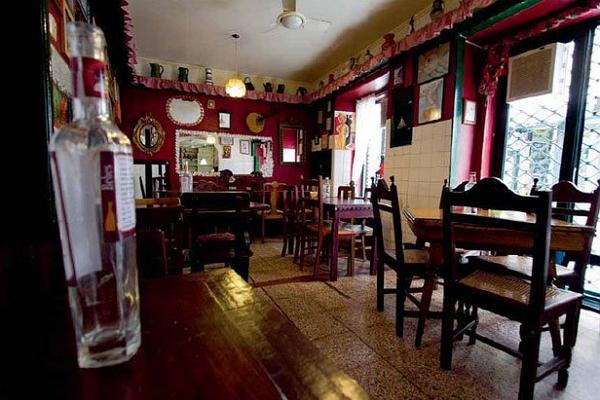 In order to hear sensual fado (a special style of traditional Portuguese music) to the accompaniment of a Portuguese guitar, we advise you to go to the small cafe Bela Vinhos e Petiscos. Singers are locals, lovers who come here in their free time. Yes, in some places they take the wrong notes and do not fall into the rhythm, but this does not spoil their performance, but rather gives it a special charm. A colorful and atmospheric place with amazing energy.
The corkscrew wine bar
Rua Dos Remedios 95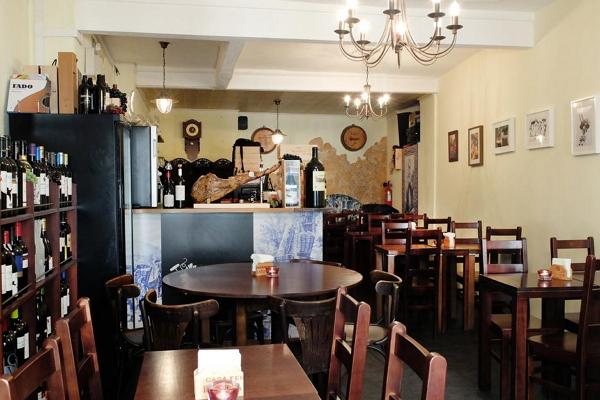 If after a walk in Alfama you want romance, seasoned with a glass of good wine, we recommend that you look into this small wine bar, where jazz always sounds from the speakers. The main part of the menu is a set of cheeses and meat snacks for wine, they are served with wonderful fig jam. The menu also has steaks that will cook right next to your table and add a side dish to your taste. Cozy and stylish bar with a minimalistic design unusual for Portuguese establishments.
Frangasqueira nacional
Rua Da Imprensa Nacional 116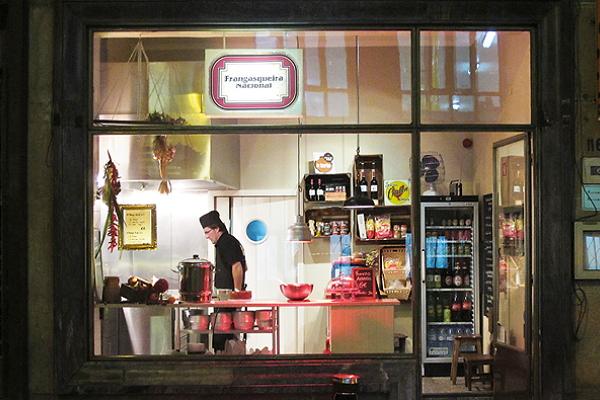 At the entrance to the Frangasqueira Nacional you can always see locals who are chatting sweetly with the cooks and waiting for their portion of ribs and potato chips, which are prepared according to some kind of magic recipe - it turns out so delicious that I want to order more and more. The menu also includes fried chicken, sausages, rice and tomato salad. If you like spicy, we recommend taking piri-piri sauce, it will perfectly complement the taste of grilled meat. The institution works on the take away principle, all dishes are packed in convenient foil dishes, so you can safely go in search of a cozy bench and enjoy your delicious lunch.
Where to live: comfortable hotels in Lisbon
Skyna Hotel Lisboa
Rua da Artilharia 1
+351 212 484 900 www.skynahotels.com double room - from € 190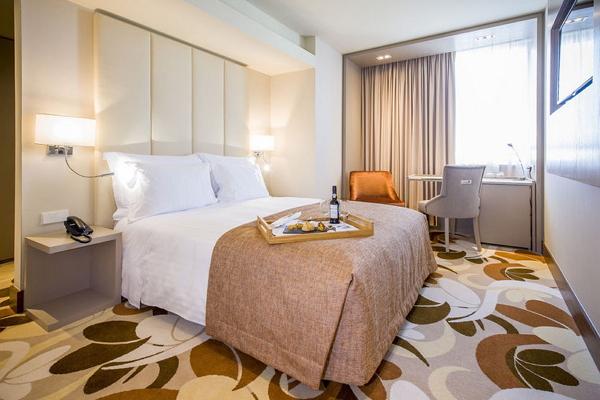 Hotel Skyna Lisboa is located just a kilometer from Avenida da Liberdade, the city's main street, often called the Champs Elysees of Lisbon. Nice modern design, clean and tidy rooms, delicious breakfasts and themed dinners on certain days - for reasonable money you will get excellent service and comfortable accommodation. On the sixth floor of the hotel there is a bar with a terrace, we advise you to drop in for a cocktail in the evening.
Teatro bed & breakfast
Rua da Trindade 36
+351 213 472 024 teatrobb.com double room - from € 119

Teatro Bed & Breakfast Boutique Hotel is located in the historic center of Lisbon, between the Chiado and Bairro Altu districts. Each hotel room is named after a certain theatrical hero of the comedy del arte, the paintings on the walls resemble the scenery for the performances, and the golden and silver shades in the interior give the room a chic. The hotel has a wonderful restaurant serving good breakfasts with a large selection of pastries and fruits, and in the evening it turns into a cozy bar with a large wine list.
Madalena heritage
Rua da Madalena 29
+351 937 440 798 www.madalenahermitage.com apartments - from € 106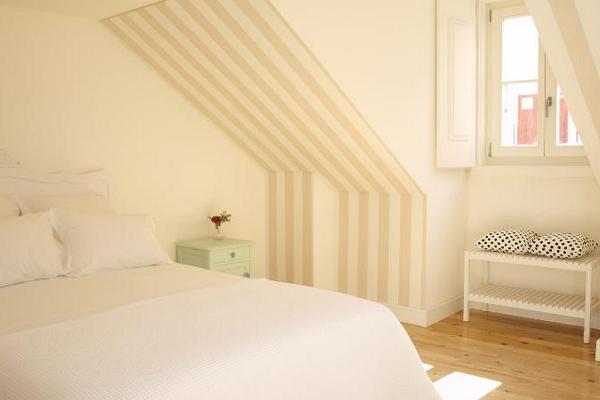 You can't imagine a better place to feel at home (and even better). The apartments in Madalena Hermitage are bright, spacious rooms furnished with Alice in Wonderland style furniture: pot-bellied pastel-colored chests of drawers, wardrobe with white and white stripes, pink dressing tables with soft ottomans, large beds with carved headboards and openwork lamps. The interior design is thought out so carefully that even the pattern on the dishes is combined with the monograms on the cabinet doors. You fall in love with these apartments immediately, and so much that even once again you do not want to leave the lovely cozy rooms. Madalena Hermitage is located in the heart of Lisbon, nearby you will find inexpensive parking where you can park your rented car.
Hotel Mercador Lisbon
Rua De São José 164
+911 059 755 www.mercadorguesthouse-hotel.guestcentric.net double room - from € 98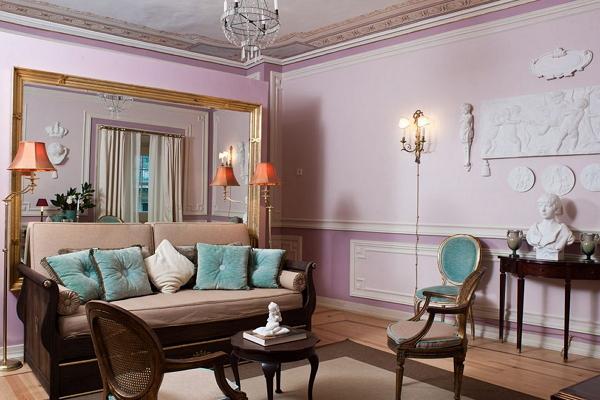 Mercador Hotel is housed in a 16th-century historic building and offers guests neoclassical-style rooms with many paintings, sculptures, beautiful stucco moldings on the ceiling and velvet-lined furniture. Each room is equipped with a kitchenette where you will find a coffee maker, cutlery and even a breakfast basket. Mercador breaks all the stereotypes that suites are worth a fortune and offer their own concept of affordable luxury. A stylish and atmospheric hotel where every visitor for several days turns into an aristocrat who can lie in bed until noon and not worry about rushing somewhere.
My Story Hotel Ouro
Rua Aurea 100
+351 213 400 340 www.mystoryhotels.com double room - from € 90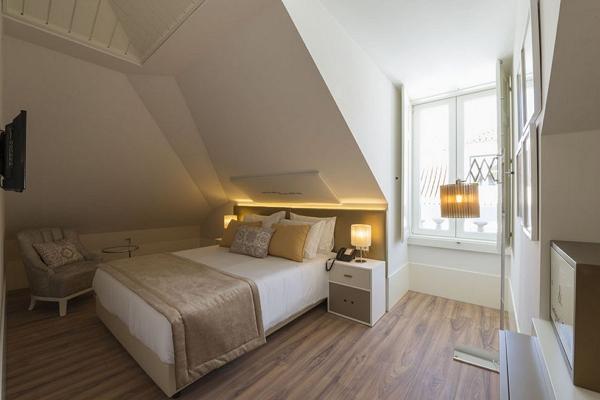 A small, modern hotel located in the heart of Lisbon - the Baixa district. Housed in an 18th-century building, the hotel is decorated in a traditional Portuguese style with azulejo tiles. The rooms are spacious and very comfortable, the interior is made in pleasant golden tones, there are wonderful rooms with dormer-windows. The hotel has its own restaurant with tables on the street - in the morning it's nice to have breakfast. There are many restaurants and bars in the area, there is a good supermarket, so if you want to have a snack closer to the night, then you definitely will not stay hungry.
Where to park a rented car in Lisbon
Car rental with BookingCar - profitable, convenient, easy!
In case of any problems associated with the rental car, BookingCar will solve them as quickly as possible.
We will be with you 24 hours a day.
All you need is to contact us.

© Ellina Rudenko, 2015
Like this? Share in social networks: