Bookingcar offers a wide range of car rental options in Larnaca
Here you can choose a car of any class that best suits your needs.
Our prices are one of the best prices on the market.
See for yourself!
Professional support
Our professional call center will help you understand all the intricacies of car rental. We guarantee full support throughout the rental period.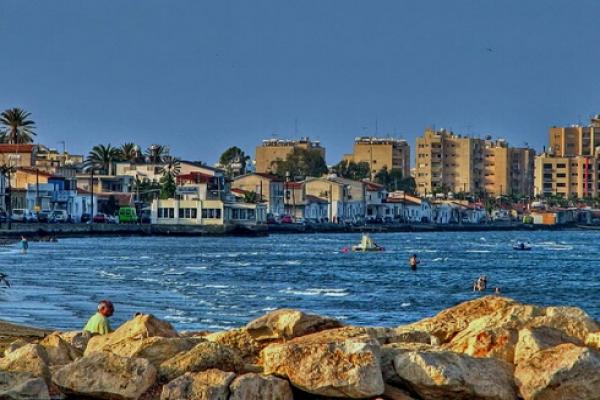 Larnaca is modest and rich at the same time. In this town, every traveler will find something to his taste. Different types of entertainment are equally represented here, so you can try each one. Later, having decided what you want to get from your trip, rent a car and go to the surroundings. If you realize that you do not have enough outdoor activities, feel free to head to the noisy Ayia Napa, for peace of mind go to the western coast of Cyprus.
Bookingcar recommends:
Car rental at Larnaca Airport
Larnaca Airport Hermes ( Hermes - Larnaka International Airport ) - download the scheme
IATA code: LCA
Location: 7 km from the center of Larnaca
Official website: www.hermesairports.com/en/
Information: +357 25 123022 (international line), 77778833 (local line)
At Larnaca Airport, car rental services are provided by international rental companies: Europcar, Sixt, Astra & Petsas. The stands of these car rental companies are located in the arrivals hall at the exits to the bus parking, as well as in the parking lot at the entrance to the departure hall. Hermes Airport offers paid long-term and short-term parking services. Representatives of Larnaca Airport recommend using the pre-booked parking space for your rented car on the official website of the airport: parking will cost you less.
What to see in Larnaca: interesting sights of the city
Mackenzie beach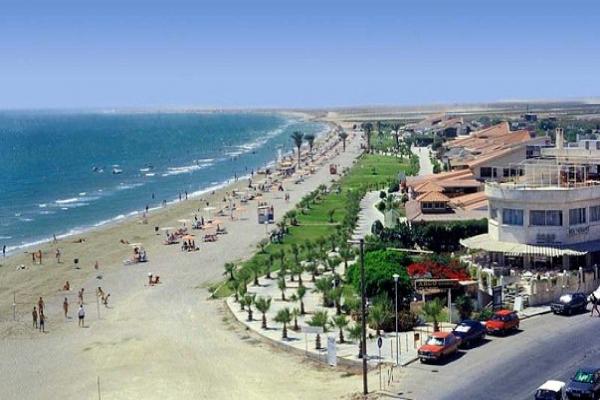 Just stepping into the territory of this beach, you will find that you are already starting to dance. That's because Mackenzie Beach is a luxury all-day long party venue. You just have to put on your most elegant bathing suit, make your skin shine with suntan oil and choose a party to your taste. We recommend melancholy individuals to take a comfortable place in a high chair in one of the bars and watch what is happening for a refreshing cocktail. In any case, the rhythms of music will tell you how to move.
Seaport Marina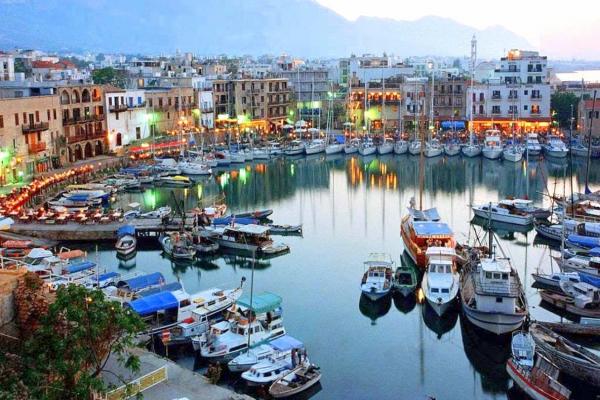 Tourists are accustomed to the fact that sea stations are just places to order boat trips. The seaport of Larnaca will pleasantly surprise you: the haven for yachts and ships, the busiest in August-September, is one of the most vibrant areas of the city. There are noisy shopping arcades and great restaurants by the water. In the port bars you can meet real sea wolves who have returned from around the world travels. Order a bottle of ouzo and spend the evening listening to exciting stories from experienced travelers.
Church of St. Lazarus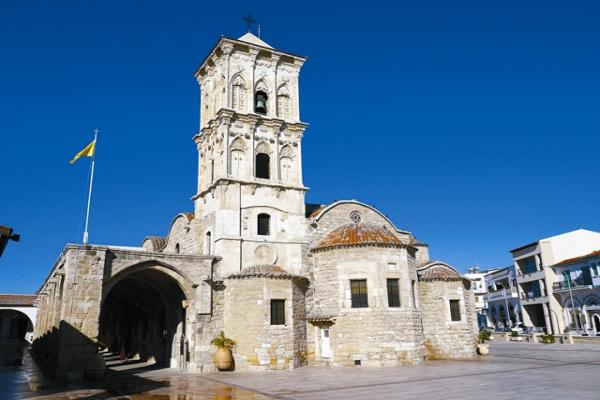 Stunning in its spiritual strength, a church built in the 9th century. It is here that the relics of St. Lazarus, a good friend and disciple of Christ, are stored. This temple is visited not only by tourists who need healing and Divine help, but also art lovers, because the architectural appearance of the church has changed with the passage of time: the style elements of almost all eras are captured here. Do not forget to visit other buildings included in the temple complex: the museum at the Church of St. Lazarus presents a unique collection of masterpieces of ancient icon painting, many of which are familiar to us from school history textbooks.
Hala Sultan Tekke Mosque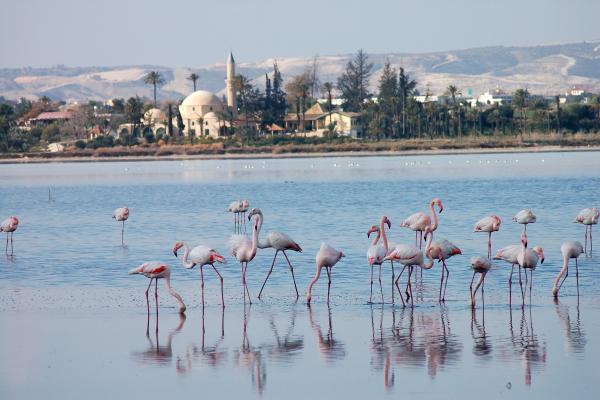 One of the most important shrines of Islamic civilization in the world, located on the shores of the Larnaca Salt Lake Aliki. The mosque was built in honor of the great warrior woman Umm Haram, who died during one of the battles at Larnaca. Today, real miracles are happening at her grave. After completing your visit to this delightful temple, take a stroll through the garden and admire the views of the Larnaca Salt Lake. In summer, Lake Aliki dries up, and in the cold seasons it becomes almost the most important object of attention of tourists visiting the island, because pink flamingos fly here for the winter.
Sunken MS Zenobia Ferry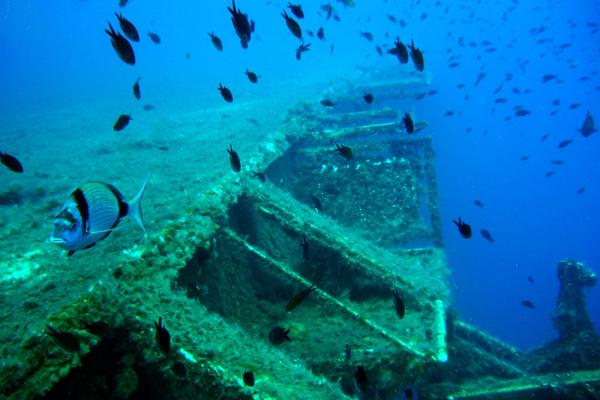 In 1980, a tragedy happened near Larnaca: a large Swedish cargo ferry MS Zenobia sank off the coast of the city. Fortunately, not a single crew member died in this disaster. Today, the place near which the ferry sank is a mecca for diving enthusiasts from around the world. MS Zenobia turned into a real attraction: divers have a unique opportunity to take an exciting journey through all the premises of the sunken ship.
Near Larnaca: the best car routes
Porto pomos beach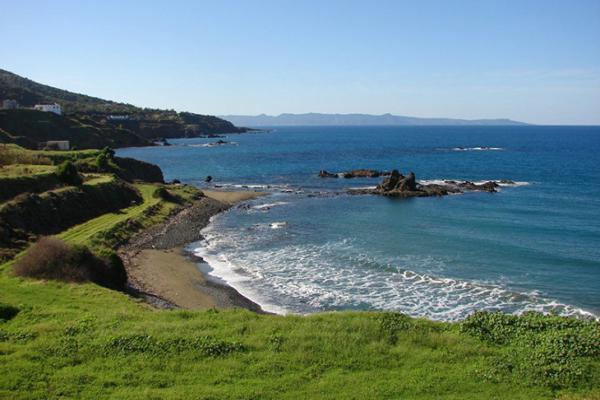 Porto Pomos beach is located on the western coast of Cyprus and is considered one of the cleanest on the island. Porto Pomos cannot offer visitors a variety of entertainment, the main advantage of the beach is its vibrant natural landscape, which has not yet been transformed by man. Here you will feel the unity with nature and tranquility. Using the car rental service, on the way to the beach you can drop by the nearby fishing village of Latchi and enjoy the rural food.
Nicosia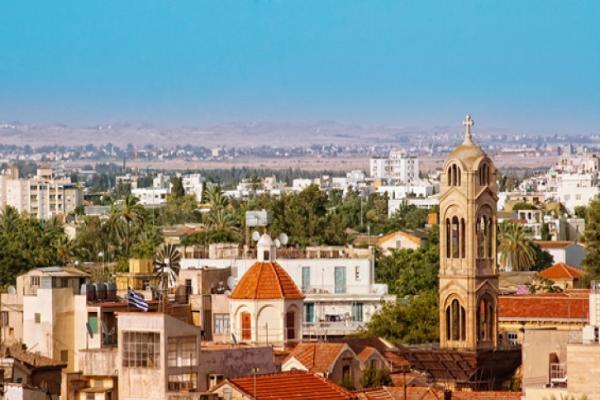 In Cyprus there is no more picturesque area than Nicosia. This city is inhabited by two peoples - Greeks and Turks, and each is trying to create a space that is comfortable for itself. It turns out a very good confrontation: smart minarets of mosques meet with strict church facades, the owners of restaurants with different national cuisines will try to entice and surprise you. Do not delay the purchase of souvenirs on the last day - this can be done at the old eastern bazaar in Nicosia. Here your rented car will come to the rescue: you can upload your purchases to it and calmly continue the walk.
Troodos Mountains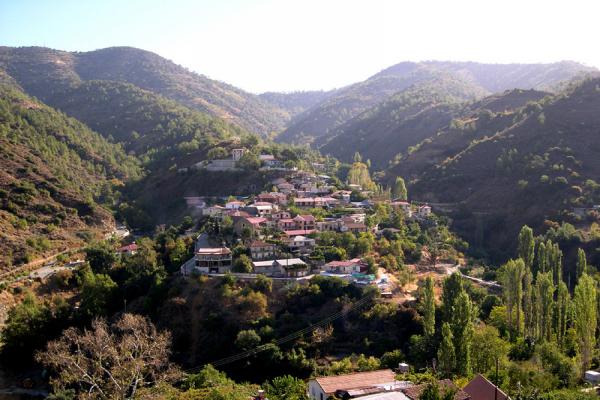 It is quite difficult to fully describe the adventures that await you in a nature reserve located in the Troodos Mountains. Leave your rental car in the parking area at the foot of the mountains and go hiking. We advise you to take care of the plan of your walking route in advance: think about the places that you always dreamed of seeing. Waterfalls? Valleys? Farms and tiny villages? Monasteries and temples? All this and much more you can visit in the reserve.
Cape Greco
Load a picnic basket in your rental car and head to Cape Greco. Do not believe that the Greek monster Scylla lives here: only a gentle breeze from the sea can interfere with your peace here. This is one of the most romantic places on the whole island, so if you travel with a soulmate, be sure to arrange a date on Cape Greco.
Luna Park in Ayia Napa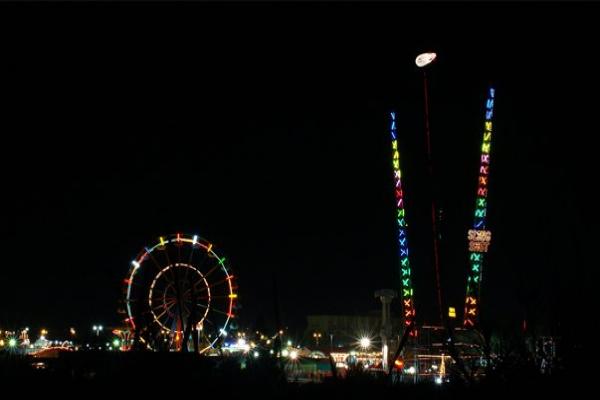 Craving for adventure? Rent a car and head to Luna Park in Ayia Napa. Do you hear enthusiastic squeals of people? So you are definitely somewhere nearby. The attractions here will drive both children and adults crazy. We recommend that you visit this place in the evening: in the hot afternoon hours it is quite difficult to survive such an adventure in good health.
Food: atmospheric restaurants, cafes and bars
Maqam Al Sultan Lebanese Restaurant
Aggyras 7, Phoinikoudes Beach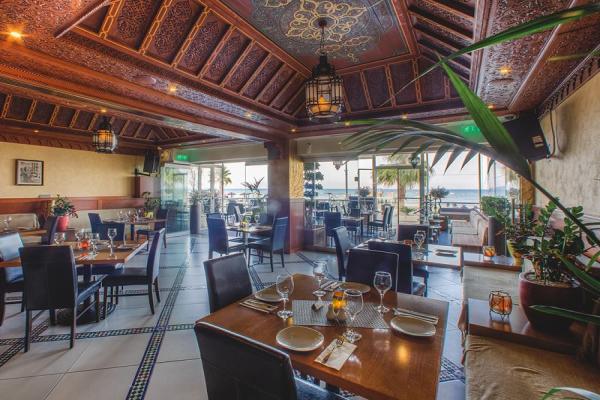 One of the most famous restaurants of Larnaca with Lebanese cuisine. It's hard to say why tourists and locals love it so much: for the view of the sea from the restaurant's terrace, for the long and well-designed menu, or for the rich evening program. Gather a large company, in which there must be a convinced teetotaler who agrees to safely deliver everyone in a rental car home. A noisy, satisfying and cheerful evening is provided for you.
Ocean basket
Filiou zannetou
You will return here more than once: a variety of dishes from the freshest seafood is the "trick" of this institution. The menu is very balanced: there are complex dishes with author's sauces, there are very simple ones, where emphasis is placed on the taste of seafood. The second type is more popular among visitors. The menu of desserts in the restaurant has not yet been sufficiently developed, so we recommend that you use the car rental service and after dinner at the Ocean Basket ride in comfort for a sweet treat.
Art Cafe 1900
Stasinou 6
This place is just made for friendly meetings over a cup of coffee. Visitors often compare the Art Cafe 1900 with a museum or library, and the reason is not only the specific interior of the establishment (the walls of the cafe are hung with paintings by local artists and old posters), but also in the silence prevailing there. The best place in the cafe is by the fireplace with mirrors, book a table in advance for a comfortable stay.
To sieradiko
Pavlou Valsamaki 14-16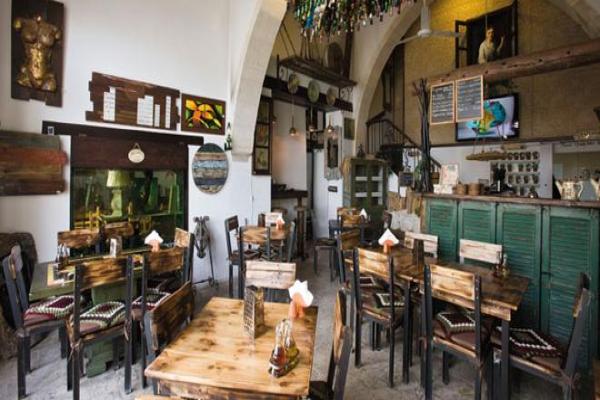 At the door of this Greek cuisine restaurant you will be greeted by a welcoming host and escorted to a table. Feel free to tell him about your tastes: he will select the right dish for you and even adjust his recipe in accordance with your preferences. The restaurant is very small and cozy, famous for its large portions, so take care to book a table in advance; This place is extremely popular with tourists.
Hobo´s steak house
14 Athinon Avenue 1st Floor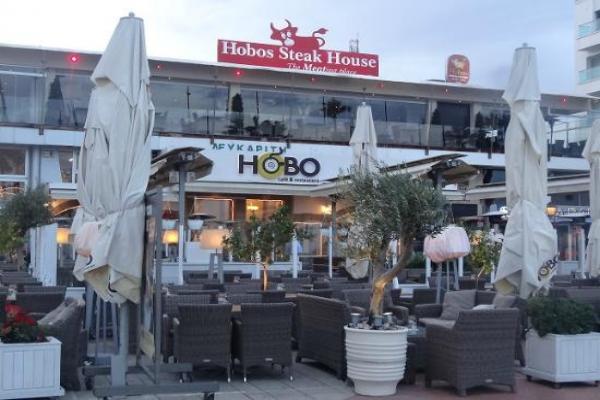 It's no secret that during a stay at a sea resort, seafood is terribly annoying. Therefore, we recommend that you arrange at least one "meat" day. For delicious steaks, head to Hobo´s. An important advantage of this place is its location near the Larnaca promenade. After a hearty dinner, take a leisurely stroll between the palm trees. When booking a table with sea views, do not forget to tell the administrator that your rental car requires a parking space.
Where to live: comfortable hotels in Larnaca
Golden Bay Beach Hotel
Dhekelia Rd, 6306
+357 24645444 www.goldenbay.com.cy/ru/ double room - from € 215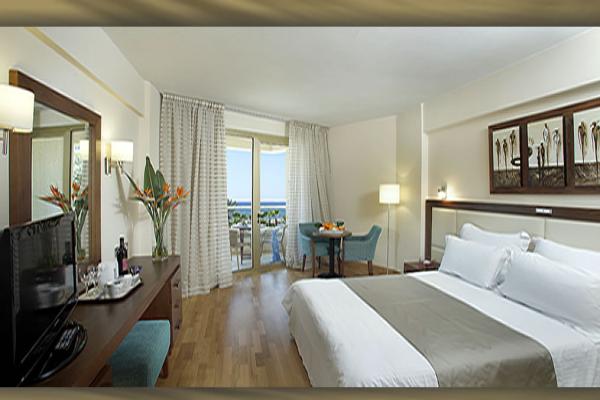 An ideal place for a classic holiday by the sea. An important advantage of this hotel is that on its territory there are a lot of green areas in which you can hide during lunch hours. In a word, you will find something to do at any time of the day, there are a lot of entertainment and relaxation areas here: a spa center with a bath and a sauna, indoor and outdoor pools, bars and restaurants. If you decide to stay at Golden Bay Beach, you will definitely need a rented car: the hotel is 10 km from the city center.
Princess beach
Dekhelia Road, 7041
+357 24645500 www.princessbeachhotel.com.cy/ double room - from € 141

This hotel will appeal to those who prefer to be in the thick of things. Princess Beach is located in a tourist area: nearby are several beaches, the city promenade, Larnaca Castle and St. Lazarus Church. Although the hotel operates on an all-inclusive basis, - there are two restaurants, three swimming pools and a sauna on the territory - what you need for relaxation, we recommend that you often get out into the city and explore the surroundings by rental car.
Hotel opera
11 Faneromenis Avenue, 6023
+357 24 400112 https://operahotel.reserve-online.net/about double room - from € 141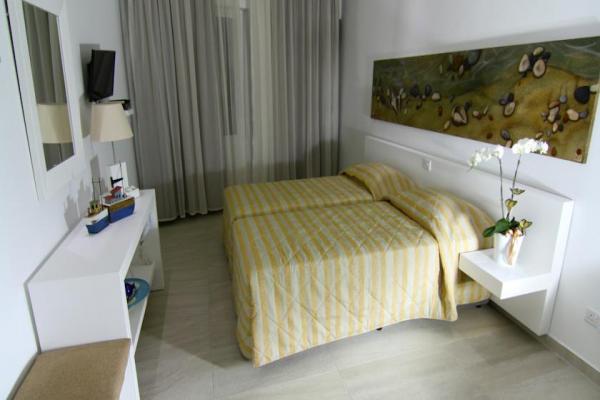 A boutique hotel in the center of Larnaca for those tourists who consider the hotel exclusively as a place to sleep. Yes, the hotel does not have its own beach and swimming pools, you will have to walk to the sea for 10 minutes, but from the balconies of Hotel Opera rooms you can enjoy breathtaking views of the historic city center - all important sights are within easy reach. Having familiarized yourself with all the places of Larnaca attractive for tourists, rent a car to continue exploring the rich history of the island.
Lordos Beach Hotel
Dhekelia Road, 6305
+357 24647444 http://lordosbeach.com.cy/en/ double room - from € 138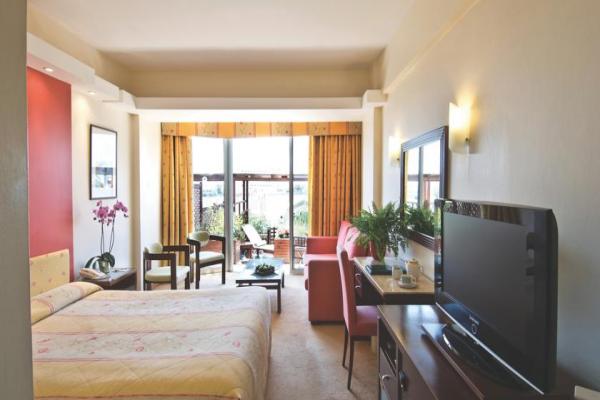 If you are traveling to Cyprus with children, then Lordos Beach Hotel will be the best choice for you. "The situation here is very calm and relaxed," you will think until a bunch of children in pirate costumes come upon you. The children's entertainment program at this hotel is very rich, which allows adults to enjoy hiking in the hotel restaurant with Cypriot cuisine and sports. We recommend that you reserve a room on the website: a parking space for your rented car is attached.
Frixos Suites Hotel Apartment
Larnaca - Dhekeleia Road, 6530
+357 24 645200 www.frixoshotel.com.cy/ double room - from € 105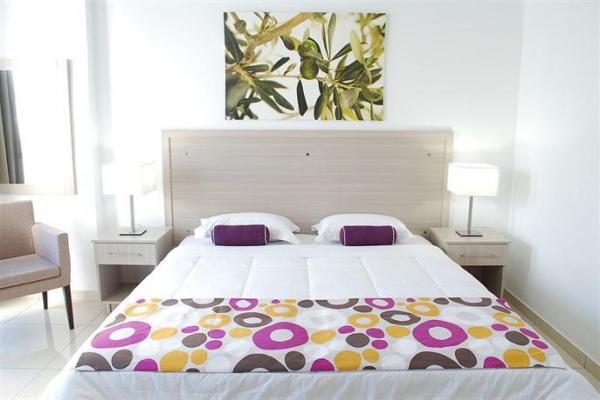 Sit back on the hotel's sunlit terraces and admire the mountain scenery - you are guaranteed a luxury marine vacation. Frixos Suites Hotel Apartment with its spa area, pools of various shapes and sizes, a luxurious restaurant that welcomes guests around the clock, gardens is included in the lists of many tourist guides as one of the most comfortable hotels in Cyprus. Good news for car rental customers: Free private parking is available on site.
Where to park a rented car in Larnaca
Renting a car in Larnaca with BookingCar is profitable, convenient, simple!
In case of any problems associated with car rental in Larnaca, BookingCar will solve them as quickly as possible.
We will be with you 24 hours a day.
All you need is to contact us.
© Elena Kotelova , 2016
Like this? Share in social networks: