Hot deals in Jakarta Airprot
Bookingcar offers a wide range of car rental options in Jakarta
Here you can choose a car of any class that best suits your needs.
Our prices are one of the best prices on the market.
See for yourself!
Professional support
Our professional call center will help you understand all the intricacies of car rental. We guarantee full support throughout the rental period.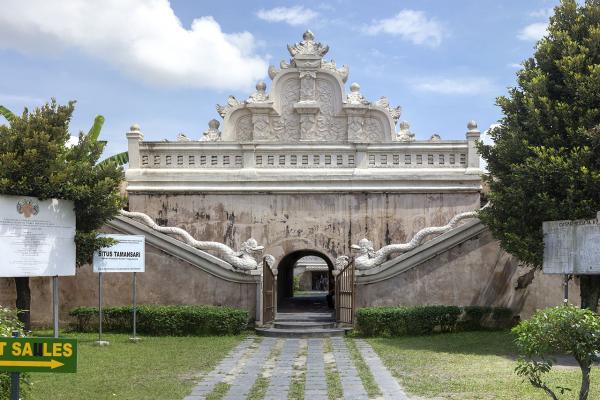 Jakarta is the capital of contrasts. Walking along a noisy street you can come across a popular attraction, find a fashion store or get into a poor quarter. It's impossible to predict what awaits you around the corner, but this is where the romance of the city lies. The best way to inspect everything planned and to feel completely safe is to rent a car. Then it will turn out to see the most iconic places of the city, take a tour of local restaurants and travel outside the city in search of adventure. Visiting historical places should be combined with trips to the markets: here you can buy incredible gizmos at ridiculous prices and enjoy the true Indonesian flavor.
Bookingcar recommends:
Car rental at Jakarta Airport
Airport Jakarta Soekarno-Hatta ( The Jakarta Soekarno-Hatta International, Airport then ) - download scheme
IATA code: CGK
Location: 20 km from Jakarta
Official website: www.soekarnohatta-airport.co.id
Information: +62 21 5505179
At Jakarta Airport, car rental services are provided by Laks Prima Transport, Golden Bird, Bookingcar and Avis. Rental car racks are located in three terminals. There is also a parking zone near each terminal.
What to see in Jakarta: interesting sights of the city
Chinatown
Glodok, Jl Kemenangan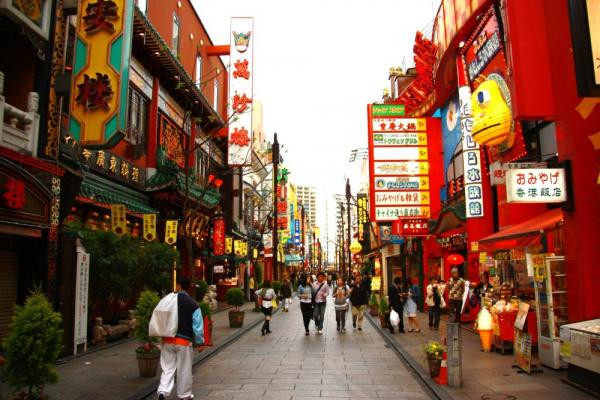 Arriving in Jakarta, first go to Chinatown - the oldest district of the capital. Formed in the middle of the XVIII century, it is still considered the best place for entertainment and the area where you can drink real Chinese tea. Slowly strolling through the streets and plunging into the local flavor, inspect the Jine-Yuan Temple, built in the XVIII century, the Toko Mera building, the Langgum house. Take a look at the buildings and look at the many hieroglyphs depicted on them. There are also rice paper shops and pharmacies of traditional Chinese medicine, where you can buy special medicines made according to centuries-old recipes.
National Museum of Indonesia
Jl. Medan Merdeka Barat No.12, Gambir, Kota Jakarta Pusat, Daerah Khusus Ibukota Jakarta www.museumnasional.or.id

When renting a car, do not miss the opportunity to visit the National Museum of Indonesia, which presents a unique collection of numismatic, archaeological, ethnographic and other exhibits. The museum consists of the Elephant House (historical relics, ceramics, textiles are presented here), and the Statue House, which presents exhibits of ritual and religious themes. If there is not much time to visit the museum, you should definitely see the 4-meter Buddha statue, which is regularly visited by locals.
Mini Indonesia Park
Jakarta Timur, DKI Jakarta www.tamanmini.com/pesona_indonesia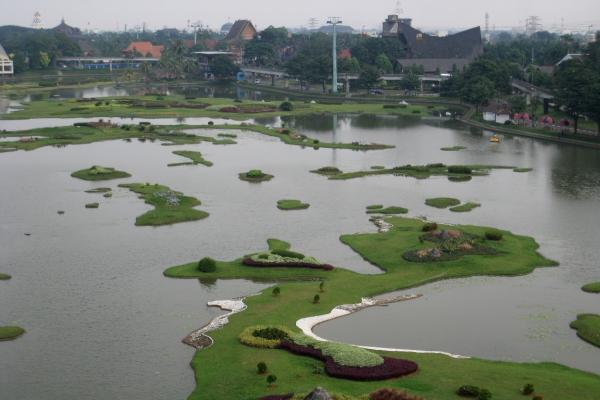 Both children and adults will be interested in visiting the Mini Indonesia Park, where you can learn all the most fascinating about 27 Indonesian provinces. There are pavilions on the territory of the complex dedicated to each of them, in addition, there are many museums, temples and parks. There is even a theater and a water park, so you can safely take a few days to visit the sights. What is definitely worth doing when you come to the park is to inspect a miniature copy of the legendary Borobudur, look into one of the temples and take a catamaran for a swim along the pond.
Istiklal Mosque
Jl. Taman Wijaya Kusuma, Ps. Baru, Sawah Besar, Kota Jakarta Pusat, Daerah Khusus Ibukota Jakarta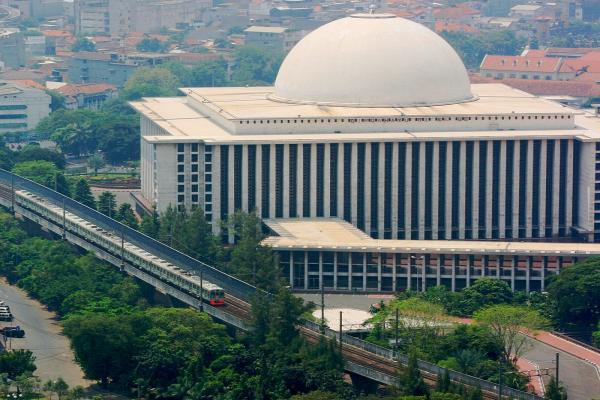 The Istiklal Mosque, recognized by the National Mosque of the country, also deserves the attention of tourists. It was built immediately after liberation from Dutch domination, therefore, it is rightfully considered a symbol of independence. The mosque features a spherical dome, massive balconies and minimalist interior decoration. It is interesting that in addition to traditional services, exhibitions, seminars and various public programs are also held in the shrine.
Museum of Fine Arts and Ceramics
No. Jl. Pos Kota, RT.9 / RW.2, Daerah Khusus Ibukota Jakarta, Jakarta Barat, West Jakarta City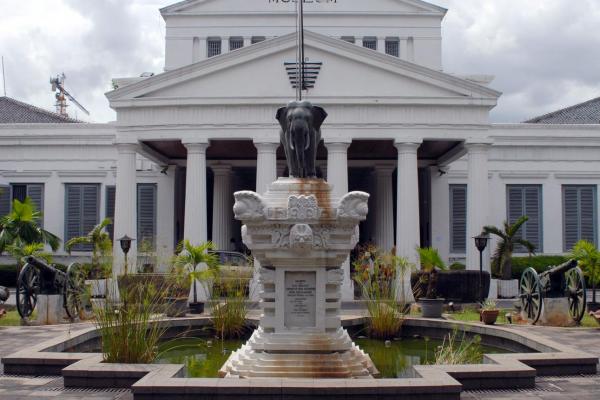 You can get acquainted with the history of Jakarta in recent centuries by going to the Museum of Fine Arts and Ceramics. The collection consists not only of the works of local artisans, but also presents products of European, Chinese, Vietnamese artists. You should definitely see the works of Raden Saleh, Affandi, exquisite fabric painting and buy memorable souvenirs. It's more convenient to get to the museum by renting a car.
Near Toulouse: the best car routes
Sumatra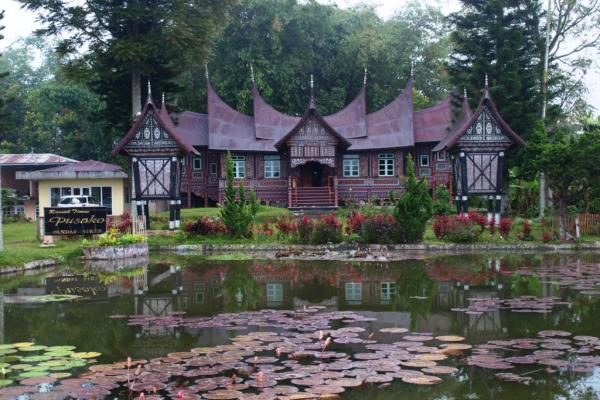 If the sights of Jakarta are explored far and wide, and you took a lot of time to travel around Indonesia, go to the island of Sumatra - one of the most beautiful in Indonesia. It is known not only for its excellent dark sand beaches, ancient temples, but also for its unique landscapes that can surprise every tourist. Among the places worth visiting are the Mosque of Paradise with black domes, Maimun Palace, and Lake Toba, which is more than 75 thousand years old. On the island of Samosir you can see unique stone thrones, visit the thermal springs on Mount Belirang and visit the Raja Sidabatu Museum, near which the tomb is located. Fans of unique flora and fauna should visit the Kerinsi Seblat National Park and the Gunung Luser National Park.
Bank Belitung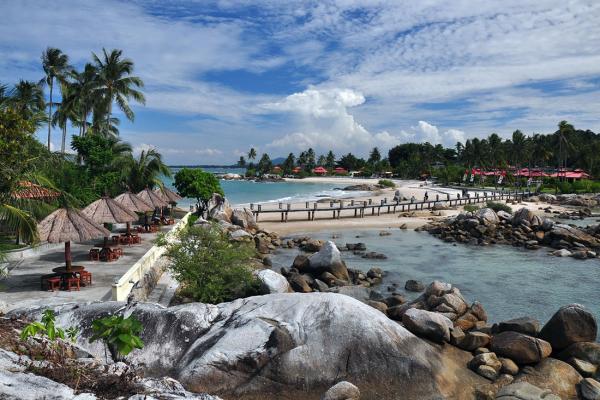 To the east of Sumatra is located the no less picturesque island of Bank-Belitung. Both residents of Indonesia and tourists often come here to relax on the best white sand beaches. While relaxing on the coast, you can actively spend time playing beach volleyball, diving, sailing or snorkeling. The water in the sea here is very clean, so it will be a pleasure to swim with a snorkel and consider the underwater inhabitants. A lot of first-class hotels have been built on the island, so that in addition to excellent beach vacations, you can enjoy good service. If you want to alternate a beach holiday with excursions, you can visit the Pemali hot springs and the old Tanjung Kelian lighthouse on the island.
Bogor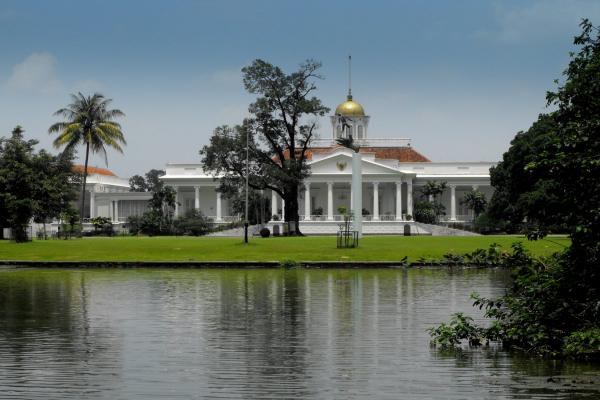 If you rent a car, you can go to the neighboring city of Bogor (50 kilometers from Jakarta) for a one-day excursion. The attention of tourists deserves the local botanical garden, the main property of which is considered to be a titanic amorphophallus flower, the residence of the rulers of Holland and Great Britain, as well as the Gunung Halimun National Park. The town is always cool and quiet, and after lunch, as scheduled, light rain begins.
Bandung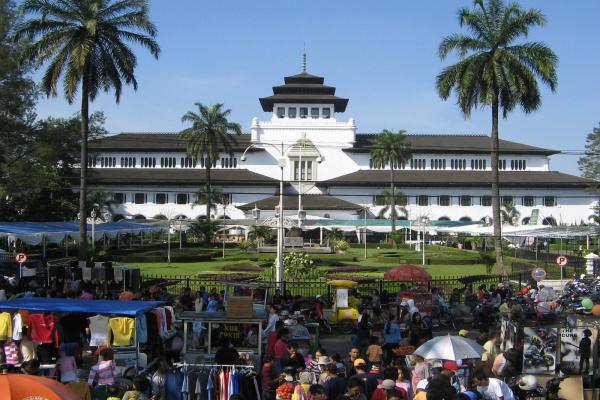 You can continue exploring the surroundings after leaving Bogor by going to Bandung. The streets are surrounded by forests, gardens and literally immersed in greenery, which makes it seem like you did not come to the country's largest economic center, but to a huge park. You can slowly walk around Bandung, going to museums and inspecting the monuments that will meet along the way or purposefully inspect the Dago Waterfall, Tangkuban Volcano, the Cathedral and the Geological Museum. After long walks, you can sit down in one of the local restaurants and taste local dishes overlooking the beautiful city.
Semarang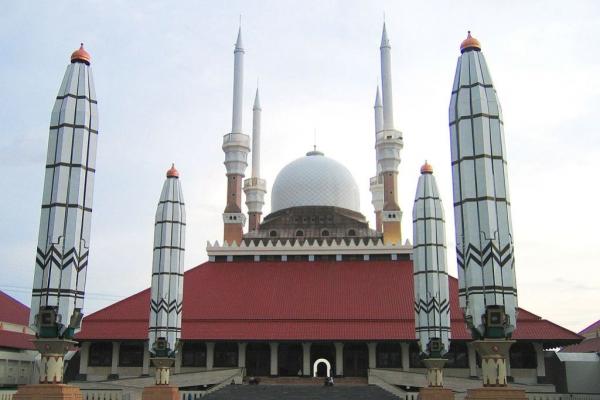 Semarang is another town where you can go for a day or two from Jakarta. Today, it looks like a typical industrial city of Indonesia, however, it retained a certain charm of bygone centuries. There are lots of activities for boring leisure. You can go to the port and take a cruise on a liner, visit the Taman Budaya Raden Saleh park, which often hosts cultural events, climb the Bukit Bukit Sari hill for the most beautiful views of Semarang. An impression will also be made by a visit to one of the museums of herbal medicine and the old church. No matter how much time you have to explore the town, be sure to stroll through the local markets, which are famous for handmade goods.
Food: atmospheric restaurants, cafes and bars
Common grounds
City Walk Sudirman Lantai Ground, Jl. KH Mas Mansyur Kav. 121, RT.10 / RW.11, Karet Tengsin, Kota Jakarta Pusat, Daerah Khusus Ibukota Jakarta www.commongrounds.co.id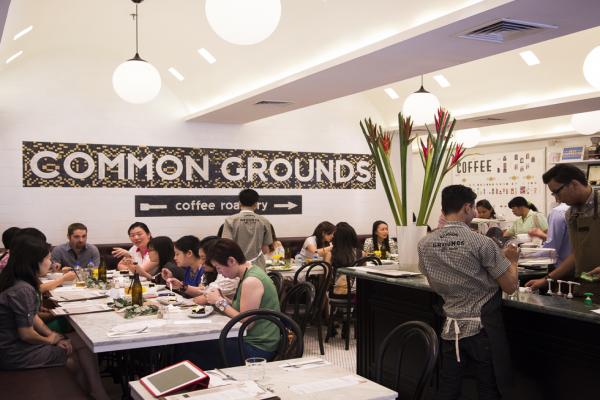 If you want to have breakfast outside the hotel, head to the Café Common Grounds for a rental car, which is perfect for this occasion. You can order scrambled eggs, toast, bacon or a cup of coffee and enjoy conversations in a pleasant company. If you want to try something special, ask the staff for advice. By the way, the dishes are served in large portions, so it turns out to be fully satiated with the ordered.
La brasserie restaurant
Jalan Jenderal Sudirman Kav 18-20, RT.10 / RW.11, Karet Tengsin, Jakarta Pusat, DKI Jakarta, Daerah Khusus Ibukota Jakarta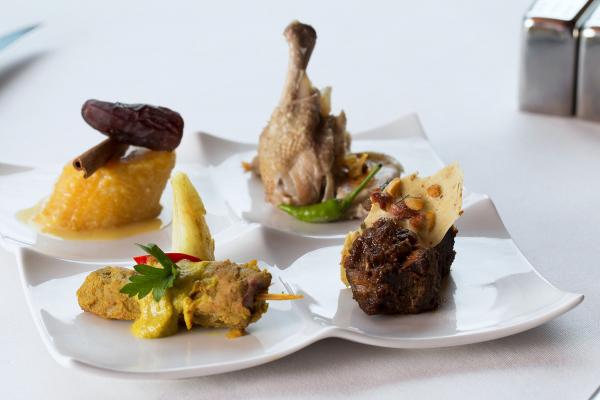 Can't decide what you want for lunch? Drop by La Brasserie Restaurant, which is famous for its delicious dishes of European and Asian cuisine. When ordering main dishes, remember the delicious desserts that are prepared here. Live music is often played at lunchtime, so being in a restaurant becomes even more enjoyable. The competent staff does not lose a second to please every guest and make the best impression. La Brasserie Restaurant is suitable for family vacations as well as for a meal with friends.
Al Nafoura Lebanese Restaurant
Hotel Le Meridien, Jalan Jenderal Sudirman Kav. 18-20, RT.10 / RW.11, Karet Tengsin, RT.10 / RW.11, Karet Tengsin, Kota Jakarta Pusat, Daerah Khusus Ibukota Jakarta www.lemeridienjakarta.com/alnafoura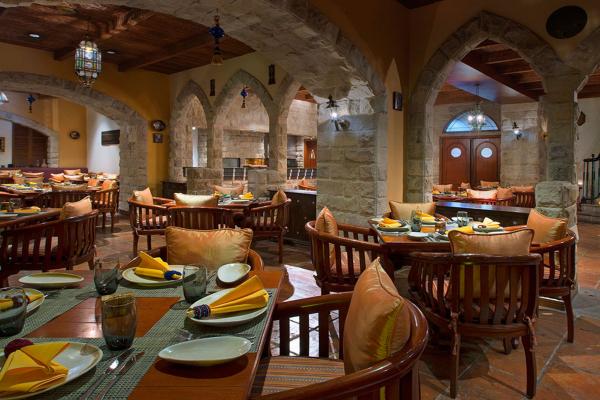 Want to taste something completely special? Al Nafoura Lebanese Restaurant serves a selection of Lebanese dishes. Entering the main hall of the restaurant impresses with its original interior and traditional details. It is worth trying the lamb with couscous according to the chef's signature recipe, wine or coffee as a drink. For those who restrict their diet, a vegetarian menu has been developed. Thanks to the competent work of the staff, the restaurant has a cozy and pleasant atmosphere.
Akira back
MD Place Penthouse Level 12, Jalan Setia Budi Selatan No 7, Setia Budi, Setiabudi, South Jakarta City akirabackindonesia.com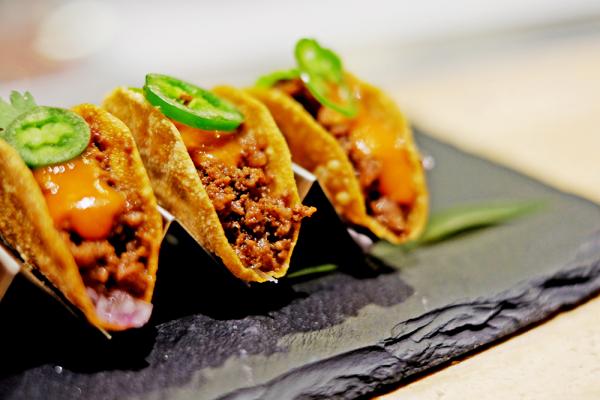 Want to know what Japanese fusion is? Akira Back will do just fine. Chefs work continuously, mixing ingredients and finding new unusual tastes. The highlight of the institution is the original interior and extremely competent staff. It is very convenient that in addition to the common room there are separate rooms that are great for business meetings or private events. It will be more convenient to get to the place by renting a car.
Namaaz dining
Jalan Gunawarman No.42, RT.5 / RW.2, Selong, Kebayoran Baru, Kota Jakarta Selatan, Daerah Khusus Ibukota Jakarta www.namaazdining.com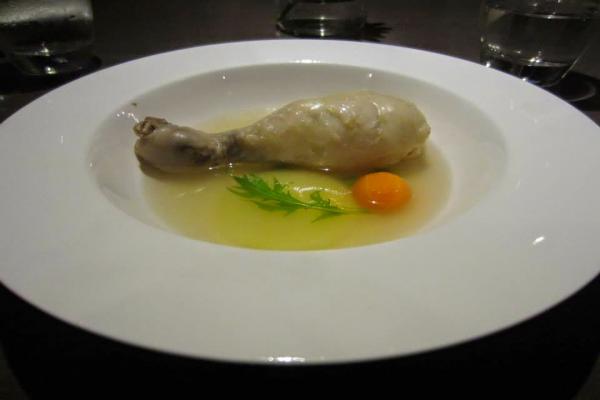 Looking for a cozy restaurant for dinner? Choose your own Namaaz Dining. The highlight of the restaurant is molecular cuisine. An unusual combination of tastes, new cooking techniques and original presentation - all this undoubtedly makes an impression. The cozy interior has a pleasant meal in any company. The establishment is popular, so it is better to book a table in advance for the evening.
Where to live: cozy hotels in Jakarta
Pullman jakarta central park
Podomoro City, Jalan Letjen S. Parman No.Kav 28, RT.12 / RW.6, South Tanjung Duren, Grogol petamburan, West Jakarta City
+62 21 29200088
double room - from € 119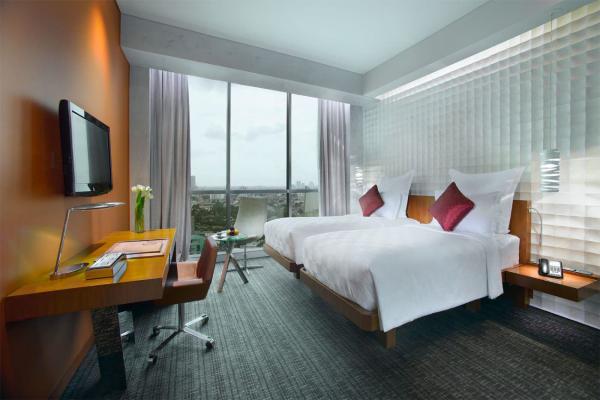 Pullman Jakarta Central Park is a great place to stay in Jakarta for the whole family. The apartments have a stylish interior and proper organization of space. Whatever room you book, it will be spacious and bright. The hotel is a complex, in the territory of which there is also a shopping center, restaurants, a business center. For a comfortable stay, tourists are equipped with a jacuzzi, swimming pool, fitness center, spa.
Hotel Novotel Jakarta Gajah Mada
Jalan Gajah Mada No.188, RT.3 / RW.5, Glodok, Tamansari, Kota Jakarta Barat
+62 21 29367777
double room - from € 47
Looking for a budget accommodation option while planning to travel on a rental car? Choose your favorite Hotel Novotel Jakarta Gajah Mada. Nearby is the railway station and Chinatown. The rooms are bright and comfortable, equipped with everything necessary to feel at home. When booking a room, give preference to the one located on the highest floors: the view from the window will be amazing.
Hotel Gran Mahakam Jakarta
Jalan Mahakam I No. 8, Blok M, Jakarta Selatan, RT.1 / RW.7, Kramat Pela, RT.1 / RW.7, Kramat Pela, Kby. Baru, Kota Jakarta Selatan, Daerah Khusus Ibukota Jakarta
+62 21 7209966 www.granmahakam.com double room - from € 79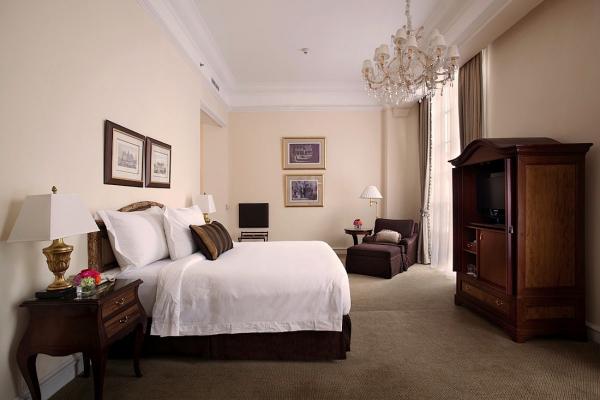 If you are looking for a romantic getaway with your soulmate, Hotel Gran Mahakam Jakarta will satisfy all your needs. The first thing that impresses is the stylish interior and the extremely attentive attitude of the staff. Delicious breakfasts are offered in the mornings, and you can also spend the evening in the hotel restaurant if you do not want to go out into the city. It offers a swimming pool, spa, fitness center.
The heritage jakarta
Jl. Cilacap No.1, RT.11 / RW.5, Menteng, Kota Jakarta Pusat, Daerah Khusus Ibukota Jakarta
+62 21 31926888 www.hermitagejakarta.com double room - from € 126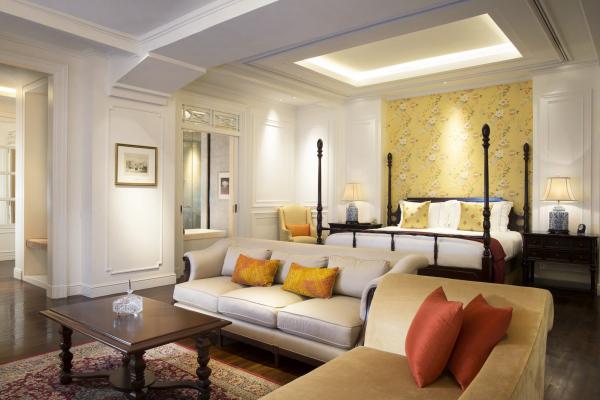 The Hermitage Jakarta is one of the trendiest hotels in Jakarta with first class service and full service. It is located in a quiet area near the center, so no extraneous traffic will prevent you from enjoying your vacation. The apartments are spacious and comfortable, equipped with the latest technology. The hotel has a rooftop pool and bar. For tourists on rented cars free parking is equipped, for those traveling without a car, a transfer service is available.
Holiday Inn Jakarta Kemayoran
Jalan Griya Utama Blok B No. 1, Sunter Agung, Tanjung Priok, RT.2 / RW.5, Sunter Agung, Tj. Priok, Kota Jkt Utara, Daerah Khusus Ibukota Jakarta
+62 21 29568800
double room - from € 61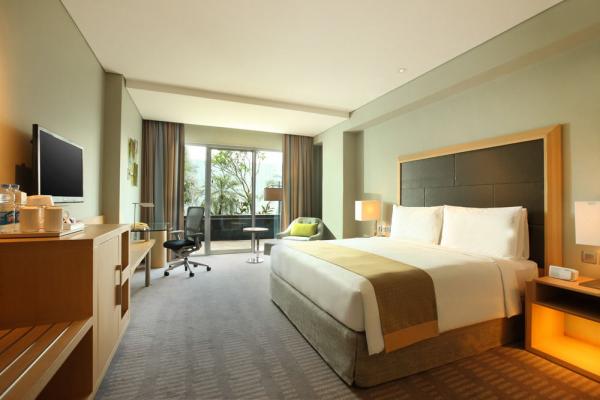 For business trips, Holiday Inn Jakarta Kemayoran is suitable. The apartments are spacious, with panoramic windows offer a good view of the city. The room also has a work area with a desk and all the necessary accessories. Attentive staff makes sure that each guest feels comfortable, with any request or question you can safely come to the front desk. For leisurely leisure and complete relaxation, there is a swimming pool and spa area.
Where to park a rented car in Jakarta
Renting a car in Jakarta with BookingCar - profitable, convenient, simple!
In case of any problems associated with car rental in Jakarta, BookingCar will solve them as quickly as possible.
We will be with you 24 hours a day.
All you need is to contact us.
Like this? Share in social networks: