How to rent a car cheaper
Each of us, at the time of booking a car, has an absolutely normal desire to make a reservation as cheaply as possible and at the same time get a rental car that is the most suitable in size and characteristics. In this article we will try to give you some tips on how you can save or find a more suitable option.
1. When you fill in the search form with data regarding car rental, such as: country, city, place of issue and return, time of issue and return, please note that if the time to return the rented car is even an hour or a half longer than the time of issue, you will pay for the next day rent.
Here is an example when we receive and return the car at 12 noon: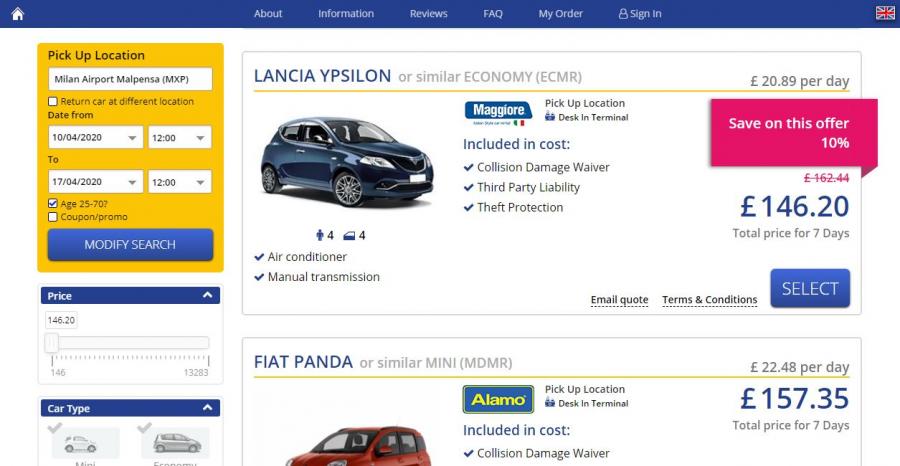 Here is an example when we get the car at 12 noon, and return at 1:30 pm: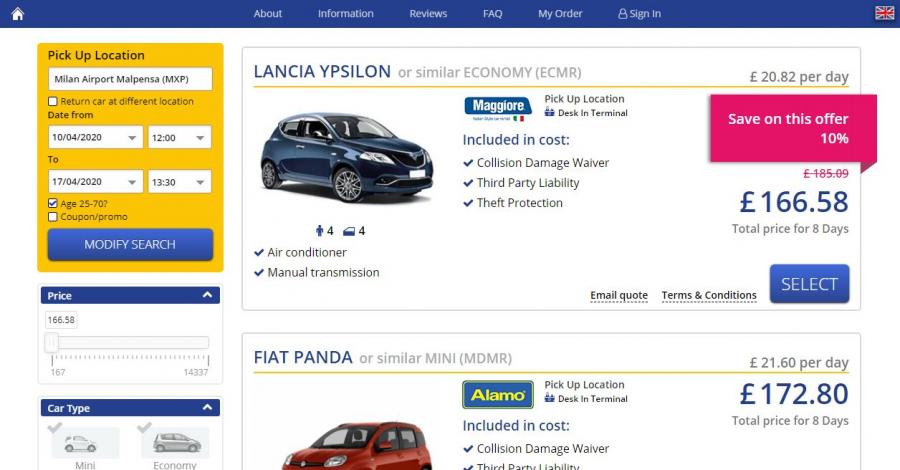 As we see the cost of renting a car has changed significantly.
If you have the opportunity to return the car no later than the time of issue, this can significantly reduce the price.
2. If you want to rent a car in the city, but among all the offers you cannot find a suitable one, try to choose a rental station located at the nearest airport. As a rule, at airports the maximum number of rental companies is presented and the choice of cars is greater than in the city. This only works if the airport is not far from you, because if it is not, then the time, effort and money to get to the airport are not worth the money.
In any case, choosing a car, do not limit yourself to only one rental station, try to choose the nearest car pick-up points and you may be able to find the best option.
In the picture below you see the number of cars in the city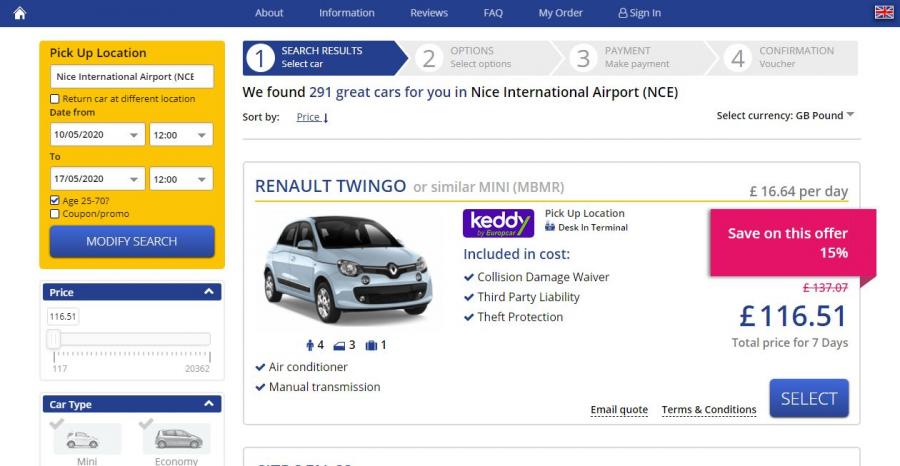 The following picture shows the assortment cars at a nearby airport.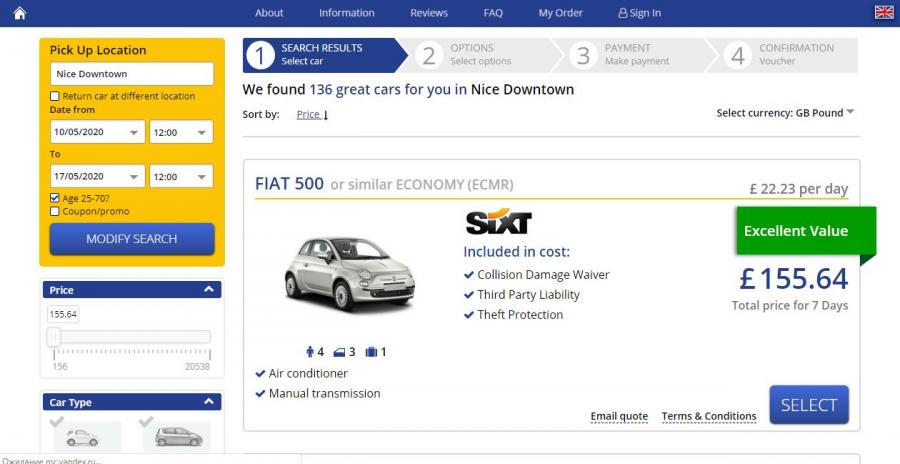 As you can see, the choice of rental companies at the airport is much larger, respectively, and the choice of cars is much larger than at the city rental station.
3. Of course, you can save on the car class. This option is suitable if you are traveling alone or together and you do not have much luggage. You can simply choose a smaller car, but with the same gearbox and similar characteristics.
In the first picture we see compact class cars with an automatic transmission: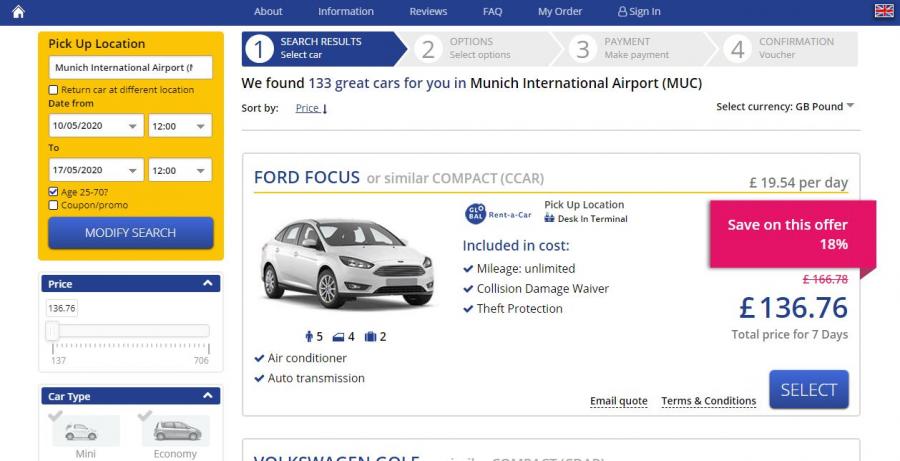 The second picture shows the same cars + economy class cars, also with automatic transmission, but at a better price: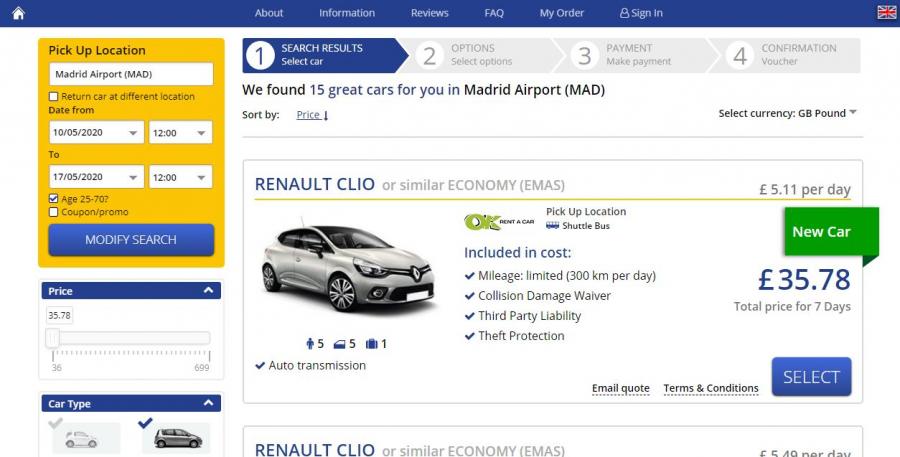 As you can see, this is also not meaningless, and do not forget that according to the rules of international rental that our company follows, if, when you issue your rental car, it turns out that the car category you ordered is not available, you are required to issue a car of the following category. This happens especially often during the high season. Our customers receive cars one or even two categories higher, the cost will be preserved, but the deposit will increase, please pay attention to this.
4. If you are not going to purchase any additional options, insurance, navigators, snow chains, additional drivers and so on, then safely book a car at the price that you liked. If you intend to purchase additional options, travel outside the country of receipt of the rented car, exceed the allowable mileage, etc., carefully study the more expensive offers. The cost of renting cars offered at a higher price may include options for which you do not have to pay, and as a result, such an offer may be more profitable for you. Also note that the lower the rental price, the more expensive the additional options and the larger the deposit.
5. If you look at the photo below, you will see that it is possible to rent additional equipment, such as a navigator, child seat, trunk, etc., but the rental of these options must be paid additionally and by the day. If you rent this equipment for more than 10 days, it will cost you not cheap. How to save? There is nothing easier, arriving in the host country, after receiving the car, make a stop at any major shopping center, where you can buy not an expensive child seat (booster), but in the nearest mobile phone salon a local SIM card with an unlimited monthly Internet tariff. Buying this equipment will cost you less than a rental, and you can leave the booster at the hotel or take it home with you.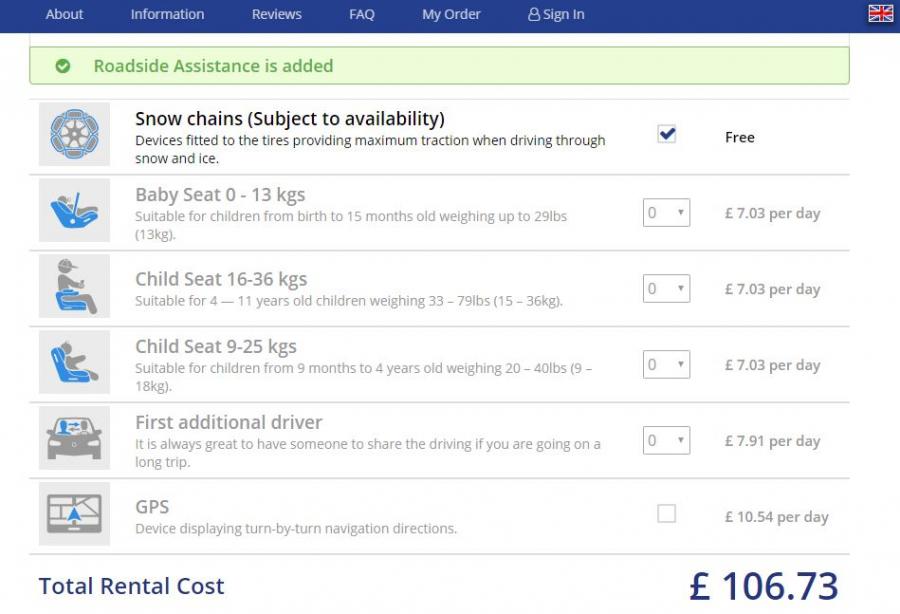 6. Not in all countries, cars with an automatic transmission are popular. In Russia, America, the UAE, Canada it is more difficult to find a car on a manual gearbox than on a machine, of course, this is primarily due to the cost of fuel and this is the exception rather than the rule. In other countries, renting a car with an automatic transmission may cost more than mechanics, as shown in the following photos.
These are cars with a manual transmission: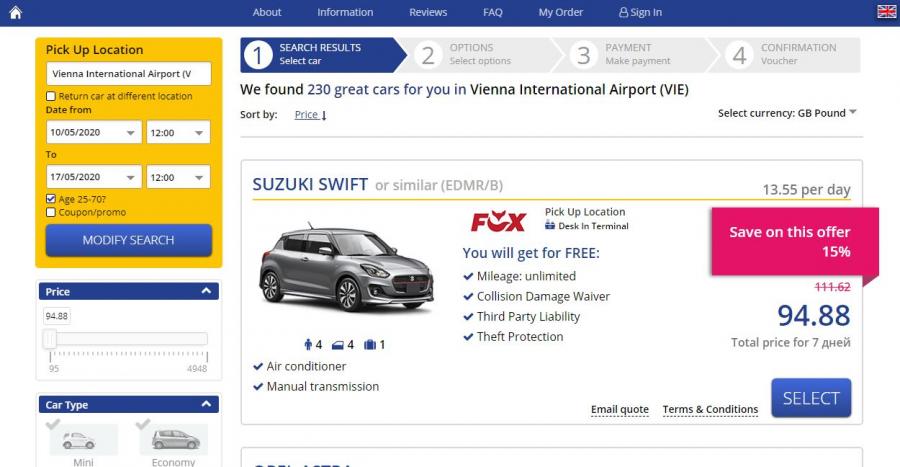 And this is automatic: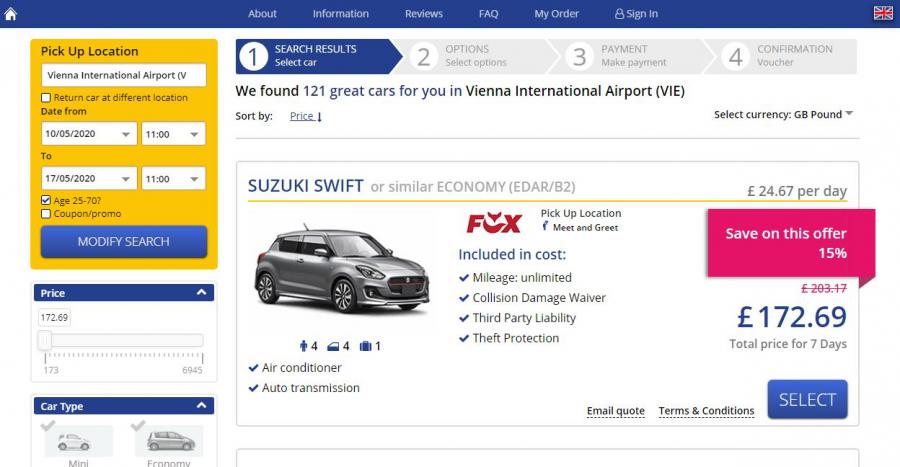 Therefore, if you do not care which gearbox to drive, choose a mechanic, it will definitely be more profitable in terms of price.
And the last, choosing which airport to fly to and where to buy tickets, always first study the cost of renting a car, unless of course you are going to use this service. It may happen that you buy tickets very profitably, and the cost of rent will nullify all efforts to save. Explore other nearby and convenient airports for you, perhaps it is there that the cost of renting a car, in total with the cost of tickets, will delight you. You are absolutely unlimited in your movements (with rare exceptions, it is necessary to study the rental conditions in each case, regarding border crossing), you can rent a car in one state and go to another.
Choosing our company, you will be sure of the quality of services and that you will not overpay for anything. The best car rental prices worldwide, on the website Bookingcar-Europe.com. All images (information windows) are taken from our reservation systems Bookingcar and available to you when choosing a car.
We attach great importance to ensuring that you receive the maximum amount of information, and that it is as clear as possible.
On our site, after you have received all available cars in the place you need, in each option there is a link "Rent terms". There you will find all the necessary information.
If you still have questions, we will be happy to answer them. contact us.
Like this? Share in social networks: