Deposit-free Car Rental and Excess: Expectations and Reality
Our support team gets a lot of different questions, but we are often asked whether it is possible to rent a car without leaving a deposit or without an excess insurance policy.
Let's take a look at how you can rent a decent (not too old, not in disrepair, not too many miles on the clock, in good condition and a joy to drive) hire car from reputable rental companies. If you are ever offered to hire such a car without having to leave a deposit, you should think twice about doing so. If it sounds too good to be true, it probably is. The majority of rental companies offer their clients the option to reduce their insurance excess for an additional cost on top of the rental.
For example: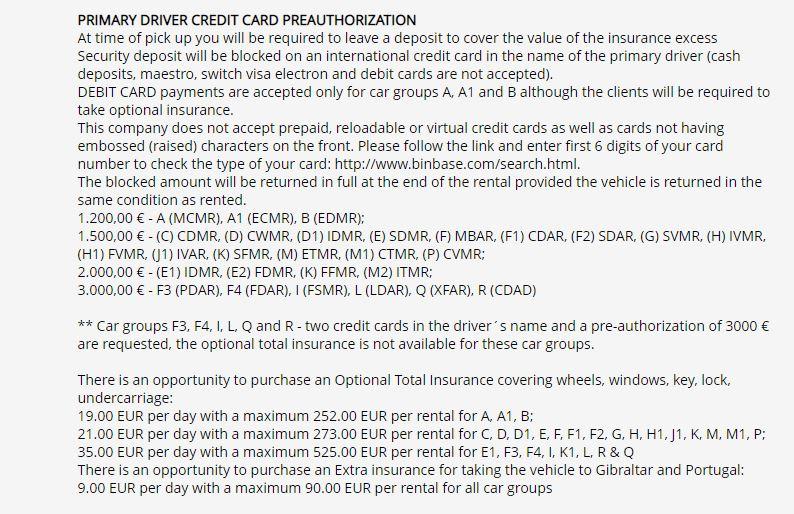 As a general rule, the value of the deposit depends on excess charge and fuel. As such, you can only reduce the size of your deposit by paying for super insurance cover (called differently depending on the company), which waives excess charges, thereby reducing the deposit amount. Each company has its own rules about the minimum deposit amount. While there are companies whose policies specify that the minimum deposit cannot be lower than 500 euros or dollars, there are other offers out there that allow you to reduce the deposit to zero.
Below is an example of a deposit-free rental: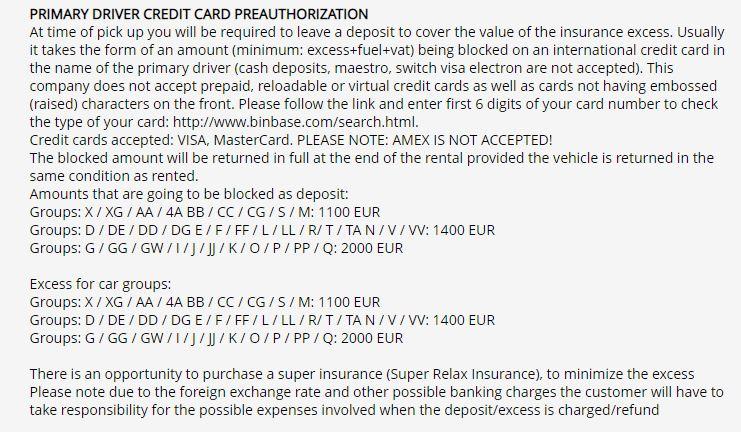 In any case, you will need a bank card and the deposit amount will be blocked on it. You can also reduce your deposit by paying for an option to reduce excess charges. All reputable hire car companies that operate within the law and the rules set out for international car rental (rules that have been formulated over the past 50 years or so) work according to the description given above. Some exceptions do occur and companies may offer bonuses as part of a marketing campaigns that waive excess fees for standard car hire.
All firms which rent cars should spend about the same amount on their fleet. These costs are made up of insurance, maintenance, cleaning costs, fuel, storage and parking facilities, costs for any loans or credit, employee wages, etc. This is a high-tech business and when, for example, a car is damaged and it is not possible to charge the culprit of the damage to have the car fixed, the rental company sustains losses. In 90% of cases, the deposit is not returned in situations precisely as described above. You should be sceptical about hire companies which offer you to rent a car without paying a deposit. If you have taken the risk to hire a car on such terms, make sure you check the terms and conditions very carefully. In such cases it often happens that the rental agreement is in a different language, with erroneous translations into English, German, French or otherwise. The problem is that the original language of the terms prevail over the translations, so you might end up signing up to an agreement in which the car isn't insured and you have to foot the bill for any damage to the vehicle! If you've signed an agreement like this with such a company, take especial care when collecting and returning the car and be prepared to hear all kinds of accusations sent your way about scratches, even those on the wheel trims.
At BookingCar-Europe.com, we select our partners carefully and only choose reputable car rental firms for our customers. We only work with bank cards and don't allow cash payments. Each partner company undergoes a rigorous selection process and must meet our high standards for impeccable customer service and requirements for commonly held practices worldwide.
When making a reservation through BookingCar-Europe.com, you can be sure that you will only have the best deals on offer with respectable companies that we have worked successfully with for many years.
All the images in this article are taken from the BookingCar-Europe.com website and the parameters shown are available to you when making a booking. We make sure that you are as informed as possible and that everything is clear when you are making your booking. After you aggregate the choice of cars in the location you need on our website, each option has a link to the rental terms. You can find all the additional information you need via the link. If you still have questions, we will be glad to help. Contact us.
Like this? Share in social networks: