In winter, in the mountains, in a rented car. Hire a car and go to the ski resort.
The rest in the winter is becoming more popular year by year. Of course, 90% of this holiday is connected with the mountains. Austria, Italy, France — These are the most popular ski destinations, not only among our fellow citizens, but also among winter holiday lovers from around the world.
There is not much where you will find detailed information about renting a car in winter, especially with skiing (or snowboarding) specifics.
European ski resorts have developed infrastructure, a huge number of hotels for every taste and budget and, of course, a huge and surprisingly beautiful ski area. The same can be said about the car rental service. Long before the cold weather and the start of the winter tourist season, the rental companies are preparing for the influx of guests, updating the car fleet, and the emphasis is on spacious cars that can fit skis or snowboards (on top of the roof or right in the cabin) and large suitcases.
Tourists traveling to ski resorts always have large suitcases (things are big and things are bigger), ski boots, helmets, someone takes their own skis to the resort.
In this regard, as mentioned above, the emphasis is on roomy cars, for example, station wagons, compact vans, minivans, etc.
When choosing a car, the route and the distance that you are going to drive on it plays a significant role, of course.
In this article we will definitely tell you about the most popular routes, but first, let's pick a car for an average group of tourists from 4 people, without their skis (many people prefer to rent skis and do not have their own equipment). It turns out 4 people and from 2 to 4 suitcases. For these purposes, an ordinary station wagon of the class standard is suitable, such as: Volkswagen Passat wagon, Ford Mondeo wagon, Skoda Superb wagon, etc.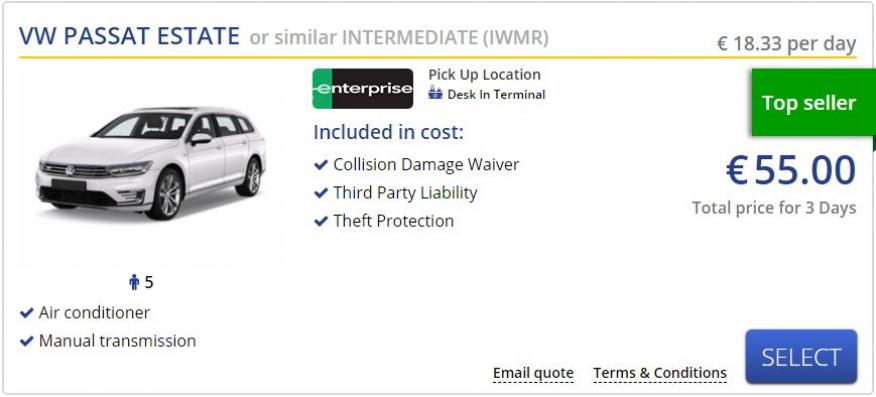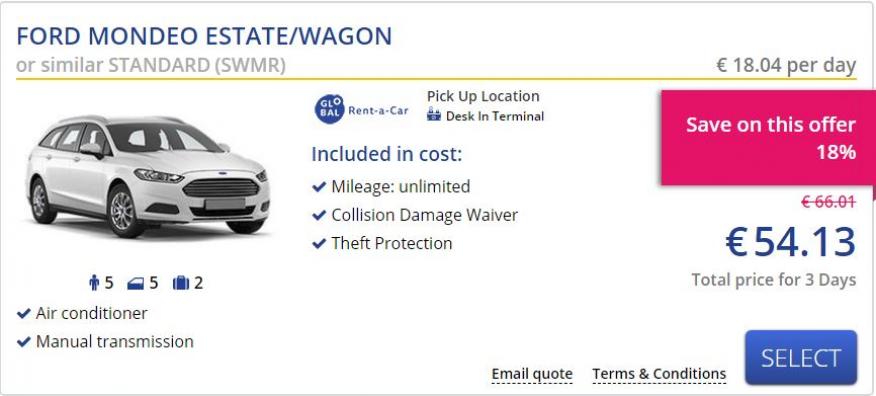 This car will fit all your belongings, and you will be comfortable traveling through winter Europe, especially since it often becomes winter only when you start to climb mountain roads.
By the way, we specifically did not begin to focus on groups of travelers consisting of 2-3 people, without skiing or snowboarding equipment, as their choice, in general, is not limited to anything but the budget. Such groups fit in any car, of course, except for the mini class.
The next group of 4-6 people, without ski equipment. A minivan is suitable for such tourists: Volkswagen Turan, Opel Zafira, Renault Scenic, Citroen Picasso, Ford Galaxy, etc.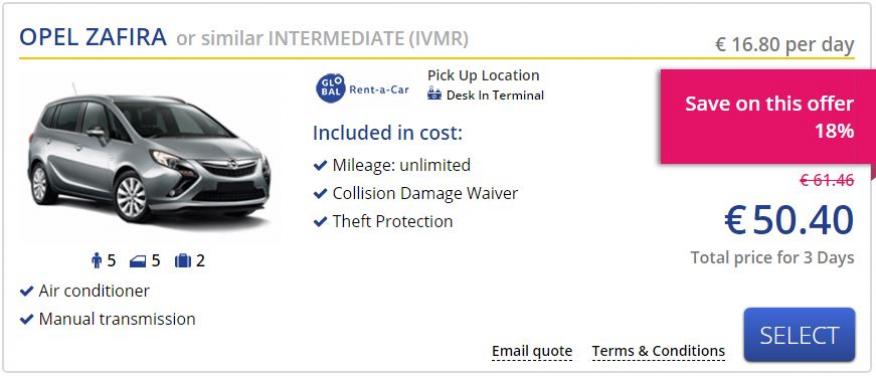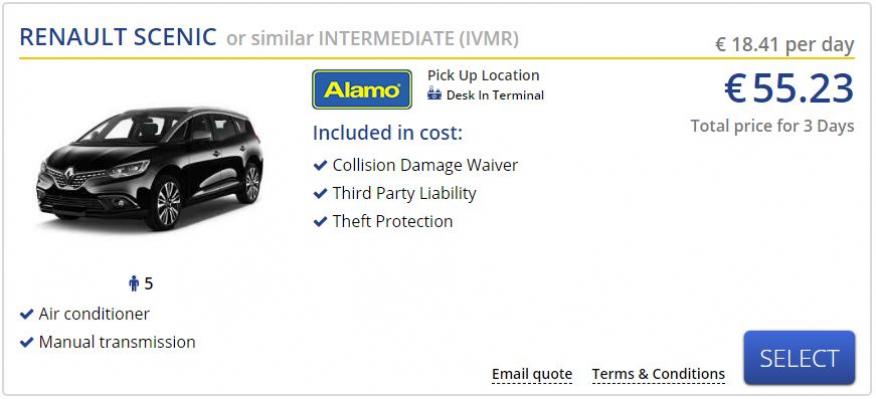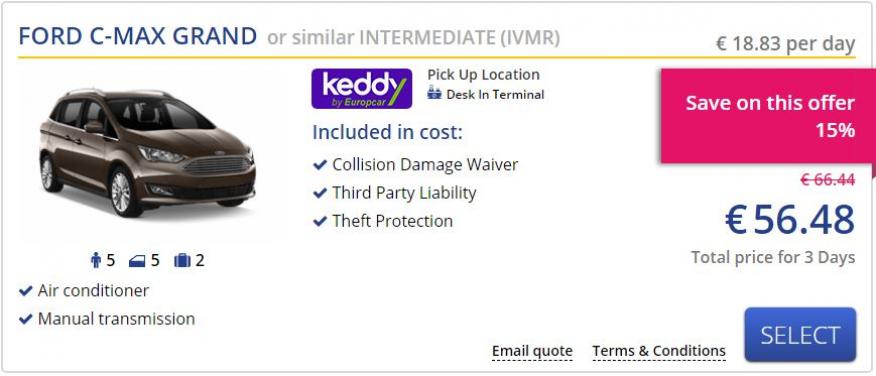 If you are 4 people and you are with ski equipment, then again the universal standard of the class will suit you, as we suggested above. In order to place the equipment, you will need to rent a roof rack for transporting skis or fold one row of seats. In this case, you will either have to make room or pay for the rent of the trunk.

It's more convenient, of course, to use a bigger car, such as for a group of 4-6 people, then everything will fit in without any problems, and the equipment on the folded seats will not displace the rear passengers. Again, you don't have to rent a roof rack.
Now we will pick up a car for 4-7 travelers, with ski equipment and not only with skis, but also with boots, helmets, sticks and everything you need. For these purposes, Volkswagen Caravel, Mercedes Vito, Mercedes Viano, Ford Transit, passenger versions of the Citroen Boxster, Peugeot minibuses, etc. are ideal.
When choosing such a car, be sure to pay attention to the number of passenger seats. Must be 6 or 8 or 9, but not 4 + 2 or 5 + 2. When 4 + 2 or 5 + 2 is indicated, this means that the rented car is equipped with an additional third row of seats, but when you install it, there is only room for sandwiches and a handbag in the trunk. Such cars for traveling without luggage.
Here is an example 6, 8, 9 of a local minivan: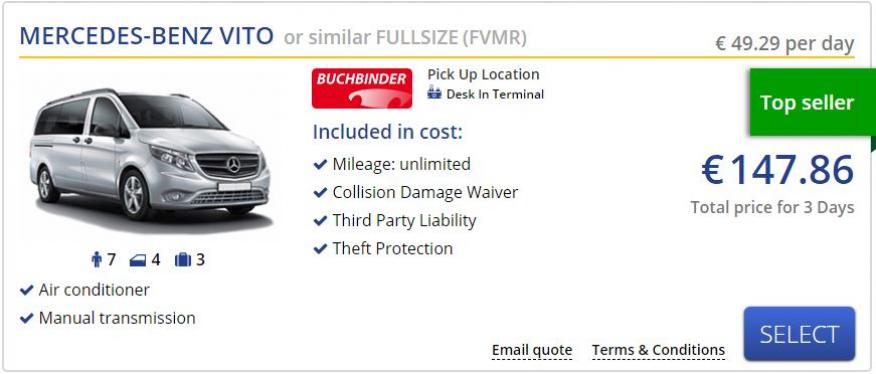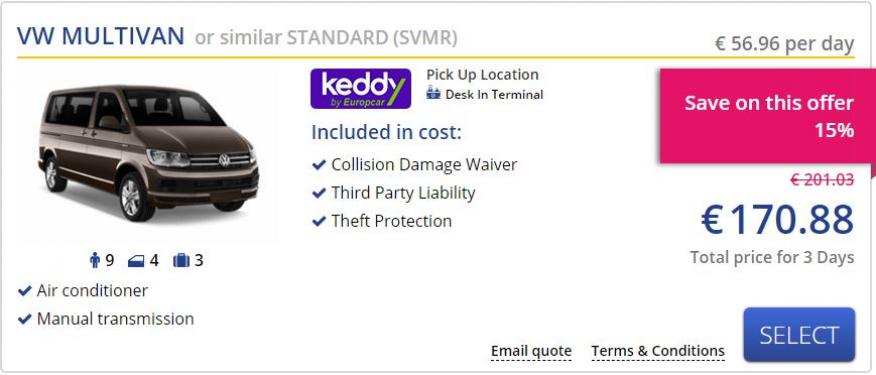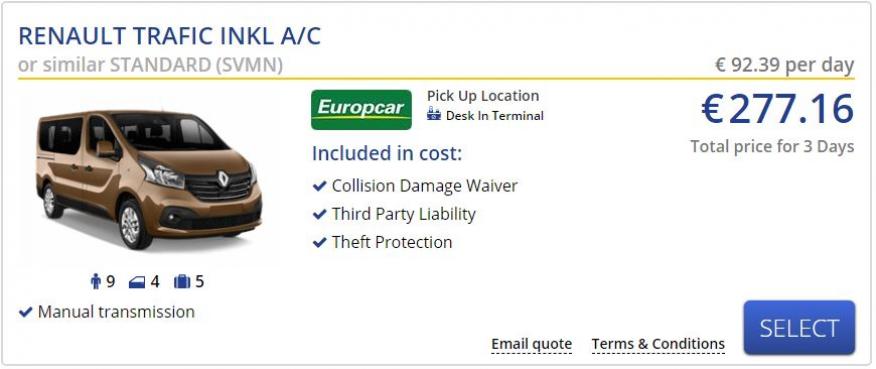 Here is an example of cars with an optional third row of seats (4+2 или 5+2):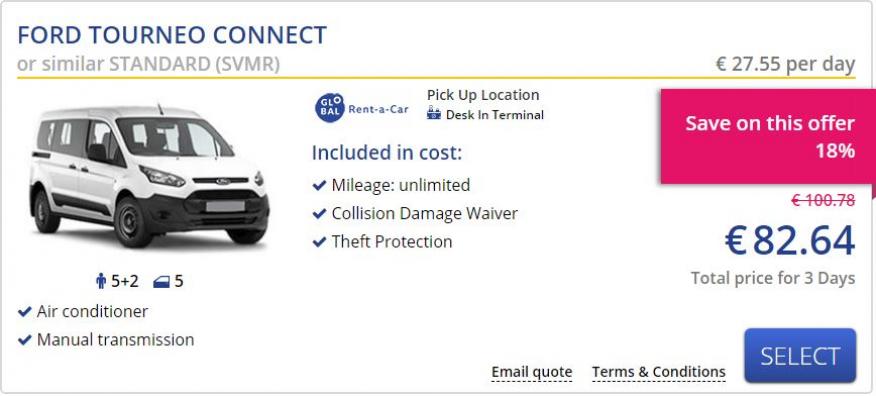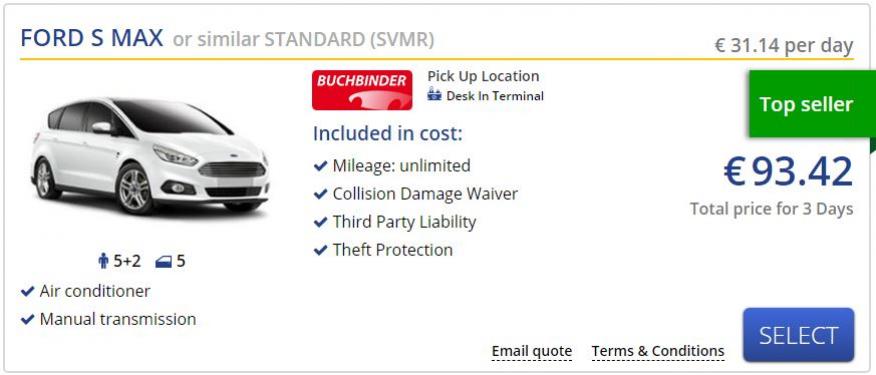 Now about car chains on wheels, your rented car.
You can order this additional equipment immediately, together with the car.

The only thing is to ask your friends and acquaintances in advance, see the reviews if you need chains in the region where you are going to go.
The easiest way to find out all the information is, of course, call us on Bookingcar, we will advise you and answer all questions.
As promised, we'll tell you about the most popular destinations most often chosen by travelers.
Let's start with the Mecca of skiers and snowboarders of Austrian Mayrhofen.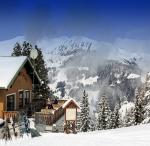 In this place is the most popular sports and resort center of Europe, the Ziller Valley, there is also the most popular and year-round ski resort, the Hintertux Glacier.
The nearest airport is in the Austrian city of Innsbruck and it is called Kranebitten. Mayrhofen is 70 km from the airport.
At Innsbruck Airport, we provide our Dear Customers with a diverse selection of rental companies. Everyone will pick up to their taste, a car for rent, using our site.
If you decide to fly to this airport, take care of tickets and booking a car in advance, tickets for all flights end in 3-4 months. In addition, you do not have to stand in multi-kilometer traffic jams. Not only tourists from Russia, but all of Europe, during the ski season, seeks to the Ziller Valley.
You can also get to Mayrhofen from Austrian Salzburg and German Munich, Salzburg Airport is named after V.A. Mozart, and Munich Airport is named after Franz Josef Strauss.
The distance from both airports is about the same, 180 and 190 km, but get ready for fairly large traffic jams. There is no escape from this, the roads can't cope with the influx of tourists, in these traffic jams there are all and large buses and other cars. But the big advantage of these airports are the low-cost flights and more than 5,000 rental cars that our Bookingcar service offers to choose from.
And now to Italy, whose ski resorts attract not much less travelers. Dolomites, namely the fabulous Val Gardena Valley.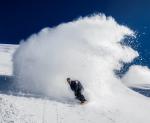 This region has unique climatic conditions and 345 sunny days a year, which is very important for skiers and snowboarders, they then know how to ride in bad weather. The most popular holiday towns are Selva Gardena, Santa Cristina and Ortisei. Glorified these places, the 1970 World Cup and the Olympic Games.
Now we will consider where it is better to get to these places with the car you rented.
The nearest airport is again Kranebitten in Innsbruck, Austria, a distance of 120 km.
The next and second most popular is the Italian Verona Airport, called Villafranca, from this airport to Selva Gardena 190 km. We will also provide a large selection of rental cars at other airports, but in order to get from them to Val Gardena, you will have to overcome (including traffic jams) the distance is more serious:
Venice Marco Polo Airport, Italy - 250 km.
Franz Josef Strauss Munich Airport, Germany - 300 km.
Milan - Malpenso Airport, Italy - 300 km.
The road from any airport, basically, passes through a picturesque area, through viaducts, alpine flyovers and serpentines, so a trip on a rental car will give you pleasure, and not just despondency from time spent in traffic jams. By the way, many of our dear customers, specially choose the airport away to travel around Europe by car, stop by for lunch to go to some town. Please note that high-speed routes run away from cities and other settlements, so in order to call in a village or town, you will have to get off the motorway, 2-3 kilometers to the side.
And finally France, Three Valleys, Meribel.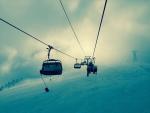 Ski slopes of such a high class and in such numbers are found only here. Three Valleys – This is a huge territory, divided into three parts, interconnected by a large number of lifts. Arriving in one part, you can choose which part of the Three Valleys you will ride today, and which tomorrow. By the way, it was Meribel and the Three Valleys that hosted the 1992 Winter Olympics. There is also the famous Courchevel, so beloved by tourists.
Just like in other countries of old Europe, car rental in France is more than 50 years old and during this time all the rental companies presented on our website have learned to issue and accept a rental car in a very short time and, as a rule, without any either problems and delays.
The nearest airport is Swiss Geneva, which is called Geneva International Airport.
The distance from the airport to Meribel is 120 km, there are several route options, all scenic and interesting, in addition, there are much less traffic jams, firstly, better roads, and secondly, the resort is more expensive, respectively, fewer people. On a rental car, it will be interesting and not tiring to drive this distance.
Let's open a little secret: you, of course, know that Geneva International Airport is divided into two parts, Swiss and French, there are both customs and a buffer zone. So, renting a car in the French part is much cheaper, sometimes even 20-30%. Very important! A car rented on the French side of Geneva Airport must be returned to the French side, even if the rental company is also represented in the Swiss part of the airport. The penalty for a car handed over, not in the part of the airport where you received it, can reach 500 euros, although the distance there is no more than 300 meters. When you receive a car on the French side, immediately ask for a card indicating the place of return: the fact is that the arrival on the French side is not at all the same as the main exit from the highway to the airport, it is further along the highway and passes through the buffer zone. Finding it is not difficult, but it is always better to have a card.
The second airport nearby is the airport of the French city of Lyon, called Lyon-Saint-Exupery. Distance to the ski resort 200 km. In Lyon, we offer a large selection of rental companies, with a diverse fleet of vehicles, where each respected customer will find the rental car they need.
All images (information windows) are taken from our Bookingcar system and are available to you when choosing a car. We attach great importance to ensuring that you receive the maximum amount of information, and that it is as clear and useful as possible.
If you still have questions, we will be happy to answer them, Contact us.
Like this? Share in social networks: